Chicago strike begins
George Schmidt - September 10, 2012
After a quarter century, it was finally scheduled to begin at midnight, and it did with a handful of pickets in front of the headquarters of the nation's third largest school district four blocks south of Chicago's City Hall. It is the first strike by the Chicago Teachers Union in a quarter century. And despite all of the spin marshaled on behalf of the rulers of the na-tion's third largest city, the burden now rests with Chicago's mayor and his appointed school board to explain why it came to a strike. At midnight, the first picket lines were to begin at the school system's central and other administrative offices. At dawn, the picket lines would be spread across more than 600 schools in the America's third largest city. By 6:30 a.m., according to the union, more than 20,000 teachers and other school workers, joined by thousands of parents and students, will be picketing at more than 600 public schools.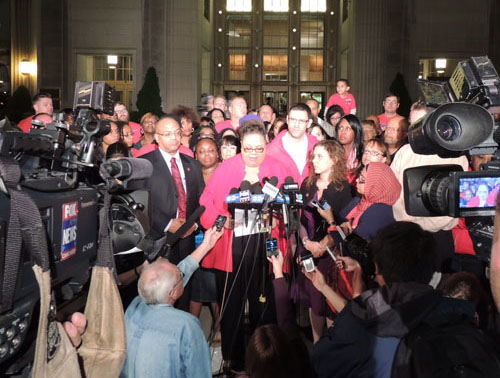 CTU President Karen Lewis announced that CTU members will strike on Monday, September 10, at a press conference held at CTU headquarters on Sept. 9. Substance photo by George SchmidtAfter what the Chicago Public Schools is now telling the press have been "one hundred" negotiating ses-sions since November 2011, the leaders of the nation's third largest school system emerged from Chicago's giant Mer-chandise Mart and announced that they had not been able to reach a contract agreement with the 30,000-member Chicago Teachers Union. At a hastily convened press conference in from of the Mart, School Board President David Vitale read through what appeared to be a three-page list of things that the Board of Education had supposedly compromised on during the final hours of negotiations, but Vitale's press people refused to provide Substance (or any other reporters present) with copies of the actual wording of the items Vitale was presenting.
A few minutes later, at ten p.m., CTU President Karen Lewis emerged from the building, accompanied by the members of her "small" bargaining team and the more than 50 teachers and other union members who had been assisting in the bargaining throughout the ten months. Lewis read from the following prepared statement and then took extensive ques-tions:
CPS FAILS TO NEGOTIATE FAIR CONTRACT TO PRE-VENT FIRST LABOR STRIKE IN 25 YEARS
More than 29,000 teachers and education professionals will not report to work today 9/10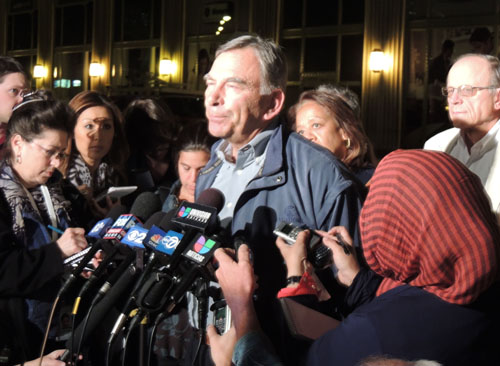 Chicago Board of Education president Dave Vitale gave a press conference prior to Karen Lewis. He attempted to portray the teachers union as unreasonable. Substance photo by George Schmidt.CHICAGO – After hours of intense negotiations, the Chi-cago Teachers Union (CTU) and the Chicago Public Schools (CPS) have failed to reach an agreement that will prevent the first teachers strike in 25 years. Pickets are expected to begin Monday at 675 schools and the Board of Education as early as 6:30 a.m. Teachers, paraprofessionals and school clinicians have been without a labor agreement since June of this year.
Union leaders expressed disappointment in the District's re-fusal to concede on issues involving compensation, job secu-rity and resources for their students. CTU President Karen Lewis said, "Negotiations have been intense but productive, however we have failed to reach an agreement that will pre-vent a labor strike. This is a difficult decision and one we hoped we could avoid. Throughout these negotiations have I remained hopeful but determined. We must do things dif-ferently in this city if we are to provide our students with the education they so rightfully deserve.
"Talks have been productive in many areas. We have suc-cessfully won concessions for nursing mothers and have put more than 500 of our members back to work. We have re-stored some of the art, music, world language, technology and physical education classes to many of our students. The Board also agreed that we will now have textbooks on the first day of school rather than have our students and teach-ers wait up to six weeks before receiving instructional mate-rials.
"Recognizing the Board's fiscal woes, we are not far apart on compensation. However, we are apart on benefits. We want to maintain the existing health benefits.
"Another concern is evaluation procedures. After the initial phase-in of the new evaluation system it could result in 6,000 teachers (or nearly 30 percent of our members) being dis-charged within one or two years. This is unacceptable. We are also concerned that too much of the new evaluations will be based on students' standardized test scores. This is no way to measure the effectiveness of an educator. Further there are too many factors beyond our control which impact how well some students perform on standardized tests such as poverty, exposure to violence, homelessness, hunger and other social issues beyond our control.
"We want job security. Despite a new curriculum and new, stringent evaluation system, CPS proposes no increase (or even decreases) in teacher training. This is notable because our Union through our Quest Center is at the forefront teacher professional development in Illinois. We have been lauded by the District and our colleagues across the country for our extensive teacher training programs that helped emerging teachers strengthen their craft and increased the number of nationally board certified educators.
"We are demanding a reasonable timetable for the installa-tion of air-conditioning in student classrooms--a sweltering, 98-degree classroom is not a productive learning environ-ment for children. This type of environment is unacceptable for our members and all school personnel. A lack of climate control is unacceptable to our parents.
[img=5470]"As we continue to bargain in good faith, we stand in solidarity with parents, clergy and community-based organizations who are advocating for smaller class sizes, a better school day and an elected school board. Class size matters. It matters to parents. In the third largest school district in Illinois there are only 350 social workers—putting their caseloads at nearly 1,000 students each. We join them in their call for more social workers, counselors, audio/visual and hearing technicians and school nurses. Our children are exposed to unprecedented levels of neighborhood violence and other social issues, so the fight for wraparound services is critically important to all of us. Our members will con-tinue to support this ground swell of parent activism and grassroots engagement on these issues. And we hope the Board will not shut these voices out.
"While new Illinois law prohibits us from striking over the recall of laid-off teachers and compensation for a longer school year, we do not intend to sign an agreement until these matters are addressed.
"Again, we are committed to staying at the table until a con-tract is place. However, in the morning no CTU member will be inside our schools. We will walk the picket lines. We will talk to parents. We will talk to clergy. We will talk to the community. We will talk to anyone who will listen—we de-mand a fair contract today, we demand a fair contract now. And, until there is one in place that our members accept, we will on the line.
"We stand in solidarity with our brothers and sisters throughout the state and country who are currently bargain-ing for their own fair contracts. We stand with those who have already declared they too are prepared to strike, in the best interests of their students."
"This announcement is made now so our parents and com-munity are empowered with this knowledge and will know that schools will not open on tomorrow. Please seek alterna-tive care for your children. And, we ask all of you to join us in our education justice fight—for a fair contract—and call on the mayor and CEO Brizard to settle this matter now. Thank you."
The union is not on strike over matters governed exclusively by IELRA Section 4.5 and 12(b).
The Chicago Teachers Union represents 30,000 teachers and educational support personnel working in the Chicago Pub-lic Schools, and by extension, the more than 400,000 students and families they serve. The CTU is an affiliate of the Ameri-can Federation of Teachers and the Illinois Federation of Teachers and is the third largest teachers local in the United States and the largest local union in Illinois. For more infor-mation please visit CTU's website at www.ctunet.com .
By midnight, Chicago Mayor Rahm Emanuel had held his own press conference, at which he claimed that his team was ready to return to bargaining immediately. The CTU issued a press release saying that CTU negotiators were waiting. A handful of pickets began the strike a little after midnight on the dark street in front of the Board of Education's headquar-ters at 125 S. Clark St.
NATIONAL AND LOCAL NEWS COVERAGE BELOW HERE:
Chicago Teachers Strike: Union, School Board Halt Negotia-tions, By TAMMY WEBBER and DON BABWIN 09/09/12 11:51 PM ET, Associated Press via Huffington Post.
CHICAGO — The Chicago Teachers Union announced Sun-day night that it will go on strike Monday morning for the first time in 25 years after contract talks with the school dis-trict failed over issues including pay, benefits and job secu-rity.
"We will be on the (picket) line," Chicago Teachers Union President Karen Lewis said after emerging from all-day talks with district negotiators.
"This is a difficult decision and one we hoped we could have avoided," she said. "We must do things differently in this city if we are to provide our students with the education they so rightfully deserve."
More than 26,000 teachers and support staff are expected to hit the picket lines Monday morning, while the school dis-trict and parents carry out plans for keeping nearly 400,000 students safe and occupied during the day in the nation's third largest school district.
School board President David Vitale announced a short time earlier Sunday night that the talks had broken off, despite the school board offering what he called a fair and responsi-ble contract that would cover four years and meet most of the union's demands. He said the talks with the union had been "extraordinarily difficult."
Lewis said she believed talks would resume Monday but a time had not been set for the sides to meet. She added that progress had been made but not enough to avert a strike.
Union officials said among the outstanding issues were dis-trict proposals for standardized student testing that would "cheapen" the school system and a teacher evaluation system that would cost 6,000 teachers their jobs within two years. Lewis said the union had won concessions from the district on other matters.
The walkout was announced after months of tense, at-times heated talks between Mayor Rahm Emanuel, the school board and union leaders at a time when unions and collec-tive bargaining have come under criticism around the nation during difficult economic times.
The district had been offering a raise of 2 percent a year for four years. The union called that offer unacceptable — par-ticularly after Mayor Rahm Emanuel last year canceled a previously negotiated 4 percent pay raise, citing budget problems.
The union countered by asking for a 30 percent pay raise over two years, followed by a request for a 25 percent in-crease over two years. Just weeks ago, Lewis told delegates the union had adjusted its demand and was asking for a 19 percent pay raise in the contract's first year.
The union also has raised concerns about raises based on teacher experience and education. It said the district agreed to retain contract language allowing raises based on experi-ence, called step increases, but would not actually pay the money now.
Teachers also have been concerned about new teacher evaluations, health benefits and regaining lost jobs. An addi-tional issue was how a longer school day for students is be-ing implemented.
The strike is the latest flashpoint in a very public and often contentious battle between the mayor and the union.
When he took office last year, the former White House chief of staff inherited a school district facing a $700 million budget shortfall. Not long after, his administration rescinded 4 percent raises for teachers. He then asked the union to re-open its contract and accept 2 percent pay raises in exchange for lengthening the school day for students by 90 minutes. The union refused.
The longer school day was one of the mayor's campaign promises for the city's schools, and he pushed to have it im-plemented a year ahead of schedule. He attempted to go around the union by asking teachers at individual schools to waive the contract and add 90 minutes to the day. He halted the effort after being challenged by the union before the Illi-nois Educational Labor Relations Board.
The district and union agreed in July on how to implement the longer school day, striking a deal to hire back 477 teach-ers who had been laid off rather than pay regular teachers more to work longer hours. That raised hopes the contract dispute would be settled soon, but bargaining continued on the other issues.
