Press conference shows community support for CTU strike as contract talks stall because of CPS
Kati Gilson - September 08, 2012
Cars were parked two deep at the CTU Strike Headquarters as delegates and strike captains picked up the signs and information for their schools. It was September 8, 2012, less than 48 hours from the beginning of the first strike by the Chicago Teachers Union in a quarter century. Almost every vehicle that drove by on Ashland Ave. or Van Buren St. honked in solidarity. The abundance of press could not overshadow the red sea of folks waiting for signs, strings and shirts.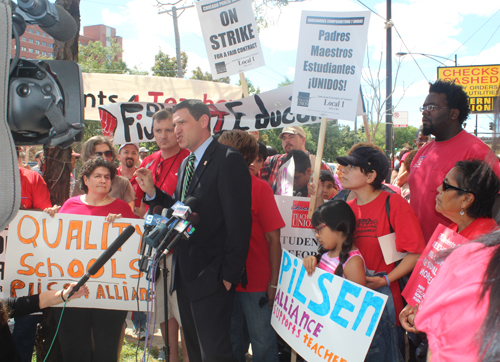 Chicago Teachers Union Vice President Jesse Sharkey was one of the speakers at the September 8, 2012 press conference. He told the crowd that the two sides were "very far away" from resolving the issues. He said that there are not enough pieces of the puzzle in place to bring a contract to the union's 30,000 members. Substance photo by Sharon Schmidt.And dozens of teachers were having their say before dispersing to more than 600 schools to begin an epic showdown less than 36 hours away. Thousands of voices had been raised across Chicago as the CTU organized for the strike of 2012, and soon tens of thousands would be echoing. Some would be heard here at Substance, and others elsewhere, but all have been silenced for too long and were no longer going to sit down and shut up.
Danny Baker, a third grade teacher at Robert A Black Magnet School on Chicago's South Side had this to say: "They aren't trying to come to equilibrium. Right now CPS, they are aware of situations taking place in the classrooms. CTU has been negotiating since November. We have discussed decreasing class size which is a point we've addressed numerous times with The Chicago Board of Ed as well as making sure our students receive a rich, full curriculum instead of teaching to the test. Second graders have to take 12 assessment tests: DIBELS, three reading, three in math, NWEA (Northwest Evaluation Assessment) and three assessments given in fall, winter and spring. Then Common Core assessments and students will be assessed three times, fall, winter and spring."
The bill of particulars was extensive given that contract negotiation had been going on for so long.
Delegates from across the city came to strike headquarters on Van Buren St. just west of Ashland to pick up picket signs, flyers, and CTU shirts and hoodies. Mather delegate Paige Stenzel (far left) was among the first group of people to arrive at noon on Saturday to get materials for Monday's picket lines. CTU will be distributing materials on Sunday afternoon as well as every morning during the strike. Substance photo by Kati Gilson."So mainly, the whole preamble to this conclusion is CPS is not exposing our kids to a rich curriculum which includes art, music, foreign languages and gym," Baker continued. "The major issue I'm having is with the allocation of resources to charter schools. For example, at my school we have two buildings that are six miles apart. And where is the funding for Robert A. Black to find one structure to house both our buildings? This has been an issue since 1995. How can you not address major school issues first? There are many other schools with structural problems not being addressed by CPS. One other major point we have been addressing is due to the many school closings there are many African American School teachers that are losing jobs. Currently only 19.5% of teachers in this school system are African American, while 70% of the students are African American."
Just as the press conference was ready to start, SEIU members and supporters came marching around the corner holding signs of support. They were chanting support for the teachers and CTU. The teachers and parents in the crowd clapped and cheered at that support. The complexity of it in the context of what the Emanuel administration had tried and failed to do — a sad version of "divide and conquer" — was obviously failing even before the Scab Schools opened on Monday.
Many parents and community members spoke to the press regarding the possibility of a strike starting Monday.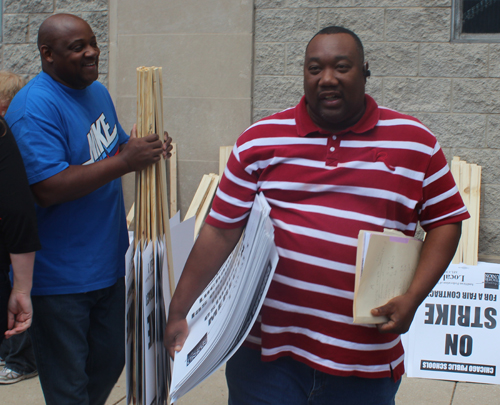 Bogan High School delegate Damon Wilson (right) picks up picketing material at CTU strike headquarters, while Anthony Pugh from Woods Academy lends a hand. Substance photo by Sharon Schmidt.Amisha Patel, Executive Director of the Grassroots Collaborative, called for the Board and CPS to settle now. She talked about them remaining at the bargaining table so the kids and teachers can get to school on Monday. She also stressed the importance of smaller class sizes and wrap around services including psychologists, social workers and nurses. She stated that if CPS refuses to address key issues there will be class disruptions. Already there are disruptions to learning including no air condition, lack of libraries in many schools, insufficient special services and loss of experienced teachers. There are class sizes of 35 and 40 students. She concluded with "CTU stands up for what is right. That's why we're here standing with the teachers".
Becky Malone is with the 19th Ward Parents and also a CPS parent. "Teachers are going on strike for the first time in 25 years," she said. She then listed reasons including they cities implementation of the longer school day without a plan, and the lack of arts, drama and world languages. "The board has depleted funds so how will they maintain those programs?" she said. "They have $25 million for a strike contingency fund to provide services to the students in the event of the strike. Where was this money?" she asked.
Requirements for locations designated to warehouse students in the event of a strike are air conditioning, 1:25 adult to student ration, library and a lunchroom — which many schools don't have.
She also stated that it took strike threat for psychologists to get desks with locking drawers for their files and books for all students the first day of school. "This has brought us to the point where teachers will not be where they should be on Monday morning, teaching students."
Martha Ramirez, a parent at Jungman School, addressed the crowd in Spanish. Maria Torres with the organization Pilsen Alliance — and an LSC parent at Galileo — translated for her. Martha is a resident, member of the Pilsen Alliance and the LSC. CPS needs quality in education not charters schools, she told the crowd. She talked about more support for quality education and respect for the students. Because of this lack of respect, kids are paying for CPS decisions when CPS is not negotiating contracts with teachers.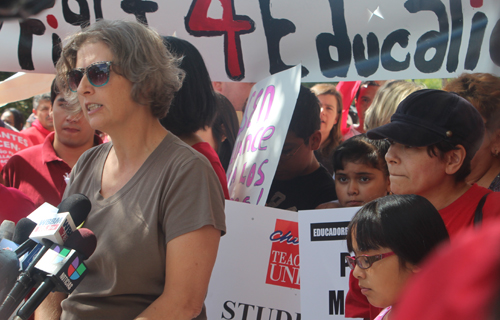 Erica Clark of Parents For Teachers told reporters that after 14 years as a parent of CPS students she has never seen such chaos and disrespect for teachers. She noted that most teachers are broken-hearted to strike and that the fight was about more than money. She said that parents and teachers want smaller class sizes, music, and art. And that while Chicago children are being gunned down there aren't enough social workers, counselors, and psychologists in the schools to help. Substance photo by Sharon Schmidt.Erica Clark with Parents 4 Teachers has been a CPS parent for 14 years. "I have never seen such chaos and disrespect or teachers, parents and communities by CPS,' she said. "This fight is a fight for more than money for teachers. They are fighting for things that are important for students. Brizzard and Vitale don't address large class sizes, music and art, social workers and nurses." She described how CPS students are negatively impacted by the violence and shooting in the city.
"Teachers are the ones who pick up the pieces," she continued. "It is about job security and fair pay — because we want our most experienced teachers to have protection so they can stand up for kids. We want teachers to feel respect and receive fair compensation. Most parents are with the teachers. This is a fight for education. Do we want a top down corporate education vision? Parents teachers and community members working together should be the vision".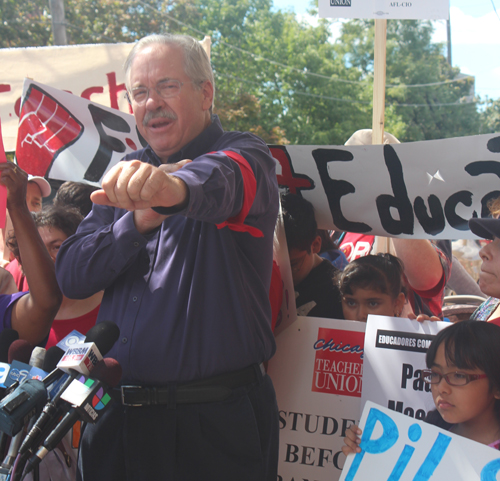 SEIU Local 1 president Tom Balanoff urged CPS to "bargain in good faith." He said while his members will work because of their contract with the Board, they will wear red in support. Substance photo by Sharon Schmidt.Tom Balanoff, SEIU Local 1 represents 30,000 janitors across the city, many of whom are in CPS. He talked about parents, residents and trade unions lending their support. He said the teacher demands are fair and that CPS and the city need to bargain in good faith.
"We work in public schools and contractually can't honor the picket line, but our custodians will wear red in support," he said.
Allen Gonzalez is a senior at Roosevelt High School and a youth leader with the Albany Park Neighborhood Council stated: "CPS hasn't given enough resources to our school. They are also cutting benefits of teachers. What is right for the teachers is right for the students".
Jesse Sharkey, CTU Vice President, Gloria Higgins, Herzl School and Eric Wagner, Kelvin Park High School took a brief break from negotiations to talk to the press.
Stephanie Cruz, Youth Leader with VOYCE. is a junior at Roosevelt High School. She said the students will be there to support the teachers.
Meanwhile, the signs kept getting passed out, red shirts purchased, parent fliers distributed and inside the strike headquarters union members were hard at work stapling signs to sticks which were stacked in a room waiting for distribution. The teachers, the parents, the students and the communities are ready for Monday. The question is will CPS agree to a fair contract by 12:00 Sunday night or are they going to once again turn their backs on the students and leave them out in the cold.