LABOR DAY SINGALONG: Solidarity Forever... The words of the song for those who need to learn all of them in 2012
George Schmidt - September 03, 2012
[Below are the four 'main' verses of the union song "Solidarity Forever". Two other verses from the "original" have been deleted. These are the ones usually sung. The original was first published in the IWW Little Red Song book. There are a dozen very good versions on You Tube, but our favorite is the Pete Seeger version. The songs of justice have long traditions, and new ones are waiting, like the new world from the ashes of the old, to be born in 2012 in Chicago].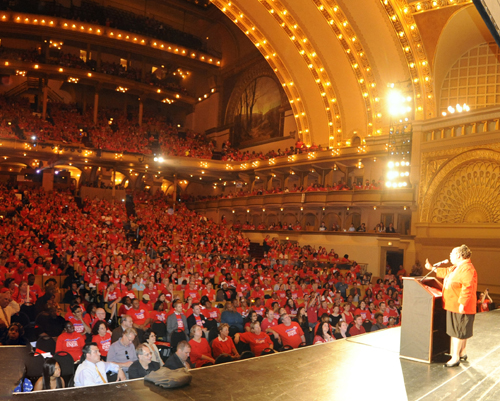 Chicago Teachers Union President Karen Lewis speaking to the crowd of more than 3,000 at Chicago's Auditorium Theatre on May 23, 2012. Substance photo by Graham Hill.The URL for the Pete Seeger version of Solidarity Forever is: http://www.youtube.com/watch?v=kYiKdJoSsb8. Anyone who writes a history of strikes by identifying every strike (and mass action) depicted in the photographs accompanying the Pete Seeger "Solidarity Forever" will get an eternal subscription to Substance.
SOLIDARITY FOREVER! By Ralph H. Chaplin (Tune: "John Brown's Body", "Battle Hymn of the Republic")
When the Union's inspiration through the workers' blood shall run, There can be no power greater anywhere beneath the sun. Yet what force on earth is weaker than the feeble strength of one? But the Union makes us strong.
CHORUS Solidarity forever! Solidarity forever! Solidarity forever! For the Union makes us strong.
It is we who plowed the prairies; built the cities where they trade. Dug the mines and built the workshops; endless miles of railroad laid. Now we stand, outcast and starving, 'mid the wonders we have made; But the Union makes us strong. (Chorus)
They have taken untold millions that they never toiled to earn. But without our brain and muscle not a single wheel can turn. We can break their haughty power; gain our freedom when we learn That the Union makes us strong. (Chorus)
In our hands is placed a power greater than their hoarded gold; Greater than the might of armies, magnified a thousandfold. We can bring to birth the new world from the ashes of the old, For the Union makes us strong. (Chorus)