Outsourcing censorship -- 'Bluecoat' helping school districts block critical views like substancenews.net?... Censorship more widespread
Susan Ohanian - August 29, 2012
News of Substancenews.net being unavailable to computers in all 660 Chicago public schools and from the school system's central and "network" offices, is, for me, déjà vu all over again. As despicable as this specific attack on Substance is, I would say to people in Chicago who care about freedom of information, that the problem may be much bigger than you think. I offer the story of my website as a case in point.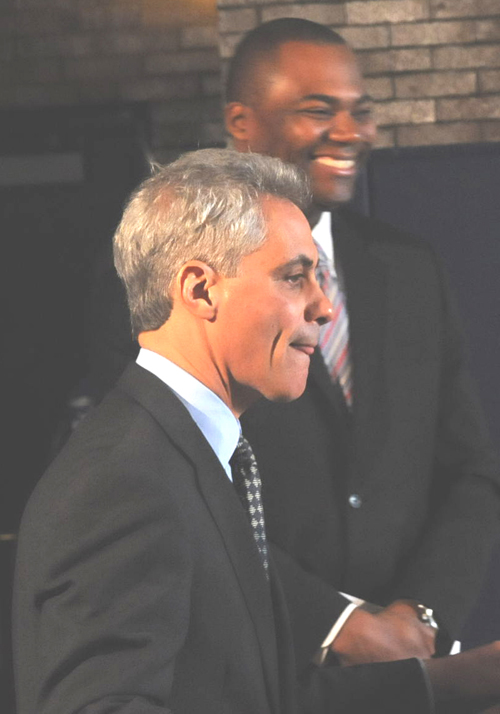 Censorship and strong-arm tactics to spin the news and keep the truth from the public is certainly nothing new in Chicago or elsewhere, as the accompanying article reports. Rahm Emanuel and Jean-Claude Brizard staged a publicity stunt press conference inside Disney II elementary school on April 10, 2012 (above) while Rahm ordered CPS security to arrest parents who were protesting the "Longer School Day" (see the photo below). Substance photo by George N. Schmidt.Background: I had known since 2003 that my website was banned in Aldine Texas, but I had too many other things to worry about. But when Aldine won the 2009 Broad Prize for Urban Education, I decided it was time to act. I admit I found it a bit delicious that a Broad Prize-winning school district would censor a website given the NCTE George Orwell Award for Distinguished Contribution to Honesty and Clarity in Public Language, the only Website ever so honored.
When an Aldine user attempted to access "No Child Left Behind: Costs and Benefits" by William J. Mathis , Phi Delta Kappan, May 2003, he sent me a screen shot of this message that appeared on the computer screen.
===================================== Access to this web page is restricted at this time Your attempt to access the requested site may be in violation of Aldine ISD policy and has been restricted by the Technology Services Department. Site Category: "Education; political/Activist Groups" Blocked web page: http://susanohanian.org/show_nclb_outrages.html?id=74 IP address: 10.125.100.6 ================================
Imagine the danger: A teacher wanting to read an article that appeared in Phi Delta Kappan. However, nothing on my website can be accessed. Jim Crawford reported that the Institute for Language and Education Policy is also blocked.
But also note that the category of my site is banned because it falls in the category of "Education;political/Activist Groups."
This notice runs along the bottom of the homepage of the Aldine ISD:
Aldine Independent School District does not discriminate against persons because of race, creed, national origin, age, sex, disabilities, economic status or language disability in employment, promotion or educational programming.
They only discriminate against certain political views.
Here is the Aldine mission statement:
We exist to prepare each student academically and socially to be a * critical thinker * problem solver * responsible and productive citizen
A Texas educator filed this Freedom of Information request to find out the list of blocked sites. 9/19/09 Public Information Department Aldine Independent School District 14910 Aldine Westfield Road Houston, TX 77032 Phone: (281) 985-6202 Fax: (281) 985-7273 Pursuant to the Texas Public Information Act, please provide in electronic form the sites that are restricted on the Aldine Independent School District's network that are categorized as "Education;Political/Activist Groups." Please provide this information by Friday, October 2, 2009. Thank you very much.
This message was received from Aldine on 9/22/09:
No. We subscribe to a service from a company called Blue Coat. Their database is updated daily. Blue Coat owns the database which is considered proprietary. We choose which categories to use but we don't have access to a list of sites in their database. We are able to unblock ("whitelist") sites for use in Aldine.
If someone wants the complete database for any category they would need to contact Blue Coat and I don't know whether they would provide it or not.
And although I had not written to Aldine, I received a reply the same day: 9/22/09:
Ms. Ohanian, Thank you for sending your email alerting me that your site was blocked. Apparently, our internet filter automatically blocked several sites, including yours. Your site and the others have been unblocked. Thank you, Wanda Bamberg, Ed.D. Superintendent of Schools Aldine ISD Central Office 281-985-6200 (office) 281-449-0551 (fax) wbamberg@aldine.k12.tx.us
Deciding that it was time that I make some inquiries, I tried contacting Blue Coat on the Internet. This resulted in entirely frustrating phonecalls from the sales staff. So I wrote a letter to the president of the company. Here's the answer I received by Certified Mail, which I had to sign for three times.
November 5, 2009 VIA CERTIFIED MAIL RE: www.susanohanian.org
Dear Ms. Ohanian: Brian NeSmith has referred your recent letter to me. Please be advised that we do not impose "bans" on the Web sites that others may visit and, specifically, have not banned www.susanohanian.org. We sell products that identify and classify the nature of Web sites, so that our customers may appropriately block access to certain types of Web content. The election of what classifications to block is made by the customer. For instance, many of our customers elect to block "pornography" or "adult content"--particularly if children may use the computer systems to access the Internet.
Your Web site, www.susanohanian.org, has been classified as "education" and "political/activist." Based on a brief review of your Web site, I believe that classification is appropriate. If those who use computers managed by the Aldine, TX school district are being blocked from accessing your site it is because the school district has blocked access to sites classified as "education" or "political/activist," or both. Again, while it is the Blue Coat product that is blocking access, it is the school district that has made the decision to block that type of content.
Please do not hesitate to contact me should you have any questions concerning the foregoing
Sincerely, Betsy E. Bayha Senior Vice President, General Counsel & Secretary Bllue Coat Systems, Inc. 420 North Mary Ave. Sunnyvale, CA 94085 408-222-2200 www.bluecoat.com
Parents who had been protesting agains the "Longer School Day" being proposed by Rahm Emanuel and his hand-picked school board and "Chief Executive Officer" were threatened and censored in various ways during the year. Above, parents who arrived at Chicago's Disney II elementary school to protest against the press conference touting the Longer School Day inside were threatened with arrest by CPS security. Substance photo by George N. Schmidt.How nice that she brings up "pornography" while discussing my website. Note the lawyerly distinction. It seems apparent that Blue Coat has a little list of education; political/activist sites. But they are refusing to reveal who's on that list. Trade secret, I suppose. It also seems apparent that districts like Aldine exercise all due caution over the protection of their scripts by pulling the switch for blocking anything labeled "education; political/activist."
Open call to someone in Aldine: Please contact me. I'd love to give you a list of sites to try to access. Let's start with the Republican and Democratic parties, the Business Roundtable and work our way through to Socialist International, People for the American Way, and Daughters of the American Revolution. ALEC.
For two years, I tried to get the National Council of Teachers of English Censorship Commission interested in this issue of access to information. All I got was silence. Finally I gave up. They have a string of resolutions longer than my arm-- on a student's right to read, a teacher's right to teach, etc. etc. But they don't give a whit about a 30+- year member's right to run a website that can be accessed by teachers. Maybe I should have assured them that it's not pornographic.
I'm disappointed that no one seems to care that there is a giant censor arm extending over school districts of this country. Think about it: A teacher was forbidden to access a research article from Phi Delta Kappan.
I was unsuccessful in finding out if Chicago has hired Blue Coat as its Internet guard, but I feel certain that if they are censoring teachers' right to access Substance, they are censoring other things too.
