Mayor orders CPS to block access to Substance from inside Chicago Public Schools... Corporate media can still be read and accessed from inside nation's third largest school system's 660 schools and other offices
George N. Schmidt - August 28, 2012
Chicago Mayor Rahm Emanuel, through his hand-picked "Chief Executive Officer" Jean-Claude Brizard, has ordered the Chicago Public Schools to block access by teachers, students and others to the Substance website — www.substancenews.net — from inside all 660 Chicago public schools, and from the school system's central and "network" offices. The order came into effect no later than August 13, 2012, when teachers returned to the so-called "Track E" year-round schools and has been imposed on all the schools since then. Teachers and other staff from the 241 Track E schools began reporting the problems during the second week of August 2012 to Substance.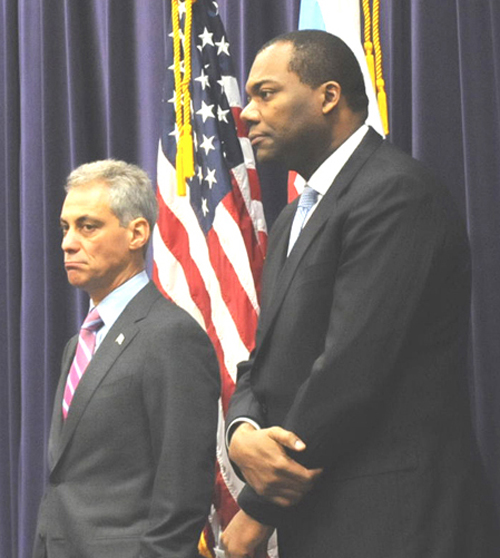 Chicago Mayor Rahm Emanuel and his handpicked "Chief Executive Officer" for CPS Jean-Claude Brizard proclaimed in a December 2011 media event (above) that "COMPSTAT CPS" was going to improve security in Chicago's public schools through the use of computers rather than human beings to do security work. A month later, crime and murders began to increase across Chicago, while Brizard and Emanuel continued to spend millions of dollars on technology and cut human beings from most important activities. In August 2012, the mayor and his CEO ordered the blockage against substancenews.net in all Chicago schools. Substance photo by George N. Schmidt. The problem continued in all "Track R" (regular) Chicago public schools when teachers and other staff returned to the schools for Professional Development (PD) days on August 27, 2012.
The CPS Office of Communications refuses to return Substance phone calls on major stories.
Substance is the only news site being blocked by CPS officials. Chicago Public Schools is the nation's third largest school system, and has been under mayoral control since 1995. A partial survey from several schools during the week of August 20 and a more detailed survey of schools on August 27 showed that teachers could access the Chicago Sun-Times and other media that regularly publish mayoral propaganda as "news" but cannot get www.substancenews.net.
