CTU pickets Track E schools with 'informational pickets', August 20-24
Sharon Schmidt - August 20, 2012
Chicago Teachers Union launched a city-wide campaign of informational picketing at Track E schools today to highlight ongoing disputes with the Chicago Public School system over a lack of resources and deteriorating labor talks.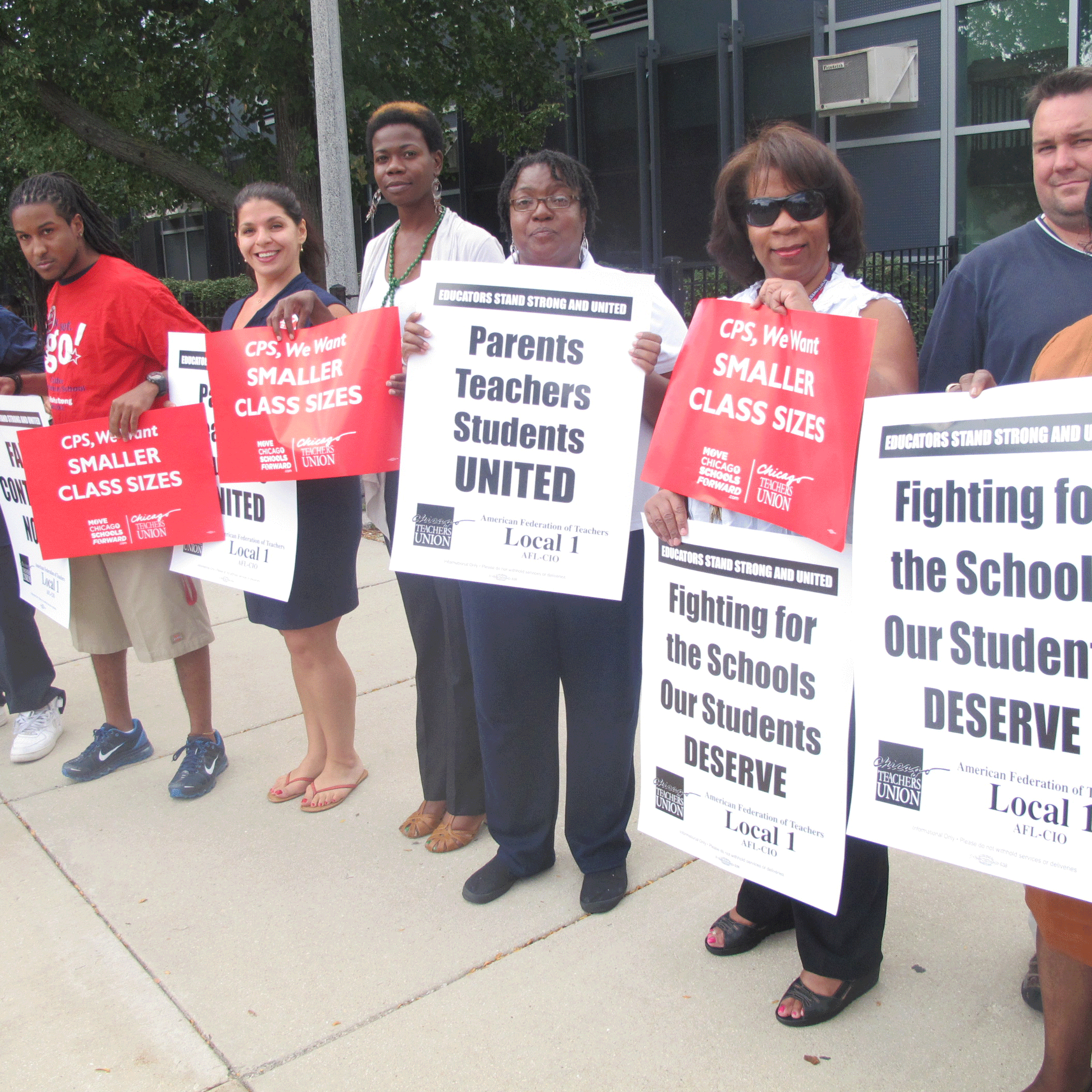 CTU members from Field, Gale, and Cather elementary schools and Steinmetz High School picket at Cather, 2908 W. Washington Blvd., after school on Monday, August 20. CTU is holding informational pickets at all Track E schools throughout the week. Substance photo by Sharon Schmidt.At Cather Elementary School, 2908 W. Washington Blvd., one of six schools where the pickets were held Monday, August 20, 2012, approximately 30 CTU members held picket signs, passed out informational flyers, spoke with parents, students, and reporters.
The CTU organizing department assigned every regular track school to a Track E school to join Track E teachers in the pickets.
"Solidarity means we stick together," CTU member communications director Nate Goldbaum wrote in his August 20 blog post about the pickets. CTU members from Field, Gale, and Steinmetz were asked to join Cather teachers in their after school action. [See Goldbaum's blog post at the end of this article for the link to the picket schedule.] Five teachers from Steinmetz high school joined the rally, including school delegate Bernie Eshoo. (This reporter is an associate delegate at Steinmetz).
"Teachers, paraprofessionals and clinicians will picket at several worksites throughout the week but will not interfere with the school day or employees at Track E schools," a CTU press release reported. "However, should a strike begin, workers will not cross CTU picket lines and CPS classrooms will be without instructors.
"CTU President Karen Lewis said, 'Students come first, but you can't have a quality school district by putting a fair and equitable labor agreement last. After Labor Day we want to be where we belong—in the classroom; however, if talks continue as they have been, we will be where we need to be (and that is) on the line.'"
The union published its program for better schools, "The Schools Chicago's Students Deserve", last Spring, and the program is available at the union's website. Union members are impatient and angry every time someone from the Board claims that its actions are somehow in the best interests of the children.
One example is class size, which everyone knows should be reduced to help individualize the opportunities for each child to learn better in the classroom.
Class size enforcement is an example of how the union contract gave teachers the power to improve things for students — immediately. CTU retiree members who have been holding forums on past strikes organized by CORE have been noting that the Board of Education never provided any real policies that helped children, and that the latest round of expensive programs are just the current examples. "When we could enforce maximum class sizes in September through the contract," said retired teacher delegate George Schmidt, "we could immediately help the kids by stabilizing school with decent class sizes the first month. Since we lost that power the Board — not the union — has proudly sabotaged hundreds of schools every September and October, while loudly proclaiming how much it loves children."
Another example, a small one, from the contract is the provision that allows teachers and other bargaining unit members to file grievances against the schools when the Board forces schools to stay open as indoor classroom temperatures reach 90 degrees and higher, while CPS refuses to provide air conditioning. Dozens of others are offered daily by teachers.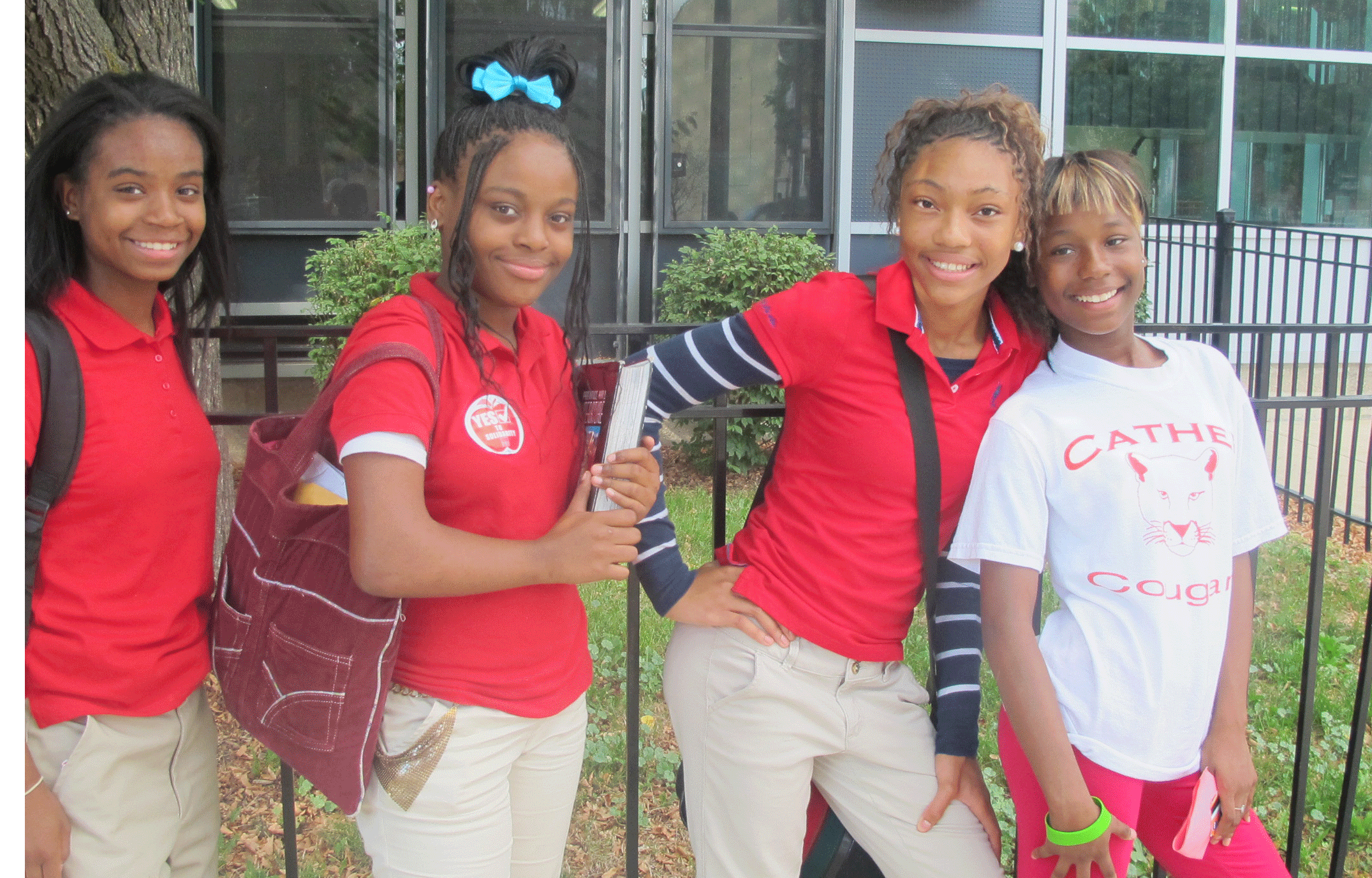 Cather elementary seventh-graders Breonna Duling, Lartava Newman, Shonyotta Grice and Kianna Riddle told Substance they support the teachers and know why they may strike — because the teachers want more for the school. The girls said they don't have art or music at their school. Substance photo by Sharon Schmidt.Cather teachers told Substance that their principal and parents were supportive of their demands for fair pay and benefits and adequate resources for the school. Students at Cather reported that they had neither art nor music at their school. Lartava Newman said they had computer class, but that most of the time in class was spent taking standardized tests on the computers and that "we don't even have enough computers."
The CTU sent out an email to members advising them of the picketing this week and put up information on the CTU website.
Informational Pickets August 20-24
BY NATHAN GOLDBAUM | 08/17/2012
Although "On Strike" signs are rolling off the printing presses as a preparatory action, negotiations continue between CTU and CPS. This week, CTU will conduct pickets that are INFORMATIONAL ONLY at schools already in session.
Solidarity means we stick together. Track E schools will hand out leaflets to parents in informational pickets the week of August 20th through August 24th. Educators who are not currently in the schools should check the link above for their picket assignment. Retirees, citywide members, and non-member supporters should choose schools based on your availability.
Click here for the picket schedule.
Why are we holding informational pickets? We are picketing to inform staff, parents and community members of what is happening in our fight for a just contract and quality education for all students. We want to show CPS and the mayor that we are strong and determined to obtain a fair contract that provides the resources necessary to implement a better school day.