AFT REPORTS: Some AFT delegates protest Race To The Top while majority don 'Obama Biden 2012' tee shirts during speech by Vice President Joe Biden
David R. Stone - July 29, 2012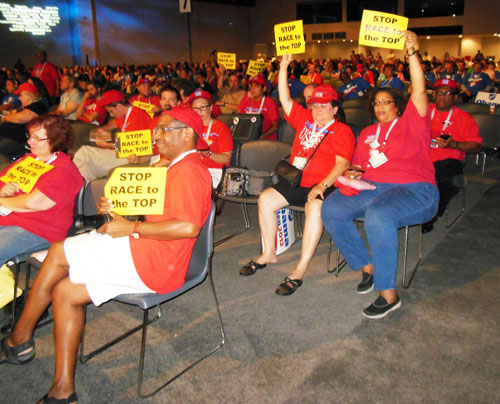 Chicago Teachers Union delegates to the AFT convention (above) refused to wear the blue "Obama Biden" tee shirts that were being given away to delegates or hoist the "Obama Biden" signs, instead wearing Chicago's distinctive red tee shirts and silently holding up signs reading "Stop Race To The Top" during the July 29 speech by Vice President Joe Biden. Substance photo by George N. Schmidt.Trying to send a message to U.S. Vice President Joe Biden when he addressed the American Federation of Teachers on Sunday, July 29, 2012, delegates from the Chicago Teachers Union joined by other delegates held signs protesting Race to the Top. The CTU members wore CTU red shirts, while the majority of AFT delegates were wearing blue shirts with an Obama/Biden message.
The AFT has taken no official stands against the Obama Administration's under-funded, coercive, test-driven Race to the Top education program. The resolution passed by the convention against high-stakes testing and test abuse mentions "No Child Left Behind" (the program of the Bush administration) as creating test abuse, but does not mention "Race To The Top" (the current program of the Obama administration), which requires even more testing.
While the protest against Race to the Top took place largely with delegates sitting in their seats holding signs, a second protest came into the back of the hall, when several dozen people marched briefly through the back of the hall chanting. A number of delegates quickly went to the area wearing blue tee shirts supporting "Obama Biden" and carrying signs.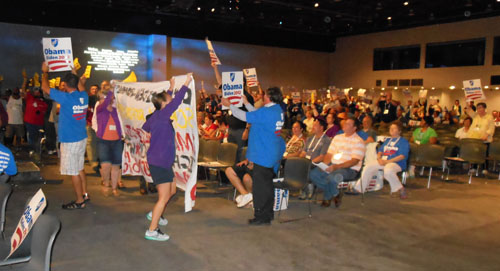 A group of protesters carrying a banner (which the photographer could not read) entered the back of the convention meeting room and briefly chanted against Obama Biden until they were escorted out by AFT and other security. Within less that a minute after their entry, the protesters were surrounded by others wearing the blue "Obama Biden" tee shirts. Substance photo by George N. Schmidt.AFT security and other security escorted the protesters and their banner out into the lobby.
A Detroit Police captain told Substance that no arrests had been made.