CTU/CPS interim agreement decreases CPS previously announced teacher work day hours, opens positions to displaced teachers
Sharon Schmidt - July 24, 2012
CTU President Karen Lewis announced that an interim agreement signed today with CPS was "a win for students and teachers and para professionals and clinicians." The agreement addresses teacher work day hours, 500 new teaching positions, and recall rights for some displaced teachers to be implemented at the start of the Track E school year.
However, while Lewis said the agreement will "allow us to have a reasonable opening to Track E schools," she cautioned that many issues between the Board and the Union have not been resolved.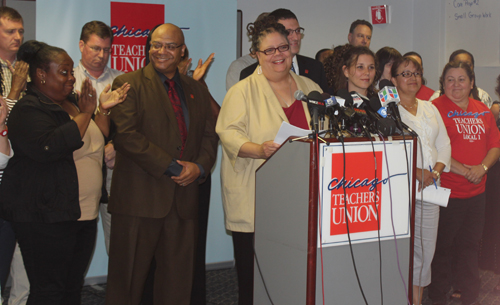 Chicago Teachers Union President Karen Lewis, with the other CTU officers and some of the 50-member bargaining team, announces that the CTU and CPS signed an interim agreement on July 24. "This is very good news," Lewis said. "Have you seen me smile this much?" Substance photo by Sharon Schmidt."This is movement in the right direction, but let me make this very clear, this does not settle the outstanding and mandatory issues in the contract," said Lewis. "In order to get us where we are today it took a march of nearly 10,000 educators, a strike authorization vote and a fact-finder's report to get CPS to move on this issue. This is yet another example of the CTU's determination and dedication to fighting for solutions that will strengthen our schools."
The elementary school teachers work day will be 420 minutes (7 hours) and the high school teachers day will be 435 minutes (7 hours and 15 minutes). Under its previously announced "full" day, CPS had all teachers working 460 minutes (7 hours and 40 minutes).
The student day will be 420 minutes for elementary students (the same 7-hour day announced in April), and 435 minutes (on average over a five-day week) for high school students (15 minutes less than what CPS originally pushed).
CTU Vice President Jesse Sharkey (above) had responded to a Track E teacher at the CTU House of Delegates meeting on July 18 during the question period who wondered how she was supposed to handle the longer day hours while the Union and Board are still in negotiations. The interim agreement is necessary to avoid problems for Track E teachers. The work day hours for elementary teachers will be the same as they are currently (in open campus schools) and will increase 15 minutes for high school teachers. Substance photo by Sharon Schmidt.CPS will staff the elementary school day with 500 new teaching positions. Tenured teachers displaced in 2010, 2011, and 2012 will constitute the pool from which principals must hire the new teachers.
"It is expected that the new hiring will include many recently-neglected areas of instruction, including art, language, library science and physical education, thus achieving a CTU goal of a better school day, not just a longer school day," Lewis said.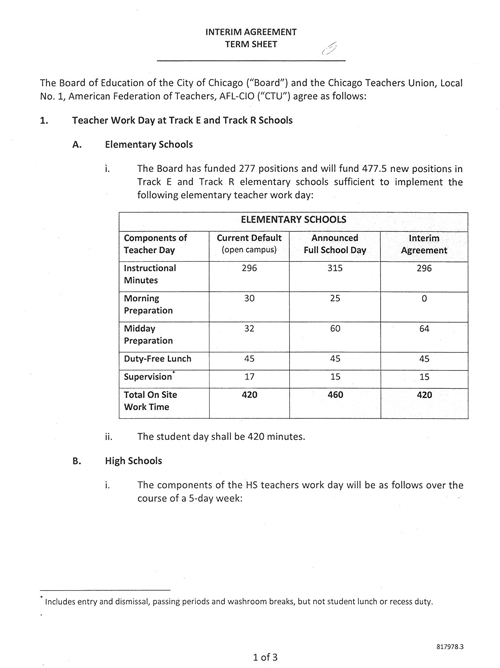 First page of the agreement material distributed by the CTU."This Interim Agreement would not have been possible had we not shown our discipline and determination to be treated with respect," said Lewis. "We are making real progress but we must keep up the pressure for a fair contract."
CTU will be at the Board of Education, 125 S. Clark St., on July 25, 9:00 a.m. "to demand respect, job security, and that the board bargain over issues that really matter to students and educators," according to the CTU website.
Second page of the agreement material distributed by the CTU.The interim agreement charts the components of teachers' work days — including instructional minutes, prep times, lunch, and supervision — as they are currently in the elementary and high schools, what CPS intended in the announced "full school day", and what they will be for the Interim Agreement.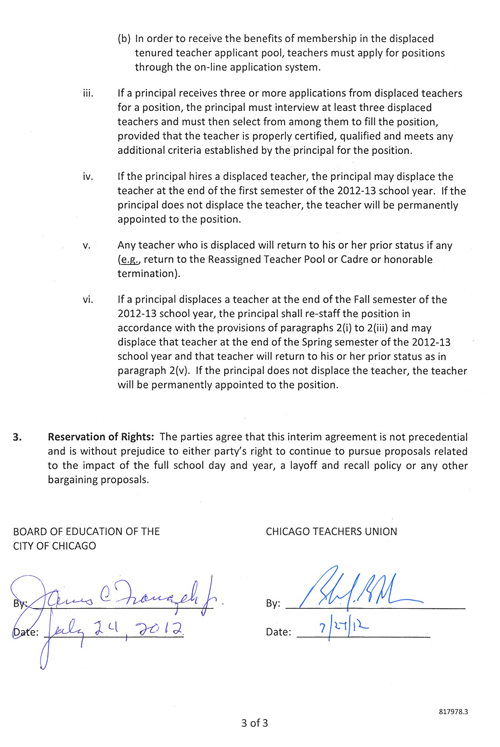 Third page of the agreement material distributed by the CTU, showing the signatures of the attorneys for both sides, James Franczek for the Board and Robert Bloch for the CTU. This material also illustrates how collective bargaining eventually moves towards a contract.The procedures for hiring the new elementary positions are also laid out in the three-page document. The complete text of the CTU news release, which also includes the breakdown of work day times for elementary and high school teachers is available on the CTU website: http://www.ctunet.com/blog/cps-steps-back-from-longest-school-day 