MEDIA WATCH: Sun-Times shows its anti-union, teacher bashing bias in choice of parent source for its July 22 'strike' story
Sharon Schmidt - July 23, 2012
The venom of one wealthy parent of a selective-enrollment high school student trumped the informed and active concern of a parent leader for the entire Chicago public school community in the Sun-Times, Sunday, July 22, 2012.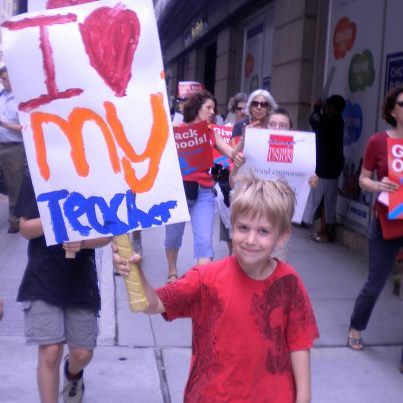 Above: Substance's Josh Schmidt marches in the June 2011 informational picket, proudly sharing his love for kindergarten teacher Marcy Morales. Another picket is planned for Wednesday, July 25. Teachers and supporters will have to work hard over the next few weeks to counter the intense teacher-bashing and anti-union bias of Chicago's mainstream media, as evidenced in Ros Rossi's prominent featuring of the odious north side mom Anna Coleman. While the Sun-Times allows Raise Your Hand founder and activist Wendy Katten a few sentences to question the wisdom of pushing the schools to an unfunded 7-hour day, it prominently features an Edgebrook mom of a Northside College Prep student who is obviously very pissed off about "unimpressive" high schools, no freshman orientation, rising school fees, and a potential strike that would be "the final nail in the coffin."
The disgruntled mom says if teachers strike, "I am going to look for another house" in the suburbs.
In addition, the Sun-Times gives the mom the three final paragraphs of the piece to espouse anti-union, teaching bashing drivel. Teachers and union supporters need to cling to the strength and righteousness of our cause, and as CTU President Karen Lewis has suggested many times, keep talking to our neighbors and colleagues to combat all the misinformation.
One of the ironies of this particular piece of teacher bashing propaganda from the Sun-Times is that back in June, on the last day of school, the same reporter went to Edgebrook Elementary School, and couldn't find a parent who disagreed with the teachers there who had just voted (virtually unanimously) to strike.
Now that the Sun-Times is under new owners (a bunch of Hedge Fund guys who are fans of Rahm; they seem to think there is a Pulitzer Prize for the most days a daily newspaper puts a photograph of the city's mayor on Page One), for all the rest of us know, they might have sent some of their underlings through the streets of Edgebrook and Sauganash in a sound truck calling out for someone who hates public schools and unions. Otherwise, the question — worthy of the Columbia Journalism Review — has to be this: "How does a reporter find one teacher-bashing, smug, wealthy, union buster when the community up there is filled with teachers, parents and students all of whom are teacher union supporters?"
SUN-TIMES 'NEWS' STORY PUBLISHED ON SUNDAY, JULY 22, 2012, BELOW HERE
Parents need not panic over threat of Chicago teachers strike — yet
[Print edition headline, Sunday, July 22, 2012: Room for horse-trading by teachers union, CPS]
BY ROSALIND ROSSI, Education Reporter, rrossi@suntimes.com, Last Modified: Jul 22, 2012 12:01PM
Given the threatening turn in Chicago teacher contract talks last week, Anna Coleman is thinking of selling her house in leafy Edgebrook — again.
Unimpressed by most Chicago public high schools, Coleman checked out 50 suburban homes in the last two years. The hunt stopped the day her daughter was accepted for fall admission to Chicago's coveted Northside College Prep, the state's highest-scoring public high school.
But since then, the district's budget problems killed off Northside's freshmen orientation program. School fees to rent a laptop computer if her daughter doesn't buy one have skyrocketed, Coleman said.
A Chicago Teachers Union strike would be "the final nail in the coffin,'' the Edgebrook mom said. "If they go on strike, I am going to look for another house."
The anxiety level of many parents across the city ratcheted up a notch last week as word emerged that both the Chicago Board of Education and the Chicago Teachers Union had rejected a long-awaited fact-finder's report on how to resolve teacher contract talks that have festered since November.
Fact-finder Edwin Benn's report made public the huge official gap between the final offers of both sides, then suggested raises of 15 percent to 18 percent in the first year of a four-year contract, based largely on the 20 percent longer school day and year touted by Mayor Rahm Emanuel. District officials quickly dismissed the pay suggestion as unaffordable.
Worse yet, Benn was none too encouraging about the state of negotiations, calling them "toxic,'' "incendiary'' and holding "all the makings of a full-scale labor-management war.''
But parents, students, teachers and administrators have a little bit of breathing room — at least a month.
The countdown
The release of Benn's report last Wednesday started a 30-day calender that translates into an Aug. 20 strike date at the earliest. That would come one week after one-third of kids start year-round classes Aug. 13. The remainder begin Sept. 4.
Fueled by anger over a canceled 4 percent raise coupled with a longer school day, a record 90 percent of CTU members last month authorized a strike, if necessary. However, the union's House of Delegates still has to set a strike date, and CPS officials are entitled to 10 days notice before any strike occurs.
In the meantime, both sides say talks will continue at an accelerated pace. Both said they would try their best to avert a strike. Said CTU Vice President Jesse Sharkey, "There's still some more runway left where we can land this plane."
Chicago Principals Association President Clarice Berry last week put the chances of a strike at "50-50.'' The CTU's last strike, in 1987, lasted 19 days.
"Having read some of the report, about the toxic relationship between the two parties, that's a huge stumbling block to get past,'' Berry said. "To have people work together cooperatively — it's a tough thing to do after such acrimony.''
Horse-trading
However, Berry wasn't ready to endorse CTU demands for a form of job protection that would impinge on a principal's ability to select staff.
Hinting at an opening for horse-trading on pay, Sharkey said job protection "is worth something to us,'' given the expansion of charter schools and school closures, phaseouts and turnarounds that displace scores of teachers every year.
The CTU wants to require principals to fill openings first from a pool of "effective'' veteran teachers to give them a leg up on rookie teachers who compete with them for jobs, Sharkey said.
"We know that teachers just starting out have a 50 percent [dropout] rate. It's actually a job that lot of people can't do,'' Sharkey said. "This is something that would not only be the right thing to do, it would help settle the contract" with a smaller pay increase.
However, Berry said Chicago principals won the right to pick their staff with the 1988 Chicago School Reform Law. Since then, the pressure to produce results has only increased.
"You can't hold a principal accountable for results and not give them the ability to choose staff,'' Berry said. "With school reform and the pressure principals are under to improve scores, the right to hire is something we're going to hold fast to.''
Longer school day on table?
Some parent groups seized on Benn's suggestion that the district roll back its longer-day plans if it could not afford Benn's salary recommendations. School Board President David Vitale said the system was committed to the longer day but refused to bargain in public about whether to phase it in or shrink it, at least initially.
However, with half the schools that pioneered a longer day producing fewer gains than the system, Wendy Katten, of the parent group Raise Your Hand, said, "Let's not rush it.''
She urged the district to begin its systemwide longer day at 6½ hours, up from the 5¾ now common in most schools but less than the 7 hours demanded by the mayor.
"It's absurd that we are trying to do this much when we are in financial trouble,'' Katten said. "Address funding and then do a 7-hour day when you can afford it.''
However, Edgebrook mom Coleman said the system is long overdue for a longer school day, and teachers don't deserve any more job protections than anyone in the private sector, where laid-off people with decades of experience are competing for jobs with kids out of college.
"It's outrageous that in this economy, with CPS being underfunded and emptying out their reserves [to balance their budget], that anyone would ask for a 25 percent raise" over two years, said Coleman, an interior designer who has been looking for work for four years.
"Personally, if they don't like their job, there's a whole lot of people with MAs, BAs and doctorate degrees that have not had a job in two, three, four years that would line up for their job."
Copyright © 2012 — Sun-Times Media, LLC