SCAB TEACHERS NOT WELCOME: Rahm's Scab Army will be a debacle... Rahm's disinformation campaigns will lead to chaos for a couple of days in scab classrooms until the last TFA or New Teacher Project mercenaries are driven out of our classrooms
George N. Schmidt - July 13, 2012
By summer's end, there will be thousands of bumper stickets waiting for use across Chicago that read "I scabbed for Rahn… (and all I got was this noisome bumper sticker!)". Whether they will wind up on a dozen, a hundred, or a thousand cars and school mailboxes remains for history to report. Based on the record of the first year of Chicago's rookie mayor, Rahm Emanuel, however, it's clear to more and more teachers, police officers, firefighters, and other public servants that Rahm ranks with Wisconsin Governor Scott Walker as a nationally famous union buster. He's also up there with some of the more ludicrous memories from U.S. history as a foremost scab herder and union buster.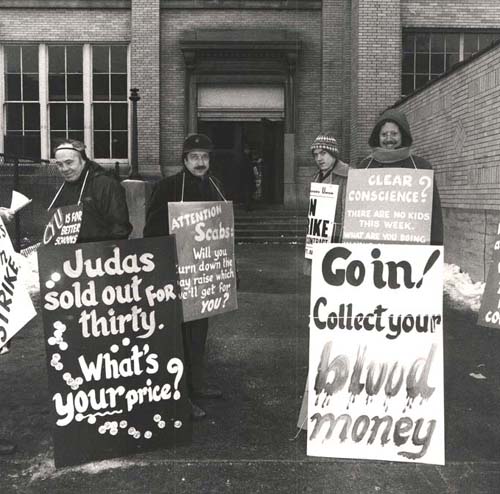 Pickets wait at one Chicago elementary school to greet scabs during the January 1971 Chicago Teachers Union strike. By 1971, the Chicago Board of Education was unable to open one school with scabs because the students would not attend school — or be polite to — scab teachers, so the Board paid scabs to sit in empty buildings.But now push comes to shove. The lines are being drawn, and Rahm's minions at CPS are still insisting they can break the CTU contract and the union with ludicrous lies and budget manipulations. So it's necessary to review Rahm's record to prepare for the future, which is almost now. Rahm's record of lies indicates he intends to go all the way towards civic oblivion, again. This time, though, it won't be with phony "studies" about the length of the school day, paid preachers, or rent a protesters, pushed along by a couple of plutocratic front groups like Stand for Children, Advance Illinois, and Democrats (sic) for Education Reform.
Rahm's propagandists have actually been telling people that Rahm can raise an army of scabs in the coming year, just as he thought he had an army of rent a protester mercenaries last year. The whispering is that there are 5,000 nubile young "idealists" From Teach for America ready to roll into town for Rahm. They've got to be kidding, but like most spin stories, these are never checked for factuality. Spin is in in the Age of Rahm.
Teach for America doesn't do "boot camp" for this reality. Mercenaries are mercenaries, and scabs are scabs. A mercenary has to have a hole in his soul — but also a little guts. The jobs is not just for a kid with a fancy university degree, a vapid ignorance about reality, and a perfect score on the quiz that followed the most recent airing of "Waiting for Superman". Six viewings of "Waiting for Superman" and a couple of Attaboys from Jonah Edelman, Becky Carroll and Wendy Kopp aren't going to get your through one day scabbing in Chicago. Reality here is as close as the difference between a Latin King and a Latin Dragon, a false flag — crown up or crown down? — that can get you a year in therapy if you are lucky. They don't teach that at Princeton, and by the time Rahm's scabs wake up it will be sadly too late for them.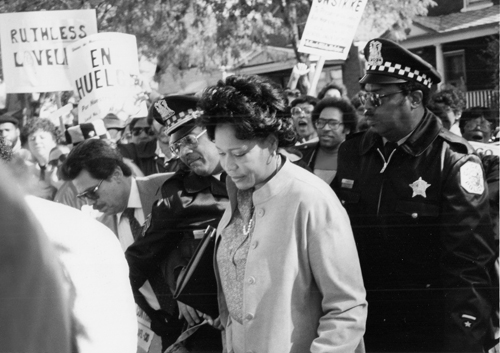 Rahm Emanuel will not be the first Chicago chief to try and encourage scabs during a Chicago Teachers Union strike. In the middle of the 13-day October 1983 strike, Californian Ruth B. Love (above, center) announced that she was going to open three schools "for the sake of the children" and marched, under police escort, into Piccolo elementary (above), then Whitney Young High School and Dixon Elementary School. At each location she was greeted by thousands of strikers and supporters, resulting in a public meltdown for the TV cameras at the end of the day. At that time, Love tried to compare herself with civil rights marchers in Birmingham Alabama who were attacked by police dogs launched by vicious white racist cops. The trouble with Love's version of reality was that the majority of the pickets were also African Americans, the dogs on the picket lines (see next photo) were on good behavior, and the debacle of the day backfired. The day cost Love her job, when she demanded that her contract be renewed early the following summer and the school board voted "No" and selected Manford Byrd. Seldom in Chicago history has the Spin Machine been so woefully out of touch with reality as during the year Rahm's been in power. Even during the strangest days of the newspaper wars (famously, between Colonel McCormick's Tribune and the old and venerable Chicago Times, which carried the New Deal to the streets every morning even if the truck drivers had to do their routes armed with shotguns and pistols against the Colonel's right wing thugs), Chicagoans had the chance to get some reporting that included facts. If you didn't like the Colonel's version of viciously racist, pro-fascist America First "reality", you could read the Times (in the morning) or the Daily News (in the afternoon).
By the time the Reign of Rahm began, however, almost all of Chicago's reporters were in the tank. Most were feeding directly or indirectly from the Ministry of Propaganda and pushing the punditry of the plutocracy. (We had a recent example in our run-in with the Plutocratic Propagandists at Public TV earlier this week, but that story's already been told here).
Let's review some of Rahm's history.
While Chicago's drug gangs were arming for one of the biggest and deadliest gang wars in the city's history, Rahm went to war — against the city's real public school teachers and against the Chicago Teachers Union. Day after day, Rahm repeated his talking points, and their nonsense went into the official narrative unchecked because facts were no longer important in the world of "He said, but she said" "reporting" in Chicago.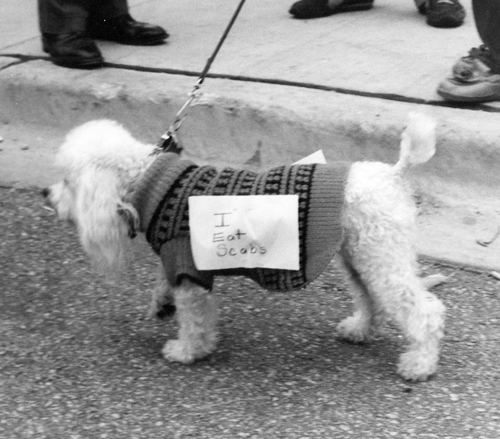 Chicago teachers often brought their pets on picket lines, as the above attack dog made clear during the 1983 strike, which is when Ruth Love claimed that the strikers were like the Birmingham Alabama police who had attacked civil rights marchers 20 years before with police dogs and fire hoses. The spin came from phony "research" repeated as often as the greater Big Lies of the previous century. Over and over and over, unchecked except here and in the Reader. A year ago, Rahm Emanuel's propaganda ministry was pushing out the Big Lie that Chicago schools had the "shortest" school day in the USA and getting Chicago's plutocratic pundits (most of the corporate media reporters) to simply repeat it. That was never true, as the facts showed, and as late as the hearings on Rahm's second budget, on January 11, 2012 at Malcolm X College, a high school teacher pointed out that Rahm's scripts about the "Longer School Day" had been a lie. At best, Rahm's propagandists were talking about Chicago's elementary school days, and there only at schools with the so-called "Closed Campus," where teachers had their lunch during the final hour of the day (so the kids went home around 2:00). Despite the nuances and the facts, Rahm grabbed the headlines and continued to repeat his talking points slandering Chicago's teachers like he was still working the D.C. news cycle inside the Beltway, where on his previous job he had been White House "Chief of Staff."
No sooner had Rahm gotten the power to push in his Longest School Day on Chicago (by state law, he can force it on Chicago in the 2012 - 2013 school year; a mistake the legislators won't make again, since Rahm's credibility in Springfield is almost as low as the credibility of his Astroturf supporters, from Stand for Children and Advance Illinois to "Democrats for Education Reform." But in the world where facts don't matter, history has ceased to exist, and context is meaningless, a guy like Rahm can simply abandon last year's lie and move on to this year's. The trouble with that approach to governance is that it usually leads to a mess (the forthcoming introduction of the Longest School Day in the city's public schools) or death (the gang murders on the streets of Chicago and the monstrous and costly results of U.S. imperialism in the mountains of Pakistan and Afghanistan). Suffice to say, as a Congressman, as White House Chief of Staff, or as Chicago's rookie mayor, Rahm Emanuel has been party to some of the worst policy ideas — and the most obnoxious media spin — since the dawn of the 21st Century. The reasons we can leave to shrinks and shamans. The Who, What, When, and Where are now a matter of historical record. Spin is very expensive. CPS is spending more on its Ministry of Propaganda this year than ever before in history. The new ("proposed") budget for the "Office of Communications" is breaking all records. Previous information chiefs at CPS (two of whom were in town recently, one from Colorado and one now working for the cops again) are laughing at how Rahm keeps pouring more and more dollars into the feeble spins emanating from Becky Carroll and the boys and girls (virtually all hired since a year ago, except two) drawing those six figure salaries on the sixth floor at 125 S. Clark St.
But as the old clichés note, idle hands (and feebel minds) are the devil's workshop. So no sooner has one bad idea been shelved than a bunch of new ones, equally shallow and dangerous, are poured in to their places. Then, with assiduous energy, the Communicators move around among the pundits, trying to feed the new narrative into the mainstream of conventional thinking. Two huge ones, each more dangerous than the one before it (and both more dangerous than the Longest School Day scam) are now making the rounds:
-- PATCO
-- The 5,000 Teach for Chicago scabs waiting to take the jobs of striking Chicago Teachers Union teachers.
Substance has already undermined all the attempted credibility from the PATCO nonsense, even if the Sun-Times still has a pundit or two loading it for one last foray into the ink. Readers who want to re-read our analysis of that can go on line into our back issues or get a copy of our print edition where we printed out review and analysis of Joseph McCartin's PATCO book.PATCO NOT! should have been Sneed's headline, but what do you expect from a gossip columnist but nonsense?
The poor Teach for America scabs, on the other hand, will prove a much more dangerous policy move for Rahm, a mess that may even exceed his Longest School Day and Gang Banger mistakes. During the current summer, every classroom teacher, coach, clinician, teacher assistant, and clerk in Chicago is staying in contact with the parents and students of our real public schools. Coaches have been warming up the teams for autumn sports. Cheerleaders are stretching. The staffs of the extra-curricular clubs and groups from debate to publications are getting together. And from kindergarten through the upper ranges of high school, teachers and parents are going over what the word "Scab" means and what will happen if Rahm tries to deploy a bunch of scab teachers into Chicago's real public school classrooms.
Those who last more than one day to the catcalls of "Scab" from the little ones to the largest high school seniors will still have to walk in and out of our buildings every day.
And if Rahm really does lure a few nubile and pretentious ignoramoses from the ranks of Teach for America (and similar outfits, say, the New Teacher Project or Kids First) to cross those picket lines and dare to stand in front of a Chicago classroom in September 2012 when the strike starts, it will be a wonder to behold (and report in detail, with pictures) here. Of course, our ideal scenario would be for Rahm and Jean-Claude to emerge from their bunkers (they have been hiding since the days they used to put on a publicity stunt about once a week in a carefully staged CPS school) and heroically announce that they, too, along with the Seven Dwarfs (the members of Rahm's Board of Education) were going to "teach." Not just for a fifteen minute photo op as Rahm usually does while looking carefully at his watch, but for that Longest School Day he loves to prattle about.
With thousands of working class people and union members planning some Chicago picket line work alongside members of the Chicago Teachers Union when Rahm's debacle enters its tragic final phases, the sad children from Teach for America that Rahm's been whispering about won't last a day — even if they get into the buildings Rahm thinks he can open in eight weeks. And if they get there, Chicago will have one of the most delightful lesson plans in its history, as 300,000 or 400,000 children and young adults from ages four and five to eighteen and nineteen learn how to deal with scabs as our mediagenic mayor moves from mistake (the Longest School Day mess), through debacle (the attack on the city's cops that launched this year's open season by the city's drug gangs), to the catastrophy that will take place in thousands of classrooms, shops and gyms when Rahm's Scab Army tries to go to work in Chicago.