'People's School' continues... Protesting school closings... Oakland sit-in ended after police action on 17th day
Susan Ohanian and Jack Gerson - July 04, 2012
[Editor's note: The following is the most comprehensive reporting and analysis of the sit-in at Oakland's Lakeview Elementary School that we have as of July 4, 2012. The 17-day sit-in, one of the most dramatic direct actions against the national policy of school closings that has been decimating inner city schools for years and which escalated under Arne Duncan and "Race to the Top" has been facing increasing resistance across the USA. This recent Oakland action was the most sustained.]
Police cleared nearly 40 people from a sit-in protest in Oakland, California, on Tuesday July 3, 2012, ending one protest against the closing of urban schools that has been taking place across the USA. The Oakland sit-in at Lakeview Elementary School had been under way for 17 days at the time the police arrived at shortly before 4 a.m. and told protesters to leave the premises, according to new reports, quoting district spokesman Troy Flint.
"Most of the people there dispersed over the next two hours, but a few who were not at the school when police arrived are returning Tuesday to collect their belongings, Flint said," according to CBS news.
There were two arrests.
"Even though the squatters were trespassing, we allowed them to stay for 17 days to make their point," he said. "Finally we moved in because we have to begin with preparations for the next school year."
After the raid, "No Trespassing" signs were put up on the campus.
Media reports state that Oakland currently serves 17,000 fewer students than it did 10 years ago. In addition to Lakeview, the Oakland school district is also closing Maxwell Park, Lazear, Santa Fe and Marshall schools.
Protesters vowed to continue and established a new People's School across the street. 40 people had been camping at Lakeview Elementary during the protest.
PRESS RELEASE FROM OAKLAND PEOPLE'S SCHOOL BELOW HERE: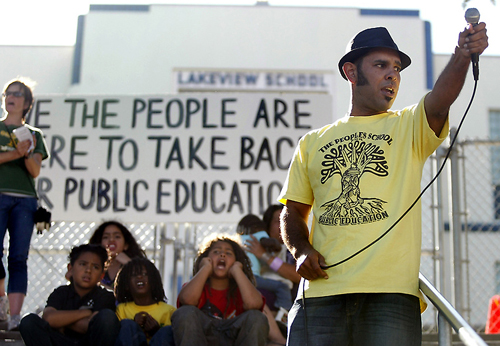 Oakland parent Joel Velazquez rallying people on behalf of the Oakland People's School at Lakeview Elementary School following the police raid that ended the 17-day sit-in. Photo from the San Jose Mercury News.Save Our Oakland Schools Reply to Oakland Unified School District from the Lakeview Sit-in and People's School
July 3, 2012 Media Advisory. Oakland Police Raid Lakeview Sit-in and People's School For Immediate Release For more information: Joel Velasquez 510.473.5635
JackGerson. 510.682.4381
Alima Catellacci 808.217.5703
Rebecca Rozo-March 510.735.4935 At 4 am this morning Oakland Unified School District police supported by the Oakland Police Department (about 40 cops total) raided the Lakeview Sit-in and People's School for Public Education. The school district plans to start moving administrative offices into the school building, having displaced over 200 Lakeview students and one thousand students all told from the five schools OUSD is closing down.
All present were forced to evacuate the site. Two arrests were made. The final dispersal order was given by Sergeant Barhin Bhatt. This is the same Sgt. Bhatt who murdered an unarmed young black man, Rahiem Brown, two years ago outside of a dance at Skyline High.
OUSD spokesperson Troy Flint was on scene defending the police raid to the media, saying, "There's nothing to negotiate. They want a highly successful superintendent to resign, and they want to keep open five schools that must be closed."
But OUSD Superintendent Tony Smith's success has been solely in closing schools and cutting essential programs. He has destabilized the high schools. And now he's destabilizing elementary schools, which will assure more dropouts at an even younger age. Smith has succeeded in:
— Driving up the dropout rate (now over 48%
— Driving up class sizes
— Driving out hundreds of experienced teachers and ripping up union contract protections
— Shutting down the Adult Education program
— Slashing the Early Childhood Education program
— Eliminating $2.1 million of transportation funds for Special Education
— Draining the public schools of students and money by increasing the proliferation of charter schools
The People's School is a symbol of exactly the opposite of what Tony Smith and the school board have been doing. The school, now in its third week of instruction, has been providing education to between 25 and 30 students with no other opportunity, particularly those in the black and brown communities, that have been hardest hit by Smith's harsh school closures and other cuts in essential programs.
This fight will continue. The People's School remains open, its classes now held directly across the street from Lakeview Elementary. Unlike Tony Smith, we keep our word. We will host rallies and events, and we will use our power as a community to make sure that Lakeview is not converted into administration offices.
We have asked the Alameda Labor Council to sanction a community labor picket line at Lakeview. We call on the tens of thousands in Oakland concerned with public education and with the criminalization of black and brown youth to come out in force to support us. We demand that Lakeview and the other four closed elementary schools be reopened immediately.
We will act now to mobilize an immediate mass response: Today (Tuesday, July 3) at 5PM we will assemble in front of Lakeview Elementary for a mass rally and march to continue the fight to keep those five elementary schools open and to fully fund quality public education.
This Sunday (July 8) at 6PM, we will host a mass convergence, performance (featuring Boots Riley), rally, and open mike at Splash Pad Park (directly across from the school). We will organize relentlessly to take the campaign to keep neighborhood schools open and fully fund quality public education out to the community. We will campaign to oust current school board members and replace them with candidates completely opposed to the program of austerity and cuts, and who will fight to fully fund quality public education at the expense of the rich and powerful, not by cutting education and other essential services at the expense of those who can least afford it. Information updated frequently at our blog.
Ohanian Comment: I note that the official statement from the Oakland Unified School District trying to justify the closing of Lakeview Elementary School is available in Spanish, Chinese, Vietnamese, and Arabic, as well as English. Four California cities rank in the top ten of highest income locales (by per capita income) in the US: Woodside (4), Portola Valley (7), Newport Coast (8), Hillsborough (9). Woodside, Portola Valley, and Hillsborough are all in San Mateo County, barely more than a stone's throw from Oakland. Newport Coast is in the south--in Orange County.
Their school announcements are in English only.
Parents in wealthy districts form foundations to fund their schools. That way, the money that should be going for increased taxes to fund all public schools is earmarked only for the schools their children attend.
"The days of public schools that are free and of any quality are long gone," said Marita Daly, president of Kentfield Invests In Kids (KIK), which provided about $1.35 million to the Kentfield schools this year. "Annual contributions from parents are necessary to achieve the quality of education we want in our schools."-- Contra Costa Times
Writing at Socialist Worker, Oakland Education Association member Jessie Muldoon makes the critical point that this sit-in is about much much more than one school.
Lakeview Elementary sit-in: Oakland schools police order crowd to disperse
By Katy Murphy and Anna Gallegos, Oakland Tribune
June 19, 2012
OAKLAND -- Days into a sit-in to protest the closure of Lakeview Elementary School, the Oakland school district police force is ordering the demonstrators to clear the area. "We're hoping the crowd will disperse on its own accord," district spokesman Troy Flint said on Monday morning. But well after the stay-away order was issued, around 5 p.m., about 80 protesters — many of them from the Occupy movement — still rallied outside the school. Protesters started the "People's Campus" — summer courses teaching art, gardening and social justice in the closed school. Nearly 40 students were enrolled in the classes that are not affiliated with the district, but only seven children arrived.
"Unfortunately, the campus police from Oakland Unified School District scared the parents and children away, and they are not here," said Joel Velasquez, a parent leading the sit-in. "We're going to educate your children and show how education should look like." Monday morning, organizers said that they would stay on the campus "until something changes." They were joined by more protesters later in the afternoon and were asking for Superintendent Tony Smith to resign. They are planning a noon Saturday at Frank Ogawa Plaza.
Lakeview is one of five elementary schools which the Oakland school board voted last fall to close at the end of the year as part of a downsizing plan; Smith said the $2 million a year in estimated savings would result in more money for the remaining schools. But supporters of Lakeview, Lazear, Marshall, Maxwell Park and Santa Fe elementary have argued those savings are not worth the pain and disruption that closures cause families and teachers. (Families at Lazear have managed to keep their school open by converting it into an independently run charter school; on Friday, the Alameda County Board of Education approved the charter application on appeal, though it's unclear whether the school will be able to remain at its current location.)
Over the weekend, supporters rallied outside of Lakeview, demanding that the school district change its decision. The marquee at the Grand Lake Theater, just across the street from Lakeview, reads: "Why is Oakland closing schools while squandering millions on consultants/ Support the sit in at Lakeview school."
Flint said the district administration allowed the sit-in to continue over the weekend, as school closures are "a legitimate civic issue to protest." The district will maintain its headquarters on Second Avenue, but plans to move some offices to Lakeview. Still, he said, "While we recognize that the demonstrators are extremely upset about the decision, it's one that we feel is in the best interest of the district at this point. We are not going to reverse course."
Save Oakland Schools Announcement
Dinner and a Movie at the Lakeview Sit-In
Sunday, July 1st -- 6 pm
Dear friends, comrades, neighbors, and colleagues, Please join us to celebrate Day 16 of the Lakeview Sit-In and the People's School with a community potluck and film screening this Sunday, July 1, at 6 pm. For two weeks now we've been running a free summer program out of occupied Lakeview Elementary, serving over 30 children with programming in social justice, art, PE, and gardening. At the same time, we've been organizing to pressure Tony Smith and the school board to reopen all five closed elementary schools, repudiate the state debt, stop busting teacher and school workers' unions, reverse the cuts to special education, and fully fund public education for every student. This Sunday, we kick back and grub. The potluck starts at 6 pm at the People's School (746 Grand Ave), followed by a screening of "The Inconvenient Truth behind Waiting for Superman."
Please bring a dish or a non-alcoholic beverage to share. In love and solidarity, The Lakeview Sit-In and People's School for Public Education About Save Oakland Schools: We are a group of parents, teachers, and folks deeply connected with the fight to save and transform public education to serve our needs.
Individuals: Sign the petition
Organizations and Businesses: Please email saveoaklandschools@gmail.com to endorse.
Third week update by Jack Gerson
The parent-teacher-community sit-in and People's School for Public Education at Lakeview Elementary, now entering its third week, continues to gather support. By the end of its first week, Oakland Unified School District administration had already felt enough heat to post a Media Advisory on their web site trying to justify the closure of five neighborhood elementary schools, including Lakeview. OUSD admits that "School closure is a painful step", but insists "By consolidating into fewer schools, we can invest in better, richer programs for children and families." But Tony Smith and the school board are doing the opposite. Rather than creating "better, richer programs", OUSD is shutting down essential programs, programs that especially serve those most in need: the black and brown communities, students with special needs, single mothers, immigrants, and jobless adults. The school closures are only the latest step in downsizing of Oakland public education launched under the state takeover of OUSD (2003 -- 9) and continued under the Smith administration.
Since Tony Smith became Superintendent three years ago, OUSD has: Dismantled the Adult Education program that two years ago served 25,000 students, a program that single mothers, high school dropouts, and immigrants especially relied on to try to escape from the clutches of poverty.
Removed class size limits and increased class size, despite the fact that small class size is strongly linked to student achievement.
Made harsh cuts to the early childhood program that working families desperately need and is closely linked to children's future academic and lifetime success.
These program cuts, coming on top of the severe downsizing and privatizing under the state takeover (when many secondary school libraries were closed, counselor positions, electives, and vocational programs eliminated, and private contractors and charter schools ushered in), explain why, year after year, OUSD violates the state education code mandate that 55% of educational expenses go to classroom instruction. That's the law, and OUSD administration repeatedly breaks it by diverting money to consultants and vendors that ought to be going to classrooms and kids. "Better, richer programs"? The OUSD statement makes similarly hollow assertions about why they're closing schools. According to OUSD, declining enrollment in the district has left them no alternative but to close public schools. This might be believable -- if not for the fact that OUSD administration itself has been responsible for much of the decline in enrollment.
Over the past decade, charter school enrollment in Oakland quadrupled (from 2,037 in 2002 to over 8,000 this year) and it's going up again next year. Oakland has by far the highest proportion of students in charter schools of any urban school district in California, and the district has encouraged this trend. If those 8,000 students were going to public schools, there would be no under-enrollment problem at Lakeview or the other schools the district is trying to close.
OUSD says that one of the main reasons for closing Lakeview is that too few students live within half a mile of the school. This might be believable -- if OUSD were sending the displaced students to schools within half a mile of home. But they're being sent more than five miles down the road -- to Burkhalter Elementary. Or consider that the shutdown of Santa Fe Elementary means that there will be no public elementary schools north of Macarthur Boulevard and west of Shattuck Avenue. Students from this predominantly low-income black and brown area are being assigned to schools near the Oakland Coliseum, more than 10 miles away.
The OUSD Media Advisory also cites low test scores as a reason for closing Lakeview. This is disingenuous. The focus on high stakes test scores is used to punish schools in low income communities: it's well establish that student test scores are primarily a function of parents' poverty level. Nevertheless, Lakeview test scores actually increased, a remarkable achievement "as even Tony Smith admits" because the poverty level of Lakeview parents has increased. The Smith administration has frequently repeated the claim that the school closings will save the district two million dollars. Two million dollars is not small change, but it is less than one half of one percent of the district's overall expenditures. Smith and the board could have found the money to keep the schools open -- had they been so motivated.
Here's proof: at last Wednesday's meeting, the board overrode Smith's recommendation and restored $1.75 million in program cuts to the Special Education program They were moved to do so by a powerful protest from Special Education parents and teachers. Smith recommended the cuts earlier this month after discovering a bookkeeping error that caused underestimation of expenses and therefore overestimation of available funds.
But when the board voted to close the five elementary schools last October, they were unaware of that bookkeeping error. So they could have instructed Smith to allocate the $2 million needed to keep the schools open -- just as they did for Special Education this past week. They could have kept the schools open. They chose not to do so. Furthermore, the $2 million figure does not allow for the cost of installing portable classrooms to accommodate students displaced from the closed schools, which alone exceeds $2 million. Nor does it take into account the consequent loss of valuable outdoor space and the psychic and social costs of crowding students into large classes and overcrowded buildings. We all know -- or rather, we all should know -- that real schools and classrooms are incomparably preferable to portables, and that overcrowding schools hurts student learning and overall well being. If they mean what they say about students coming first, and if they mean what they say about investing in "broader, richer" programs, there's a simple way to prove it. Cut back on bloated administrative pay: make teachers' maximum salary the maximum salary in the district. That would save on the order of $10 to $20 million -- enough to reopen all five elementary schools, restore all the cuts to Special Education (the board approved Smith's heartless recommendation to cut $2.1 million from the Special Education transportation budget), and get at least a running start at reopening libraries, restoring cuts to electives and to the early childhood program, reinstating custodians, counselors, and clericals, and starting to get the Adult Education program back on its feet. (But who would work for such a pittance, you might ask? Teachers. Clericals. Custodians. Instructional aides. . . All schoolworkers do. Why can't administration?)
Tony Smith and the school board pass along the pain demanded by the Wall Street bankers, the Billionaire Boys Club, and the other powerful forces that are cutting public education to the bone as part of their deep cuts to so many of the essential programs that working families depend on in every area of life. It's called "austerity", and it's the rich and powerful demanding that we pay for the crisis of their financial system -- here, in Greece, Spain and the rest of Europe, and around the globe. This society's priorities are upside down, but Tony Smith and the school board never challenge them. Smith and the school board aren't out there fighting for more money.
They're not prioritizing classrooms and kids over executive administrators and consultants. They don't resist making the cuts. They just decide where to stick the knife. We say, "Bail Out Schools and Essential Services, Not Banks". No more multi-trillion dollar handouts for the bankers. Make them pay for what we need. We say, "Repudiate the $100 million-plus state debt". The state ran up 2/3 of that debt -- $70 million worth -- when it ran OUSD under the state takeover (2003 -- 2009). They ran up that debt while closing schools and school libraries, while laying off support staff, cutting the number of nurses and counselors, eliminating electives and vocational programs.
Where did the money go? To consultants and vendors; to highly paid central office "Executive Directors". The working and poor people of Oakland are being told that their children must suffer for the state's handouts to the private sector. We say, enough! The sad truth is that the Tony Smith administration is taking public education apart and closing it down, piece by piece. Their statement is an exercise in public relations spin. Don't buy it. Stand with, support, and join the fight to stop the school closures and fully fund quality public education in Oakland. Join with us at the Lakeview sit-in and People's School for Public Education. OUR DEMANDS: 1. Don't Close the 5 Schools! Keep All Neighborhood Schools Open! 2. Stop Union Busting: Defend the OEA and All School Worker Unions 3. Refuse to Pay the Debt: Demand the District Call on the Banks to Bailout Schools! 4. Fully Fund Quality Public Education for All! 5. Demand Tony Smith Re-Open the 5 Schools or Resign: Re-Open or Resign! Visit our blog at http://www.saveoaklandschools.org For more information contact: Jack Gerson jackrgerson@gmail.com Joel Velasquez joelvelasquez71@yahoo.com
Official Oakland Unified School District Statement on Lakeview Protest June 22, 2012 School closures are generally unpopular and never easy. No one wants to close schools, but OUSD made this difficult decision because it's in the best long-term interests of students. OUSD's enrollment has declined by roughly 17,000 students over the past decade and we have twice as many schools as the typical California school district our size. We're simply spread too thin to lift every school to the point where it provides students the level of support they deserve. By consolidating into fewer schools, we can invest more heavily in each site and develop better, richer programs for children and families. School closure is a painful step in the process of remaking a school district to serve students more effectively in a time of dramatically declining state funding that has reduced our budget by more than 25 percent over the past four years. The status quo is insufficient and in order to do better, we have to change the way we allocate resources. Our restructuring plan, of which school closures were just a part, has allowed OUSD to: increase the amount of money devoted to every Oakland student in the 2012-13 budget by 5 percent at a time when most districts are slashing per-pupil allocations.
remain committed to 180 days of schooling when many neighboring school districts are shortening the school year.
eliminate a $40 million structural deficit so that--for the first time in years--ongoing revenue equals or exceeds ongoing expense.
The fact that we were able to accomplish these objectives speaks to the impact of our restructuring strategy and how it has better positioned OUSD to serve students and families. We understand that school closures are an emotional and divisive issue and that the public has a right to voice its anger with the decision. At the same time, we ask that people express themselves in a lawful manner that doesn't interfere with our ability to prepare for the 2012-13 school year and carry out the school closure recommendation which was approved by the democratically-elected Oakland School Board in October 2011. We retain hope of achieving a resolution to this situation and consider arrests to be a last resort. We recognize the emotional nature of the school closure issue and want to allow protesters to make a public statement and disperse without further escalation. Although the reasons for school closures have been debated widely during this period, it may be helpful to revisit some of the major issues involved with OUSD's restructuring plan (www.thrivingstudents.org/restructuring), which includes, but is not limited to school closures. Specifically that: enrollment has declined by about 17,000 students over the past decade to fewer than 38,000, and OUSD has too many schools for the number of students enrolled.
OUSD has roughly twice as many as a typical California school district our size -- for chart see: www.thrivingstudents.org/43.
OUSD has too many under-enrolled schools or schools with low enrollment relative to capacity.
OUSD has too many schools that are not providing children all the services they need because our resources are spread too broadly. By consolidating to a manageable size, we can invest more heavily in the remaining sites and offer richer programs and services for children.
As for Lakeview specifically, the school was recommended for closure in part because it: ranked in the bottom quarter of elementary schools in terms of: --- the number of children living within a half-mile of the school or within the attendance area ---the lowest percentage of neighborhood students attending the school (30%) ranked in the bottom third in terms of enrollment size and declining enrollment
ranked in the bottom third of schools for facilities utilization
ranked in the bottom third of elementary schools for increasing the number of students scoring "proficient" or "advanced" in English Language Arts (ELA) and Math CST
ranked in the bottom quarter of elementary schools in attendance
Lakeview has strengths. It has shown improved academic performance in recent years, boasts a strong sense of community and close alignment with its afterschool program. Yet, school closures are larger than any one school or handful of schools. In order to meet the enormous challenges required to ensure that our schools can serve the whole child and prepare all our students for success in school, career and life, we can't continue as we have. Transforming OUSD into a school district that produces positive results for all children demands that we completely re-envision the way we operate. Although talk of school closures dominates the restructuring discussion, ultimately, this is part of a larger mission to: provide all children with quality school options.
encourage more families to choose OUSD Schools
create a sustainable school district that produces results for all children.
deploy staff and money more efficiently and use the savings to invest more resources in Oakland schools.
This is incredibly hard work and some of the choices involved are unpopular and necessary in order to create a sustainable system that can provide high-quality education for all Oakland students. For more information on our efforts in this area, please visit: www.thrivingstudents.org. For more information, please contact: Troy Flint, OUSD Spokesperson, at 510.473.5832 or troy.flint@ousd.k12.ca.us. — Jack Gerson and reporters
Save Our Oakland Schools and Oakland Tribune
2012-06-30