STRIKEWATCH: 1966 collective bargaining vote prepared for 1967 contract... CTU flyer announced first gains from collective bargaining
John Kugler - June 04, 2012
For union members and working people, the history of our unions is a history of our struggle for justice. And a review of the history of the past 50 years in Chicago's public schools shows that not once has the Chicago Board of Education offered anything to make the schools better or the lives of those working in the schools decent and "middle class." But instead of talking solely about current events in 2012, it's possible, as our history is resurrected from the mists of time, to trace what teachers and other union members have won because we were willing to fight for a decent contract and strike if necessary for what we deserve.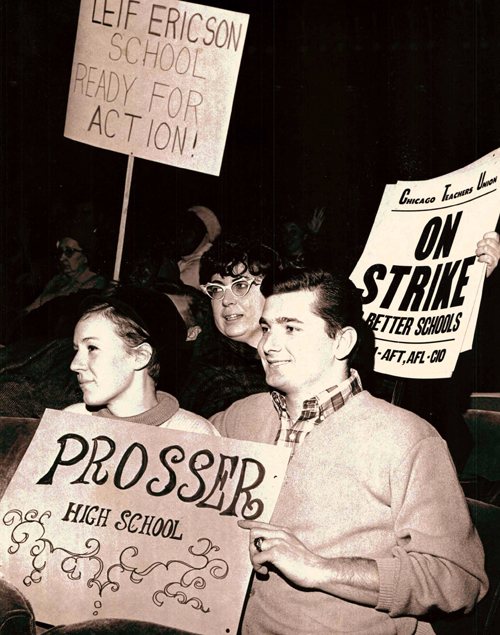 The willingness of teachers from Prosser Vocational High School and Ericson Elementary School to strike, as shown in the picture above, helped the CTU achieve the union's first written contract in 1967.Forty-five years ago, in 1967, things began to change radically for Chicago's public school teachers, and the changes were to continue thanks to the fact that the union had won collective bargaining rights. Throughout most of the history of public schools in Chicago, and even during the history of the Chicago Teachers Union itself (which began in 1937), the challenges were enormous.
A CTU flyer for 1967 outlined the contract gains of the Chicago Teachers Union in the first contract negotiated by the Union. It was one year earlier that the Chicago Teachers Union was elected the sole collective bargaining agent for city teachers (and a large group of others) working in Chicago's public schools. The CTU did not become the the sole bargaining unit representative until November 13, 1966. There were four groups representing teachers and agreements with the the Board of Education had to expire before the CTU could represent all the teachers. Today, in 2012, those represented by the CTU are listed in Article 1 of the contract that the Board of Education is trying to gut.
Below is from the 1967 CTU flyer:
BARGAINING BRINGS GAINS TO CHICAGO TEACHERS
Chicago Teachers Union, the majority organization, representing ALL CHICAGO TEACHERS is solely responsible for the dawn of a new day for all teachers!
1967 CTU'S GAINS TO DATE . . .
1. Hospitalization insurance (individual coverage) paid for by Board of Education, for all board employes.
2. Two days leave for personal business during each calendar year for all board employes.
3. 1200 teacher aids to relieve teachers of nonprofessional chores and provide teachers so relieved with a professional preparation period.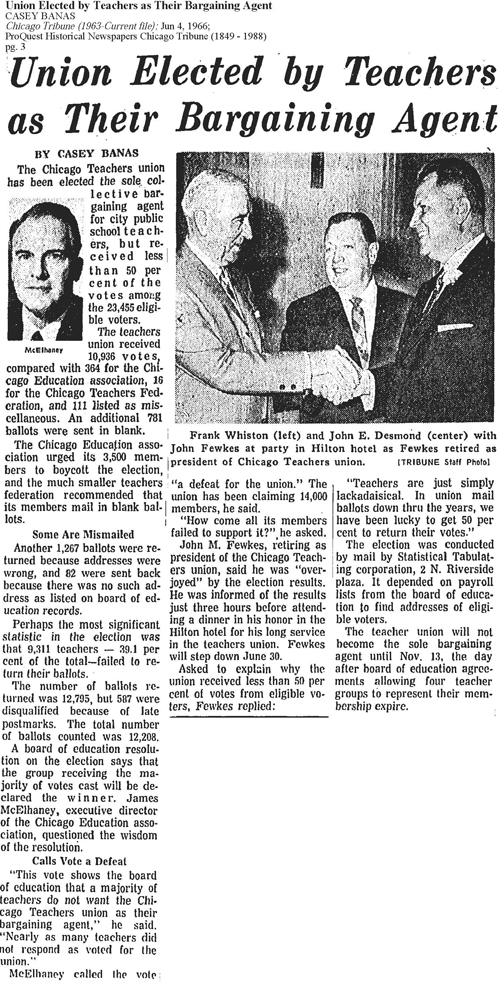 On June 4, 1966, the Chicago Tribune reported that Chicago's teachers had voted to select the Chicago Teachers Union, then headed by President John Desmond, as its collective bargaining agent. Prior to the 1966 vote giving exclusive bargaining rights to the CTU, the Board of Education has contracts with four groups that represented people. 4. Five-hundred dollar across the board increase, effective January 1, 1967 for all teachers including substitutes; Principals; consultants; supervisors; directors; and district, assistant, and associate superintendents.
5. Paid Christmas vacation (from 5-8 days) for regularly employed members of the bargaining unit not already receiving a vacation under Board Rule sec. 4-7.
6. One-step advancement in 1967 in addition to $500 salary increase for all f.t.b.'s.
7. Performing groups (coaches, band directors, drama, publications, etc) receive the rate of pay for extra-curricular work agreed upon by the union-board committee studying this problem (artice 32-1).
8. Tax-sheltered annuity plans for all board employes.
9. Police protection in schools where it is needed.
10. Playground teachers' placement on teachers' salary schedule.
11. Adjustment in salaries of district coordinators.
12. Correction of salary inequities of supervisors, consultants, psychogogists, schqol social workers, and attendance officers.
13. Raise in salaries of teachers in after-school programs equal to their basic hourly rate.
14. Steps toward correction of salary inequities of evening school basic adult education teachers.
15. Pay for certain school holidays for evening school teachers.
16. A pilot program to employ teacher aides to relieve teachers of non-professional duties.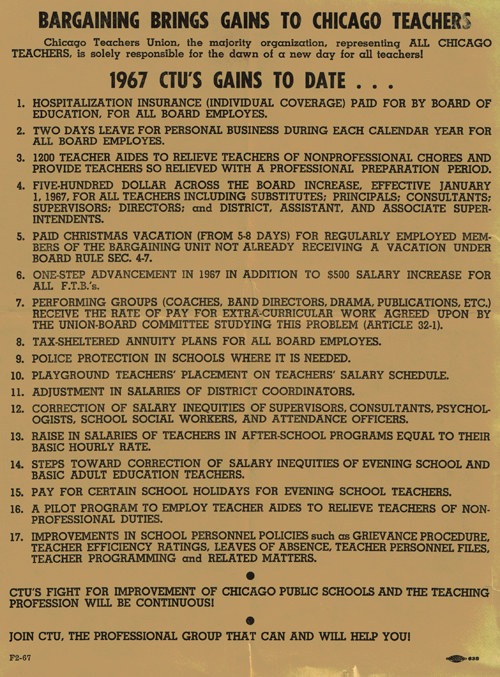 A flyer from the CTU outlined the first gains to union members from the 1967 contract.17. Improvements in school personnel policies such as grievance procedure, teacher efficiency ratings, leaves of absence, teacher personnel files, teacher programming and related matters.
CTU'S FIGHT FOR IMPROVEMENT OF CHICAGO PUBLIC SCHOOLS AND THE TEACHING
PROFESSION WILL BE CONTINUOUS!
JOIN CTU, THE PROFESSIONAL GROUP THAT CAN AND WILL HELP YOU!