CTU to hold strike authorization voting beginning June 6
Sharon Schmidt - June 01, 2012
Karen Lewis and the officers and members of the Chicago Teachers Union announced at a packed press conference on Friday afternoon, June 1, 2012, that the union will conduct its strike authorization referendum during the week of June 4, with full results expected by June 8. Under the terms of the law known as "SB7" (for Senate Bill 7), the union is required to get approval from 75 percent of its members in order to move towards a strike. (Retiree members are not part of the union that participates in strike votes).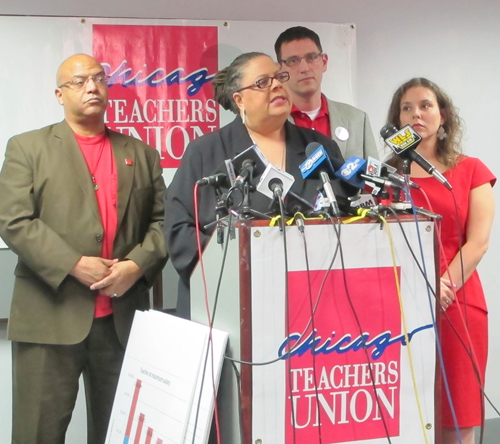 Chicago Teachers Union President Karen Lewis (above at podium) announced the strike authorization voting to begin June 6, while the union's officers looked on. Left to right above: Recording Secretary Michael Brunson, President Karen Lewis, Vice President Jesse Sharkey, and Financial Secretary Kristine Mayle. Substance photo by Sharon Schmidt.The press conference, held by the union at the union's Merchandise Mart headquarters, included the union's officers, rank and file teachers and PSRPs, and parents who are supporting the union's demands for better schools.
According to a press release issued by the union at the press conference:
"CHICAGO – Today, June 1, 2012, the Chicago Teachers Union (CTU) announced it has set a strike authorization vote for Wednesday, June 6th, which will be conducted in all Chicago Public Schools (CPS) with CTU members. State law requires 75 percent of Union members to vote in the affirmative in order to authorize a strike. More than 90 percent of teachers, clinicians and paraprofessionals have already rejected the Board of Education's current contract proposals.
"CTU President Karen GJ Lewis, NBCT, said a strike authorization vote was 'an important step in ensuring the voices of over 25,000 public school educators will be heard at the bargaining table.' Teachers have criticized the Board's proposals saying they are harmful to students. If the Board has its way it will:
"1. Eliminate any real enforcement of class size limits: In their proposal to the CTU, CPS uses the same argument that Republican presidential candidate Mitt Romney recently made in Philadelphia. The CPS proposal claims, contrary to common sense and teacher experience, that class size does not matter. Their language in quotes says that 'the board shall establish a class size policy and notify the union of that policy.' Not only will they impose whatever class size they think is appropriate, after they have said class size doesn't matter, they have cut any funding in our contract to lower over-sized classes and have eliminated any real limits on ballooning class sizes next year.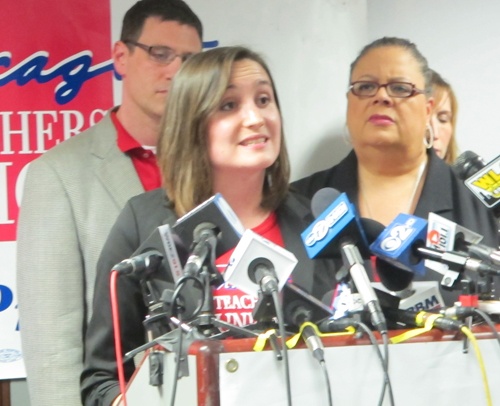 Saucedo Elementary School teacher Sarah Chambers is one of dozens of teachers and PSRPs who have been serving on the union's broader bargaining team for more than 18 months. Chambers and others tried to explain to the press how the CPS bargaining group (which does not include Jean-Claude Brizard, who at $250,000 per year is the highest paid official in Chicago history) has been insulting the teachers at virtually every session. Substance photo by Sharon Schmidt."2. Ignore staffing levels in all schools: The Board has rejected all of the CTU's proposals on appropriate staffing levels for our students. Including art, music, physical education, library and world language teachers -- counselors, social workers, nurses and school psychologists -- despite woefully inadequate staffing levels throughout the district and a longer day that will require additional staff if it is to be a better day.
3. Reject 'better school day' proposals: CPS refuses to accept any of CTU's recommendations regarding full day kindergarten, playground facilities and air conditioning for all schools -- despite just last week many of our schools reaching temperatures of over 90 degrees, when learning becomes nearly impossible and classroom conditions inhumane. They have already cut the facilities budget by 85 percent next year even as they propose 60 new non-union charters and plan to close nearly 100 schools next year.
4. Refuse to adequately compensate teachers: CPS continues to disrespect teachers with a 2 percent raise offer for the first year of a five year contract even though working at CPS is getting much harder next year.
5. Refuse to offer job security to qualified teachers: The Board plans to remove protections for experienced and qualified educators who lose their positions through no fault of their own which will exacerbate the current 50 percent teacher turnover rate every five years -- something that interferes with continuity and quality instruction.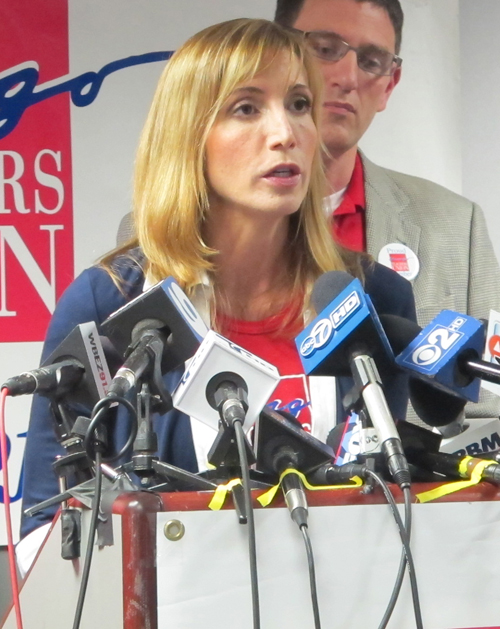 Hanson Park Elementary teacher Catherine Cunningham-Yee also spoke about the needs of the city's real public schools for lower class sizes and dozens of other things the Board is ignoring. Substance photo by Sharon Schmidt."A strike authorization vote is not a vote to go on strike," Lewis said. "…We want to avoid a strike. Strikes aren't good for anyone—not our members, not our parents and certainly not our students. As a matter of practicality, it is important that we conduct this vote now while our members are still in schools and not while they are on vacation. We certainly hope to have a contract in place before school starts in the fall and we look forward to everyone—including our members—returning to the classroom."
Also on June 1, the union leadership announced that it is holding a "Tele Town Hall" for union members. In an email to the union's 30,000 members, Lewis explained how the strike authorization vote would take place and reminded the members to participate in the "Tele Town Hall":
KAREN LEWIS'S EMAIL TO THE MEMBERS:
On behalf of every public school teacher, clinician, and paraprofessional who is a part of the CTU, I can say assuredly, we are tired of being bullied, belittled, and betrayed by this District and the City of Chicago.
Enough is enough.
That is why on Wednesday, June 6th, we will conduct strike authorization votes in all of our schools. Due to the overwhelming support of our members, we expect an affirmative vote well over the 75 percent threshold.
State law requires that 75% of our entire membership must vote 'Yes' or else we CANNOT strike should we decide to do so at a later date.
An overwhelming 'Yes' vote will show the mayor and the Board our unity and resolve and will produce movement at the bargaining table.
Bargaining is continuing over the summer and we aim to have our contract resolved as school starts next fall — hopefully without a strike. But if our membership rejects their final offer, your strike authorization allows us our option of last resort. Vote 'Yes' on the strike authorization June 6th to keep the pressure on!
Tele-Town Hall this Sunday, June 3rd, at 7pm
Chicago Teachers Union's officers will host a live Telephone Town Hall session this Sunday, June 3rd, at 7pm on next week's CTU Strike Authorization Vote.
Although our contract with the Chicago Board of Education expires on June 30, 2012, negotiations for our next collective bargaining agreement have been ongoing for months. This Sunday's Telephone Town Hall is your opportunity to hear the latest news about the board's anti-union "turn back the clock" proposals to harm our students, our classrooms, and our careers. You can also ask questions and share ideas. We need your voice, vote, and solidarity at this critical time for our members and our students.