Chicago Tonight continues blacklist against George Schmidt, lies to CTU about reasons for canceling him
Sharon Schmidt - July 10, 2012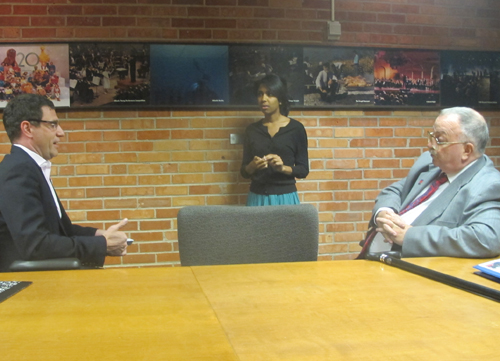 WTTW Chicago Tonight lied to the CTU about why they were canceling George Schmidt from their CPS budget segment. Production assistant Shanika Gunaratna (above with Chicago Teachers Union Vice President Jesse Sharkey and CTU budget consultant George N. Schmidt) told CTU's communication director Stephanie Gadlin that CPS Chief Administrative Officer Tim Cawley didn't want to appear with Schmidt. Cawley confirmed that that was a lie, and that he had "nothing to do with it." Substance photo by Sharon Schmidt.Chicago Tonight and the Chicago Teachers Union planned for CTU budget consultant George Schmidt to appear on Chicago Tonight on July 10 to discuss the CPS budget with CPS Chief Administrative Officer Tim Cawley. See Substance reporter George Schmidt to be on public TV 'Chicago Tonight' show at 7 p.m. July 10
However, on the afternoon of July 10, after interviewing Schmidt on the phone, Chicago Tonight assistant Shanika Gunaratna called the CTU and told Stephanie Gadlin, CTU Communications Director, that Schmidt was cancelled from the segment.
"She called and said there was a problem with George," Gadlin told Substance. "She said 'Tim Cawley doesn't want to do the show with George. Can we have (CTU VP) Jesse Sharkey instead?'"
Gadlin also told Substance that Gunaratna didn't want to inform Schmidt that Chicago Tonight was canceling his appearance.
"She said, 'Can you call George and tell him?'" Gadlin told Substance. "I said, 'No, you have to do that.'"
Substance contacted Cawley's office that afternoon and later confirmed with him in person at WTTW that evening that he had nothing to do with the decision.
"I had nothing to do with it," Cawley told Substance.
Schmidt went into the WTTW studios with Sharkey before the segment was to be filmed. The following dialogue took place in the meeting room shown in the picture. This reporter, who showed her press pass and was taking notes, also tape recorded the exchange.
Schmidt: Who cancelled me?
Gunaratna: I cancelled you. I cancelled you.
Schmidt: Why did you cancel me?
Gunaratna: That's our editorial decision. You didn't fit into the balance of our panel. You can't just show up after you have been cancelled, sir.
Schmidt: This is a significant story. The Chicago Teachers Union asked me to be here. That 's the balance of the panel. And we just want to know who decided besides you, because I just don't think you are at the rank to make that decision. And what's your last name, by the way, since we're on the record?
Gunaratna didn't respond. She excused herself and brought in Jay Smith, a Chicago Tonight production assistant, who said canceling Schmidt was "an internal decision we made." When pressed, he said the decision was made by he and Gunaratha and Mary Field, the Executive Producer of Chicago Tonight.
When questioned about Gunaratna's lie to the CTU about Cawley not wanting to be on the show with Schmidt, Smith also obfuscated.
"[CPS] implied that," Smith said. "They may not have said it directly."
When this reporter asked Gunaratna about her lie she first only shook her head. After I questioned her again, she refused to explain her lie.
"I have no comment to that," Gunaratna said.
George Schmidt was asked by officials of the Chicago Teachers Union to be on the show representing the union. He is currently a retired CTU member and delegate representing retired teachers, as well as a reporter for Substance and a consultant on budget and other matters for the CTU. In 1988, Schmidt was part of the "budget transition team"
Since then, he has organized studies of the CPS budget and participated in the annual CPS budget hearings, both as giving testimony and as a reporter, for "decades." During the past four years, he had helped organize and train a group of researchers who have followed the CPS budget in detail, with studies ranging from the annual CAFR (the Comprehensive Annual Financial Report) to the Position Files and W-2 files that show CPS spending.
George Schmidt cancelled another scheduled activity to prepare for the WTTW show.
"I used to do these regularly," Schmidt said, "back in the 1980s and early 1990s, but then WTTW seemed to find my research, experience and knowledge less interesting than those who have since been on the show."