Ashford and Rehak to run for re-election... Chicago teachers pension fund to elect two teacher trustees November 9
George N. Schmidt - May 28, 2012
The Chicago Teachers Pension Fund has announced that it will hold an election for two trustees to the CTPF board of trustees. The election will be held on November 9, 2012. Two incumbent teacher trustees, Jay Rehak and Lois Ashford, are running for re-election. Ashford and Rehak were first elected as trustees in October 2009. Jay Rehak is now President of the Fund, Lois Ashford is now Vice President.
The CTPF announcement follows:
CTPF's Teacher Trustee Election will be held November 9, 2012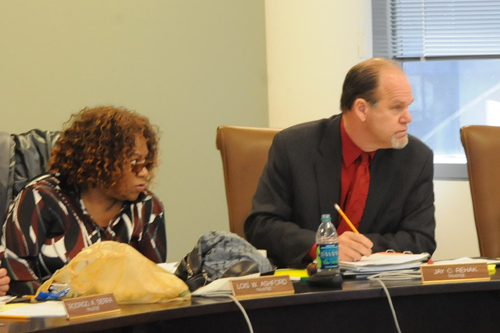 Chicago Teachers Pension Fund trustees Lois Ashford (left) and Jay Rehak (right) are both teachers currently working in the classrooms of Chicago and completing their first three-year term as pension trustees. Ashford and Rehak were first elected in an upset in October 2009 and have been serving since then. Above, they are seen in action during the CTPF meeting of November 2011. Substance photo by George N. Schmidt.The Chicago Teachers' Pension Fund Board of Trustees has set Friday, November 9, 2012, as the date for the 2012 Teacher Trustee Election.
Teachers and active contributors (other than administrators) will elect two Trustees to serve three-year terms from November 2012 to November 2015.
Candidate Eligibility
Candidates for a Teacher Trustee position must hold an Illinois State Teaching Certificate, be current CTPF contributors, and have been assigned on a regular certificate in the Chicago Public or Charter Schools for a minimum of 10 years.
Nomination Packets
Nomination packets are now available. Members interested in running for office should contact the CTPF Election Team at 312.604.1400 to request a packet. Candidate eligibility will be verified before the packet can be issued. Nominating petitions must be received in the CTPF office by 5:00 p.m., Monday, October 1, 2012.
Additional Information
Election questions may be directed to the CTPF Election Team at 312.604.1400.