Iraq vets and families came to confront the makers of the NATO war... Confrontations part of May 20 protests against NATO
Kati Gilson - May 21, 2012
Protesters had already begun gathering when I arrive at 9:30 a.m. on May 20, 2012 to cover the big march against NATO in downtown Chicago. The first group I came upon where the war veterans, who, had come to return their medals to NATO. Ron Arm, a Vietnam War veteran, told Substance he came to support Ash Woolson, an Iraq veteran, as he returned his medals to NATO.
Chicago's massive security presences was not only visible along Michigan Ave. (above) during the march by could be spotted blocks away. Substance photo by Kati Gilson."I am here because I have a responsibility as a vet who understands many of the things the Iraq and Afghanistan vets are going through and because of that understanding, I can understand how much it means to have the support of fellow veterans," Arm told Substance. "I know from statistics that 75 percent of returning soldiers say it shouldn't have happened. When I ask them if they're feeling their service was worth it most of them say they couldn't support that. Even knowing the statistics, it's difficult for veterans to step forward in a public way and denounce their participation in that situation. This is what IVAW (Iraq Veterans Against War) is doing. As a VVAW (Vietnam Veteran Against War) member, I can be another veteran that stands in support of them at this time of courage."
Ron Arm told Substance that he was in the Army Special Forces in Vietnam from 1968-1969.
"I come to Chicago today, from Wisconsin to the NATO Summit to return the medals I was awarded from the illegal and immoral occupation of Iraq," Iraq veteran Ash told Substance. "These medals are a symbol of failed policy. I do not want to carry the blood that has stained these medals any longer and I wish the NATO Generals and Commanders will accept our returned medals in recognition of these disgraceful wars."
Ash was in the Wisconsin Army National Guard from 1999-2005, the German Delegation and deployed to Iraq in May 2003 for one year.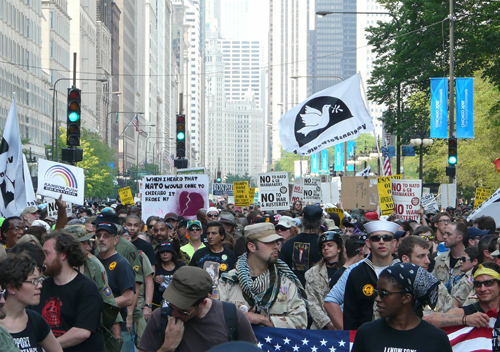 Iraq War vets led the march down Michigan Ave. and at 23rd St., still a half mile from the NATO leaders who were inside McCormick Place, they discarded the medals they had received for service and heroism as a protest against the wars. Substance photo by Kati Gilson.Mary Kirkland was sitting on the ground holding a picture of her son Derrick. I asked her if she lost her son in the military and she said "Derrick was 23 when he committed suicide. He held a shot gun two his mouth six months into his second tour of Iraq. One of his buddies stopped him and got him help. February 10, 2010 was his first attempt. Then he went to an army hospital in Germany, where he tried to OD on his medication. He got back to Ft. Louis in Seattle, Washington where they kept him overnight in the Psych Ward. The psychiatrist said he was low to mid risk suicide and two days after that he tried to kill himself by cutting himself. This was on Thursday. Friday night March 19, 2010, he hung himself in his barracks. When he tried to kill himself Thursday night nobody checked on him or they would have seen the blood stains. The first nine months I was on anti-depressants trying to fight the army paperwork. They called it "a miscommunication".
She told Substance that he was not supposed to be in a barracks room by himself. "I am here to support the veterans," she said. "At one time I had my three youngest children in the military. My youngest, Jeremiah, retired at 18 on May 5, 2010 because he got his feet run over by a Humvee. On the anniversary of Derrick's death, he went to the VA hospital to talk and they threatened to keep him. He said he wasn't in danger of suicide but they chased him down the hall, tackled him and kept him. Derrick was trying to get help and they wouldn't keep him, just gave him medication. And Jeremiah just wanted to go to talk and the forcefully tackled him and kept him over night."
"I am here to raise awareness of what they are doing to our children, our troops and our veterans," Mary Kirkland continued. "Before his suicide, I had no idea of some of the things that were happening. Eighteen vets a day commit suicide. It took Jeremiah 14 months for them to determine his disability. Luckily I was able to help him, but, what about the other vets who don't have anyone?"
When Mary spoke before the crowd in support of the vets returning their medals she said "On the day of the funeral, I picked up a paper that said my son had been killed in action".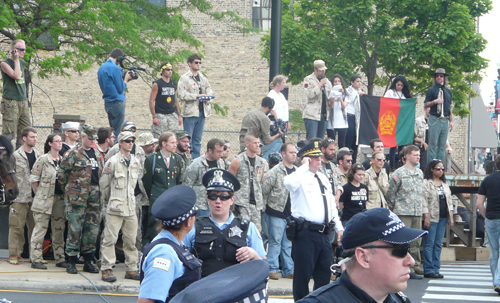 Chicago Mayor Rahm Emanuel and President Barack Obama refused to allow the veterans who were protesting the NATO wars to get closer than a half mile from their NATO meeting, so the vets stood at east at 23rd and Michigan and gave brief speeches about why they were returning their medals to the government. Like Richard Nixon at the time of a similar protest by Vietnam veterans (called "Operation Dewey Canyon II" it can be researched on line), President Obama greeted the vets in their protest with phalanxes of police and security vehicles. In the center, top, above, one of the vets waits to present an American flag to Mary Kirkland, whose son killed himself after completing his service in the war. Substance photo by Kati Gilson. At Michigan and 23rd, the vets, one by one got up, told their stories and threw their medals towards the NATO Summit at McCormick Place, which was blocks away.
As I was talking to Mary Kirkland, a convoy of police and limos came down Michigan Ave. I was told that was the "German contingent." I was talking to a couple of police officers, one of whom said "I couldn't do your job" (teacher) and they said they were in 100% support of the teachers and the upcoming strike. during this conversation, the "Portugal Contingent" was coming through and the FBI was walking towards and into the park north of the Art Institute.
Katherine Lipinski, from St. Paul, Minnesota said "We're here because we're with Occupy St. Louis and it felt wrong not to come." Paul Poposky from St. Louis, MO said "We've tried playing by the rules of the system, voting, passing laws, changing politicians and it doesn't work. Here in Chicago you have the mayor from hell. You've got a war monger, he's militarizing this city. Since they won't listen we are down here today to tell our politicians and leaders f-you. We came with occupy St. Louis and Industrial Workers of the world, there are about 30 of us."
Angela Walker, ATU Local 998, was wearing an orange "Occupy Transit" T-shirt that I recognized from the Troublemakers National Conference, held in Chicago, two weeks ago. She told me she was speaking at the event today and came with two busloads of people. "We would have been remiss not to be here because transit has been very hard hit at the state and federal level. This is our fight!" She was accompanied by Sally Prefontaine and James Macon also ATU Local 998. All three are bus drivers.
As the morning went on the crowd began to build with banners and signs and t-shirts from all over the country and world. Afghanistan, Pakistan, Socialists, teachers, nurses, Occupy —even the Hari Krishna were in attendance.
The mood was festive as live music was played but became more somber as the various speakers came to the podium. Speakers included Maria Pizzoza, Immigrants rights leader, Jess Cook, Grad Students UIC, Jesse Sharkey, Vice President of the Chicago Teachers union and Ashley Moy-Wooten, Grassroots Collaborative.
Jesse and Ashley had also spoken at the Troublemakers conference held in Chicago two weeks ago. Jesse on education, and Ashley on the mayor closing six mental health clinics and their continuing fight to keep them open.
The crowd began to dwindle as the protesters prepared to march. The march was led by the Iraq War Veterans. Following the Vets were the "Black Blocs" a group of anarchists who hide their identity under black clothing and masks. The march was peaceful as the crowd of thousands marched towards McCormick Place. The streets were lined with police officers in helmets, on bikes and some in riot gear.
As the march reached its destination at Michigan and 23rd, the veterans gathered to speak and return their medals. A flag was presented to Mary Kirkland whose son Derrick had committed suicide.
Chants from the Black Bloc of "Burn the flag" could be heard but were quickly silenced by other protesters.
From my vantage point in a corner between a building and a barricade I could see the police mounted on horses, the increasing number of officers, and the SWAT team moving into place. One elderly woman, who was having health problems, was helped to safety by the officers, one of whom was assigned to make sure she was okay. Medics were in evidence and quick to respond to medical needs. Water was provided as needed as were cooling buses for marchers. A convenience store along the route was doing a booming business in cold drinks and snacks.
I observed police officers handing water out to officers and marchers as well as helping people in need. It was hot, crowded and packed towards the front. All was peaceful until it was time to end the protest. I had seen the officers on south and east of the protesters filling in. They were well organized, observant and calm. I then observed the police movement on the north end of the march lining up with officers, in rows, with helmets, followed by a line of police cars with flashing lights. Thousands of officers were deployed for this event including Illinois State police.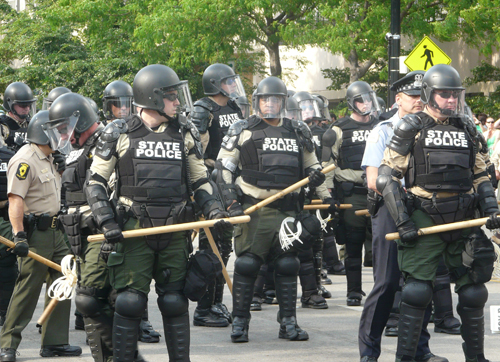 Illinois State Police deployed to the protests carried longer billy clubs than Chicago police and wore no badges or other identification. Substance photo by Kati Gilson.The police gave numerous warnings to clear the streets. The medics were attending a person on the streets and they were strong urged to move her to the sidewalk. At first they thought I wanted a picture, but then asked me to participate in a privacy block all the while people kept telling them they needed to move which they finally did, although this was difficult because the sidewalk was packed and there were barricades in the way.
I saw people throwing bottles and sharp sticks, at the police, at which point it looked like a skirmish was happening. Then I heard screams for medics and witnessed people in black with bloodied faces and heads being escorted from the center of the conflict between police and protesters.
It took over two hours for the protesters to disburse. The police repeatedly asked protesters to move to the west many of whom refused and were eventually pushed in that direction. Although some protesters tried to stand firm they were slowly pushed to the west where the only exit from the area. The Chicago Fire Department was also present, when I asked them about the fire extinguishers I was told they were there to put out any possible fires.
As I was leaving the area I noticed a group of protesters had regrouped and was chanting "Join us join us". All in all the police I saw were restrained, respectful although a few officers did shove reporters on and off the streets despite their press credentials. Getting around covering the story basically depended on which officer you encountered and most were respectful of the press pass.
When finally allowed to walk north, the route was lined with police officers on every corner. There were police in swat uniforms lined up in front of the police station and we could hear sirens, and see police vans and ambulances with sirens blaring, heading towards the area we had just left. One officer I talked to told me it was bad, another one said it was fine. There was a strong police presence as well as security from different business on the streets all the way to State and Harrison and near 290. 