NATO NEWS? NATO (and other) Protests continue, targeting Mayor's home and other locations
John Kugler - May 20, 2012
Saturday May 19, 2012 brought more protests and some violence between protesters and Chicago police ahead of the NATO 2012 summit. Protests were most dramatic on Chicago's north side as mental health and health rights activists marched to the street in front of Mayor Rahm Emanuel's home in protest against the closing of mental health centers in Chicago.
Below are some of the incidents.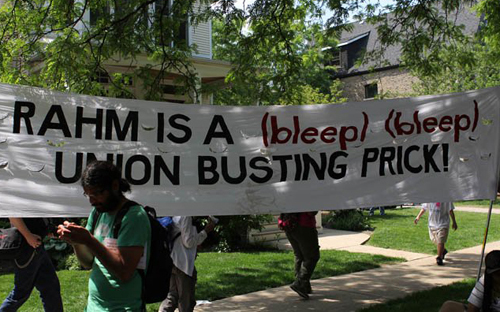 One of the banners carried on Hermitage Ave. in front of the home of Chicago Mayor Rahm Emanuel on May 19, 2012.[VIDEO] Chicago Police Van Against Protester
In one incident a Chicago police vans keeps driving forward despite a protester in front of the van.
http://www.youtube.com/watch?v=pxMu_IrFEyQ&feature=youtu.be
[picture] The Field Museum creates a formal backdrop to the Streets and Sanitation Department trucks blocking Lake Shore Drive at Balbo Drive. — Chuck Berman, Chicago Tribune, May 19, 2012
[picture] Rahm is a (bleep) (bleep) Union busting prick!-- Peter V. Bella
[picture] Revolt against NATO - Halsted and Harrison #ochi #noNATO #NATO3
[VIDEO] Police beat corralled protesters at State and Washington: 19 May 2012 #NATO
http://www.youtube.com/watch?v=zAnHwzI7DZQ&feature=youtu.be
_____________________________________________________________________________________________________________________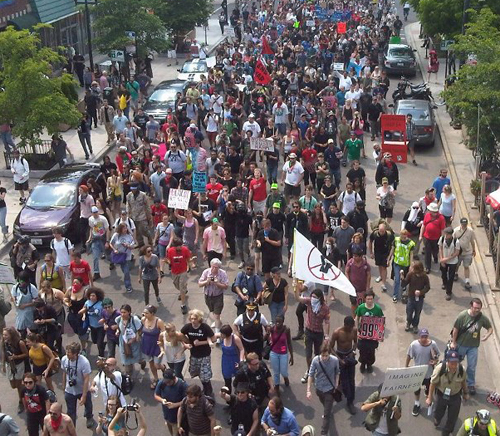 Part of the march heading down Montrose Ave. on Chicago's north side towards the home of Mayor Rahm Emanuel on May 19, 2012. Protesters also took over Rahm Emanuel neighborhood protesting health care cuts. story via http://chicago.indymedia.org
NATO in Chicago: 1,000+ protest for health care, not warfare at mayor's house
Submitted by geo on Sat, 2012-05-19 21:10
Author: Claudia Garcia-Rojas
Chicago - The Mental Health Movement's March 19th 2012 "Healthcare not Warfare - Take the fight to Rahm's house!" protest drew over 1, 000 NATO protesters.
The protest started at the Irving Park Brown Line where several people were given hospital gowns with "Healthcare Not Warfare," and, "Clinics Not NATO," written on them. People canvassed the surrounding neighborhood, which is Mayor Rahm Emmanuel's ward. During the canvassing, protesters asked neighborhood residents if they knew of any nearby mental health clinics, and informed them that Mayor Rahm Emmanuel is responsible for the closing down of Chicago's community health clinics.
After an hour-long rally at Horner Park on Irving Park and California, people walked down towards Montrose Avenue heading east towards Emmanuel's residence located at 4228 N Hermitage. There was a heavy police presence. About 30 police officers were lined up against the west-side of the block gating Emmanuel's house with their bicycles.
Several members of The Mental Health Movement spoke on the necessity of keeping the clinics opened. While a group of protesters remained camping outside or Emmanuel's, another faction of the group walked down Berteau street to the Lincoln Avenue intersection, where they did another mic check.
Linda Hatcher, who is bipolar and suffers from depression, has been going to the Woodlawn Mental Health Clinic for many years. The clinic is one of six -- half of those in the city -- slated for closure due to what the city claims is 'budget constraints.'
"I've been getting lots of support at the clinic," said Hatcher. "Emanuel, we gonna keep on fighting, we're not gonna give up, we're keep on pushing until we win this battle."
The protest continued as the second group stopped traffic on Lincoln Avenue as they made their way to Welles Park on Montrose Avenue.
Some members of that protest later joined an emergency protest to oppose the indictment today on state terrorism charges of three visiting activists. Police are claiming a home beer brewing kit was being used to make Molotov cocktails, a charge the activists and their National Lawyers Guild attorneys flatly deny. That protest march is ongoing. View it here:http://www.livestream.com/chicagoindymedia
______________________________________________________________________________________________________________
5TH ANNUAL WHITE NATIONALIST ECONOMIC SUMMIT SMASHED; SEVERAL HOSPITALIZED
http://antiracistaction.org/?q=node/157
On Saturday, May 19th a group of 30 anti-fascists descended upon Ashford House restaurant in the Chicago suburb of Tinley Park where the 5th annual White Nationalist Economic Summit and Illinois White Nationalist Meet-and-Greet was taking place. The White Nationalists were targeted inside the restaurant and physically attacked, causing several injuries and completely shutting down their meeting. The anti-fascist group was privy to anonymous inside information. This fascist event had been in secret planning for six months. The attendees have attempted to cover up the true intent of the event with mainstream media reports initially reporting the white nationalist conference as a wedding party and then as an Irish heritage meeting. The event was advertised on www.stormfront.org, an established white nationalist fascist internet forum.
Anti-fascists oppose any organizing by racists and fascist in their communities. Fascist and white nationalist organizing has resulted in a number of horrifying incidents, from the recent J.T. Ready shootings in Arizona to the Benjamin Nathaniel Smith shooting in the West Rogers Park neighborhood in Chicago, as just two examples.
Police: Mob Attacked Specific Group of People Inside Tinley Park Restaurant
http://oaklawn.patch.com/articles/black-hooded-group-attacks-patrons-with-bats-at-tinely-park-restaurant A group of 'anti-facists' are being credited with Saturday's mob-style attack inside a Tinley Park restaurant.
An anti-racist website posted a response to the Patch story "Police: Mob Attacked Specific Group of People Inside Tinley Park Restaurant." The post states that "a group of 30 anti-fascists descended" on the restaurant "where the 5th annual White Nationalist Economic Summit and Illinois White Nationalist Meet-and-Greet" was reportedly taking place.
"These anti-fascists are committed to shutting down and attacking any racist, nationalist or fascist organizers or individuals that they encounter," the post states.
Tinley Park police have not confirmed the claims.
Updated at 8:06 p.m.
Police are holding five people suspected in the mob-style attack Saturday afternoon at a Tinley Park restaurant.
All are white men, according to police.
The group of about 15 people dressed all in black who reportedly attacked a group of people around 12:45 p.m. inside Ashford House fled in three vehicles, police said. One vehicle was stopped five minutes after the attack near 159th and Harlem while the remaining vehicles managed to get away.
The names of those being held in custody were not immediately available. It wasn't clear if any of the men have been charged. Updated at 4:43 p.m.
Tinley Park police have confirmed that 15 to 18 people dressed in black appear to have targeted a specific group for attack inside Ashford House Saturday afternoon.
"At this time, it has been reported that a group of 15 to 18 people dressed in black entered the establishment and began an altercation with a specific group of people dining in the restaurant," according to a media release sent late Saturday afternoon. It appears to be an isolated incident and not a random attack, police said. They have not released whether anyone has been arrested or charged.
About 10 people were injured, police said. Three were taken to local hospitals and the rest refused treatment.
The attack, which reportedly involved people in black clothing, hoods and masks wielding bats, happened at about 12:45 p.m. Updated at 3:47 p.m.
An employee at the Ashford House said a woman, who appeared to be in her mid 40s with several tattoos on both arms, stopped into the Tinley Park restaurant Friday and made a noon reservation Saturday for 10 people. Around noon Saturday, people started gathering in the parking lot, but they did not appear to know each other prior.
"It all seemed strange to me from the beginning," said the employee, who asked not to be named. "They were doing introductions and pacing around the parking lot before coming in."
Sign up for Tinley Park Patch breaking news alerts.
Five people sat down at a table in the restaurant and waited for another 10 to arrive, when another group of people wearing masks came into the restaurant and began damaging the place.
"Tables were being thrown and chairs were broken," the employee said. "Then they were gone. They flashed in and out. They had people waiting for them outside."
The assailants attacked at least one restaurant employee, the employee said. They also painted something unclear on a restaurant wall, the employee said.
The woman who made the reservation said the group tours Irish festivals around the country, according to the employee. Updated at 3:30 p.m.
One witness who was in Ashford House during the attack told Patch that several people were taken away in ambulances. It was immediately unclear how seriously the people attacked in the restaurant were hurt.
Updated at 3:01 p.m.
Although Patch editors were in the area of the Ashford House around 3 p.m., no members of the media were being allowed on the scene.
Officers at the Tinley Park Police Department declined to comment on details of the incident or the nature of victims' injuries. Records staff members said they were unsure if a press conference would be held later in the day, but department officials will be sending information as it becomes available.
In the mean time, reporters were being asked to assemble at the nearby NuMark Credit Union, 8001 West 159th St.
Updated at 2:38 p.m.
Up to 20 people clad in black clothing and wearing black hoods walked into the Ashford House Restaurant in Tinley Park and began attacking patrons inside the restaurant with hammers and clubs, witnesses said.
The attack took place around noon Saturday. Ambulances were called to the scene for "multiple battery victims." Tinley Park police were still on the scene as of 2:50 p.m.
Sign up for Tinley Park Patch breaking news alerts.
Lauryn Drozd, 22, was attending a wedding shower at Ashford House located at 7959 W. 159th St. when the incident occurred.
"They started hitting people with bats and hammers," Drozd said. "They had hoods up."
She added that it appeared the black-hooded group was targeting a specific person but she was not sure if it was their intent.
It was not known Saturday at 2:30 p.m. if the attack was related to the NATO summit taking place in Chicago this weekend or if could gang related.
Patch editors Nick Swedberg and Ben Feldheim are on scene.