Education forum on May 20 on Chicago's north side to take a 'critical look' at CPS reforms
Jim Vail - May 19, 2012
An education forum entitled 'Critically Thinking about Chicago Public Schools' will be held at Luther Memorial Church at 2500 W. Wilson this Sunday, May 20, 2012 from 5pm to 7pm. The question and answer format will take a critical look at education reform.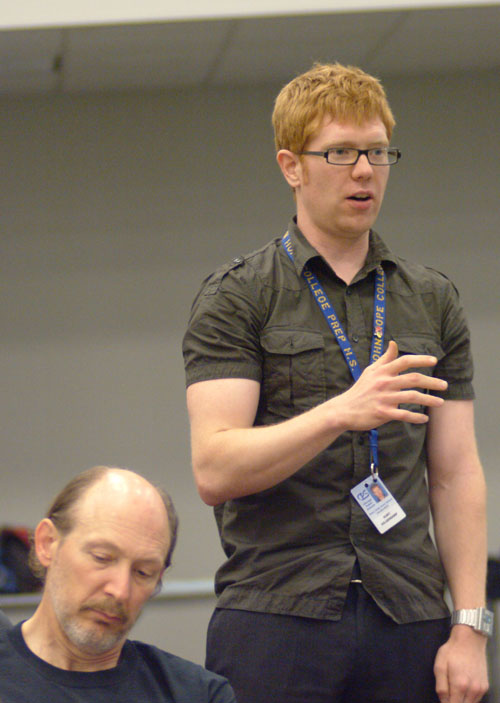 Von Steuben High School teacher Kurt Hilgendorf (above at a June 2010 CORE event) will be one of those on the panel at the May 20, 2012 event. Substance photo by George N. Schmidt."The notion of education reform is not a contentious issue for the vast majority of Chicago voters, as 82% consider reform either extremely or very important," states a flyer advertising the event. "However, not all reform is viewed the same. What shape does that reform take? Hear from members of the community involved in reshaping education so it benefits all stakeholders."
The guests expected to attend this event include 47th Ward Alderman Ameya Pawar, Chicago Teachers Union Staff Coordinator Jackson Potter, the chair of the CTU CPS Budget Evaluation Committee Kurt Hilgendorf, 6.5 to Thrive Kate Brandt, PURE's Wanda Hopkins, Raise Your Hand Sonia Kwon, Albany Park Neighborhood Council's Raul Botello and Voices of Youth in Chicago Education Victor Alquicira.
CPS Board members have been invited to attend the event but have not confirmed their attendance.
CPS CEO Jean Claude Brizard held another telephone town hall meeting this past week in which he encouraged teachers to call and ask questions.