SUBSCRIPT: Wigler story went public because Wigler and UPC decided to challenge the union's decision
George N. Schmidt - May 17, 2012
There has been some speculation in the Chicago public schools and elsewhere, including on some blogs operated by scab corporations like the Chicago Tribune, that there was some deviousness behind the breaking of the story about Marc Wigler's elimination from the Chicago Teachers Union. Although many union members knew of the Wigler trial and conviction prior to the May meeting of the Chicago Teachers Union's House of Delegates, it was the decision of Wigler (and, in many people's opinion, Wigler's group, the "United Progressive Caucus") that put the story in the public domain (first at substancenews.net, and now in the Sun-Times and elsewhere).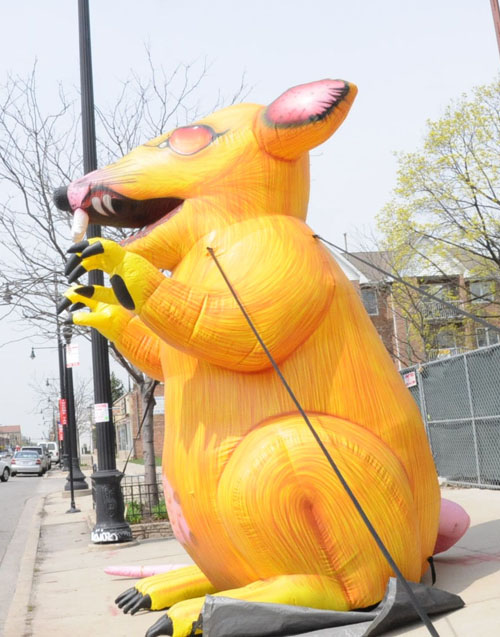 The rat on Irving Park road in front of a scab construction site on April 12, 2010. Substance photograph by Sam Schmidt.Here is a brief Wigler update (for here and already noted on Facebook). This wonderful story of union and anti-union happened because the United Progressive Caucus and Marc Wigler wanted it to happen.
Last Wednesday (May 9, 2012), UPC members were leafleting their usual attacks on Karen Lewis and the union leadership outside the union meeting at the Operating Engineers Hall on Grove St. (We're not going to repeat their lies here; anyone who can find their website can read everything and judge for herself). There was the usual democratic scrum on the sidewalk. I was selling Substance with a few comrades. Others were leafleting the CORE bulletin. There was also a book table and people selling union, working class and strike histories. It was, as a novelist would say, a "bright and sunny Spring day."
The sidewalks outside CTU meetings have always been a bazaar of democracy. And except for one day when Wigler's group (back then in power) tried to eliminate the practice (by trying to have me arrested and forcing everyone else on to the street), May 9, 2012 was no different from any CTU meeting.
Everyone must be reminded: UPC has the same rights as anyone else to distribute their materials. So few people were bothering with their lurid almost scabacious versions of reality. (It's available to anyone on their website...too).
The only two attacks on that democratic scrum in CTU history have come from the UPC and been reported in Substance. Eight years ago, some UPC leaders tried to have ex-president Deborah Lynch arrested during a meeting (one of those people is still in the House of Delegates, but was an officer at that time). Three years ago, the UPC did the same when I insisted on selling Substance in front of the union hall, rather than down the hill in traffic on Grove St. (Both instances were resolved without anyone being taken to the police station; and Deborah Lynch's PACT group is still active in the democratic scrum, too).
So on May 9, 2012, the socialists were selling books, some Communists were giving out a newspaper or two, and a bunch of union members were distributing caucus literature in the warm sunlight.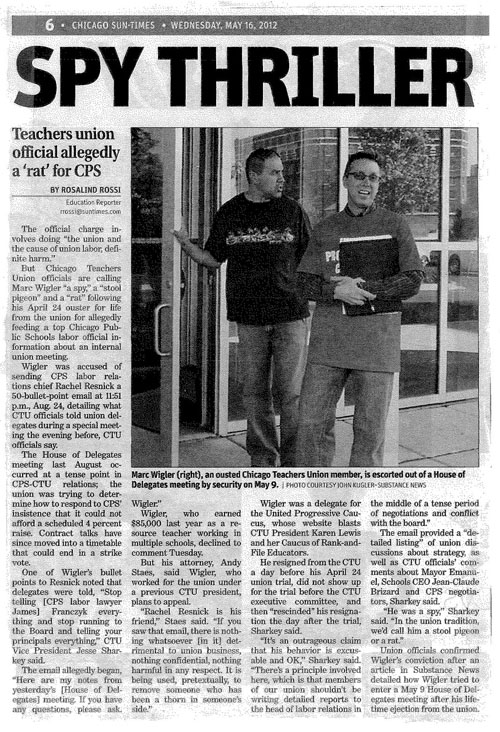 The May 16, 2012 Sun-Times article provided readers with more details of the Wigler incident than were available to Substance earlier.Then Marc Wigler walked up with his friend and wearing his UPC tee shirt and things changed quickly.
Colleagues had told me that Wigler had been expelled from the union, but that the decision was not public. Then on May 9, Wigler walked straight into the union hall, wearing his UPC colors, as if the decision of the union's executive board had never happened. It seemed to me that he was going inside because he had someone waiting to give him a delegate credential. It has happened, as many know, that there are insiders who produce these phantom things for the UPC, even now.
I stopped my selling (another colleagues took over) and gave my camera to John Kugler. It looked like there might be a news story developing.
Then I went into the meeting as a delegate, wearing my credential as an elected retiree delegate. Kristine Mayle is the liaison with the Engineers Union which rents the hall to CTU. She immediately told the engineer's union's security that Wigler was not permitted in the building, and why.
He actually tried a bit of theater and made a very very brief speech. He was then escorted out by building security (also a union guy). Once he landed outside on the sidewalk it was a public story. He barely had the chance to cover his UPC colors before John snapped the photograph. He was pulling that notebook up across his chest like someone who had lost a bikini top, to cover up the "United Progressive Caucus" which was underneath it.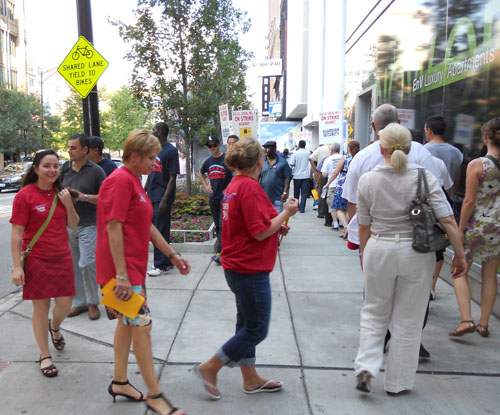 Union solidarity is a tradition that every real union person understands. Above, CTU staff and members joined the picket line across the street from the union's offices in support of the striking SEIU members against Guardian Security on September 1, 2011. Substance photo by George N. Schmidt.That's the whole story — unless the UPC people want to explain here why they encouraged one of their main people (Wigler) to show up and go inside to try and get what they knew was a fraudulent credential. He wasn't entitled to be at the meeting as a delegate, and as they well know, he doesn't have the right to be there as a "visitor" either, since that right is only for union members (not those who have been expelled for life). They knew he had been voted out of the union at that previous executive board meeting, because a couple of their people had been at the meeting. But the UPC side of this drollery is not a story I'm even a tad interested in.
Wigler is now old news — unless some enterprising unionists decide to inflate the Rat at events where he becomes a featured anti-union speaker, which will probably be his future. His career — especially the odious "Fresh Start" teacher bashing program he helped engineer back when UPC was in power — is now worthy of some historical research (but we're too busy to waste much time on it; it's a huge historical fact, though...).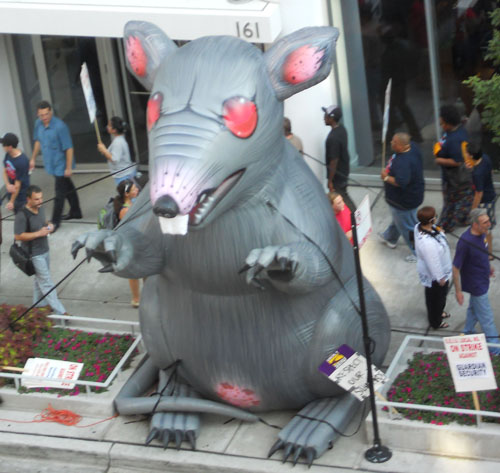 The grey rat helped pickets against Guardian Security's attempt to bust its union at 161 W. Kinzie on September 1, 2011 (above). Substance photo by George N. Schmidt.So... maybe a Rat — or two. I personally prefer the yellow one my son Sam photographed on Irving Park Road a few years ago when the bricklayers were picketing a scab construction site. But the the current grey rat SEIU was using for that scab work site at Kinzie and Wells a few months ago will do quite nicely.
BELOW HERE IS THE COMPLETE SUN TIMES REPORT AS IT APPEARED IN THE PRINT EDITION OF MAY 16, 2012. THE ORIGINAL SUBSTANCE REPORT IS PUBLISHED ON THIS HOME PAGE
Teachers union accuses ousted member of being a 'spy' for CPS. Updated: May 16, 2012 2:29AM
The official charge involves doing "the union and the cause of union labor, definite harm.''
But Chicago Teachers Union officials are calling Marc Wigler "a spy,'' a "stool pigeon" and a "rat'' following his April 24 ouster for life from the union for allegedly feeding a top Chicago Public Schools labor official information about an internal union meeting.
Wigler was accused of sending CPS labor relations chief Rachel Resnick a 50-bullet-point email at 11:51 p.m., Aug. 24, detailing what CTU officials told union delegates during a special meeting the evening before, CTU officials say.
The House of Delegates meeting last August occurred at a tense point in CPS-CTU relations; the union was trying to determine how to respond to CPS' insistence that it could not afford a scheduled 4 percent raise. Contract talks have since moved into a timetable that could end in a strike vote.
One of Wigler's bullet points to Resnick noted that delegates were told, "Stop telling [CPS labor lawyer James] Franczyk everything and stop running to the Board and telling your principals everything,'' said CTU Vice President Jesse Sharkey.
The email allegedly began, "Here are my notes from yesterday's [House of Delegates] meeting. If you have any questions, please ask. Wigler.''
Wigler, who earned $85,000 last year as a resource teacher working in multiple schools, declined to comment Tuesday when reached in the CPS PreK for All office.
But his attorney, Andy Staes, said Wigler, who worked for the union and its "Fresh Start" effort to improve struggling schools under a previous CTU president, plans to appeal.
"Rachel Resnick is his friend,'' Staes said. "If you saw that email, there is nothing whatsoever [in it] detrimental to union business, nothing confidential, nothing harmful in any respect. It is being used, pretextually, to remove someone who has been a thorn in someone's side.''
Wigler was a delegate for the United Progressive Caucus, whose website blasts CTU President Karen Lewis and her Caucus of Rank-and-File Educators.
He resigned from the CTU a day before his April 24 union trial, did not show up for the trial before the CTU executive committee, and then "rescinded" his resignation the day after the trial, Sharkey said.
"It's an outrageous claim that his behavior is excusable and OK,'' Sharkey said. "There's a principle involved here, which is that members of our union shouldn't be writing detailed reports to the head of labor relations in the middle of a tense period of negotiations and conflict with the board.
"There's a term for that in union tradition. It's called being a rat. I thought that was obvious. In case it wasn't obvious, Karen [Lewis} said it during the meeting —'Don't give information to the board' — and Marc included that in his report."
The email provided a "detailed listing'' of union discussions about strategy, as well as CTU officials' comments about Mayor Emanuel, Schools CEO Jean-Claude Brizard and CPS negotiators, Sharkey said.
"The idea that this was an appropriate thing to send to the other side, it's completely disingenuous. If that's a serious argument, let him make it seriously in front of a body of our members and let him see what our members think of it,'' Sharkey said.
"He was a spy,'' Sharkey said. "In the union tradition, we'd call him a stool pigeon or a rat."
Union officials confirmed Wigler's conviction after an article in Substance News detailed how Wigler tried to enter a May 9 House of Delegates meeting after his lifetime ejection from the union. Security escorted him out of the meeting.
Wigler's email was uncovered accidentally, Sharkey said, after the CTU received 15,000 emails from CPS in response to a subpoena involving a court case.
Kicking someone out of the CTU for life is a rare punishment, usually reserved for strikebreakers, CTU officials said. The ban means Wigler cannot vote in CTU elections or attend House of Delegate meetings, but also that he does not have to pay union dues.
According to a website for Ithaca College, Wigler's alma mater, he is scheduled to speak at a June 25 Chicago event called "Roundtables in Media Innovation.'' Although Wigler hasn't worked for the CTU for two years, Sharkey noted that the website calls Wigler a "partnership initiative coordinator with the Chicago Teachers Union" and says he will speak on "new models for collaboration between employees and management.''
Said Sharkey: "I guess the guy does know a lot about collaboration between employees and management.''
Contributing: Art Golab
