Common Core capitalism propaganda as 'curriculum'? CPS touting banks and credit card agencies as avatars of 'financial literacy'
George N. Schmidt - May 14, 2012
There probably isn't a decent teacher left in the USA who doesn't already realize that the "Common Core" is another straight jacket of nonsense to tighten around teachers and students in the nation's real public schools. But even the most skeptical among us is sometimes surprised, as I was, when CPS sent out a press release touting what they are calling a "financial literacy" curriculum. But without further ado, here is it, verbatim: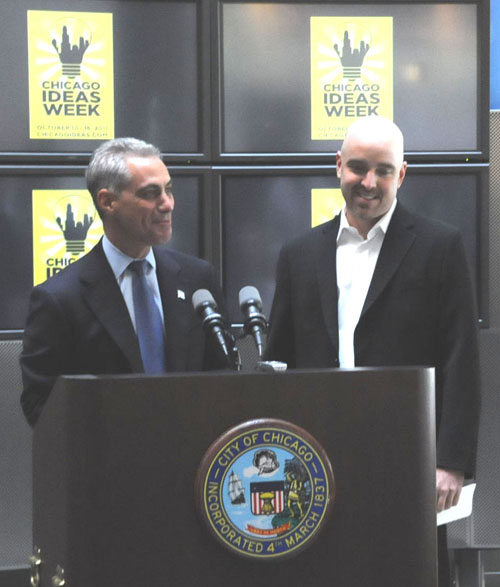 Chicago Mayor Rahm Emanuel and Groupon executive Brad Keywell at an August 3, 2011 media event co-sponsored by Rahm and Groupon at Groupon to promote "Chicago Ideas Week." The event came a few months before Groupon's accounting "irregularities" began depressing the value of the company and exposing another example of how the "entrepreneurs" of the world are often the sociopaths exposed, most recently, in the article featured in the May 13, 2012 edition of The New York Times. There is no indication that the new "Common Core" financial literacy curriculum being touted for Chicago (and sponsored by corporate America) will offer any accurate history or critical analysis of how capitalism really works, from Groupon's creative accounting methods (at the time of the Rahm publicity stunt, above) to the end of medical ethics via the corporatization of medicine and drugs for the treatment of disease in the USA. Rahm's one of them. Substance photo by George N. Schmidt.CPS Office of Communications. Phone: 773-553-1620. Website: http://www.cps.edu. Facebook.com/ChicagoPublicSchools. Twitter: @ChiPubSChools
FOR IMMEDIATE RELEASE: May 10, 2012
CPS to Launch Financial Education Curriculum This Fall. Discover Donates $1 Million to Teach Students Financial Literacy
Chicago –Chicago Public Schools (CPS) today announced plans to integrate rigorous new Financial Literacy coursework into its K-12 curriculum over the next three years. The new Financial Literacy Framework is the result of a four-year partnership with financial leaders from both the private and public sector and will provide CPS students with the skills needed to understand fundamental finance issues. The Financial Literacy Initiative will launch this fall, along with a personal finance course for 12th grade students in the spring and training for 250 teachers that is being funded by a $1 million grant from Discover Financial Services.
The announcement coincides with a White House Summit on Financial Literacy held this afternoon. At the summit, the Obama administration recognized the collaborative work of CPS and its financial partners to bring financial literacy to CPS students.
"Our students must be given the tools to succeed in today's complicated economy, and that includes access to practical financial skills that can help them make smart decisions," said CPS CEO Jean-Claude Brizard. "We are appreciative of the support from these private partners in helping to ensure all students have the knowledge, skills and tools needed to succeed in life."
The new Financial Literacy Initiative will consist of the following
A rigorous K – 12 Financial Literacy Framework: The framework will provide fundamental guiding principles and identify key financial literacy knowledge, skills, and concepts that align to the English Language Arts and Mathematics Common Core Standards. The Department of Literacy and Social Science, in close collaboration with external partners will develop and identify theme-based units, lesson plans and performance tasks for grades K-12. The Financial Literacy Framework will be available to all elementary and high schools in fall 2013 for implementation.
All schools will have the option to adopt this framework.
12th grade personal finance course. This course will bring a personal finance curriculum from the Council for Economic Education (CEE) to provide CPS Seniors with learning opportunities that will push them academically, as well as prepare them with critical skills that will apply beyond school. Funding for the course is being provided by a $1 million grant from Discover Financial Services as part of the company's $10 million investment to bring financial education curriculum into public high schools across the country through its Pathway to Financial Success program. The grant also will include training for 250 teachers over the next three years. The one-semester course will serve as the culmination of the financial literacy program provided in grades K-11. The capstone course will be implemented in approximately 25 schools in spring 2013 and expected to reach all high schools in three years.
"We need financial education to be taught in our schools and public-private partnerships that invest in our schools will enable this to happen," said David Nelms, chairman and chief executive officer of Discover Financial Services. "When we teach kids about money, we give them a foundation from which to build – to help them make wise choices every day, to budget appropriately for college, and to plan for future financial stability. By working together, we can provide our children with the best opportunity for a brighter financial future."
The Financial Literacy Framework will be aligned to the Common Core State Standards (CSSC), which will be implemented district-wide next fall. The Framework provides an excellent opportunity to bring elements of the CCSS to life for students and to provide practical ways to apply learning concepts. For example, the Common Core places increased emphasis on reading and analyzing informational texts. The Financial Literacy Framework will help meet this standard by teaching students how to read financial documents and how to conduct financial research. CCSS also places a renewed emphasis on applying mathematical concepts to everyday problems. By understanding how interest is compounded or how rates of growth are computed, students will not only gain an understanding of finance, they will be learning to apply mathematical and statistical concepts.
Other partners who have assisted with the development of the K – 12 Financial Literacy Framework include: Ariel Investments, Council For Economic Education (CEE), UIC – Center for Economic Education, Network for Teaching Entrepreneurship (NFTE), Federal Reserve Bank – Chicago, JP Morgan Chase, National Endowment for Financial Education, CME Group Foundation (Chicago Mercantile Exchange), Chicago Community Trust, Junior Achievement (JA), Illinois State Treasurer's Office, City Treasurer's Office, EverFi and the Economic Awareness Council. Money Savvy Generation, CARE, Girl Scouts of America/ Journey World, Illinois Credit Union League and Sargent Shriver National Center on Poverty Law. These partners will assist in various roles that range from providing professional development and classroom resources for teacher support to providing grade-level specific curricular resources.
The Chicago Public Schools serves approximately 405,000 students in more than 675 schools. It is the nation's third-largest school system.
– 30 –