LETTER: 'Dying to teach'... Video about suburban Chicago teacher suicide now available
Myra Richardson - May 04, 2012
My name is Myra Richardson. I am the director/producer of the documentary, DYING TO TEACH: The Killing of Mary Eve Thorson, "Educators Who Bully." I was honored to have spent several days with Mary Thorson's family. It was evident after having interviewed her parents, brother, best friend, and teachers both within and outside of district 169, that Mary's death wasn't a typical suicide. She felt that in order to expose the severe levels of abuse suffered by other teachers, coupled with its adverse impact on the students (not to mention the poor condition of the school), she would need to sacrifice her life in the most public and brutal way conceivable.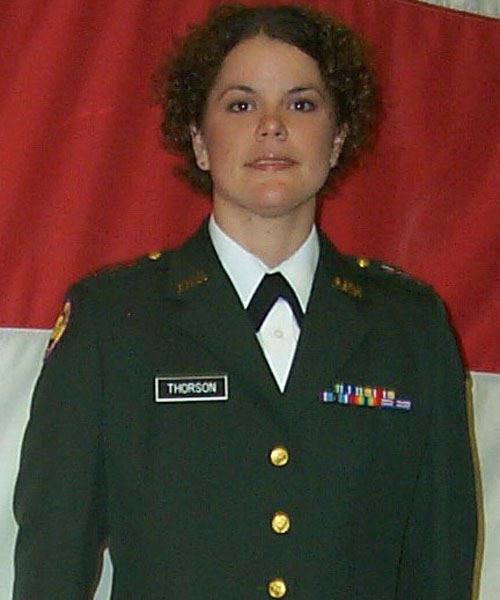 Teacher Mary Eve Thorson before the suicide caused by persecution by officials of suburban Chicago District 169.The suicide letter mentioned her choice to be the first to sign the petition, and not wanting her death to be in vain. This made it more than apparent that her objective was to shake up the district and possibly the state. As a consequence, the outcry from teachers in relation to the January 1st article by Becky Schlikerman of the Chicago Tribune was massive.
I was exposed to Mary's personal items while with her parents, e.g., her medal for building schools in USULUTAN EL SALVADOR, home movies of her many accomplishments, her degrees, and her beautiful artwork. This young woman had been in the Army Reserve for 8 years. She was prepared to defend our country. Mary knew no fear...except that of having to be without her students, whom she affectionately referred to as her babies. Once she refused to alter grades she became a target. And yet, she still refused to leave the institution until everything was snatched out from underneath her.
It isn't often that you have an opportunity to walk in the shadow of greatness. This young teacher sacrificed her life for the teachers within district 169 and for the children. I don't believe Mary ever dreamt that she would touch so many lives...even beyond death.
I have never done a project of this magnitude in my life. I still don't truly understand why I chose to tell Mary's story, especially since I have no background in filmmaking. I do know that I felt compelled. I believe in God...not ashamed to say it. I believe that this was his will. It's one of the most important things I've ever accomplished. My purpose in doing this documentary, is to make the audience aware of what Mary had been subjected to within Cottage Grove Middle School. I want the audience to experience the indescribable loss suffered by her family. I want the audience to understand the fear which teachers contend with everyday in silence. I want the audience to be angry. I want the audience to feel that someone was taken away from them as well. I pray that I did a good job. Here is the documentary website: www.marythorsondoc film.com .
Myra Richardson