Some family reasons for skipping the ISAT
Sharon Schmidt - March 04, 2012
I will not allow my son Sam take the ISAT this year because there are no good reasons for him to do so. High-stakes tests, like the ISAT, pressure children. They label and stigmatize them. They interrupt real learning and real enjoyment at school. They don't tell me anything I need to know about my son.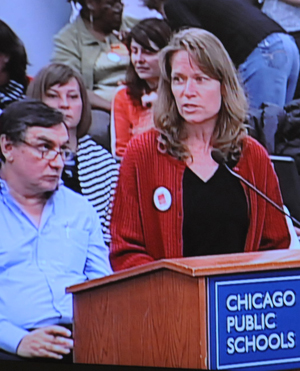 Sharon Schmidt, Substance editor and CTU Testing Committee chair person, spoke at the February 22, 2012, Board of Education meeting against the misuse of test scores to label schools "failing" or "low performing." The Board voted to fire the staffs of 10 schools because of the schools' performance based primarily on test scores. The test scores of most children reflect family income. Teachers of low-income students are blamed for realities they have no control over. In this article, Schmidt writes about why testing is bad for individual children and families. Substance photo by George N. Schmidt.Sam has learned so many things in fifth grade. He's studied history and science, he's read dozens of novels and many pages of informational text, and he has learned and practiced new concepts in math, art, music, computers, physical education and health. He's written fiction, poetry, and research reports. He's learned how to interact with new students and teachers. He's been thinking critically about politics and people.
Sam's progress is evident to me through observation, conversation, report cards, teacher meetings, schoolwork, and homework. In contrast, his ISAT test scores from three reading and three math tests would not tell me any of what he's learned this year. The scores would only show how he compares to other test takers in answering simplistic multiple-choice questions and completing formulaic writing tasks.
The ISAT doesn't measure thinking, motivation, or interest. It measures a child's ability to choose the answers, among many plausible distractors, to questions deemed valuable by a test maker. And within their limited subjects and form, the tests can't precisely measure the child's ability to choose correct answers. There are too many variables in the test and the child. A standardized test isn't a scale or a barometer. A child is not a piece of meat or a weather pattern. One day a child may answer a question about main idea in reading "correctly", the next day "incorrectly".
Not everyone can do well on these tests. When tests are written, test items are vetted to "work", meaning that the results must fall along a bell curve. If all students answer a piloted test question correctly, that question will not be used. The tests are designed to rank and sort students. Test scores do not help parents. I'm concerned that my sons learn and succeed, but I don't need to consider whether they're "better" or "worse" than other children on the ISAT. That doesn't tell me anything real.
I love my sons for their unique selves. While I'm thrilled when they accomplish new things, I don't want them in a test score race to the top. I don't want Sam to feel superior or inferior to others because of an ISAT ranking. There are some competitions in life, but learning should not be one. My son's value as a student has nothing to do with his percentile ranking. Why should I waste Sam's time and effort to obtain a number that tells me nothing I need to know? These tests don't help him learn. The test results don't help his teachers teach him.
Over the past two years I've opted out Sam from dozens of other standardized tests. Instead of wasting his time at school, I've had Sam read silently to himself whenever CPS has administered a standardized test. Reading books of his choice helps him learn.
Since I found out two years ago how much experimental testing was happening, I've opted him out of dozens of tests. He has skipped the CPS Learning First Benchmark Assessments, the Scantron Performance Series tests, and the pilot Common Core. CPS administered each of these standardized tests in several subjects, several times a year. But there are no good reasons for this excessive testing.
Since the state is not providing the same opt out rights for Sam to be in school while excluded from the test per parent choice and "engage in a silent, self-guided activity" as is CPS policy, he will have to stay home to skip the test. But I'm not worried about him using the time to learn. I actually think it would be better for him to play video games during those six hours than it would be for him to complete the ISAT.
For information on the CPS response and state ISAT requirements, see "In order to skip ISAT, parents need to keep children at home during testing" on the March 2012 www.substancenews.net homepage:
http://www.substancenews.net/articles.php?page=3123&section=Article