Parents continue push against Rahm's 'Longest School Day'
George N. Schmidt - March 04, 2012
Despite being rudely snubbed by the seven appointed members of the Chicago Board of Education at the Board's February 22, 2012, meeting, parents across Chicago who have been organizing in opposition to what many are now calling the "Longest School Day" being forced on all CPS schools by Mayor Rahm Emanuel continue to organize and protest. Informal meetings are taking place from the city's farthest north side wards (near O'Hare Airport) all the way to the precincts of Hegewisch (which is closer to the Gary Indiana Airport than it is to O'Hare). The one thing that the parents have in common is a stunning and consistent critique of both the rationale and the proposals coming out of Chicago's public schools administration to implement the mayor's plans.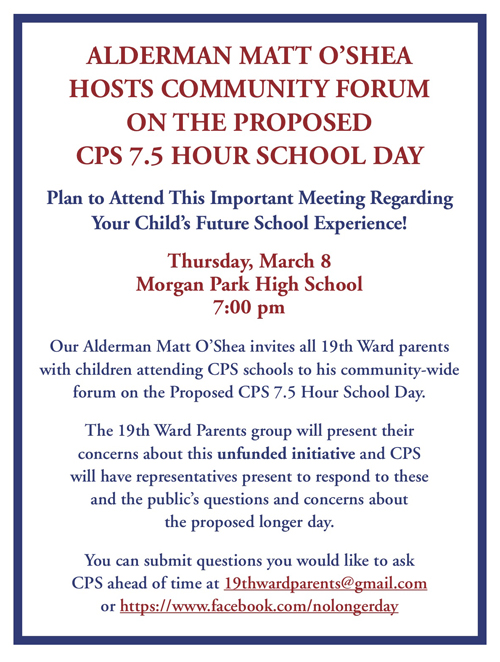 Announcement of the 19th Ward meeting against Rahm's Longest School Day.On Thursday, March 8, powerful 19th Ward political leaders and parents will meet on the city's southwest side on the issue. The leaflet announcing the meeting states:
ALDERMAN MATT O'SHEA HOSTS COMMUNITY FORUM ON THE PROPOSED CPS 7.5 HOUR SCHOOL DAY
Plan to Attend This Important Meeting Regarding Your Child's Future School Experience!
Thursday, March 8 Morgan Park High School 7:00 pm
Our Alderman Matt O'Shea invites all 19th Ward parents with children attending CPS schools to his community-wide forum on the Proposed CPS 7.5 Hour School Day.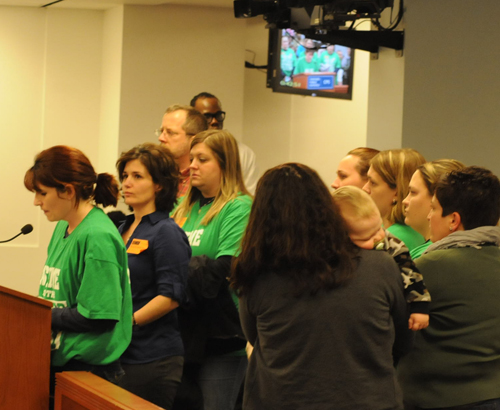 Denise Murphy, whose children attend Mount Greenwood Elementary School on Chicago's far southwest side, spoke out in opposition to the "one size fits all" approach being taken by the Chicago Board of Education to the Longer School Day. Sporting tee shirts that read "Ask Me About the Longer School Day," Murphy and other parents from that community demanded that CPS officials modify the too-long proposal to recognize the developmental needs of children across the ages in CPS schools and the plans and wishes of parents for sports and other after-school activities. Substance photo by George N. Schmidt.The 19th Ward Parents group will present their concerns about this unfunded initiative and CPS will have representatives present to respond to these and the public's questions and concerns about the proposed longer day.
You can submit questions you would like to ask CPS ahead of time at 19thwardparents@gmail.com or https://www.facebook.com/nolongerday