NEWS ANALYSIS: WHERE DID LAS CASAS GO? School closing chickens coming home to roost, but CPS privatization policies can't be indicted for murder... March 1 murder at a CPS 'alternative' school reveals some ugly facts and a history CPS has been trying to bury along with other bodies
George N. Schmidt - March 02, 2012
Four years ago, CPS announced that it was going to close La Casas Occupational High School, but after a major protest, CPS backed down — for one year. Three years ago, they did close down the schools, promising, as they always do, that things would be fine for the kids who would have gone to Las Casas, even though Las Casas had a history of dealing with some of the most challenging cases in Chicago, and the promises of the privatization that was to follow were just like most of the stuff CPS says in such cases: Words.
Some of the history is available on Substance You Tube videos. The URL for one is http://youtu.be/SxSpR59GJYM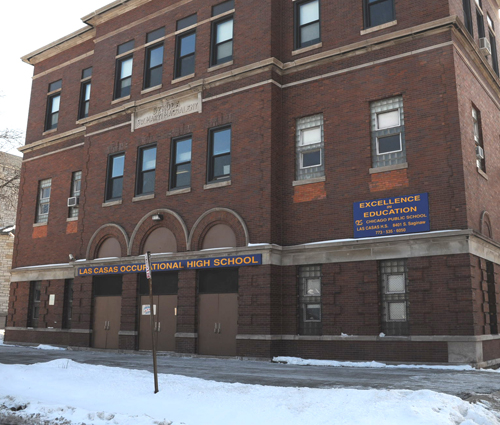 Las Casas Occupational High School, at 8401 S. Saginaw in Chicago, had served some of Chicago's most needy (emotionally disturbed) high school students for a generation by January 2009, when CPS moved to close the school and outsource and privatize the services it had been providing. Despite the usual promises from CPS that security and professional concerns would all be met, nothing of the sort actually took place. Most of the CPS officials who testified that everything would be OK for the young people once served by Las Casas are now gone from the system. Every year, CPS officials have read from scripts at the "closing"hearings, promised that all of the needs would continue to be met, and then marched away while the "hearing officers" rubber stamped each iteration of the "done deal." With no one but Substance following the blood trails, and Chicago's corporate media firmly in the tank to the ruling class and the closing agenda, it took a world class tragedy to remind people that the lives of real children and young people have been destroyed each time CPS opted for dollars instead of people. Substance photo by George N. Schmidt.So on March 1, 2012, a student at a place called "Infinity" — an "alternative high school" that supposedly was serving the same kids as Las Casas — wound up dead on a sidewalk from a stabbing. And CPS is "investigating."
During the years that Arne Duncan served as "Chief Executive Officer" of Chicago's public schools, Chicago policy became to privatize and outsource as many special education services as possible. Various explanations were given during the Duncan years and afterwards for the school closings and other changes that resulted in the elimination of many of the services that were being provided by professional union teachers and other staff for some of the most severely needy children in the USA. These children included children with autism (LeMoyne Elementary School), children with various severe handicaps (Spalding elementary and high school) and children with severe emotional problems. The attack on the professionals who served those children in real Chicago public schools escalated during the Duncan years and was continued following Duncan's appointment as U.S. Secretary of Education by Duncan's successor, Ron Huberman. Show trial hearings were held at which CPS officials read from carefully prepared scripts in front of politically connected hearing officers.
One by one, the schools or the programs were closed.
In 2010 it was Las Casas's turn. By then, Spalding had been renovated (at a cost of more than $20 million) and given to a private charter school.
For now, as this story develops, Substance will be sharing the official news reports and updating as more facts become available.
But before day's end today (March 2, 2012) Substance reporters and others will also trace this whole event back through its historical and ideological roots, back to when CPS lied and maneuvered to close La Casas Occupational High School. The destruction of Las Casas was part of Ron Huberman's Hit List, but of course Huberman was just the successor to Arne Duncan. Both worked to further the privatization of special education services that should have been much much better scrutinized and audited. Both presented promises that weren't kept, facts that weren't facts, and a series of lies and half-truths that resulted in hundreds of small tragedies for the children and families whose lives were undermined by Chicago's elimination of these services, and large tragedies like the March 1, 2012 murder.
For now, one question was where, when, and on what terms this nouveau school wound up in a CPS building.
TRIBUNE STORY FROM MARCH 1 HERE:

The January 2009 hearing on the proposed closing of Las Casas Occupational High School featured some of the usual CPS faces, each following the prescribed script. Above (left to right) were CPS attorney Joe Moriarity (who assures history that all of the CPS work is legally in order), special education official Theresa Garate (who testified that the special needs of the Las Casas students would still be met), and Hearing Officer Fred Bates. By 2009, Bates was already in his 17th year of a lucrative practice which consisted of rubber stamping anything CPS proposed. Above, left to right, CPS attorney Joe Moriarity, CPS special education specialist Theresa Garate, Hearing Officer Fred Bates... The Board was determined to close Las Casas and privatize as many special education services as possible. The onslaught against providing special education services in real Chicago public schools using certified and trained (and unionized) Chicago teachers was a hallmark of the years (2001 - 2009) that Arne Duncan served as "Chief Executive Officer" of CPS. Arne Duncan's attacks on special education services always followed the same script, from the attack on LeMoyne's program for children with autism through the closing of Spalding. The same lies were also told when teachers, parents, and students at schools facing the "Renaissance 2010" Hit Lists complained that students with special needs would suffer the most. Duncan or his aides (like Garate, above) would assure each hearing officer that they had plans to serve the specialized services students, but once the schools were closed, the lack of the plans (and the failure to track the fate of the students) became evident to anyone paying attention. Duncan's destruction of special education programs was one of the main features of his time in Chicago, prior to his pushing the same plans following his appointment by President Obama to push the same programs at the federal level under the ironically named eugenics program dubbed "Race To The Top." Substance photo by George N. Schmidt. Staff at Infinity Chicago, an alternative high school on the city's Far South Side, thought they were doing everything they could to calm tensions between its often troubled and sometimes violent student body.
School counselors, specially trained in conflict resolution, frequently met with students to smooth over feuds.
Upon entering the school, the fewer than 50 students were subjected to metal detectors and pat downs to make sure they weren't carrying weapons inside the building.
Despite these precautions, staff watched in horror Thursday morning as one student quickly and violently stabbed two other students as they prepared to enter the school.
The apparent target of the attack, Chris Wormely, 17, died a short time later at Advocate Christ Medical Center in Oak Lawn.
The second injured teen, described as a bystander by police, had two head wounds stitched at the hospital and was released.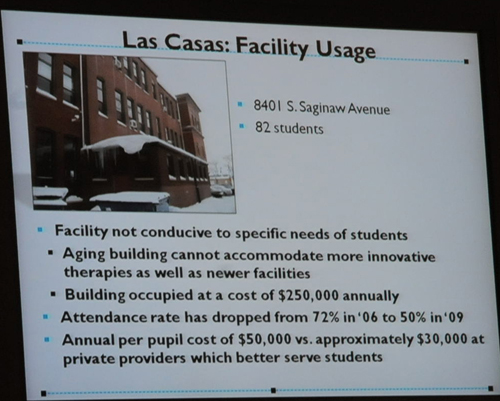 By February 24, 2010, when Chief Executive Officer Ron Huberman presented the case for closing Las Casas for the second year in a row, Huberman was explicit in his rationale for privatization: the supposed "cost savings." CPS never audits the claimed "cost savings" of privatization, any more than it actually tracks the fate of the students who are dumped from the schools it closes (although at hearings, CPS officials state that they will do so; subsequently they simply do not do so). The cost of fixing Las Casas, as Substance pointed out at the time, was minuscule compared with the Board's capital improvement budget for that year (which was nearly $1 billion, thanks to a bond issue). At the end of the meeting of the Board on February 24, 2010, the Board members voted unanimously and without debate to close Las Casas. Substance photo by George N. Schmidt.With the third student, 17, in custody, school officials are retracing their steps to figure out if more could have been done.
"They had some tension between (the two students) but there was never anything physical," said Sherri Ulleg, spokeswoman for AMIKids, the Florida-based company that runs Infinity Chicago and 55 other schools nationally.
Ulleg said the majority of students they work with have been expelled or suspended from the public schools in their respective cities, though that wasn't always the case in Chicago. Many of these students, such as Wormely, have identified learning disabilities or other special needs, Ulleg said.
"There often are behavioral issues," she said. "That's why they're with us in the first place." Charmayne Prince, Wormely's mother, said she received a call from the school Thursday telling her that her son had been injured in an accident and urging her to go to the hospital. By the time she arrived, he was dead.
"When they said he was deceased, I don't know what was going through my head. I still can't believe it," Prince said. "I don't know how I feel. I don't know what to feel."
All afternoon, Prince's home in the city's LeClaire Courts neighborhood was a meeting point for family and friends to reminisce and share stories about the shy teenager who loved basketball and animals.
"He was always running from trouble," said Tyran Wormely Jr., 19, a cousin. "He was smart. He wanted to be a vet."
Another cousin, Tyrone King, 34, said Chris Wormely kept to himself.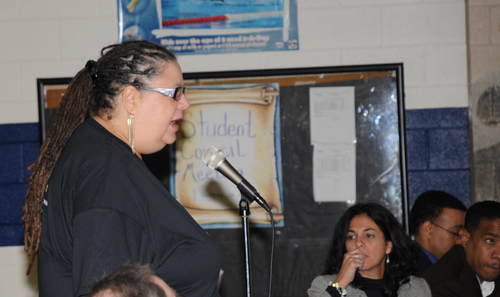 One of the dozens of teachers who testified against the proposed closing of Las Casas in January 2009 was Karen Lewis, a CORE activist at the time and a teacher of chemistry at King High School at the time. Lewis warned that the services being provided for the severely needy students at Las Casas could not be provided credibly by the private firms that CPS officials assured the hearing officer would do the same job for less money. In the above photograph, three of the CPS officials who orchestrated the first attack on Las Casas can be seen. Theresa Garate was then with the Office of Specialized Services, and read a script that assured the hearing that the services would not be hurt when Las Casas was closed. David Pickens was Chief of Staff to the Chief Executive Officer and orchestrated most of the school closings and privatizations between 2002 and 2010, when he became excess following the scandal about selective enrollment high schools. Garate and Pickens are no longer with CPS. Substance photo by George N. Schmidt. "He's not the type on the streets partying," King said. "If he was hanging out, it was with family."
Family said they were unaware that Chris Wormely was feuding with another student.
That wasn't his nature, they said.
But the other stabbing victim told the Tribune that he was aware of a prior altercation involving the two teens.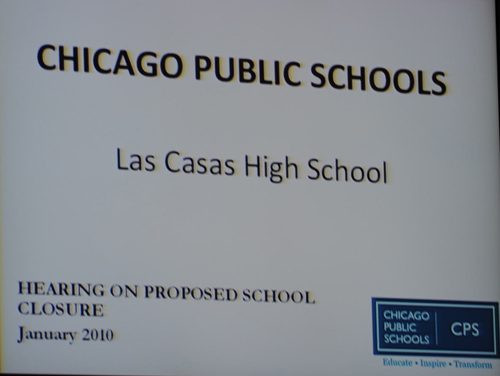 After failing to close and privatize Las Casas and the services to its students in 2009, CPS returned in 2010, when Ron Huberman was CEO, and finished the job. Above, the front page of the mendacious Power Point presented at the january 29, 2010 hearing on the proposed closing of Las Casas. The Board voted in favor of the closing of Las Casas at its February 2010 meeting, without discussion or debate. Substance photo by George N. Schmidt.Police said the students were lining up to enter the school in the 10200 block of South Crandon Avenue around 7:30 a.m. Thursday when the suspect pulled a knife and allegedly stabbed Wormely in the back and neck.
The other student was sliced in the back of the head during the altercation.
Ulleg said school staff was standing nearby when the attack occurred but that "it was very sudden and staff could not get there quickly enough."
As Wormely lay bleeding on the ground, Ulleg said, a school nurse rushed to his side and applied a tourniquet until paramedics arrived.
Prince criticized Infinity staff for not stepping in to stop the attack.
She said in the year that her son attended the school, they had become so concerned about the lack of discipline and threat of violence that they had planned to transfer Wormely to another school. Prince said they planned to begin the process Monday.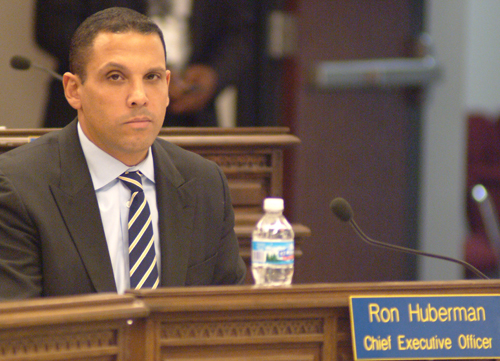 Chicago public schools CEO Ron Huberman at the February 24, 2010 meeting of the Chicago Board of Education. At that meeting, Huberman proposed closing La Casas and privatizing its services based on a claim that doing so would save money. CPS officials have made similar claims for more than ten years, but never presented evidence afterwards to verify the claims. Like most of the statements made by CPS officials during the drive to close and privatize schools, CPS words are taken as facts. Substance photo by Garth Liebhaber.Charles Wormely, Chris' brother, said some family were notified of his death as they rushed to the hospital. Charles Wormely said he was in so much shock that he tried to call his brother's cell phone. "I feel like I'm dreaming, like this is a bad dream."
Tribune reporter Jeremy Gorner contributed.
jbullington@tribune.com jhood@tribune.com