'Chicago is at the epicenter of the education justice fight in America, and today the nation is watching… CPS policies are the status quo, and because of these force fed reforms, the majority of our students, most of whom are black and brown are experiencing a form of educational apartheid…'
Al Ramirez - February 23, 2012
"Chicago is at the epicenter of the education justice fight in America," Chicago Teachers Union president Karen Lewis began her remarks to the Chicago Board of Education at the beginning of public participation during the February 22, 2012 meeting of the Board. The complete video of Lewis's remarks is now available on line. The URL for those who cannot get a hotlink is http://vimeo.com/37293032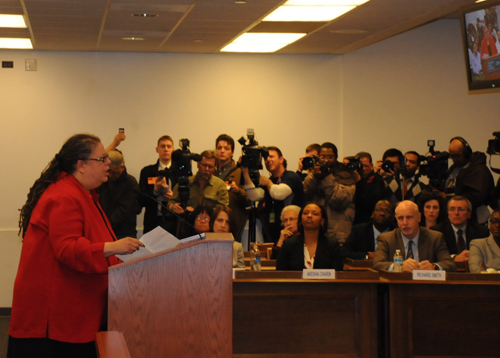 Chicago Teachers Union President Karen Lewis speaking to the Board of Education on February 22, 2012. Substance photo by George N. Schmidt. Video of Lewis's speech by Al Ramirez.Substance will be publishing more in print and in video during the next week. Those who participated in the February 22, 2012 meeting of the Chicago Board of Education and who would like to share a copy of their remarks in print should email a digital copy to Csubstance@aol.com.
Lewis began her remarks with the following words.
"Chicago is at the epicenter of the education justice fight in America, and today the nation is watching…"
"CPS policies are the status quo, and because of these force fed reforms, the majority of our students, most of whom are black and brown are experiencing a form of educational apartheid…"
Below is the complete text of Ms. Lewis's remarks, courtesy of the Chicago Teachers Union website (www.ctunet.com):
President Karen GJ Lewis Board of Education Remarks 02/22/2012
Chicago is at the epicenter of the education justice fight in America--and today the nation is watching. We believe 17 years of CPS's failed, unjust policies have led to the current crisis we have in our neighborhood schools. CPS's polices ARE THE status quo; and because of these force-fed reforms the majority of our students –most of whom are black, brown and poor --are experiencing a form of "education apartheid." This is not the type of world-class education our students deserve.
Children who need the most resources get the least. Parents who cry out the loudest have had their voices drowned. Schools that deserve the most support purposely get little, and according to CPS, this fiscal starvation could last for up to a decade. Instead, these neighborhood schools are labeled as failing; teachers and school workers are labeled as failures; students are labeled as having been failed; and minority caregivers are labeled as failed and uncaring parents.
This labeling is done in order to justify the current process of destabilizing black, brown and poor neighborhoods; it is done to trick the public into believing 'what is right is wrong and what is wrong is right.' It is done to push a political agenda that seeks to destroy public education and render even more generations of youth into the achievement gap.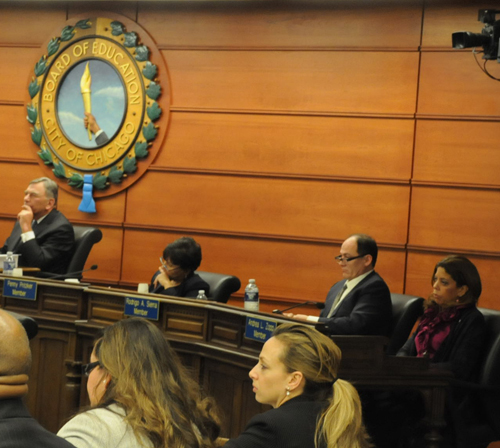 Four of the members of the Chicago Board of Education (above, top) during Karen Lewis's speech. Whenever Lewis speaks to the Board, Penny Pritzker devotes herself to reading something rather than listening, at times glaring at the union president. Left to right, above, Board President David Vitale (under the seal), Penny Pritzker, Rodrigo Sierra, and Andrea Zopp. Al four, along with the other three members of the Board, later voted unanimously and without debate to approve the school closing and reconstitution recommendations of Jean-Claude Brizard. Substance photo by George N. Schmidt.Teachers, paraprofessionals, students/parents and community members DO NOT control the policies, purse strings or curriculum of the Chicago Public Schools. We have no say/no vote in whether or not today the Board will award AUSL nearly $30 million in public resources that could have gone to neighborhood schools in the first place.
Other than "ritual participation," we believe the authentic voices of CPS parents, Local School Council leaders, legislators and independent members of Chicago's faith community have been excluded from the decision-making process. On the other hand, we remain disappointed that people affiliated with (and who support) CPS' agenda have admitted to paying people $25 to $50 to provide false testimony at legal, state-mandated school hearings in an orchestrated effort to silence the real, authentic voices of Chicago's parents. We are appalled that CPS vendors, some of who've reaped millions of dollars in taxpayer funds, have engaged in this immoral conduct in order to produce an affirmative vote on school actions that will directly benefit their organizations.
We are upset that well-researched, school revitalization plans and other measures proposed by parents, educators and community leaders have been virtually ignored by CPS. This is why over the past several weeks proponents for quality schools, student achievement and successful graduation, as well as professional teachers, have taken to the streets—hoping the Board would hear us.
As stated in our groundbreaking report, The Schools Chicago's Students Deserve, we believe that every student deserves a coherent curriculum, high standards, good discipline, parental support, a professional teaching force and well-run schools. Parents, students, educators, and community leaders must be equal participants in determining how goals and policies are set; how resources are allocated; how curriculum is developed; and how our neighborhood schools operate.
This is why the Chicago Teachers Union stands in solidarity with these parents, activists and others today, in calling on Members of the Board of Education to do what is just. Support our schools, do not close them. Do not turn them around. Honor the moratorium. Take a bold step in the right direction. Reject the status quo. Prove your independence. Show your moral courage.
And to the thousands of parents, students, community leaders, activists, educators, and clergy who have united in this education justice fight, I leave with you these words:
"It is not the critic who counts, not the man who points out how the strong man stumbled or where the doer of the deeds could have done them better. The credit belongs to the man who is actually in the arena: whose face is marred by dust and sweat and blood; and who strives valiantly; who errs and comes up short again and again; who knows the great enthusiasm, the great devotions and spends himself in a worthy cause; who, at the best, knows the triumph of the high achievement; and who, at the worst; if he fails, at least fails daring greatly, so that his place shall never be with those cold and timid souls who know neither victory or defeat."
Thank you.