Former Piccolo students reflect on AUSL's failure at Orr High School... The Piccolo (and Casals) story complete... Occupy Piccolo last nearly 24 hours before Board member agrees to meeting with leaders opposing turnaround
Kati Gilson - February 19, 2012
Parents, community members and supporters of Piccolo and Casals elementary schools have had enough of CPS "Turnarounds" which fire all staff and turn the school over to private, politically-connected AUSL (Academy for Urban School Leadership). Friday morning, February 18, 2012, the leaders of Blocks Together, a community organization, contacted the Whittier Parents Committee to ask for Solidarity and Support. The Whittier parents occupied their "La Casita" for the second time last summer to protest the Board's demolition of Special Ed classrooms and refusal to meet with the parents regarding a proposal to turn La Casita into a library and community center.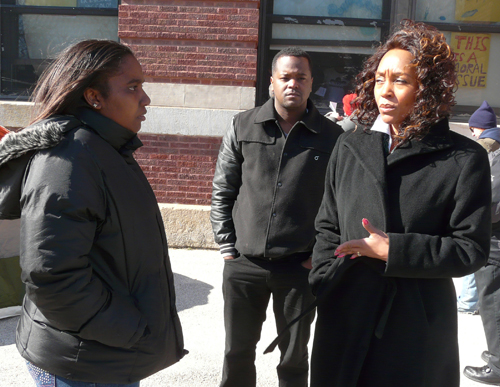 Illinois State Senator Anazette Collins (right) talks with Latrice Watson, President of the Piccolo Local School Council, in front of Chicago's Piccolo Elementary School during "Occupy Piccolo." Substance photo by Kati Gilson.Although CPS officials did not try to evict those who remained in the Piccolo building, they made a rule that anyone who left could not return. At 9:45 p.m. on Friday there were at least ten parents and ten students in the Piccolo building. Rosalina Plaza, Elisa Nigaglioni's daughter, had left earlier because she was upset that her mom was getting ill and CPS would not allow Elisa's medication in the building. When asked later how she felt about seeing her mom without her medication she burst into tears and couldn't talk.
Susan Dirr, of Occupy Chicago, said parents asked for their support to keep the police out. Occupy Chicago is one part of a much broader coalition that came together Friday night and formed a line to block the school entrance. Union members, Occupiers, parents, community organizations and teachers prevented police from entering. Tom Westgard, Kelly Hayes and John Chaved, also of Occupy Chicago, said when they arrived Friday evening about 8:30 the front doors were blocked and there were about 80 people present. That number, had doubled by10:00. They heard that there were police officers attempting to get in the building on the North side so about 25 protesters ran to the side of the building.
A janitor let two police officers in the building. The protesters, including a 4 foot Rahm head, packed the front of the doors to block entry and exit. There was talk they were going to try to take people out and the protesters were concerned that more police would attempt to enter the building. There were some tense moments at which point the teachers and parents, after being asked by the police, were able to diffuse the situation down. At that point, an agreement was made, the protesters calmed down and the police backed off. By 10:30 p.m. most of the police had gone and the protesters settled in for a long night of camping out to protect the protesters inside the building.
Shronda Wilson, who has kindergarten and second grade students as well as nieces and nephews attending Piccolo, stated she's been a parent for four years at Piccolo. She said the parents are starting to understand and beginning to come around. She said "We hope they take us off the list and leave us as we is." She also stated there have been weekly meetings since school started and that they have community support from churches and the YMCA. She also said Alderman Emma Mitts met with them at least three times.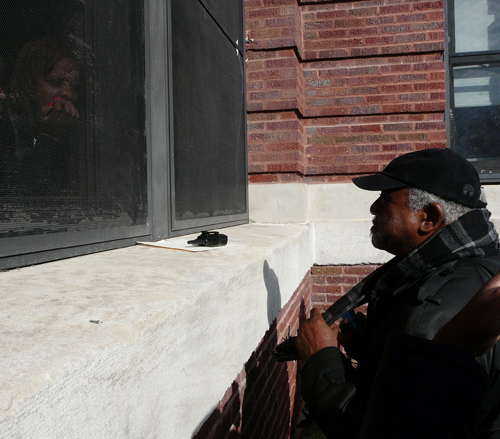 Chicago Public School officials even barred a United States Congressman from entering Piccolo Elementary School after Jean-Claude Brizard, CPS Chief Executive Officer, ordered the school sealed tight following the beginning of the occupation on February 17, 2012. Above, U.S. Congressman Danny Davis (right) had to talk through a window with parents and community leaders inside Piccolo. Substance photo by Kati Gilson.Congressman Danny K. Davis arrived around 9:00 Saturday morning after hearing about the occupation on the news. He stated "All of these schools are in my district. I think this struggle has to continue from all parts and vantage points. They are trying to break up unions across the country." Congressman Davis, a former teacher, taught for six years in CPS and was Union Delegate at Magellan School. When the parents inside told him authorities wouldn't allow food, water or medication brought in, he responded "I can't imagine that". Congressman Davis commented "I've been supporting these actions for a long time. I'm one of the main supporters of Public Education in America and a Member of Congresses Black Caucus and Chairperson for the Education Black Caucus". I am always pleased to see parents, teachers, community residents and children working together to try and make sure that they get the very best possible education, the best possible educational environment, the best possible teachers, the best resources, the best books, materials and all of those things that are going to make education what it really ought to be and that is the delightful learning experience where young people are eager to wake up in the morning and come to school."
"Education is a high and top priority of mine," Congressman Davis concluded.
When asked if he thought the mayor should meet with parents and address their concerns he responded, "I think that school officials and city officials should meet with any parents, any representatives of parent groups and try and work out whatever the difficulties are and come up with the best plan to make sure that not only are people learning but also that they're happy, that they're satisfied and that they are experiencing democracy. That they are practicing what democracy means that is the ability for everybody to gather round, be involved and make the best decision for all of the people. So I hope that's what we're going to see ultimately happen. There are people who are opposed to the privatization of public education. I think it's good to try new techniques. I am not a fan of privatization of public education so I support the position of the parents whether or not the school is failing or to the extent at which turnarounds have worked but I do know that I believe that the last word should be the citizens and that they are the ones who should ultimately be satisfied."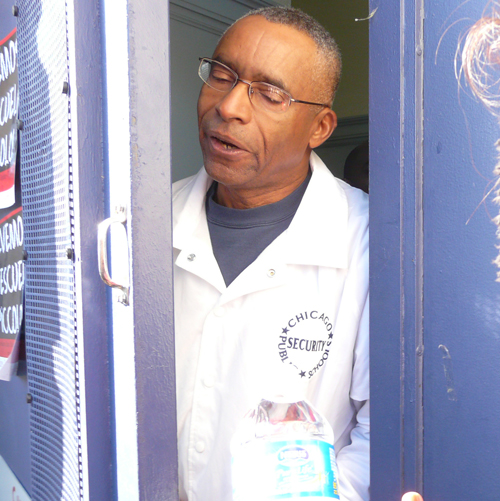 As part of Chicago Mayor Rahm Emanuel's plan to break up "Occupy Piccolo," CPS security (above) was ordered to bar people from entering the building after the night of February 17 began. Security also refused to allow food and medicine to get inside the building, and ordered an Illinois Senator and a U.S. Congressman to remain outside the building, which is still a Chicago public school. Substance photo by Kati Gilson.There were people with first hand knowledge of AUSL at the occupation. I talked to three Orr High School students who asked remain anonymous due to personal safety concerns and fears of retaliation. The students ranged from 9th to 11th grade. One commented that the price of uniforms kept going up and they could only buy their uniforms from AUSL. He was concerned that many kids couldn't afford the uniforms and were prevented from attending school because they were out of uniform. The students stated there have been an increase in daily fights at Orr and this year new rules were added including being suspended, for an average of three days, for being late to class. In the past two days, he said, 30 – 40 students were suspended for being late.
The Orr High School students told Substance that last week five parents came in asking why their kids weren't getting the education they need. They said the principal told the parents to get out and didn't answer their questions. They said they saw no improvement in the school, which was turned over to AUSL three years ago after teacher had tried the "small schools" policy promoted at the time by the Chicago Board of Education. When questioned further about the fights they said "Girls fight girls, boys fight boys and girls fight boys."
The students hinted that AUSL was part of a coverup regarding how bad things were at Orr, which is less than one mile from Piccolo. One student stated "I do not feel safe in school cause anywhere you go there might be a fight". One student felt the Latino students were unfairly targeted by African American security guards. The student stated the school was about 15% Latino and many Latino students have stopped going to school.
One student told Substance that he had attended Piccolo from Pre-K through 8th before moving on to Orr. When asked about the climate at Piccolo at that time he said "as I got older I saw a lot of violence in the school but security was on top of it." He also stated some of the teachers were nice and some were strict but in a good way. He said the behavior of some of the students disrupted learning especially in 7th and 8th grade. He said this happened every day because of different backgrounds and something was always going on. Some of the disruptive students were new to the school and some had been there since Pre-K. He also stated the teachers tried to fix the problems and students were sent to the Dean. He went on to say I was put in Honors Classes at Orr because of Piccolo. I succeeded more than I should have cause of the education at Piccolo. It tells how good the education I had at Piccolo was".
Another student stated "I feel safe at Orr but not entirely because at times it can get more violent." He then stated there were fights constantly many over a period of days due to retaliation. He said he knew of one fight between Latino and African American students but the fights were primarily between African American students. He also said there is daily discussion, during school; about what fight is going to happen after school and who is going to jump somebody. He described a specific incident in which he heard, during class, that there was going to be a gang fight after school.
After school the gangs came in front of the school and across from the school some were not from Orr. There were about 20 -30 kids. He went on to say the kids had 2 x 4s and Orr security had to call police. There was a fight and it took police about 15 minutes to arrive. He said when the cops come they use billy clubs and sticks to "clock students over the head." They also use mace outside of the building, on school property, as well as at the Burger King across the street. When asked about the AUSL teachers he said some are good, some were fired for budget cuts and that the administration has changed every year.
Political leaders continued stopping by Occupy Piccolo. State Senator Annazette Collins arrived around 10:00 Saturday morning after hearing about the school occupation on the news. She talked, through the window, to Cecile Carroll, from Blocks Together. Carroll explained the situation including the proposal Piccolo had but had never been seen by the board as well as the board's refusal to send in food, water and medicine. Cecile has been working with the Piccolo parents for over a year. Apparently, CPS leaders did not know that Cecile Carroll is also a member of the Facilities Task Force established by the Illinois General Assembly to oversee the facilities work of CPS after the controversies in previous years around school closings and turnarounds.
Senator Collins said "I wanted to come to support you guys to lend my support. We got to keep fighting."
When asked what she could do she responded "What I'll do is see if I can get in touch with someone from CPS and sit down and see what we can do." She then asked if they had community meetings and was told Piccolo only got one meeting at 8:00 at night at the Board of Ed. Cecile then stated they had asked for the meetings to be changed from a convenient time inside the schools. When asked again if there was anything she could to do to help, Senator collins responded "I will try to see if I can reach out to someone from CPS and ask them for a meeting". She also said she would try to see if she could get them medication, food and water. Her final words were, "You want to meet with the mayor or 5 board members. I will see what I can do. Stay encouraged".
After she was finished talking to the parents, some members of the press asked her why she was here. Senator Collins stated, "I came over to first encourage the parents in their fight because I know that they are concerned about their children and you have to fight for what you believe in that's right, that's in the best interest of your child."
"As we fight for our schools we have to stand up for what we believe in and they believe that the principal here has been working very hard, she has not been here a year and she deserves at least two years to turn the school around and the Board of Ed has not talked to them and they want to sit down and meet so they can discuss that," she continued. "They have met with over 300 parents and 92% voted that they did not want the school turned around. They are already implementing a plan on their own and they want that acknowledged. It's my job at this point to ask them (CPS) to meet with the parents."
Eddera Martin, parent of two Piccolo students, said "We are going to be out here till the mayor comes and talks to us. I have a son who graduated last year and his scores were up high. We have a new principal who's been here for 5 months. And they haven't given her the benefit of the doubt. They haven't given her the opportunity and a chance to prove the school is going up. We want the mayor to talk to us. We are going to stay here until we get justice. I feel like this AUSL has millions of dollars but every time we ask for money for our schools CPS says they have no money. If our kids come first give our kids the money and leave us alone. If you feel that our kids needed the best you should have been done it. Not wait 5 years. Give us the money and give us the opportunity to do what we need to do for our schools. No turnaround. I would like to tell the Mayor why does he want the turn around. His kids don't go here, ours do."
Willie Williams, grandparent of two Casals students said "They not even thinking about when they close these schools where these kids are going to go. Look at the schools up north they have everything music, art, we need that here. The students are going to be fighting and killing when you send students from Crane to different schools because there are different gangs.We have great teachers, the kids trust the teachers now. There's no such thing as no money, they're getting raises, they're getting money for them, give the money to the school. The teachers are great, the principal is working hard with the community and the parents. Give the money to Casals and Piccolo and I can guarantee the scores will go up".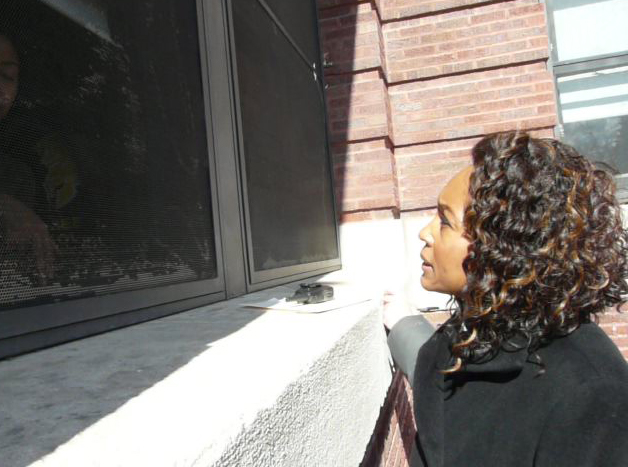 As part of its disinformation campaign against Occupy Piccolo, CPS officials tried to claim that those inside the building were not really parents. Because they barred people from entering the building after the original occupation began, CPS thought they could make the point, but because they didn't know or understand the community, they didn't know that one of those inside was a community organizer, Cecile Carroll, who has been serving on the Illinois Facilities Task Force which is trying to enforce the new state law barring CPS from doing the kinds of things it was doing to Piccolo. Above, State Senator Anazette Collins (right) had to talk through a window with Carroll and others who were inside, after CPS security, following orders from CEO Jean-Claude Brizard, refused to allow state senators and U.S. congressmen from Piccolo during Occupy Piccolo. Substance photo by Kati Gilson.Latrice Watson, Piccolo LSC chairperson, said "I've been out here trying to get into Piccolo for a couple hours now and I feel that the mayor say that he for the kids and for the community why are you treating me like this? Why you not letting me in my school? These parents have been here all night and they need food. You are denying them food you are denying them medicine you are treating us like we're second class students. This is America. And I feel why are you doing this to us? We asked you to come, we reached out to you, we gave you counter proposals and you never came to us and we had to go to the measure to get to this point. We've had 3 administrators in 5 years. We're fighting for our schools. This is my school, let me in my school. CPS says we for the parents and you treat me like this. It's a public school, why can't I try to get in because safety and security hounding the doors. I'm pissed off, we pay taxes and we pay our bills we don't see them out here we are trying to get our point across."
" Where you at where are you why do we have to come to this point? Now when we got loud and try to do something still nobody trying to hear us. Give us resources for our school. Give us the money. We don't need AUSL. We have great administrative staff here. They need to come to Piccolo to see what's going on. Come to us, we here, we not hiding. Brizzard, the mayor, where are you? We're asking you to come talk to us. That's all we're asking we have a SIPPA plan. Come listen to us thats all we want." "Piccolo is not the lowest school up here, we're targeted because we are a feeder school to Orr and they feel if they can get Piccolo kids out Orr will be much better. We need our community school, Casals, needs their school, Crane needs their school, and all the communities need their schools. Mayor, Brizzard do you want your children going to the other side of gang territory because we don't want that to happen to our kids."
An attempt was made to deliver food and water to the occupiers, but the CPS security refused to take the items and closed the door in the faces of people begging them to take the supplies for the people inside. Tajan Harris, who works with Senator Collins stated "I'm against charter schools because of the fees. They make us pay fees for the slots".
She then went on to state that many low income parents cannot afford the fees. "Why do parents have to pay fees? Why do they need fee money when they are getting public money? So, they are getting money from parents and the federal government. If you gave kids the same funding and resources as you give to the charter schools you'd turn the schools around." She then asked "Where did the dollars go for our schools? Why did the charter Schools get the money not the public schools?" She went on to state that "It starts at home. Teachers need social resources". When asked what they thought school would be like next year if turned around, two fourth grade students, said "Everything will be changed. We won't know anybody. We won't feel safe. They don't like us and they don't care about us. Don't turn our school around!" Another fourth grade student said "There will be no one to trust. If I lose my counselor I'm going to go crazy. Nobody knows the lunch ladies like we do. I have a special bond with my teacher Miss Fuller. It's like sometimes we have fun and we get down to work. I go to her with help for work and other things. I would go back to her next year (for help with things)".
Brenda McGee has worked in the lunchroom for two years. "A lot of the children call me grandma, auntie and some of my co-workers too. A lot of my co-workers are former Piccolo students. It's ridiculous politics. I'm proud of the parents for getting involved." We (the lunchroom staff) can sense things in the students and communicate with them about various things both personal and educational. The staff in the school is starting to unite". She also talked about the wasted food because the children don't like the change in menu.
"The children don't like the food cause they cut out a lot of the things they were used to eating." When asked about the principal she stated "The new principal has had a positive impact on the students. She relates to students and staff. She is very respectful and collaborative. She's involved with the teachers to improve student learning." She said they were no safety issues this year, a big difference in safety and education. "It's like one big happy family. She's always got time for parents".
When asked why he was here, State Representative Derrick Smith, 10th district stated "I came to see what was happening today. I'm concerned about the kids who go to this school. We're looking at the whole process and what's the right thing to do for our students".
Michael Collins and David Williams, who work in North Lawndale heard about the protest through Communities United Against Foreclosures and Evictions, and were on their way to a Political Forum at Bethel New Life this morning but decided that supporting the parents at Piccolo was a more urgent manner. At 3:30, following a meeting with Board of Ed Vice President Jesse Ruiz and Jamica Rose, the occupiers exited Piccolo School to cheers and applause. They were immediately offered food, water and blankets. During the afternoon press conference, Cecile Carroll, Blocks Together, spoke for the occupiers who had just come out of the building.
Blocks Together has been working with the Piccolo parents for over a year. She stated that despite submitting counter proposals regarding the turnaround of Piccolo and Casals to JC Brizzard and each board member, CPS did not respond. They tried to meet with CPS and the mayor on Friday morning to discuss their counter proposal they had submitted the month before and were ignored resulting in the Occupation of Piccolo School. "The process of school actions is a rushed, vague and incomplete analysis of public education reform." "This occupation was our last resort and we did not want history to repeat itself with an arbitrary vote on the fourth Wednesday of every February that lacks community input and fair just process."
After 22 hours of occupation, Jamico Rose and Chicago Board of Education Vice President Jesse Ruiz met with the folks in the school.
"It should not have to take drastic measures like occupation for real engagement around the needs of our schools. Jesse Ruiz agreed for other board members to communicate with us before Wednesday when they vote to schools. We want to ensure that if they vote to close these schools that this vote was about politics and not about the story of these schools. Mr. Ruiz agreed that the community engagement for these school actions needs drastic improvement process is flawed. We feel they should not vote on any schools Wednesday and remodel this whole system so the children aren't being left behind. There is no reason that a school should be closed for politics." She also stated "It was wrong to not let food in that building. We couldn't even get medicine. They said they were dealing with us "civilly". That is not how you treat human beings".
They ended the occupation because they were promised that the parents and community members will be able to meet with the board members.
Cecile's final statement was "Getting an hour with a board member is much better than getting two minutes at a BOE meeting at the last minute".
Larry Davis, 7th grade student and Student Council President at Piccolo talked about his experience during the occupation. "We fought; we slept over night what more can we do. No one was allowed in but they were allowed out. Board order. At the end we got our justice. First they have to understand its politics. They are going to do what they have to do to change our school around. We can throw a lawsuit out but they are still going to turnaround our school. That's their job. The only thing that is going on for this community is Piccolo School. I think about my fellow students we smart, we educated but and we are capable of success but when we revolve ourselves around behavior and nasty knowledge it does affect our community. I don't think the protest is going to stop. It's ended but it's not going to stop."
Dwayne Hoyne, student at Orr high school described his experience during the occupation. "It felt kind of alone. Also it got hot, we eventually ran out of food and I got tired and was coughing cause I was sick. At one point I wanted to leave because it was so hot but I chose to stay. The next day I woke up early I went to another room to see what was going on so we had to wait out more. The police said they can't bring no food in through the windows. We had nothing to eat so that was bad. We could look out the window and see what was going to happen. They also didn't want us talking to people through the windows." He gave his impression of the meeting with Mr. Ruiz, "I think the negotiations with Mr. Ruiz went well." When asked what would happen if the board doesn't keep its promise he said "If they don't we're going to keep doing what we're doing and fighting for what we want". "It was very hot. At one point I wanted to leave because it was so hot but I choose to stay. My school is a turnaround. I feel like they keeping us from getting to class on time. If we late they make us turn around, they send us home. If we out of uniform they still make us go home. I feel good that I came out here and did this and be supportive and fight for what we believe in." He also stated the turnaround school was not working for him. As they tents were removed occupiers remarked "It's nice to take them down ourselves for a change". Piccolo is now quiet but whether or not it remains that way depends on the Chicago Board of Ed and Chicago Public Schools.
