Piccolo parents end occupation after Board of Education promises meeting
Kati Gilson and Norine Gutekanst - February 19, 2012
Parents, students, and community supporters from Chicago's Brian Piccolo Elementary School declared their occupation of the school a success late in the afternoon of Saturday, February 18, 2012. After occupying a portion of the west side elementary school building and pitching tents outside the building for nearly 24 hours, the Piccolo parents reported that they received a promise from Chicago Board of Education Vice President Jesse Ruiz to meet Monday regarding alternatives to the scorched-earth "Turnaround" plan which the Board is scheduled to vote on at its meeting Wednesday (February 22).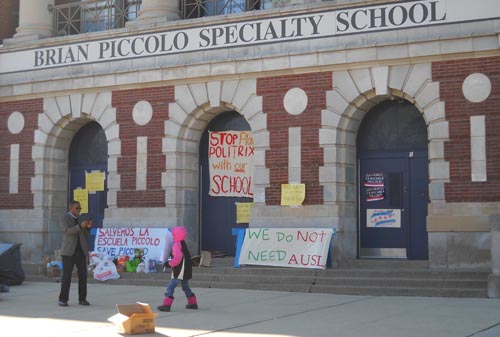 Some of the protest signs early in the afternoon of February 18, 2012 at Brian Piccolo Elementary School on Chicago's West Side. Substance photo by Susan Zupan.The "turnaround" plan would fire the school's principal, every teacher, school clerk, janitor, and even lunchroom worker at the school in order to bring in replacements from the private, politically-connected AUSL (Academy for Urban School Leadership).
The parents held a press conference at 4:00PM to declare victory in their fight to win a meeting with the Board of Education, to thank supporters, and to head home after calling attention to the sabotage of Piccolo School through disinvestment. Parents had also protested that the school has just gotten a new principal. In previous years, CPS policy stated that a school couldn't be subjected to turnaround or other radical sanctions if it had not had a contract principal for at least two years.
This year, that rule was left out of the guidelines established by the administration of Jean-Claude Brizard, CPS Chief Executive Officer, when the turnarounds were proposed.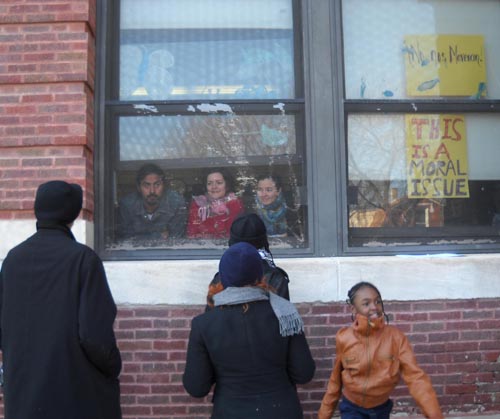 During the day, occupiers inside the building talked through the windows with those outside. Substance photo by Susan Zupan.Parents, community members and teachers plan events Monday through Wednesday to continue the fight against the failed "Turnaround" strategy the Board of Education has pursued for over decade. A You Tube video of some of the protest by Chicago Union Teacher editor Kenzo Shibata is available at: http://www.youtube.com/watch?v=jXrhgC0CYoo&context=C3975b8eADOEgsToPDskIr4Pl2GlJL7bNwwMn1g-AM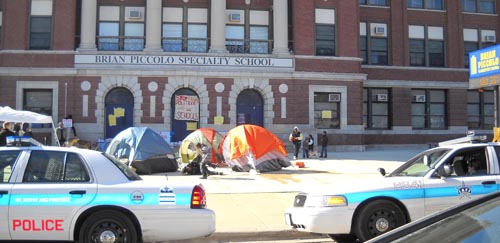 Several police cars were present during the protest on February 18, but no one was arrested.Protesters did note that because of instructions from CPS officials, the police barred additional protesters from entering the building during the sit-in. "Parents were also critical of the way authorities handled the occupation," stated a press release from the parents following the end of the sit-in. "They blocked a group of Piccolo parents from getting back in the building to relieve other parents and did not let food or supplies in the building; including for one diabetic parent, the right of use to her medications. That treatment has, nonetheless, left parents undeterred." Substance photo by Susan Zupan.By the time of the evening news, WGN TV had a report on the end of the protest. In the report, CPS repeated its attacks on the school and denied that there would be a meeting with Board member Jesse Ruiz on Monday. The turnaround for the school is scheduled to be approved by a vote of the Board at the meeting on Wednesday, February 22. The URL for the WGN report is: http://mail.aol.com/35478-211/aol-6/en-us/Suite.aspx
In a press release sent out after the end of the sit-in, Blocks Together, one of the groups active in the Piccolo Community, stated the following:
From: BT Youth. Sent: 2/19/2012 12:24 PM Subject: Press Release For More Information, Contact: Cecile Carrol, 773-426-0842; Ana Mercado, 312-498-6479, bt.youthorg@gmail.com
Parents end Piccolo Elementary School occupation after CPS Board agrees to meet in run-up to Wednesday board meeting
Students, parents demand the removal of Piccolo and Casals from "Turnaround" list
Parents ended the Piccolo Elementary School occupation at 3:30pm [February 18, 2012] yesterday after Vice President of CPS Board of Education, Jesse Ruiz, met with them at Piccolo and committed the rest of the Board members to meet with the parents regarding their demands that the board reverse its decision to "Turnaround" Piccolo and Casals and engage with them meaningfully on a community proposal to promote educational excellence at the school.
"Thank you to the hundreds that came out in the cold to support us and show that they care about our kids," said Piccolo parent and Local School Council Chair Latrice Watkins.
The Board of Education plans to vote on Wednesday, February 22 to hand over management to AUSL, the Academy for Urban School Leadership. The private 'non-profit' firm has close political ties to City Hall .
Despite receiving millions in additional funds from CPS and private entities that regular public schools do not get access to, AUSL 'results' are little better than — and in some cases lag behind — district averages.
The protest and occupation to resist takeover by AUSL was led by a core group of committed Piccolo parents who were acting on behalf of 288 parents who had voted 'No' to the Turnaround of their school in January but were ignored by CPS. They are asking that CPS — the Chicago Public Schools administration — instead invest in the current school and provide current staff with the types of resources and funding that the district currently plans to funnel to AUSL. Their core appeal: Education should be about what parents want for their children - not what's good for politically connected private school operations.
Parents were also critical of the way authorities handled the occupation. They blocked a group of Piccolo parents from getting back in the building to relieve other parents and did not let food or supplies in the building; including for one diabetic parent, the right of use to her medications. That treatment has, nonetheless, left parents undeterred.
"I got the strength to stay [in the school] through the pain, because I knew I was on the side of justice, and this will inspire other schools to stand up to privatization," said Elisa Nigaglioni, parent occupier and member of the West Humboldt Park Community Action Council, who met for a year to draft a proposal for improving Piccolo, Casals and Cameron Elementary Schools.
Parents and their supporters have vowed to defend their children's school — and the public's right to neighborhood public education — in their scheduled meetings with board members. Parents are guardedly optimistic as they wait for a call from CPS to confirm the times for the hour-long meetings on Monday and Tuesday with individual Board members to inform them of their concerns with AUSL, and have a real conversation about their community counter proposal.
"It's shameful that it had to come to this for CPS to engage meaningfully with the parents' proposal," said Cecile Carroll of the community group Blocks Together, which supported the parents' occupation.
Blocks Together, the parents and their allies have vowed to step up efforts to prevent what they see as a wholesale assault on accountable public education in the city.
# # #
Ana Mercado, Youth Organizer
Blocks Together
3453 W. North Ave, Chicago, IL 60647
(773) 276-2194 ext 2005
(312) 498-6479- cell
NEW WEBSITE! www.btchicago.org
Piccolo parents and their supporters are also calling on people to contact the members of the Chicago Board of Education directly prior to the February 22 Board meeting:
IF YOU THINK THAT CPS BOARD MEMBERS NEED TO HEAR DIRECTLY FROM YOU, HERE IS CONTACT INFORMATION FOR SOME OF THEM, PUBLICLY AVAILABLE ONLINE (if you search by individual Board members' names):
Jesse Ruiz, Vice President of the Board of Education: Thank him for meeting with Piccolo's parents on Saturday, Feb. 18th:
Jesse.Ruiz@dbr.com
Mr. Ruiz is an attorney with the law firm, Drinker & Biddle:
191 N. Wacker Dr., Suite 3700
Chicago, IL 60606-1698
(312) 569-1135
(312) 569-3135 fax
Dr. Mahalia Hines works with her son's foundation:
Common Ground Foundation
2150 S. Canalport, 3B-5
Chicago, IL 60608773-295-1915
info@commongroundfoundation.org
Phone: 773-295-1915
Fax: 877-246-5767
Henry Bienen, a political scientist and author, served as President of Northwestern University (in Evanston) from 1995 until 2009. CURRENT CONTACT INFORMATION??
Penny Pritzker: A businesswoman and philanthropist, Pritzker is board chair of the Chicago Public Education Fund and co-director of the Pritzker Traubert Family Foundation, She served as national finance chairwoman of President Barack Obama's 2008 presidential bid.
Mailing address for the Foundation:
71 S Wacker Dr # 4600, Chicago, IL 60606-4637
Rod Sierra: A parent of three CPS students, Sierra is the chief marketing officer of Johnson Publishing Co. and a former deputy press secretary to Mayor Richard Daley. This is the mailing address/ph # available online:
Johnson Publishing Company, Inc.
820 South Michigan Avenue
Chicago, IL 60605
312.322.9200
Andrea Zopp: The president and CEO of the Chicago Urban League also is a CPS parent and a former Local School Council member of Clissold Elementary School on the Far South Side. She previously served as general counsel for companies including Exelon Corp. and Sears Holdings Corp.:
4510 South Michigan Avenue
Chicago , IL 60653
(773) 285-5800 Main
(773) 285-7772 Fax
Her Position: President and Chief Executive Officer
Her Phone: 773-451-3500
Her Email:president@thechicagourbanleague.org
IF YOU CHOOSE TO CONTACT THESE CPS BOARD MEMBERS, YOU CAN LET THEM KNOW . . . -- WHAT YOU THINK ABOUT THE PICCOLO PARENTS' EFFORTS?
-- WHETHER YOU THINK THE CPS BOARD SHOULD PUSH AHEAD ON FEB. 22ND TO VOTE ON PROPOSED SCHOOL ACTIONS AND TURN-AROUNDS, or instead, SHOULD the BOARD POSTPONE A VOTE?
-- ASK IF THEY PERSONALLY HAVE REVIEWED THE PLANS PREPARED BY THE CPS-SPONSORED "COMMUNITY ACTION COUNCILS" AND SCHOOLS' ALTERNATIVE PROPOSALS to School Actions or Turn-Arounds ?