Tilden hearing shows sabotage of poor schools is CPS policy before 'turnaround'...Rep Golar warns arrogant hearing officer Fred Bates, 'The fight is on!'
John Kugler - February, 2012
Illinois State Representative Esther Golar (D-6th) member of the Chicago Facilities Task Force (CEFTF) warned Chicago Public Schools that the "Fight is On!" She was rebuking Hearing officer Fred Bates during the public hearing held on a Friday night 7:30pm February 3, 2012 at Chicago Board of Education headquarters in downtown, regarding the plan to "turnaround" Tilden High School on Chicago's South Side. In a dramatic five-minute speech, Rep. Golar first challenges the hearing officer's version of reality, then goes on to describe the impact of CPS sabotage on Tilden over the years. The URL for the video is: http://www.youtube.com/watch?v=ImSInI2mKqQ&feature=email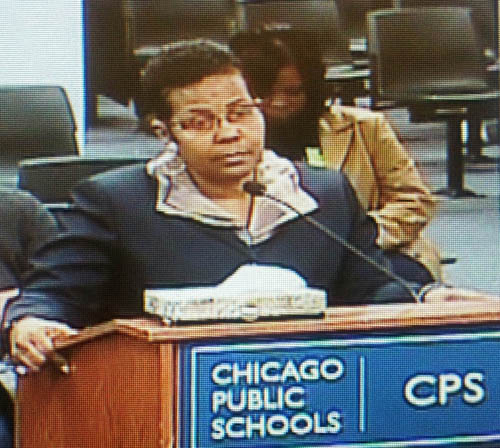 Illinois State Rep. Esther Golar speaking at the February 3, 2012 hearing on the proposed "turnaround" of Tilden High School. Substance photo by John Kugler.As the last speaker of the night, Representative Golar had a chance to set the record straight in regards to prior testimony that evening, summed up the feelings of the community and gave a sharp warning to the Board of Education that "We are in the process of putting a moratorium on these school actions, our prior speaker is right, what is happening here is unjust." She waited patiently during an interruption by hearing officer Fred Bates, who tried to imply that the lack of people at the hearing was some kind of indication that Tilden did not have widespread community support against turnaround. Rep. Golar instead told Bates that the fact that CPS was holding the hearing on a Friday night in winter might have had something to do with it. She then proceeded to discuss her longstanding relationship to Tilden and her views on the proposed turnaround.
One of the loopholes that CPS used with the "turnaround hearings was to deny the hearings in the community that are required under the law for schools facing closing, phase out, and other pure "facilities" decisions. CPS attorneys took the position that since "turnaround" is not about closing the facilitiy, no community hearings were necessary. As a result, the only hearings for the ten schools facing turnaround were held between January 30 and February 3, all downtown at CPS headquarters, and five of them lasting until after 10:00 p.m. on weeknights when working people and school children faced a long trip home and then an early rise.
Representative Golar's comment referenced the testimony of this reporter (John Kugler), who put the hearing Officer on notice, that the hearings themselves were disenfranchising the community members and violated the law. Public Act 97-474 outlines and mandates the procedures for closing or making changes to public schools in Chicago. On January 12, 2012 the Chicago Facilities Task Force (CEFTF) voted 9-to-1 that the Chicago Public Schools (CPS) has violated the law in how it was holding hearings on closing and turning around public schools in the city of Chicago. In earlier testimony, Hearing Officer Bates had a back and forth exchange with Dr. Kugler regarding the semantics of schools being closed or turned around and what the law applied to.
Representative Golar made it clear that CPS did violate Public Act 97-474 and there now would be consequences for this lawlessness. One such action is the push to pass Illinois House Bill HB4487 that Amends the Chicago School District Article of the School Code which would provide that there be a moratorium on school closings, consolidations, and phase-outs in the school district in the 2012-2013 school year.
There was also another plan announced by Representative Golar to make changes to Illinois Senate Bill 630 "…because things don't seem to be working with CPS." SB630 has direct consequences on how much power the Chicago Board of Education has to make its decisions.
Representative Golar went on to testify that she has direct knowledge of the sabotage of Tilden High School by the Board of Education. She finished by directly telling CPS officials that the Chicago Facilities Task Force "will continue to put pressure on CPS to do the right thing for our students in this city. We are 410,000 students in public education and I think that CPS is now on a trend to actually abolish public education. So tonight you can put it on record that we will continue to fight. We are against all of the school actions that are taking place across the city in regards to what is happening this evening. Thank you for your time, look forward and stay tuned because the fight is on."
Turnaround is the policy that fires all the staff in a school — including the lunch ladies and security guards — because of low test scores. The staff is then hired by a private management contractor in this case it would be Academy for Urban School Leadership (AUSL) a clout heavy crony contractor with direct ties to Rahm Emanuel and sitting members on the Board of Education. Turnaround policy has also been cited as one of the factors that lead to the murder of Derrion Albert on September 24, 2009 from Fenger High School a turnaround school.
