MEDIA WATCH: Hollywood Rahm continues to duck the media now that he can't script reality for all reporters
George N. Schmidt - February 01, 2012
What better opportunity to ring out with praise for Chicago's (unionized) police officers and to discuss the realities of crime in Chicago than an appearance by Chicago's mayor at Chicago Police headquarters? Well, not on February 1, 2012, and not this mayor. At midnight on January 31, 2012, the Mayor's Press Office (which has more staff than most of the city's media have reporters) issued its daily "schedule" for Mayor Rahm Emanuel. And it made clear he will not be taking questions from reporters: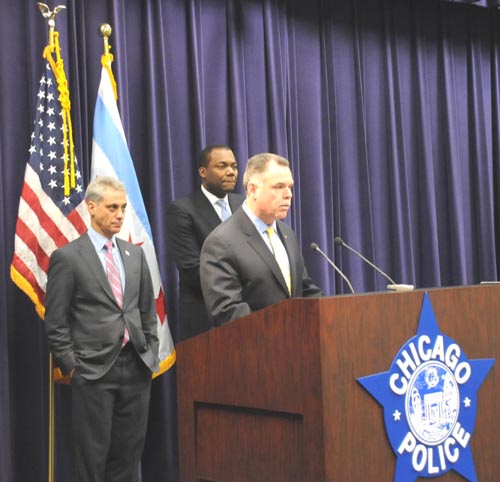 At the carefully scripted unveiling of "CompStat CPS" on December 13, 2011, at Chicago Police Headquarters, Mayor Rahm Emanuel was full of words (although he avoided a Substance question, and his education aide Beth Swanson never answered it either after being given it in writing) about how the program was going to make the schools safer. Since January 1, 2012, the facts have been pouring out that many Chicago schools (and school teachers and children) are less safe than they might have been, but Chicago's mayor, after announcing that crime had dropped one cold day in January, has been avoiding the questions of reporters. Some speculate that the reason is that his Preacher Patronage program, in the form of "Safe Haven" and "Safe Passage" is proving as dangerously unprofessional as some of the other scams coming out of City Hall. Above, Chicago Police Supt. Garry McCarthy fields reporters' questions while Mayor Rahm Emanuel and Schools CEO Jean-Claude Brizard look on after the CompStatCPS unveiling on December 13. Substance photo by George N. Schmidt.FOR IMMEDIATE RELEASE. January 31, 2012
CONTACT: Mayor's Press Office. 312.744.3334. press@cityofchicago.org
The Public Schedule for Mayor Rahm Emanuel February 1, 2011
Mayor Emanuel will deliver brief remarks during the Honored Star Case Ceremony for Chicago Police Officer Paul W. Nauden.
WHERE: Chicago Public Safety Headquarters. First Floor Lobby, 3510 S. Michigan Avenue, Chicago, IL *
* There will be no media availability following this event.
As reporters learn more and more about Rahm Emanuel's staged protest on behalf of his "school reform" stuff (Longer School Day; Turnarounds; School Closings; Privatization...), the questions grow. And the most appropriate question is why Chicago's mayor is tolerating the dangerous substitution of patronage volunteers for trained law enforcement and school security personnel at the schools and on the streets around the schools in the city's more dangerous communities.
That's it. By pumping up the programs like "Safe Passage" and "Safe Haven" (both of which provide volunteers without professional training or vetting to supposedly do school security work; it's great patronage, but...) as the solution to CPS school security problems, is the mayor really orchestrating a form of lucrative privatization for professional security (within the schools) and professional law enforcement (around the schools)? That's what it looks like.
So the story is growing beyond the Rent A Protest questions, and there is no place more appropriate to ask such questions than at a Star Ceremony at Police Headquarters. And most police officers know that the Chicago Teachers Union isn't the only union Chicago's mayor is trying to bust (or turn into a company union).
May we live in interesting times...