Six Degrees of ALEC: Connecting the dots in the corporate "reform" agenda for education
Morna McDermott, Peg Robertson, Shaun Johnson, Laurie Murphie, Ceresta Smith, and Tim Slekar (for 'U - January 22, 2012
[Editor's Introduction by Susan Ohanian. Even the name is likely to make most teachers I know roll their eyes. How can a teacher who is engulfed by the data flooding her classroom, the Rubric Queens patrolling the hallways, and the day-to-day worry over daily classroom routines(which are never routine) worry about an outfit called the American Legislative Exchange Council (ALEC)? The administrators of United Opt Out offer some info to show us who ALEC is and why we should care.
United Opt Out is an organization you need to know (http://www.unitedoptout.com). They are parents, educators, students, and social activists who are dedicated to the elimination of high stakes testing in public education. ].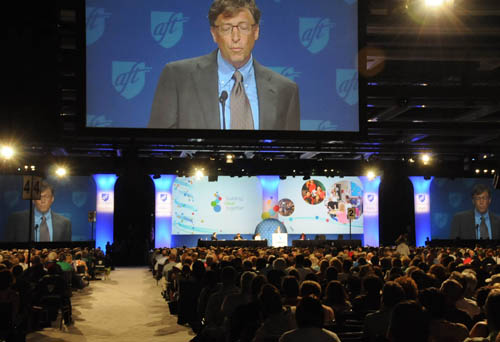 Bill Gates as Big Brother. Although the "education reform" money from the Bill and Melinda Gates Foundation supports the kinds of projects that ALEC provides legislation for, Gates is less prominent in ALEC than other billionaires. Above, Bill Gates, at the invitation of American Federation of Teachers President Randi Weingarten, spoke to the AFT convention in Seattle on July 11, 2010. Substance photo by George N. Schmidt.Written by the administrators of United Opt Out (www.unitedoptout.com) : Morna McDermott, Peg Robertson, Shaun Johnson, Laurie Murphie, Ceresta Smith, and Tim Slekar, and with a special thanks to Susan Ohanian for her editorial assistance.
Remember that parlor game "Six Degrees of Kevin Bacon?" It is always great fun to see how, within six degrees of separation, everyone if connected to everyone else. We propose a variation on this game. We call it "Six Degrees of ALEC," in which we find that all the sponsors of the recent Education Nation event hosted by NBC this fall were within six degrees of separation from the American Legislative Exchange Council (ALEC). Education Nation Summit, televised in September 2011 "was held at Rockefeller Center in New York City, and convened educators, parents, policymakers, elected officials, business leaders, students, and engaged citizens in a national discussion on the issue of improving education" (LINK: http://www.educationnation.com/index.cfm?objectid=BBCEDAC1-D338-11E0-810D000C296BA163).
While the topics may have been varied, ranging from the effects of poverty in school success, high stakes testing, and the need for effective programs for ELL students and immigrant children, we suggest that the agenda "behind the scenes" was to caste education reform such as vouchers, school "choice" and teacher accountability all within the broader narrative steeped in the ideology of free market enterprise: That such reform policies are inherently "good," immune from critique, and inevitable. Julie Cavenaugh illustrates how the billionaire corporate reformers have: "Captured the media through projects like the movie 'Waiting for Superman' and NBC's 'Education Nation.' Their intent is clear: to gain control of public opinion and public policy and open up access to what they refer to as the K-12 "market," namely, our schools." (LINK: http://labornotes.org/2011/01/billionaires-school-reform-what-it-means-teachers-and-students)
Don't be surprised if you haven't heard of ALEC. They work hard at keeping the media out of the meetings where they hatch plans for their right wing, free market model legislation that fits the needs of their corporate members. For example, as attorney Miles Mogulescu (LINK: http://www.huffingtonpost.com/miles-mogulescu/alec-states-unions_b_832428.html ) pointed out in the Huffington : "ALEC's fingerprints are all over the anti-union legislation we've seen popping up in Wisconsin, Ohio, Indiana, Michigan, Tennessee, Oklahoma, and numerous other states." NBC's widely publicized event Education Nation offers us opportunity to look ALEC up close and personal. But first, we must ask "What is ALEC?"
What is ALEC?
According to ALEC Exposed (LINK: www.alecexposed.org), "Through the corporate-funded American Legislative Exchange Council (ALEC), global corporations and state politicians vote behind closed doors to try to rewrite state laws that govern your rights. These so-called "model bills" reach into almost every area of American life and often directly benefit huge corporations. One might argue that big business has historically been "in bed" with politicians and legislation-it's the capitalist way of life, right? But ALEC is bigger than that".
A Daily Kos blogger notes "Sometimes I think that people don't understand the impact of ALEC's statement 'With nearly 2,000 members, ALEC is the nation's largest" – this statement represents almost a third of all legislators in the United States. Why is one third important? Because this "hidden majority" impacts everything in our states, moving us toward a Koch-esian type of economics and moving our states toward a "free-market" ALEC philosophy that privatizes and destroys every segment of our public entities." (LINK: http://www.dailykos.com/story/2011/04/12/966046/-Education-the-ALEC-Way)
Gene Glass opened his Education Policy Studies Laboratory report (LINK:
http://epsl.asu.edu/epru/ttreviews/EPSL-0701-224-EPRU.pdf) with this statement: The "Report Card on American Education," published by the American Legislative Exchange
Council,1 uses poor and misleading methods to draw some very controversial findings." He sums up his analysis with the observation that despite being clad with myriad numbers and statistics, ALEC offers rhetoric, not research. And it is rhetoric driving current education reform today. This might explain how and why current educational reform movements have been taking on the enormous force across our country despite the resistance to such reforms from criticism of such reforms from such noted scholars as Richard Rothstein, David Berliner, and Keith Baker and from journalists such as Pulitzer Prize winning Michael Winerip, and Black Agenda managing editor Glenn Ford.
The 2011 ALEC Annual Conference Substantive Agenda on Education shows their current interests (hyperlink: www.alec.org): "...the Task Force voted on several proposed bills and resolutions, with topics including: digital learning, the Common Core State Standards, charter schools, curriculum on free enterprise, taxpayers' savings grants, amendments to the existing model legislation on higher education accountability, and a comprehensive bill that incorporates many components of the landmark school reforms Indiana passed this legislative session. Attendees will hear a presentation on the National Board for Professional Teaching Standards' initiative to grow great schools, as well as one on innovations in higher education."
Mickey Revenaugh, Co-Founder and Senior Vice President of State Relations of Connections Academy, an on-line school venture based in Baltimore, MD is the corporate co-chair for ALEC Education in 2011. The other ALEC Education co-chair is David Casas (R-Georgia). (LINK: http://alecexposed.org/w/images/9/9a/2D1 Charter_Schools_Act_Exposed.pdf. The second largest donor to David Casas' 2008 election was a group called Friends of Mark Burkhalter, who is also a Republican State Representative from Georgia who serves as Speaker Pro Tempore of the Georgia House of and is a former aide to U.S. Rep. Newt Gingrich. (LINK: http://onlineathens.com/stories/120509/gen_532111802.shtml).
For the connections between ALEC and Education Nation take a look at the governors appearing (as cited at www.susanohanian.org) on Education Nation:
• Gov. Lincoln Chafee (R.I.) I Known as liberal Republican, after Senatorial defeat he because Independent
• *Gov. Nathan Deal (Ga.) R ALEC Press Release: (May 17, 2011) - The American Legislative Exchange Council applauds Governor Nathan Deal of Georgia for signing House Bill 47 into law.
• *Gov. Mary Fallin (Okla.) R ALEC event: U.S. Rep. Mary Fallin of Oklahoma discusses federalism at the American Legislative Exchange Council's States and Nation Policy Summit, December 4-6, 2008 in Washington, D.C.
• *Gov. Bill Haslam (Tenn.) R Governor Bill Haslam signed legislation right out of the ALEC Tort Reform manual.
• Gov. John Hickenlooper (Colo.) D
• *Gov. Paul LePage (Maine) R His trusted advisor Ann Robinson, is ALEC corporate chair for Maine • Gov. Jack Markell (Del.) D
• *Gov. Bob McDonnell (Va.) R Seems to be a favorite of ALEC
• *Gov. Sean Parnell (Alaska) R Key ALEC corporate player before he became governor
• *Gov. Scott Walker (Wis.) R His credentials with ALEC are too long to list. "Even before Wisconsin Gov. Scott Walker took office , ALEC agents were handing him model bills for clubbing teachers and other public employees."—Jim Hightower, AlterNet, 2011-06-06 http://tinyurl.com/3ok6nnr
Seven out of ten state spokesmen deeply involved with an organization intent on "clubbing teachers" makes one question just what kind of an education nation NBC has in mind.
Corporate and Foundation Sponsors of Education Nation: Americas Promise Alliance
This organization has partnerships with the following:
KIPP Schools, Edison Schools, The Bill and Melinda Gates Foundation, Center for Educational Reform (a school choice site) and Ford Motor Company (Also in ALEC).
Bob Wise serves on the committee for America Promise Alliance. He is also the President of Alliance for Excellence in Education which is part of ALEC. He presented on "National Board's Turnaround Initiative to Grow Great Schools" at the Education Task Force Meeting at the 2011 ALEC Annual Meeting. Bob Wise is the former governor of West Virginia. He currently co chairs the Digital Learning Council with Jeb Bush, former governor of Florida, and chairs the National Board for Professional Teaching Standards. He is also author of the book Raising the Grade: How High School Reform Can Save Our Youth and Our Nation.
Here is his (partial) bio (LINK: http://www.alec.org/AM/Template.cfm?Section=Speaker_bios#bobwise
Gov. Wise joined the Alliance in 2005, where he continues to build its reputation as a respected authority on high school policy by advocating for reform in America's secondary education system and working to ensure that all students graduate from high school prepared for college, careers, and to be contributing members of society. Gov. Wise has become a sought-after speaker and advisor on education issues; he has advised the U.S. Department of Education, White House Transition Team, and frequently testifies before the U.S. Congress.
State Farm
State Farm serves on the Corporate Board for ALEC. They are the recipient of ALEC's 2011 Private Sector Member of the Year Award, and a "Chairman" level sponsor of 2011 ALEC Annual Conference. CEO Edward Rust's education involvement includes: co-chair Business Coalition for Excellence in Education, Chair, Business Roundtable Education Task Force, chair National Alliance of Business, Co-chair Committee for Economic Development Subcommittee on Education Policy, Achieve member of board, McGraw-Hill member of board, American Enterprise Institute board of trustees, President-elect Bush the Elder's Transition Advisory Team Committee on Education. One of the key developers of the National Common Core Standards (NCCS), ACHIEVE, is directly funded by State Farm. Additionally, another central developer of NCCS, ACT, has Dixie Axley on their Board of Directors. Dixie Axley works for State Farm.
Microsoft
Member of ALEC, Gold-level sponsor of Americans For Prosperity Foundation's fifth annual Defending The American Dream Summit, cheek and jowl with ALEC, the Heartland Institute, and the U.S. Chamber of Commerce. The Bezos Family Foundation: Jeff Bezos is founder, president and CEO of Amazon. In August 2011, Amazon was a "Director" level sponsor of ALEC's 38th Annual Conference and Braden Cox, Amazon's Director of U.S. State Public Policy, was a featured speaker at the 2011 ALEC Annual Meeting at a Workshop titled, "Exploring ALEC Positions on E-Commerce and E-Taxes." (www.susanohanian.com). According to their own website, the Bezos Foundation funds alternative schooling choices and charter schools including KIPP, Teach for America, and Uncommon Schools. They have donated millions of dollars for technology grants to the KIPP Schools. (LINK: http://tulsa.schusterman.org/news/federal-i3-grant-makes-deep-impact-across-kipp-network}
Although the next four Education Nation sponsors may not be ALEC members, their ties to the organization are close. They support many organizations and efforts that promote privatizing public education.
University of Phoenix
The online schooling movement has been at the forefront of educational reform policy. An investigative piece about Education Nation in The Huffington Post cites: "But one of the event's main sponsors has been accused of having different motives. The event took place in a tent whose central outside decoration was the logo of the for-profit University of Phoenix. The University of Phoenix has 200 campuses and online degree programs. An ABC news investigation found that the school routinely makes promises about work eligibility that it can't deliver on, resulting in students mired in debt without the benefits of a degree." (LINK: http://www.huffingtonpost.com/2011/09/27/education-nation-gates-survey-university-phoenix_n_982718.html)
The Bill & Melinda Gates Foundation
This organization supports many free market, school choice, charter school and privatization corporate model initiatives too numerous to count. However, here are some of the central school "choice" efforts that Gates Foundation developed or helped to fund: America's Promise Alliance (in ALEC), New Schools Venture (who bring you the KIPP and EDISON school projects, and which also funds the National Center for Education and Economics [NCEE] which in turn developed the NCCS), The New Teacher Center, Pearson (the publishing company leading the NCCS charge), Ed Trust (also sponsored by Lumina, Walton Foundation and State Farm-all active members of ALEC). Ed Trust is one of the pet projects developed by Michelle Rhee. The NCEE itself was originally funded by the Gates Foundation. Their connections in decision making power within scores of for-profit school reform initiatives and their financial relationships with the Teachscape the educational technology organization promoting new teacher evaluation systems make their agenda for educational policy clear.
Kellogg Foundation. While they are not in ALEC (as far as we can tell--remember, membership lists are secret), they share a table with notorious members. See below. According to a press release from Ed.gov of April 2010 aptly titled: 12 Major Foundations Commit $500 Million to Education Innovation in Concert with U.S. Education Department's $650 Million "Investing In Innovation" Fund, "Participating foundations include the Annie E. Casey Foundation; Bill & Melinda Gates Foundation; Carnegie Corporation of New York (ALEC); Charles Stewart Mott Foundation (not in ALEC but funded the National Endowment for Democracy, which is); Ford Foundation (ALEC); John D. & Catherine T. MacArthur Foundation; Lumina Foundation for Education (ALEC); Robertson Foundation; The Wallace Foundation; The Walton Family Foundation (ALEC); The William & Flora Hewlett Foundation; and W.K. Kellogg Foundation."
Additionally, one reporter Shamus Cook offers a damning litany: "The Kellogg Foundation is most notorious for spearheading the attack on public education. Along with the Bill Gates Foundation and others, the Kellogg Foundation gives vast sums of money to encourage the formations of for-profit charter schools.' (LINK: http://www.globalresearch.ca/index.php?context=va&aid=19582).
"Others" that we wish to add include the Wallace Foundation whose links in and around free market education agenda tied with ALEC are far reaching according to Susan Ohanian (LINK: http://susanohanian.org/show_research.php?id=445 ).
The Broad Foundation. This foundation advertises its commitment to education in the following way (according to their website): "Broad Superintendents Academy graduates are raising student achievement faster than their peers after three years in their positions. And Broad Residents are freeing up millions of dollars for the classroom by introducing central office efficiencies … students cannot wait for the existing public education system to transform. They need alternative pathways that reinvent American education and provide far better learning opportunities."
Sounds nice. But there's more… The Broad Foundation is identified in the article by Fenwick English (LINK: http://cnx.org/content/m34684/latest/) entitled the Ten Most Wanted Enemies of American Public Education's School Leadership: "The network involves outspoken individuals with elitist credentials, long time neo-liberals, right-wing think tank pundits and their conservative foundation sponsors, other foundations such as Wallace and the Broad Foundations, and quasi-government agencies …"
According to Parents across America "ALEC has a number of damaging education model bills, including legislation promoting the spread of virtual schools (a tremendous profit potential for entrepreneurs, including Joel Klein and Rupert Murdoch) and "Parent Trigger" legislation, already passed in California to encourage the proliferation of charter schools. The "Parent Trigger" was originally developed and promoted by the so-called "Parent Revolution" group, started by Eli Broad and Steve Barr, formerly of Green Dot charters. Steve Barr, now disassociated from Green Dot, is leading a high-profile campaign to convert more NYC schools to charters." http://parentsacrossamerica.org/2011/03/warning-to-parents-about-alec-and-its-draft-education-legislation. Significantly, one of the highlighted sessions in Education Nation entitled "Stepping Up: The Power of the Parent Advocate" advocates for "parent triggers" to overhaul educational policies. (LINK: http://www.educationnation.com/index.cfm?objectid=E8F1A881-E903-11E0-B00E000C296BA163)
Whether or not they carry ALEC membership cards, the Broad and Gates Foundations have a clear agenda advocating free market school privatization. For starters, see Diane Ravitch (see LINK): "The Gates Foundation and the Eli Broad Foundation, both of which maintain the pretense of being Democrats and/or liberals, have given millions to former Florida governor Jeb Bush's foundation, which is promoting vouchers, charters, online learning, test-based accountability, and the whole panoply of corporate reform strategies intended to weaken public education and remove teachers' job protections." (LINK: https://millermps.wordpress.com/2011/05/04/diane-ravitch-on-corporatization-of-public-education/ )
Scholastic. Scholastic has a history of finding themselves indicted for associations with corporate-sponsored agenda. The Campaign for a Commercial-Free Childhood started a petition against children's publisher stating that: "Scholastic's InSchool Marketing division offers its services to corporations as a curriculum producer for hire. Its mission is "to promote client objectives" and "make a difference by influencing attitudes and behaviors." Scholastic's clients have included McDonald's, Cartoon Network, Shell, SunnyD, the alcohol industry, Disney and the corporate-funded Chamber of Commerce." LINK: http://veracitystew.com/2011/05/18/corporatized-education-cmon-kids-its-time-for-a-commercial/)
Scholastic's ventures to put commercial messages traveling as curriculum into public school classrooms do bring it within six degrees of ALEC. In 2010, the U.S. Chamber of Commerce joined with Scholastic Books to distribute roughly 100,000 books about the potential perils of government fossil fuel regulation to classrooms across the country, as part of its "Shedding Light on Energy" campaign. According to ALECexposed, "U.S. Chamber of Commerce, a powerful business lobbying group in the United States that has become a fully functional part of the partisan Republican machine since CEO and president Thomas J. Donohue took office in 1997." (LINK: www.alecexposed.org) Scholastic has worked directly with the Bill and Melinda Gates Foundation to publish a research report called Primary Sources: America's Teachers on America's Schools 2010 (LINK: http://mediaroom.scholastic.com/taxonomy/term/581). The agenda outlined in this study directly mirrors the agenda put forth by the ALEC Education committee and the myriad of free market corporate-sponsored reform efforts with which they are associated (by six degrees or less).
Conclusion
Our findings suggest that big business is not in opposition to "big government." Rather, big business owns big government. Where is the U.S. Department of Education in all of this? "All over the place" is not a very scholarly answer but maybe it fits right now. The corporate-agenda has connections with the research and data put forward by the U.S. DOE (Broad Foundation has provided "research" to the DOE, as has The Alliance for Excellence in Education which is a member of ALEC). We might well ask why the U. S. Department of Education shares an agenda with organizations set on destroying public education, but that's the subject for another day.
For example, we could explore the connections between the National Common Core Standards but that would take a whole other paper to discuss (but don't be surprised to find the same players mentioned here.) Oh, and did we mention that the guy who runs NBC, Jeff Zucker, graduated in the same class at Harvard with Arne Duncan? They both celebrated their 25th reunions this past May 26th. While not all of the sponsors and speakers are directly associated with ALEC, those with the money and marketing to promote their agenda are within six degrees of the organization. In other words, we've tried to show, through our six degree experiment, that you don't have to be a member of ALEC to be kissing kin. 