MEDIA WATCH: 'All The News That Fits, They'll Print...' Board of Directors of Chicago News Coop are union-busting pro-turnaround privatizers led by Martin Koldyke... Why has The New York Times outsourced Chicago news reporting to this biased bunch
George N. Schmidt - January 15, 2012
More than a dozen years ago, I stood up against multi-millionaire Martin Koldyke, now the emeritus chief of the Academy for Urban School Leadership (AUSL), back when he was trying to force Bowen High School, where I was then union delegate, into "Small Schools" (then the flavor of the month corporate "reform" for ghetto kids and those of us who taught them). That morning, at Bowen, Koldyke was pontificating about how "Small Schools" would make things better for inner city kids, and how Bowen should dissolve itself into a bunch of them. I asked pointedly if "Small Schools" were such a good idea, why wasn't Koldyke taking the experiment up to his own community, where the local high school was New Trier, or to the other affluent suburbs where the public schools had everything we didn't in Chicago's inner city.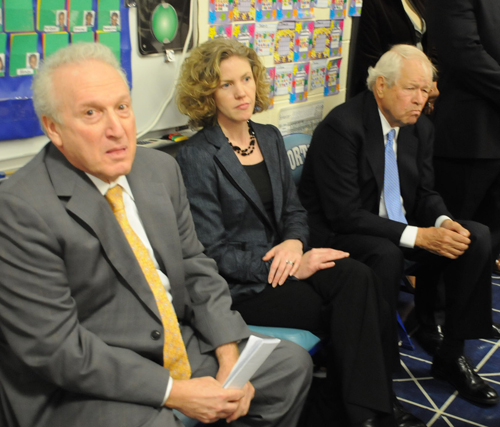 November 29, 2011. Chicago multi-millionaire (and former head of the Chicago School Finance Authority) Martin Koldyke (right) sits with AUSL chief Donald Feinstein (left) and Rahm Emanuel's education liaison Beth Swanson (center) during the publicity stunt on behalf of "turnaround" held at the "Morton School of Excellence" on Chicago's West Side. At the event, Emanuel claimed that the AUSL version of "turnaround" was a "proven product" that needed no scrutiny, and the fact that the president of the Chicago Board of Education and the Chief Administrative Officer of CPS (David Vitale and Tim Cawley) were with AUSL a year ago was not a conflict of interest. Koldyke, among other things, has worked to control Chicago news reporting, most recently through the Chicago News Coop, which provides "news" to The New York Times. twice a week. Substance photo by Sharon Schmidt.Koldyke exploded, "I will not be called a racist!" (which I hadn't done; just implied). And the "Small Schools" mess didn't hit Bowen until after Paul Vallas fired me for exposing another corporate monstrosity, Chicago's CASE tests, in the pages of the January 1999 edition of Substance.
Koldyke and I have been intersecting for more than 20 years, and this time around perhaps it's the most serious of all, because now he and his major corporate buddies — virtually all of them union busters who want to privatize as much of public education as possible — have taken over the Chicago coverage that is published in The New York Times. Koldyke and a group of mostly millionaire real estate and other moguls are the directors of the "Chicago News Co-Op" which portrays itself as the new wave of well-funded journalism, but which in reality (even to those of us who read The New York Times and may even own stock in it) is simply another example of corporate outsourcing.
People need to keep a very very close eye on how Chicago's millionaires and billionaires now spin the official version of Chicago news for America's Newspaper of Record. This whole thing is in its infancy, but if it spreads every paragraph reported as "news" from Chicago courtesy of the News Co-Op needs to be challenged for its integrity. Privatization, turnaround, and union-busting are the agendas of the majority (not all) of the directors of the Chicago News Co-Op. Martin Koldyke is just the best known.
HERE IS THE CURRENT LIST OF THE NEW YORK TIMES'S DIRECTOR FOR THEIR MAIN SOURCE OF CHICAGO NEWS, THE CHICAGO NEWS COOP
SUNDAY, JANUARY 15TH, 201213° FFairFOLLOW US
Board of Directors
John A. Canning, Jr.. Chairman of Madison Dearborn Partners and chairman of the Chicago News Cooperative
John A. Canning, Jr. is chairman of Madison Dearborn Partners, LLC, which specializes in management buyouts and special equity investing. MDP has raised investment funds with more than $18 billion in limited-partner commitments from over 350 endowments, pension funds and other large investors. Prior to founding MDP in 1993, Mr. Canning spent 24 years with First Chicago Corporation, most recently as executive vice president of First National Bank of Chicago and president of First Chicago Venture Capital.
Mr. Canning serves on the boards of directors of Corning Incorporated, Exelon Corporation, TransUnion Corp., Milwaukee Brewers Baseball Club, Northwestern Memorial Hospital, and Children's Inner City Educational Fund. He also serves on the boards of trustees of the Big Shoulders Fund, the Museum of Science and Industry and Northwestern University. He is a commissioner of the Irish Pension Reserve Fund, a trustee and chairman of The Chicago Community Trust, a trustee and chairman of The Field Museum, and former director and chairman of the Federal Reserve Bank of Chicago.
Mr. Canning has a Bachelor of Arts degree from Denison University and a law degree from Duke University.
Michael W. Ferro, Jr., Chairman and CEO of Merrick Ventures, LLC
Michael W. Ferro, Jr. is the past chairman, CEO and founder of Click Commerce, Inc. Under Mr. Ferro's leadership, Click Commerce pioneered the market for Internet portals that drove the integration of disparate systems in numerous vertical markets. He is the current chairman and CEO of Merrick Ventures, a technology holding company. He also is the current chairman of Merge Healthcare, a leading imaging software company, and vice chairman of the World Health Imaging, Telemedicine and Informatics Alliance.
Mr. Ferro is a Henry Crown Fellow at the Aspen Institute and is a director with the RAND Health Board of Advisors. He is a trustee of the Museum of Science and Industry, The Field Museum of Chicago, the Joffrey Ballet, Northwestern University and the Lyric Opera of Chicago. He serves on the boards of Northwestern University, The Chicago Community Trust, Children's Memorial Hospital, Northwestern Memorial Foundation, Big Shoulders Foundation, and After School Matters. In addition to his civic and philanthropic activities, Mr. Ferro participates in several business organizations. He is the past chairman of the Chicagoland Entrepreneurial Center and a board member of the Economic Club of Chicago. Mr. Ferro also is a member of Young Presidents' Organization and The Commercial Club of Chicago. He is a graduate of the University of Illinois.
David G. Herro. Portfolio manager and chief investment officer-international equities for Harris Associates
David G. Herro is the chief investment officer, international equities at Harris Associates L.P. and serves as the portfolio manager of The Oakmark International Fund, The Oakmark International Small Cap Fund, and The Oakmark Global Select Fund. He was named Morningstar's International-Stock Fund Manager of the Year for 2006 and International-Stock Fund Manager of the Decade for 2000-2009.
Mr. Herro has been managing international portfolios since 1986, previously managing international portfolios for the State of Wisconsin Investment Board and the Principal Financial Group. A certified financial analyst, Mr. Herro joined Harris Associates in 1992. He holds a Bachelor of Sciences degree in business and economics from the University of Wisconsin-Platteville and a master's degree in economics from the University of Wisconsin-Milwaukee.
Leslie S. Hindman. President of Leslie Hindman Auctioneers
Leslie S. Hindman first founded Leslie Hindman Auctioneers in 1982, and for more than two decades she has remained a constant force behind high-profile auctions of items ranging from contemporary paintings and fine jewelry to French furniture and rare books and manuscripts. For eight years, Ms. Hindman hosted two popular television shows on the Home & Garden Television Network (HGTV), "At the Auction with Leslie Hindman" and "The Appraisal Fair," and wrote a weekly syndicated column for the Chicago Tribune called "What's It Worth?" In February 2001, her critically acclaimed book, "Adventures at the Auction," was published by Clarkson Potter, a division of Random House.
Ms. Hindman serves on the board of directors of the Chicago Public Library Foundation, Loyola University Chicago Council of Regents, Goodman Theatre, The Women's Board of the Joffrey Ballet, and The Arts Club of Chicago. She attended Pine Manor College, the University of Paris-Sorbonne, and Indiana University. She received an honorary doctorate in business administration from Lincoln College in Lincoln, Ill.
Martin J. Koldyke. Former chairman of Frontenac Co. and founder, the Golden Apple Foundation
Mike Koldyke formed Frontenac Co. in 1971, prior to which he was a vice president with Dean Witter. He represented Frontenac on the boards of numerous companies before retiring as an active member of the firm in 1993. He is recognized for his civic and philanthropic endeavors, most of which are related to his long-standing commitment to education.
Mr. Koldyke is the founder and chairman emeritus of both the Golden Apple Foundation and the Academy for Urban School Leadership and serves on the boards of the Golden Apple Foundation of New Mexico, After School Matters, the National Council on Teacher Quality and the Big Shoulders Fund. He is a past chairman of the board of Window to the World Communications, Inc., parent of WTTW-Channel 11 and WFMT radio, and continues his board service there. He is a life trustee of Northwestern University and the Ravinia Festival Association. He is a graduate of Purdue University.
Ann Marie Lipinski. Vice president for civic engagement, The University of Chicago, and former editor of the Chicago Tribune
Ann Marie Lipinski oversees The University of Chicago's effort to create a new model for an urban research institution acting in partnership with its city. She is responsible for a broad portfolio that includes the university's engagement in public schools, economic development, public safety, the fostering of research connections between the university and the region. In her role linking the university's growing international efforts to Chicago's emerging status as a global city, she spearheaded the university's engagement with Chicago's bid for the 2016 Olympics.
Ms. Lipinski came to The University of Chicago from the Chicago Tribune, where she was awarded a Pulitzer Prize in investigative reporting and served as the paper's editor for more than seven years, and before that as its managing editor. She holds a Bachelor of Arts degree from the University of Michigan and was a Nieman Fellow at Harvard University. She is chair of the board of the University of Chicago Charter School and serves on the Pulitzer Prize board, as well as the boards of the University of Chicago Laboratory Schools and the Chicago Children's Choir, the nationally known choral group founded more than 50 years ago in Hyde Park.
James W. Mabie. Principal, William Blair & Company
Jim Mabie joined William Blair & Company as a partner in 1983 after 13 years as a managing director with A.G. Becker & Co. Mr. Mabie is a trustee and chairman of the finance committee of the Chicago Symphony Orchestra. He serves in the same capacity at the Lyric Opera of Chicago. He is active on the board and a past chairman of Chicago Public Media, parent of radio station WBEZ, and is a trustee of WTTW public television, Public Radio Capital, and is past chairman of Thresholds, an agency serving the mentally ill. Mr. Mabie also is past president of Hubbard Street Dance Chicago, past chairman of the Old Town School of Folk Music, and a board member of The Cara Program and the Ravinia Festival. Mr. Mabie has served on the board of the Northfield Public Schools and as a trustee of the Village of Northfield. He holds a Bachelor of Arts degree from Williams College.
Newton N. Minow. Senior counsel and senior emeritus partner, Sidley Austin
Newton Minow is senior counsel in Sidley Austin LLP's Chicago office. He was a partner with the firm from 1965-1991. He served as a U.S. Army sergeant in the China-Burma India Theater in World War II. He served as a law clerk to the Chief Justice of the United States, Fred M. Vinson, and as assistant counsel to Illinois Governor Adlai E. Stevenson. In 1961, President John F. Kennedy appointed him chairman of the Federal Communications Commission.
A graduate of Northwestern University, he is the Walter Annenberg Professor Emeritus there, and the author of four books and numerous professional journal and magazine articles. He is the recipient of 12 honorary degrees. Mr. Minow also has received the American Bar Association Silver Gavel Award, Chicago Bar Association John Paul Stevens Award, Federal Communications Bar Association Lifetime Achievement Award, and the American Lawyer Lifetime Achievement Award.
James O'Shea. Co-founder, CEO and editor of the Chicago News Cooperative
Award-winning journalist Jim O'Shea is former managing editor of the Chicago Tribune and past editor-in-chief of the Los Angeles Times, the nation's largest metropolitan daily newspaper. An industry innovator, he helped convert the Times into an interactive news organization, revived its Sunday magazine and reversed the daily paper's circulation decline. At the Tribune, he helped develop its online edition, designed to attract a new generation of readers. In addition to his role as founder and editor of the Chicago Newspaper Cooperative, Mr. O'Shea served on the board of Creative Loafing, an alternative newspaper chain with publications in six U.S. cities.
Mr. O'Shea has twice won both the Sigma Delta Chi Distinguished Service Award for Washington Correspondence and the Peter Lisagor Award from the organization's Chicago chapter. His honors also include the Associated Press Managing Editors' Public Service Award and the National Education Writers Award.
Having recently completed a fellowship at Harvard University's Joan Shorenstein Center on the Press, Politics and Public Policy, Mr. O'Shea is working on his third book, concerning the decline of the newspaper industry. His previous publications include "The Daisy Chain," about the savings-and-loan crisis of the 1980s, and "Dangerous Company," an examination of management consultants' role in corporate decision-making, co-authored with former Chicago Tribune staffer Charles Madigan. Mr. O'Shea is a graduate of the University of Missouri.
Peter Osnos. Founder and editor at large of PublicAffairs and co-founder of the Chicago News Cooperative
Between 1966 and 1984 Peter Osnos was a reporter and foreign correspondent for The Washington Post and served as the newspaper's foreign and national editor. From 1984 to 1996 he was vice president, associate publisher, and senior editor at Random House and publisher of Random House's Times Books division. In 1997, he founded PublicAffairs, an independent publishing company specializing in books of journalism, history, biography, and social criticism. He served as publisher and CEO until 2005 and is now founder and editor-at-large.
Mr. Osnos also has been a commentator and host for National Public Radio and a contributor to publications including Foreign Affairs, The Atlantic, and The New Republic. He also has served as chair of the trade division of the Association of American Publishers and on the board of Human Rights Watch. He is executive director of The Caravan Project, funded by the John D. and Catherine T. MacArthur Foundation and the Carnegie Foundation, which is developing a plan for multi-platform publishing of books. He is vice chairman of the Columbia Journalism Review and is active in a number of other journalism and human rights organizations.
Mr. Osnos writes a regular media column distributed by the Century Foundation, where he is a senior fellow. A member of The Council on Foreign Relations, he is a graduate of Brandeis University and Columbia University.
James N. Perry, Jr.. Managing director, Madison Dearborn Partners, LLC
As a managing director at Madison Dearborn Partners, Mr. Perry, concentrates on investments in the communications industry. He was a co-founder of the firm in 1992. Previously he had been with First Chicago Venture Capital for eight years, and before then with The First National Bank of Chicago and One Equity Partners.
Mr. Perry serves as a director of MetroPCS Communications Inc., where he chairs the nominating and corporate governance committees. He currently serves as a director of Band-X Limited; Cbeyond Communications, Inc; Cinemark, Inc.; Cinemark USA; Focal Communication Corp; Intelsat Holdings, Ltd.; Asurion Corporation; Sorenson Communications Holdings, LLC; The Topps Company, Inc.; Univision Communications, Inc.; NextG Networks, Inc.; Madison River Telephone Company, LLC; T-Mobile USA, Inc.; iplan networks; XM Radio, Inc; Chicago Public Radio; and Catholic Relief Services. Mr. Perry was a director at Omnipoint Corporation; Orblynx, Inc.; Reiman Publications; enews.com; NeoWorld Communications, Inc.; Looking Glass Networks, Inc.; Link Networks, Inc.; CompleTel Europe NV; Lantern Communications, Inc.; Pangea, Ltd.; Clearnet Communications; and Allegiance Telecom, Inc. He also is a past director and member of the finance committee and special committee at Nextel Partners. Mr. Perry received an master's degree in business administration from The University of Chicago and a Bachelor of Arts degree from the University of Pennsylvania.
Michael J. Sacks. Chief executive officer, Grosvenor Capital Management
Michael J. Sacks is the chief executive officer of Grosvenor Capital Management, L.P. Grosvenor is a leader in the alternative-investment industry, specializing in the management of multi-manager investment portfolios. Grosvenor manages over $23 billion for a globally diverse client base.
Mr. Sacks joined Grosvenor in 1990 and was named the firm's managing partner in 1994. He led the growth, development and institutionalization of the firm from its position as an early participant in a cottage industry to its current position as a leader in the global alternative-investment field. Prior to joining Grosvenor, Mr. Sacks spent two years at Harris Associates, L.P.
A native of Chicago, Mr. Sacks received a bachelor's degree in economics from Tulane University in 1984, a general course certificate from the London School of Economics for work completed in the 1982-1983 academic year, a master's degree in business administration from the J.L. Kellogg Graduate School of Management at Northwestern University in 1988 and a law degree from Northwestern University School of Law in 1988. He is a member of the Illinois bar.
In addition to his work at Grosvenor, Mr. Sacks is active in various philanthropic and community activities.
Bruce Sagan. Owner and publisher of the Hyde Park Herald
Bruce Sagan has been publisher of the Hyde Park Herald for 58 years. He has spent more than half a century reporting, writing and publishing for and about the neighborhoods and communities of the Chicago area. During his journalism career he has published newspapers in four states, been a partner of the English company that publishes the Financial Times, worked with The New York Times on developing their national edition and started a regional daily newspaper in the Chicago suburbs.
A past president of the Illinois Press Association, Mr. Sagan was a founding director of the Suburban Newspapers of America. He has been a consultant to The Washington Post and Media General. Most recently, Mr. Sagan worked at Northwestern University's Medill School of Journalism on revising the curriculum for the 21st century.
Mr. Sagan has served as vice chairman of the Chicago Public Library Board, chairman of the Illinois Arts Council, chairman of the Illinois Housing Development Authority, and secretary of the Chicago Housing Authority. He is on the board of directors of the Steppenwolf Theater Company, the Joffrey Ballet, the Chicago Public Library Foundation and the Graham Foundation for Advanced Studies in the Fine Arts.
Daniel Schmidt. President and CEO of Window to the World Communications, Inc.
Dan Schmidt began his career in the broadcasting industry at WHA Television and Radio in Madison, Wis., in 1977. From 1979 to 1991, Mr. Schmidt held a variety of management positions with Minnesota Public Radio, including general manager of a five-station group. He has served on the board of directors of the U.S. Committee for UNICEF; as a consultant for Chamber Music America, a member of Radio Broadcasters of Chicagoland, a board member of American Public Television and the Chicago Council on Global Affairs, and is co-author of the book, Administration in the Arts: An Annotated Bibliography.
Mr. Schmidt is past chairman of the Public Television Major Market Group LLC, served for two years on the Public Television Affinity Group Coalition, and is a past chairman of the Illinois Arts Alliance. He is an active member of the Commercial Club of Chicago and the Chicago Economic Club. He holds a master's degree in arts administration from the University of Wisconsin at Madison and studied at Boston University Tanglewood Institute.
Rishad Tobaccowala. Chief strategy and innovation officer, VivaKi
Rishad Tobaccowala serves on the VivaKi executive management board, where he oversees innovation and reinvention efforts across all VivaKi brands, including: Denuo, Digitas, Razorfish, Starcom MediaVest Group (SMG), and ZenithOptimedia. Prior to his current role, Mr. Tobaccowala was CEO of Denuo, a Publicis Groupe company.
Mr. Tobaccowala also has served as the CIO of Publicis Groupe Media and was the founder and president of SMG Next, the first futures practice in the media industry. Before SMG Next, Mr. Tobaccowala was president and founder of SMG IP, the digital arm of SMG. In 1993, Tobaccowala formed Leo Burnett's Interactive Marketing Group. Between 1996 and 1999, he served as president of Giant Step, Leo Burnett's interactive agency.
Mr. Tobaccowala was named by BusinessWeek as one of the top business leaders for his pioneering innovation, and TIME magazine listed him as one of five "Marketing Innovators."
In addition to the VivaKi board, he serves on the board of directors for leading behavioral marketing firm Audience Science, Snap (an Idealab Company) and Recycle Bank. He also is an advisor to a broad range of companies, including Feeva, Greycroft Partners, House Party, Marketshare Partners, My6Sense, Viewpoints, Visible Measures and the Berlin School of Creative Leadership.
Mr. Tobaccowala holds a bachelor's degree in mathematics from the University of Bombay and an M.B.A. from the Booth School of Business at the University of Chicago.
