Is a CAC really a TAC in drag? CPS CAC 101: How to misrepresent CPS Lake Calumet and Rock Island Networks with a pre-fabricated CAC?
Susan Zupan - December 22, 2011
On Tuesday, December 20, 2011, Substance was informed of the Far South Side CAC meeting to be held that evening at 6:00 PM at the Metropolitan Family Services Calumet Region building located at 235 E. 103rd Street, just east of Michigan Avenue and west of Martin Luther King Drive. What is a CAC and why is it important? A CAC is a "Community Action Council" sponsored by the Chicago Public Schools (CPS). In at least one previous incarnation, during the years of Arne Duncan, CPS referred to a similar committee as a "TAC" (Transition Advisory Council). The "TAC" was the fig leaf CPS put on every time is wanted to close or destroy a real public school, a group of appointed "leaders" (often half of them CPS employees or consultants) who would get up for the press or at a Board meeting and tell the world how the latest plan was really a good idea and how the "community" really like it.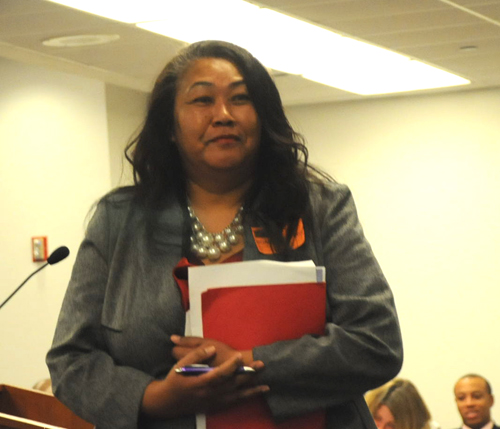 Joyce Chapman (above, after speaking in favor of charter schools at the November 17, 2010 meeting of the Chicago Board of Education) now heads the far South Side CAC. The official CPS version of the mission of the CACs is: "The mission of Community Action Councils is to serve as a vehicle of empowerment for parents, community members and other stakeholders to improve the quality of education in their communities by creating, submitting and implementing a strategic plan." After observing the CACs across Chicago, a growing number of observers — including teachers, parents, and LSC members — are questioning how the CACs can be supporting the improvement of education when, as in Chapman's case, she has long supported the destruction of local school councils and real public schools through with her history of opposition to real public schools and outspoken support for privatization through charter schools. Substance photo by George N. Schmidt.That was then, when we had "reform". This is now, so maybe we can call it, "reformed reform." So a "TAC" is now a "CAC." But as anyone living near Lake Calumet (or, better, the notorious Wolf Lake) knows, one dead fish — or something larger — floating towards Indiana or coming up on the shore, smells the same as any other.
According to a CPS Department of Family and Community Engagement (FACE) brochure dated July 2011 and distributed at the meeting, "The mission of Community Action Councils is to serve as a vehicle of empowerment for parents, community members and other stakeholders to improve the quality of education in their communities by creating, submitting and implementing a strategic plan."
How many CACs are there and where are they? According to the brochure, "CACs in the Austin, Humboldt Park-Clemente, Humboldt Park-Orr, South Shore, Englewood and Bronzeville communities have now been established. Additional communities proposed for 2011 include Woodlawn, Rogers Park, Albany Park, Logan Square, Pilsen and Roseland. If we are able to expand into all proposed communities, CACs will have a presence in 31 of 77 communities within Chicago."
How does one join a CAC? An application is available from the CPS FACE Department. The CAC application deadline was scheduled to end on September 9, 2011, but has been extended to January 31, 2012 in order to try to include more "stakeholders," who were described at this CAC meeting as: the clergy, business owners, representatives from law enforcement, political office holders, and students. The mention of business owners was provided by the CPS facilitator of the meeting, Brenda J. Bell, Community Engagement Facilitator from FACE.
A bit confusing for a newcomer trying to keep track of who-was-who on the Far South Side CAC, when speaking Ms. Bell more often referred to her experience as a member of the Englewood CAC than as a hired CPS facilitator of the CACs. There appears to be confusion about the purview of this particular CAC. In the minutes of the November 15, 2011 meeting, the title reads, "Far South Side CAC." However, on the CPS sheet listing the dates of the meetings scheduled through 2012 the title reads, "Far South Roseland CAC Meetings." According the group's November minutes: "Deputy Director of FACE, Quentin Mumphrey, answered some of the questions about the boundaries. Four communities were looked at south of 95th Street… Communities include Roseland, Pullman, West Pullman & Riverdale/Altgeld Gardens."
However, at this December meeting, when a member from the audience surrounding the table asked what the boundaries for the CAC were, CPS Facilitator Brenda Bell said that this was subject to change, and that it now basically included the entire Lake Calumet and Rock Island Network areas.
Chairperson Joyce Chapman said she hoped that CPS's Network Chiefs, Mr. Harrison Peters (Lake Calumet Elementary Schools and Far South Side High Schools) and Ms. Karen Saffold (Rock Island Elementary) would attend the next meeting scheduled for January.
Thus, according to the CPS CAC facilitator, the Far South Roseland aka (alternatively known as) the Far South Side CAC has apparently now been empowered by CPS to represent the entire far south section of the city of Chicago. This represents a giant swath of land east from Chicago's 10th Ward located along Lake Michigan and west to the 19th Ward communities of the southwest side, with the 34th and 9th Wards in between, apparently all the area south of 95th Street.
The neighborhoods represented would apparently include: Mount Greenwood, Beverly, Morgan Park, Washington Heights, South Deering, the East Side, and Hegewisch. The questions for CPS officials to answer are many but include the following: how and when were the rest of the "stakeholders" within the Lake Calumet and Rock Island Networks informed by CPS about this CAC's representation and responsibility? Were they informed?
The Chairperson of the Far South Side/Roseland CAC is Joyce Chapman, who mentioned her involvement in the Pullman Community Development Corporation in the quick round table of introductions at the start of the meeting. She said that she was on the Local School Council (LSC) at Wendell Smith for 8 years and at Brooks for 4 years. Later, during the meeting, responding to strong concerns expressed against the slated CPS turnaround of Wendell Smith Elementary School, Ms. Chapman stated: "For the record, in January of 2010 I started it." This was in reference to Ms. Chapman's involvement with the Pullman Community Development Corporation's highly-publicized efforts to turn Wendell Smith Public School into a charter school.
Thus, CPS has somehow some way ended up with a greatly expanded South Side CAC, with a chairperson who would apparently fight to give up the Local School Council (LSC) parental power of hiring and firing a school's principal, approving a school's SIPAAA (School Improvement Plan), and allocating state and federal money allocations for the school — in order to make way for a charter school in which parents have advisory-only roles in the school's governance…
Near the start of the meeting, Chairperson Chapman warned that no one should enter "her community" thinking they would have full reign. She shared a story about how she recently stepped on a nail that went through her foot while walking through the community, and she reported the roofers. But she said the meeting should start with a chuckle, so she finished the story by telling how while speaking about the nail with Reverend Jesse Jackson, he told her she might get lockjaw and she might shut up. She told everyone at the meeting that "lots would love that." During the meeting, Ms. Chapman observed that the membership of this meeting was totally different than at previous meetings. She welcomed everyone in attendance and stated that this was an open meeting in which all were welcome to participate but to be sure to fill out the application in order to have a seat at the table.
She also stated at least three times that this CAC was not run by CPS, at one point stating that she "hopes Substance writes it right." (I had identified myself as a reporter for Substance during introductions around the room.)
The following are the other officers of the "Far South Side" CAC: Diane Latiker, Vice Chair; Sharisa Lee-Vaval, Secretary; Ms Kimberly Lacey, Assistant Secretary; and Dr. Carmen Palmer, Parliamentarian. In addition to facilitator Bell, other employees from CPS in attendance included: Quentin Mumphrey, the Community Engagement Manager from CPS's Department of FACE; Glen McCarthy, Family and Community Involvement Manager from the Department of School Improvement; and Valerie Prendergast from the Office of LSC Relations.
Prendergast was also in attendance at the exclusive parent meeting sponsored by CPS at the proposed to be turned around Wendell Smith Elementary School. (See previous Substance report on the CPS parents-only meeting at Wendell Smith; she was the CPS employee who covered up her identification card when asked for her name and title.) Prendergast is currently listed by CPS as a "Senior Compliance Facilitator" in "LSC Relations" at an annual salary above those of most teachers — $74,000 per year. The URL for the article on the secret parent meeting at Wendell Smith, for those who cannot access a hotlink, is: http://www.substancenews.net/articles.php?page=2910&section=Article
The one concept that three of the CPS employees reiterated in various iterations throughout the meeting was the following: it is important to remember that a CAC is advisory-only; remember that a CAC makes recommendations; a CAC has no legal authority; CPS is not legally bound by any recommendation of the CAC; and so on. In other words, a CAC exactly parallels parental and community (non) input in a charter school.
The first iteration of this CPS chant began just after Dr. Lois Gueno, also a member of the South Shore CAC, referred to the concept of a large group of united community stakeholders in the form of these CACs as "a powerful body"; she made a strong statement in favor of defending public education by working with and within existing schools, not closing them down for charter schools that were draining money and resources. Dr. Gueno was referring to a proposal just presented by Dr. Carmen L.C. Palmer, Parliamentarian, for the CAC's possible vision or mission statement, which included: to support and maintain high-performing quality public schools; to assist schools on probation by working with CPS; but to demand that no school actions be taken against them. Dr. Palmer asked about the CAC's ability to obtain the CPS "School Assistance Plans" for the schools on probation. These plans are apparently something required for CPS to implement prior to any school actions being taken. Dr. Palmer recommended that the CAC assess the effects of the plans – what CPS thoroughly documented as working or not - in order to move forward in the most effective and cooperative manner as partners with CPS for the assistance not the closure of the schools on probation.
The meeting was attended by 20-25 officially table-seated members, surrounded by 10-15 audience members who were invited to fill out applications to join. CAC members at the table included: Marcus Elem, a representative from the office of 9th Ward Alderman Anthony Beale; also in attendance, but not at the table, was a Special Services Commissioner from the 9th Ward; Richard A. Wooten, who introduced himself as a police officer, business owner, and involved with Safe Passage for CPS; Michael Brunson, Chicago Teachers Union (CTU) Recording Secretary; and Kathy Murray, CTU Organizer. The Far South Side CAC appeared to have quite a few representatives from community based organizations, including Aunt Martha's and Metropolitan Family Services. From Chicago State University (CSU), Ted Williams was present. In the audience tonight but taking an application for membership was attorney Rose Joshua, president of the NAACP Chicago Southside Branch. During a brief interview after the meeting, Ms. Joshua expressed complete support for working with and for the neighborhood public schools not closing them down. During the meeting Marcus Elem expressed a concern over "missing community engagement," referring to engagement and involvement only when a school such as Wendell Smith was at the brink and not before; if Fenger had 1100 students, why were only the same 5-7 parents at LSC meetings with barely a quorum? (This would be in reference to Fenger before the CPS turnaround which eliminated the LSC along with the entire faculty and staff, including lunchroom and custodial.) When the CAC Chairperson said that the first line of defense to engage parents were the LSCs, Mr. Elem stated that most LSC parents were hand-picked by principals. Another member at the table, a parent who had been on the LSC of Wendell Smith in 1991, spoke out that she was offended by this statement. She was politely admonished by Dr. Palmer to please follow the ground rules; Dr. Palmer had presented recommended ground rules at the start of the meeting, which included attentive listening with no sidebars, attacking a problem not a person, one person speaking at a time without interruption, and having fun and doing your homework. Dr. Palmer also spoke of the importance of having and respecting a multitude of different experiences at the table; for example, what might be ideal for one could be the reverse for another. Members of the CAC shared information on by-laws, ground rules, and committees mostly obtained from other CPS CACs (namely from South Shore, Englewood and Bronzeville) for consideration as this CAC continued to establish itself. The changing membership composition of this CAC was a theme throughout the meeting. It appears that the membership of the CAC on the increase are the stakeholders who strongly support working together with CPS in order to assist and support the communities' public schools in every way possible as opposed to taking the usual CPS failed actions (closure, turnaround, and increase the number of charter schools). The sentiment in the room appeared to be over 3:1 against the status quo failing policies of CPS.
After the meeting, flyers found on car windshields encouraged the drivers to vote for Richard A Wooten for Illinois State Representative of the 34th District. Included on the flyer under an Education Reform heading was the statement: Supporting legislation that would require all school board members be elected by voters. Mr. Williams, a Political Science teacher from CSU, expressed concern during the meeting with the scope of the CAC, that there was neither financial support nor authority. No mention was made of his statements in a 06-03-11 Education Today article: "School choice represents the future of education" and "private schools, specifically, those with a religious mission, have proven to be effective alternatives to a struggling school system." A US ~ Observer report from 12-22-11 states that he is the co-founder of The Way Christian Ministries Church on the Southside of Chicago.
During a brief and cut-short question and answer session with Mr. McCarthy, some confusion was expressed concerning the functions and roles of the various departments from CPS related to the CAC. In a quite short time what Mr. McCarthy said to the CAC included the following: CPS was not here to debate the merits of turnaround or look at the data; the turnaround at Wendell Smith was not a done deal; a turnaround is a comprehensive whole school improvement intervention; people in communities with lots of assets take advantage of those resources; CPS was in its 4th cycle of turnarounds; and teachers and staff at schools being turned around can reapply for their jobs, with a thorough vetting process for community members, without anyone knowing their resumes and holding it against them that they were at the school being turned around in the first place. Michael Brunson, CTU Recording Secretary, expressed that he could not quite make sense of all that Mr. McCarthy had said, but that he particularly disagreed with not discussing the merits of anything or not looking at any data. He questioned CPS's turnaround policy, asking why they wouldn't allow the present school community to try to turn itself around with the resources being promised for the proposed (fire everyone) turnaround. He requested that Mr. McCarthy hold a future teach-in for the CAC on the differences between AUSL and OIS turnarounds. Kathy Murray, CTU Organizer questioned Mr. McCarthy's assertion that those who were involved in the hiring process for the proposed turnaround would be "blind" (Mr. McCarthy's word) to the resumes of the faculty and staff from Wendell Smith and asked how that worked. Mr. McCarthy conceded that at some point in the process it would be known that these individuals previously worked at Wendell Smith. The chairperson quickly changed the direction of the meeting she said due to the lateness of the hour and the pending closing of the building. Those in attendance shared events that were happening in the community within their various organizations, of which a few appeared to receive funding for programs within or connected to CPS in various capacities.
The next meeting of this Far South Side CAC (aka the Lake Calumet/Rock Island CAC?) is scheduled for Tuesday, January 17, 2012. If you wish to have a seat at the table, get your applications in as soon as possible.