Rahm Emanuel, Jean-Claude Brizard, and Garry McCarthy announce 'COMPSTAT' for Chicago schools
George N. Schmidt - December 14, 2011
Flanked by Chicago Schools CEO Jean-Claude Brizard and Chicago Police Superintendent Garry McCarthy, Chicago Mayor Rahm Emanuel, announced on December 13, 2011 that the city, CPS and the police department are instituting a program called "COMPSTAT for CPS." The announcement came during an 11:00 a.m. media event at Chicago Police Headquarters. The event, which included a full-dress version of CompStat" for reporters, then a question-and-answer with the three, stretched for more than an hour.
Told to arrive at 10:45, the press were first made to wait ten minutes in a kind of holding room, then treated to a kind of "CPS CompState" session in a room which included just about every top Chicago Police official (and more than 60 police officers of various ranks), followed by a carefully controlled "media availability" at which the mayor refused to answer a simply Substance question (see below).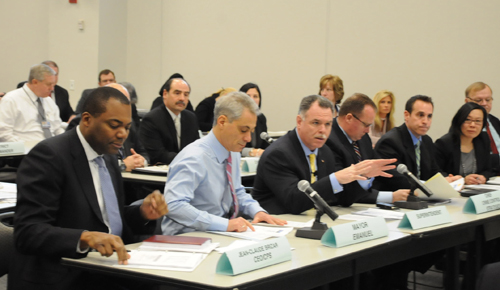 Chicago Police Supt. Garry McCarthy (hand outstretched) brief the press prior to beginning a session of "CPS CompStat" at Chicago Police Headquarters on December 13, 2011. Substance photo by George N. Schmidt.The main event featured John Kupczyk, Commander of the 8th (Chicago Lawn) Police District leading a CompStat session with Gage Park High School Principal Anita Andrews. The discussion, which was led by Superintendent McCarthy, walked people through statistical information about Gage Park High School's policing challenges, ranging from truancy to gangs.
Although the event was supposed to feature two police commanders and five Chicago public high schools (no charters, by the way; do they not have crime?), only one commander and one high school actually made the show. The high schools that didn't were Hope, Robeson, Harper and Kennedy.
Apparently, Gage Park High School with its intimate relationships with the police was enough to show how well things were going with CompStat CPS. According to the Gage Park principal, whenever there is a gang problem in the community over the weekend, she springs into action so that everyone is in place on Monday morning to handle the problem at the school. And there are no gang problems within the school because of that.
Reporters didn't get the chance to hear whether the gangs had been successfully thwarted at Harper, Hope, Robeson, and Kennedy, because the event was rushed through.
The majority of the more than 100 people in the room were police officers of various ranks, ranging from beat cops all the way to the Police Superintendent.
After the main session, reporters were herded back into a press briefing room for 15 minutes, until the mayor and the two top officials joined them and answered questions (except a major question from Substance). Two questions Substance would have asked the mayor, had he not ignored Substance's attempts to ask the questions were:
First, "Mr. Mayor, why are you using beat police officers as truant officers when all other school districts in Illinois have regular traditional truant officers, which cost much less and don't draw policing services away from high crime areas?" When Emanuel refused to answer this question the first time it was called out, it was finally given to mayor aide Beth Swanson, who had not answered it as of the early evening of December 13, 2011.
The second question would have been: "Mayor Emanuel, as you know in August you said your team, led by Mr. Brizard, had cut what you called "bureaucracy" by $400 million at CPS when in fact what you cut was school level service, including security. How many people were arrested at Kelvyn Park High School last Monday during the roiling gang fights at that school (where you had eliminated half the security aides who knew the community when school opened in September)?"
Substance has asked a veteran school security official with CPS for the Kelvyn Park December 5 and December 6 gang arrest information, and will continue to search CPS and City of Chicago data bases to find the answers as well.
According to Mayor Emanuel, CPS CompStat will taken place on a regular basis, and will involve police district officials and principals.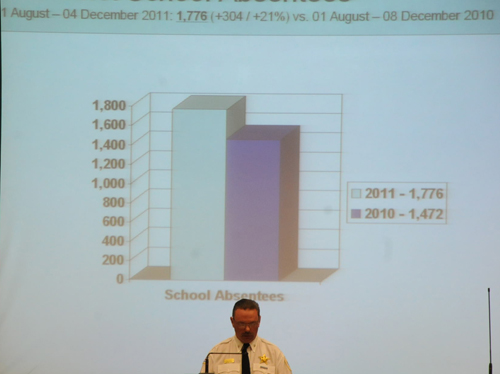 Most of the presentation that was open to reporters consisted of statistics and discussion led by 8th District Police Commander John Kupczyk (above). In the photo above, Kupczyk explains how police handle the daily round up of truants who are supposed to be in class at Gage Park High School. Mayor Emanuel refused to answer a Substance question about why police rather than truant officers are doing that work in Chicago. Substance photo by George N. Schmidt.A press release issued by the Mayor's Press Office following the event stated:
MAYOR EMANUEL ATTENDS FIRST JOINT SCHOOL-BASED COMPSTAT MEETING WITH CPD SUPERINTENDENT MCCARTHY AND CPS CEO BRIZARD
Mayor announces both curfew enforcement and school attendance numbers are up
Mayor Rahm Emanuel today attended the first school-based CompStat meeting with Police Superintendent Garry McCarthy and Chicago Public Schools CEO JC Brizard. The meeting focused on five high schools in Area One with the discussion centered on policing strategies designed to increase safety and reduce crime in and around schools.
"School officials are working directly with police to respond to the concerns of school leaders on the ground," said Mayor Emanuel. "With this multilayered approach to crime reduction, quality of life improvement, personnel and resource management, we are centralizing ties to promote safety in our schools."
During the meeting, Mayor Emanuel announced that curfew enforcement numbers are up by 15 percent since the new curfew ordinance went into effect in September. "From September through November, we have cited 15% more young people for curfew violation compared to the same time period last year. We are doing everything we can to ensure that our children are safe inside and outside of school so that they are able to learn and achieve," Emanuel added.
In addition, it was also noted that attendance is up from 91 to 93% as a result of anti-truancy programs.
The five high schools discussed in the CompStat meeting were located in the 007th and the 008th Districts (Area One). They are:
• William R. Harper High School, 6520 S. Wood
• John Hope College Prep, 5515 S. Lowe
• Paul Robeson High School, 6835 S. Normal
• Gage Park High School, 5630 S. Rockwell
• John F. Kennedy High School, 6325 W. 56th Street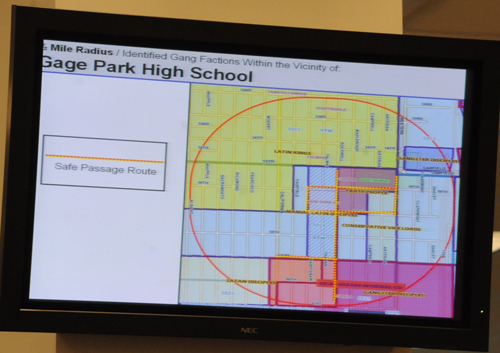 Chicago Police have a computerized map showing which street gangs at active near and within the city's public schools. Above, the map for Gage Park High School shows that the Latin Kings (in yellow) control territory north of the school, which east and south of the school are controlled by various Disciple groups, which are traditionally in conflict with the Latin Kings. Substance photo by George N. Schmidt.During the CompStat meeting, District Commanders discussed crime statistics both within the schools and within a half mile radius of the school during the time period from November 7 – December 4, 2011. Commanders also discussed their school safety plans, how and where they are being implemented, and the results of implementation to date. The principals highlighted school statistics, discussed successful strategies they have each used in reducing incidents and improving attendance at their schools.
Mayor Emanuel stated that school-based CompStat is unique from the CompStat program used by CPD to fight and prevent crime because it gives educators and the police department a more complete picture of the environment.
"School-based CompStat will help CPS and the Police Department in our shared efforts to ensure the wellbeing of our children by reducing crime near our schools so that can they focus on their education, not their safety," said CPS CEO JC Brizard. "We will continue to look for innovative ways keep our children safe and secure, while walking to and from school, as well as while they're in school."
Accountability benchmarks for school-based CompStat will be determined and reviewed on a daily, weekly, 28-day, and yearly basis.
"CompStat is a proven crime fighting strategy that focuses on efficient policing and accountability," said Superintendent Garry McCarthy. "Applying this data-driven approach to our schools and enhancing our work with the principals will help us better allocate our resources and keep our children safe."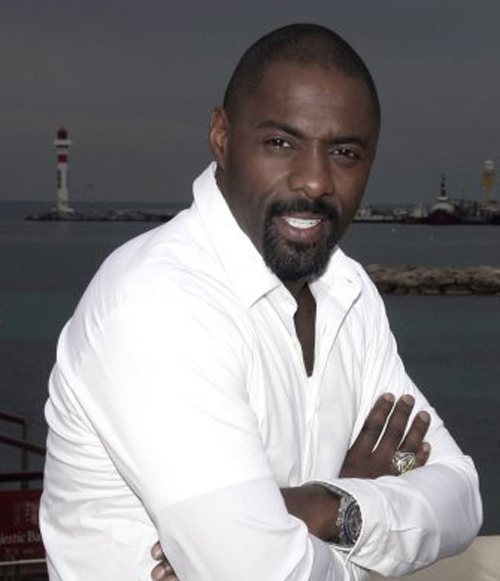 Stringer Bell's economic activities in "The Wire" were always the subject of the attempts by the Baltimore police to penetrate and disrupt the free market struggles for market share. After Bell's demise in one market share disagreement, detective McNulty discovered that Bell's personal library included Adam Smith's "The Wealth of Nations", indicating the Bell was pursuing the American economic fundamentalists' dream just as Rockefellers, Carngies and Jobses have pursued it, usually through surrogate muscle to increase market share for their enterprises, in previous iterations and eras of U.S. capitalist accumulation and the monopolization of various industries. In addition to CompStat, the Emanuel Administration has made a number of investments, to ensure the safety of Chicago's children in schools and in their communities, most notably the school-based Culture of Calm Program. Over 44,000 students are served through the program, which serves to reduce misconduct and disruptive behavior at 38 CPS schools with high safety needs. CPS will fully fund it at $16.6 million next year. CPS has also invested in school safety by:
· Increasing the number of school security officers at the request of its principals due to crime in their surrounding areas and major incidents at their schools;
· Committing $7 million to install a state of the art security camera system at 14 schools; and
· Maintaining Safe Passage funding at $10 million.