Chicago Teachers Union schedules December 2 meetings in schools across Chicago against latest Hit List of 'Turnarounds'
George N. Schmidt - December 01, 2011
At the end of a calm but determined meeting of more than 600 local school delegates and other Chicago Teachers Union members at the union hall of Local 399 of the Operating Engineers union, the CTU had not only approved a massive document outlining its basic contract negotiating program for the upcoming negotiations, but had also scheduled meetings in hundreds of public schools for December 2 and a huge "Teach-In" against the Emanuel administration's proposed new "Turnarounds" for December 3.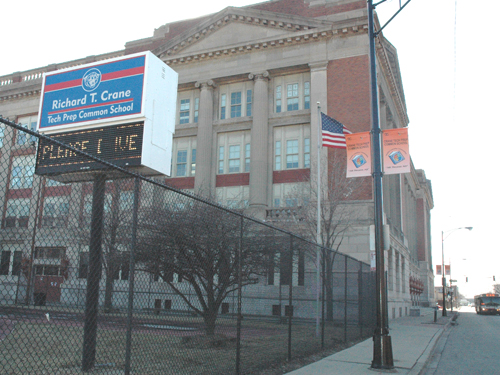 Chicago's Crane High School was one of the victims of the very sophisticated racism of the "Noble Network of Charter Schools". Crane was one of the schools attacked during the past decade by charter schools which basically creamed the school's top students. Noble Street "Bulls Campus" was to the west. Noble Street "UIC Campus" (the school where Oliver Sicat served as principal) to the south served to allow the University Village racists and others to take their kids out of Crane. During the same time, CPS deprived Crane of its resources), and now that CPS has sabotaged the legendary West Side school, the final indignity will be to put a "union" charter school inside the building to take it over. Substance photo by George N. Schmidt.The December 2 school meetings are being held in as many public schools as can organize them to begin to build widespread protest against the hypocrisy of the latest round of so-called "Turnarounds" announced Tuesday by Mayor Rahm Emanuel and Schools Chief Executive Officer John-Claude Brizard.
The Teach-In is to bring together hundreds of teachers with hundreds of organized parents, students and community leaders to work over the next two months to finally stop the privatization and destruction of Chicago's public schools represented by the so-called "Turnarounds."