SUBSCRIPT... CORPORATE MALFEASANCE: Bank of America and Chicago's 'Teacher Appreciation' days at Sox Park
George N. Schmidt - November 16, 2011
For those who remember, during the World Series winning 2005 White Sox season, tickets to Sox games on "Teacher Appreciation Day" were less than $10 per seat for the lower deck box seats that some of us at Substance have been getting (in groups of 40 or more) for a long, long time. Last season, those same seats in the same park were $21.50. What happened? Bank of America happened! Sound familiar? Read on.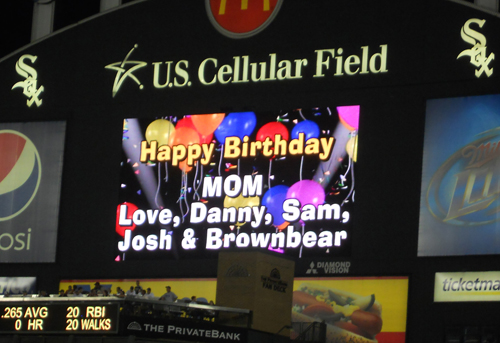 The younger Schmidts (and Brown Bear, the dog) were able to wish a Happy Birthday to their Mom on Teacher Appreciation Day at Sox Park on June 6, 2011. Substance photo by George N. Schmidt.As late as 2005 teacher date tickets were 75 percent off. As both ticket prices escalated and teacher appreciation discounts declined, there was much talk about whether the Sox still had their institutional memory in place back to the days of Bill Veeck. The price of Sox parking went up melodramatically between 2005 and 2011. But the biggest problem for teachers and coaches was that the price of tickets on those days more than doubled. Half the reason was that LaSalle Bank had sponsored those three games each year at Sox Park with the White Sox. When Bank of America took over LaSalle Bank (to the great profit of some LaSalle Bank executives like former Chicago Board of Education member Norman Bobins and a great loss for thousands of others in Chicago), one of the first corporate decisions Bank of America made was to stop appreciating Chicago teachers.
Back in the day when teachers could get lower deck box seats for less than $10 per seat those nights, teachers and coaches would often bring many of their students (or even whole teams). One of the things the Bank of America corporate decision meant was that coaches and other teachers were less able to take their athletes to Sox Park for games. There is a huge difference between $21.50 per seat — lower deck box seats last season — and roughly $10 per seat a couple of years ago.
Bank of America corporate got greedy and short sighted; sound familiar? Apparently Bank of America can make money (and oodles of free publicity) sponsoring the Chicago Marathon, but "Teacher Appreciation" was not on its corporate radar. (We don't even need to go into Bank of America's support for stuff like the Business Roundtable's attacks on public education...).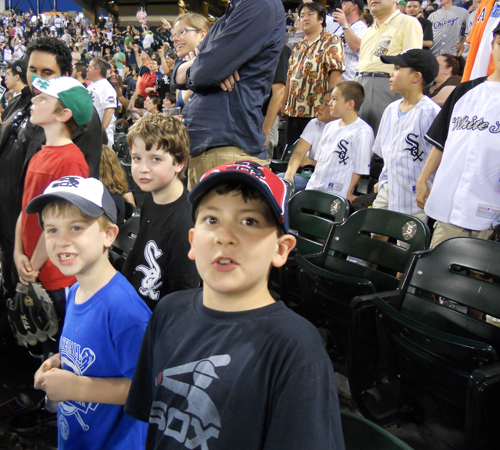 Above, Sam and Josh Schmidt with several of their friends (including the Kuglers) during the June 6, 2011 White Sox game. Substance photo by George N. Schmidt.As late as 2005, I was able to take the Whitney Young frosh soph baseball team to a Sox game for my son's 16th birthday (with pizza at Connie's beforehand). Why? Because each seat — same seats as last season — was less than $10. The team parents (who paid; only the players got the seats as part of the party) that year included Whitney Young Principal Joyce Kenner (whose son was a catcher). We all had a great time, and it was a lot healthier than Chucky Cheese's. The Consumer Price Index didn't double during those years, but the price of appreciation for teachers who remained Sox fans did — and then some. When Bank of America decided to stop appreciating Chicago teachers, the Sox picked up their part of the deal, but without Bank of America the price became much higher. Thanks Bank of America.
Bank of America has lost a considerable amount of its Chicago teacher business in the past three years, and is about to lose a lot lot more for what it's done to Chicago (the consolidation "synergy" of LaSalle Bank cost many long-time LaSalle Bank people their careers).
Substance would love to hear from former LaSalle Bank workers who devoted their lives to those careers — and what they learned from Bank of America about how the "one percent" operate. Comment here if you can't do anything else.