City Hall declared a 'crime scene' as groups challenge mayor's budget on TIFs, Mercantile Exchange
John Kugler - November 10, 2011
Community leaders, joined by Chicago Alderman. John Arena (45th), rallied against Mayor Emanuel's budget proposal citing cuts to city services and expanded fees for city residents at a time when a $240 million surplus will remain in the city's Tax Increment Financing (TIF) coffers. Alderman Scott Waguespack (32nd) introduced the Responsible Budget Ordinance to increase the amount of TIF funds returned to city services early last month, with the support of 15 other council members. The ordinance could potentially bring another $6 million to libraries alone and save hundreds of jobs. The increase under the ordinance would bring an additional $130 million into the budget discussion, offsetting many of the proposed cuts.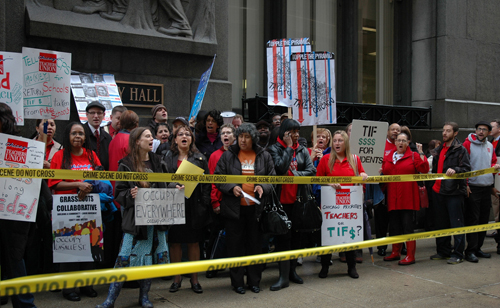 Above, some of the protesters outside Chicago's City Hall prior to the November 9, 2011 meeting of the Chicago City Council. The large protests, as well as aldermanic criticisms of Mayor Emanuel's regressive budget and refusal to release TIF dollars to the schools, were ignored by Chicago's corporate media. Substance photo by Kenzo Shibata."TIF money has been sitting in those accounts for years and it is time to get it back to our schools and libraries," said Ald. Arena, a co-sponsor of the ordinance. "Twenty-eight aldermen signed a letter saying we are coming to you with alternatives to these cuts ... we have not heard back on everything put in front of them."
With many of Chicago's families facing a harsh economy and what may be a brutal winter, organizers believe the budget asks those with less to sacrifice more. The Grassroots Collaborative — with the Chicago Teachers Union — organized the event to draw attention to the theft of public funds from much needed social services all given to private corporations that have political links to Mayor Rahm Emanuel. The protestors declared city hall a "crime scene."
"The mayor's budget that's being currently debated really puts most of the burden of taxes, fees and cuts to programs and services on working families in Chicago," said Grassroots Collaborative Director Amisha Patel who is part of the Grassroots Collaborative.
"The Chicago Mercantile Exchange made $316 million dollars in the last quarter, but wants taxpayers to give them even more," declared Patel. "The city gave them $15 million to put in golden toilets, the state is considering giving them $100 million in tax breaks, and the community gets left in the cold. Mayor Emanuel has the chance to put people over corporations, and keep Chicago working. We hope he does right, stands with the working families of Chicago, and passes a responsible budget."
Here is a link to a video of the rally
Community Declares Chicago City Hall and the CME crime scenes http://youtu.be/xuRkVAzkiPM
Link to Progress Illinois Story
http://progressillinois.com/quick-hits/content/2011/11/09/chicagoans-declare-city-hall-cbot-crime-scenes-video
Pics by Kenzo Shibata