Another 130 arrested in Grant Park Chicago on October 23, 2011... Rahm Emanuel begins Police State tactics against Occupy Chicago... Cops bar press from Grant Park while making arrests against non-violent 'Occupy' protesters
John Kugler - October 23, 2011
The former Chief of Staff to President Barack Obama, Chicago Mayor Rahm Emanuel, is determined to suppress protests in Chicago as the city draws closer to major political events in 2012. And for the second weekend in a row, Chicago police were ordered to arrest peaceful protesters in Chicago's Grant Park. Only this time the police used force to bar reporters from witnessing the scene.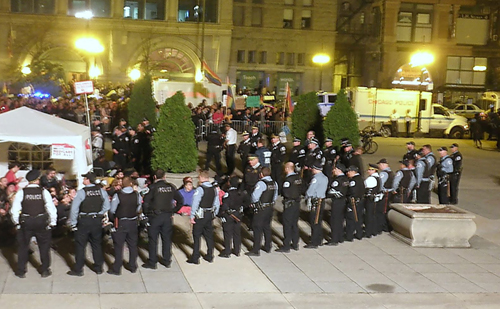 Chicago police barred reporters and other press from the encampment at Michigan and Congress before surrounding the campers and making arrests on the night of October 2 3 - 24, 2011 against Occupy Chicago. It was the second weekend in a row that Mayor Rahm Emanuel ordered police to bar protesters from camping in Grant Park. Substance photo by John Kugler.In a repeat of last week's mass arrests, Mayor Rahm Emanuel ignored overtures from Occupy Chicago activists to be allowed to peacefully find a permenant encampment in a city park. Instead the police on October 22, 2011 continued arrests — and used used more forceful and dangerous tactics to isolate the occupy activists who returned Grant Park under the "Bowman" (the equestrian statue of the native American on horseback at the corner of Congress and Michigan).
The police closed the entire east side of the Michigan Ave sidewalk with barricades in order to surround the "Occupy" activists.
The press was barred from the site, with no reason being give. No reporters or other observers were allowed into the area where people were being arrested by the Chicago Police. The Cook County Sheriff's office is now involved in the Occupy Chicago arrests. Sheriff Tom Dart provided Emanuel's police with two prisoners buses and a command squad on site to to transport those arrested.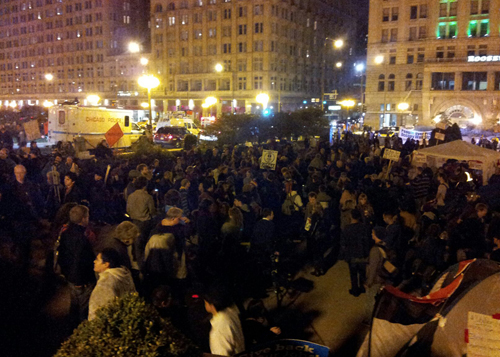 More than 2,000 protesters had gathered at Michigan and Congress in Chicago for the second weekend in a row as Occupy Chicago sought a place to pitch tents and camp. Chicago police once again made massive arrests on orders of Chicago Mayor Rahm Emanuel, this time barring the press from the action. Substance photo by John Kugler.As added evidence of the increased police tactics against the peaceful "Occupy Chicago" protesters, there was a division of the organized crime unit dispatcher to the scene to intimidate and cataloged all arrested as if there were wanted criminals. The video catalogue of individuals arrested are the same tactics used against known gang members and mobsters. As of early morning on October 23, it is estimated at the time of this writing that 125 individuals were arrested for not leaving a public park after it "Closed". Later, Chicago police confirmed that the total arrested was 130, bringing the total arrested since the Grant Park standoffs began to 305.
Chicago police told Substance on the morning of October 23 that 130 people had been arrested. According to Officer Marabelli of Chicago Police Media Affairs, all were charged with failing to leave a public park after closing and released on "I-bonds."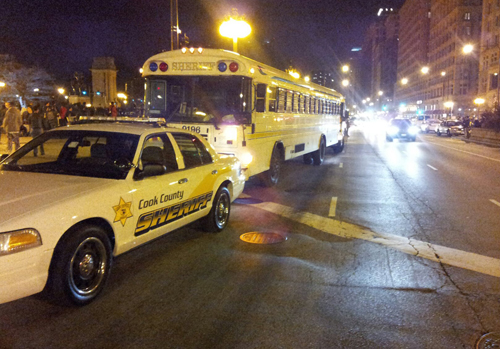 Cook County Sheriff Tom Dart ordered his officers to assist Chicago police in the attacks on Occupy Chicago. Substance photo by John Kugler.After police surrounded the site of the protest, which only had one tent this week (as opposed to dozens the previous week), even pizza delivery war barred. Protesters estimated the total crowd during the march from Jackson and LaSalle to Grant Park to be 2,500. Some press reports said the police estimated the crowd at 1,500.
Additional photographs from the October 23, 2011 arrests can be found at:
http://www.flickr.com/photos/32225081@N07/sets/72157627832103521/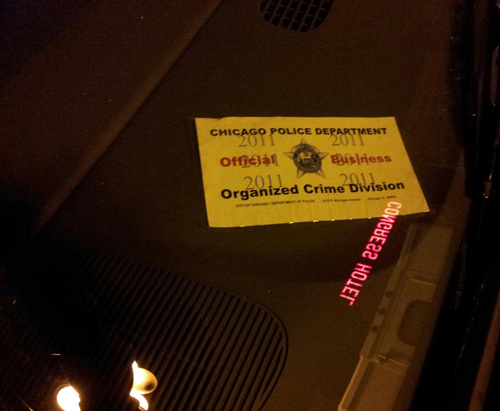 Some of the police at the October 23, 2011, scene were in unmarked cars with "Organized Crime Division" window notices (so they didn't get towed by other police). Observers are starting to fear that Chicago Mayor Rahm Emanuel is escalating massive police spying on peaceful protests, such as became notorious under Emanuel's predecessor Richard J. Daley, whose "Red Squad" provoked violence and spied on peaceful anti-war, union and civil rights activists during the 1960s and 1970s. Police agents even assisted Cook County State Attorney Edward Hanrahan in mapping the West Side apartment of Black Panthers Fred Hampton and Mark Clark, who were murdered by Cook County police in 1969 during a raid. Police spies had given the raiders a map of the inside of the Panther apartment showing the location of Hampton's bedroom, where he was shot to death. Substance photo by John Kugler.