BIG BROTHER DEPARTMENT. Why teachers can feel good about boycotting the WBEZ pledge drive
George N. Schmidt - October 04, 2011
Anyone who has been paying close attention to the so-called "news" coverage around Chicago knows that no corporate media outlet is more sanctimonious (and almost in-your-face) about the preciousness of its coverage than WBEZ radio, and no time is that preciousness more annoying than during the WBEZ pledge drive. But the fact is, this year Chicago teachers can feel good about ignoring and boycotting the hypocrites who manage WBEZ instead of just screaming in the direction of those perfectly articulated consonants every time "listeners" are urged to pledge.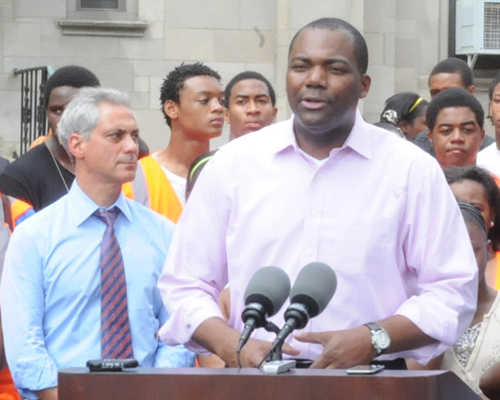 Little Big Brother watches over Big Big Brother on August 2, 2011, outside St. Sabina's School on Chicago's South Side. On that morning, Chicago Mayor Rahm Emanuel and Chicago Schools CEO Jean-Claude Brizard decided to ignore the city's 600 real public schools and do a publicity stunt walkabout on the block adjacent to Father Michael Pfleger's St. Sabina's church, school, and other businesses at 78th and Throop on Chicago's South Side. During the following weeks, Emanuel and Brizard spent most of their school times either at charter schools, promoting the privatization and union busting of them, or, finally, at a September 6, 2011 schools opening publicity stunt at the "STEM" magnet school on Chicago's West Side, utilizing publicity stunts to try and force the "Longer School Day" on the Chicago Teachers Union. Apparently, STEM was featured because it was one of a handful of CPS schools that had voted to waive the Chicago Teachers Union contract in favor of the so-called "Longer School Day." By September 6, the "Longer School Day" had became the wedge issue tried by the mayor, Chicago's corporate media, and Brizard against the teachers' union. STEM, a brand new specialty school, had not held its first class when the mayor and Brizard dragged most of Chicago's media to the school for some carefully scripted stuff. Like St, Sabina's, it was a safe and anti-union location for an Emanuel and Brizard media event. Substance photo by George N. Schmidt.Why? It's not only that WBEZ (like the Sun-Times and Tribune) has an editorial policy of never quoting anyone from Substance on anything (this reporter has been the Voldemort of Chicago news sources since former Mayor Richard M. Daley and former schools CEO Paul Vallas put him on several blacklists more than a decade ago), but that WBEZ is now shifting its notion of how to provide news about the schools from actual reporting to...
BIG BROTHER IS TALKING TO YOU.
We're talking, of course, about the regular shows with Chicago Schools Chief Executive Officer Jean-Claude Brizard, whose knowledge of Chicago and the city's public schools is limited to what he has been able to cram from spreadsheets and quickie talking point lectures since his arrival in town in May 2011 from Rochester (where, you might say, he was run out of town). Why report the news on WBEZ when you can get Brizard's bizarre version of reality one-on-one?
But it's not merely that WBEZ is giving lots of free air time to a guy who comes straight from those corporate feeding pens (in Brizard's case, the Broad Foundation's "Leadership Academy"). Those corporate outfits are where corporate America fattens up future fat cats to run corporate America's version of "school reform" in any town where they can wedge them into the corner office. At the present time, you have a better chance getting an executive job in Chicago's public schools if you have a Harvard MBA than if you taught for 20 years and got your doctorate in something real in night school.
No, WBEZ is also ignoring the news at the same time.
WBEZ once again cut back on its coverage of the monthly Board of Education meetings, as the September 28, 2011 meeting showed in pretty dramatic form. The coverage of the September 2011 meeting of the school board was ridiculous, by any news standards. But don't take Substance's word for it. Here is the "news" from the September 28 Board meeting that you will find if you go to the WBEZ website:
Chicago Board of Education votes to limit number credit cards to 5 (MICHELL ELOY | SEP. 28, 2011)
The Chicago Board of Education voted on Wednesday to change its credit card policy.
Under the new plan, there will now be five credit cards for the entire Chicago Public Schools system. Previously, each of Chicago's 675 public schools could have up to three.
The credit cards will be under the direction of the CPS chief administrative officer.
In mid-September, the Board deactivated nearly 500 credit cards that had been issued to principals and other school personnel as per a new city-wide policy forcing agencies to reduce the number of issued cards to save money.
In other words, if the only news from that dramatic meeting of the Chicago Board of Education came to the public from Chicago's "public" radio station, the public would know for sure that the most important thing that happened during the more than four hours the city's school board met was that the Board had cut back on the use of credit cards by its executives.
Really?
A few more things happened. One was that the CEO (Jean-Claude Brizard), aided by his other CEO (Chief Education Officer Noemi Donoso) and the CIO (Chief Instruction Officer Jennifer Cheatham) presented the Board with a Power Point outline of a major overhaul of the entire system. Areas have been replaced by thingies called "Networks." Chief Area Officers are now "Chiefs of Schools." CPS has an enormous "deficit," but it's for sure getting smaller (at least according to the latest iteration — the fourth or fifth since June, when Power Point was the basis for breaking the unions' contracts).
But the main story if WBEZ is credible is that CPS executives will no longer get to use CPS credit cards.
Oh, and CPS has junked its policies on school closings and some other stuff that roiled the city (and destroyed communities through closings, flippings, and so-called "turnarounds" for eight years) during the "Renaissance 2010" years. Closings and other major changes are to be determined by a set of rules finally approved as law by Illinois, and Chicago was aligning its school system's rules accordingly.
But the main story if WBEZ is credible is that CPS executives will no longer get to use CPS credit cards.
The one WBEZ reporter who knows anything about the schools, Linda Lutton, was not on the story. The replacement took a brief side light on the meeting and turned it into the only story.
So the main story if WBEZ is credible is that CPS executives will no longer get to use CPS credit cards.
WBEZ executives have also eliminated posting the audio of the entire meeting on their website (they'd been doing it for more than a year).
Why should that matter? Well, as anyone who tried to view the Board's cable TV version of the meeting can attest, some things that happened at the Board meeting on September 28, 2011 came up missing by the time the Board's version of the meeting arrived at Channel 21, CAN TV, on October 1. One speaker who lied about being a teacher managed to get the lie eliminated by the time the TV version came up. Other major events from the public participation were also censored.
It once was that the public could compare the WBEZ tape, which was broadcast by midnight the day of the Board meeting, with the CPS lies, which came on TV three days after the Board meeting. But for the September 28, 2011, Board meeting, the only version the public has (unless they were there or read Substance) is the version the Board is providing, with all the censorship that entails.
But the main story from the Chicago Board of Education meeting — if WBEZ is credible — is that CPS executives will no longer get to use CPS credit cards. Major structural and policy issues didn't happen. The Board didn't send up some more shills to praise the "Longer School Day" so-called "Pioneers Program", posing as "teachers."
Oh, and there's the matter of that half billion dollars the Board voted to borrow at its September 28 meeting. That's right, on September 28, 2011, while claiming its broke, the Chicago Board of Education voted to borrow another half billion dollars for various facilities purposes. There was no discussion of that, either, during the Board meeting, just a vote. And there has never been a discussion of how much it costs the Board to borrow amounts of money like that, in overhead fees and pinstripe patronage.
But the main story — if WBEZ is credible and those heartfelt pleas for pledges are to be believed — is that CPS executives will no longer get to use CPS credit cards. You might say that the "credit card" story that WBEZ reported was kind of ironic, since the big credit card story was that CPS was going back to borrowing huge amounts of money during a year it says its "deficit" in so huge that it can't pay the raise to its unionized workers.
But that's not news on WBEZ during pledge week.
They've also eliminated the Thursday morning show called "Cheat Sheet" at which Linda Lutton would discuss the previous day's Board of Education meeting with "848." It seems that the owners of WBEZ have replaced the whole notion of news coverage with BIG BROTHER — the regular monopoly of Jean-Claude Brizard on WBEZ.
Next time you're switching to a very loud version of Hells Bells ("I'm rolling thunder, power and rain, I come and go like a hurricane...") like some of us do as soon as those sweet "Pledge Now..." pitches come on, call a few friends instead. Tell them to join the WBEZ boycott until WBEZ's editors have decided to have some reporters cover some news from Chicago's 600 real public schools. (They've also been doing lots of charter propaganda this year).
We'll keep our readers posted.
