Sharon Schmidt's testing testimony goes viral on the Internet (?) through Undernews
Susan Ohanian - October 02, 2011
Just when it was time to rest for the day, along comes the latest edition of UNDERNEWS Since 1964, the news while there's still time to do something about it (THE PROGRESSIVE REVIEW, 96 Maine Street #255, Brunswick ME 04011, 202 423 7884, news@prorev.com) helping Sharon Schmidt's testimony at last week's Chicago Board of Education meeting go viral on the Internet. Here is what they reprinted in their most recent edition: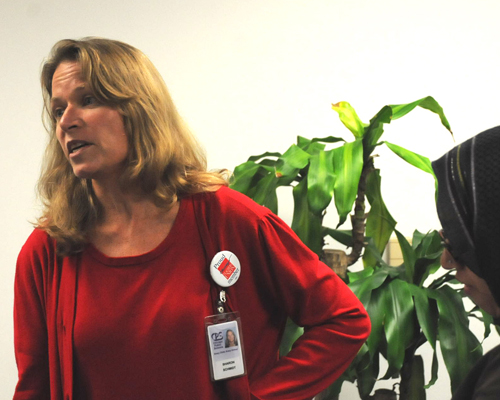 Sharon Schmidt talks with fellow journalists following her remarks to the September 28, 2011 Chicago Board of Education meeting. Substance photo by George N. Schmidt.The abuse of testing in Chicago schools
From testimony before a Chicago Board of Education meeting
Good morning. My name is Sharon Schmidt. I am the editor of Substance, the Chicago newspaper that covers public education. I am a step-parent of a Chicago public high school graduate. My husband and I have two children who attend a Chicago public elementary school. I am a high school teacher and the chairperson of the Chicago Teachers Union testing committee. . .
CPS is administering an excessive number of tests. Not only are you using the federal and state required tests, ACCESS for English Language Learners, the multi-test ISAT, the EXPLORE, PLAN, ACT and Work Keys (which you administer to high school students several times each year) there are other series of tests you administer multiple times a year to students, from pre-K through 12th grade. The Kindergarten Readiness Test, mClass math, DIBELS, Scantron Performance Series are common from pre-K through 9th grade, but in some schools you administer even more, such as benchmark assessments, KLT, MAP, Riverside Achieve Data, Step, and additional area-created, 5-week assessments. Our students are bombarded with tests, multiple times a year. . . .
You''re experimenting with our children, administering test after test, obsessively gathering data. But our children are not lab mice or test tube specimen. Extracting data hurts them. Each test takes away from academic, social, and emotional learning that they should be getting in school. The tests stifle their curiosity and love of learning.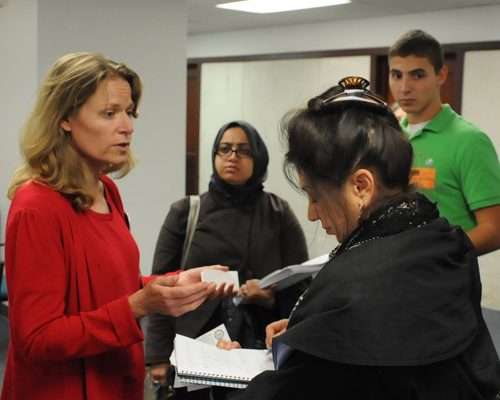 Sharon Schmidt tries to explain a major point about testing to Sun-Times reporter Rosalind Rossi while Rossi takes notes holding Sharon's Substance Editor business card. Substance photo by George N. Schmidt.Then you harm our children with your overemphasis on test scores (which are just comparisons with other children) giving our children two odious choices: "I'm better than others," or "I'm worse than others." Of course your testing experiment hits our most disadvantaged students the hardest. You test our poorest students in segregated schools the most."