Chicago Teachers Union continues to point out silliness of Rahm Emanuel's push for 'Longer School Day' without thought or planning
George N. Schmidt - September 27, 2011
As Chicago's corporate media continued their promotion of Mayor Rahm Emanuel's talking points and the carefully staged media events of the Chicago Public Schools administration under Chief Executive Officer Jean-Claude Brizard, the Chicago Teachers Union again responded to the lack of thought, planning, and care for children, parents, families and teachers in the scripted attack on the union being orchestrated.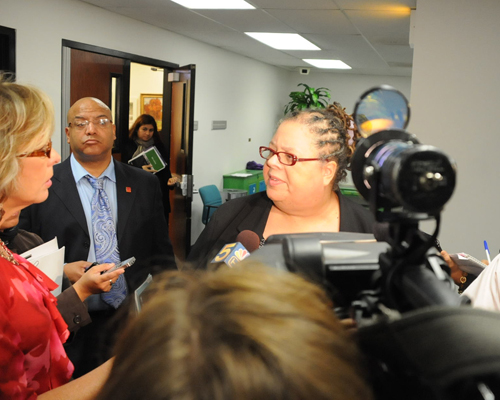 Chicago Teachers Union President Karen Lewis speaks to a generally hostile group of reporters following her remarks to the September 28, 2011 meeting of the Chicago Board of Education. The editors and owners of Chicago's major "news" outlets have lined up behind Rahm Emanuel's push for a "Longer School Day" during the 2011 - 2012 school year and have provided uncritical support for Emanuel's version of "research" and reality during the month-long struggle that opened September 2. One of the major failures of the corporate press is to dig behind the stories paid for and staged by Emanuel, including the remarks by a "teacher" who wasn't a teacher on behalf of the longer school day. Substance photo by George N. Schmidt.In a press release dated September 26, 2011, the union stated as follows:
'Longer School Day' political slogan is no substitute for a coherent education plan
CHICAGO –Chicago Teachers Union (CTU) President Karen GJ Lewis says the "Longer School Day" slogan adopted by the Chicago Public Schools (CPS) cannot substitute for an education plan. Educators at more than 115 elementary schools have rejected the ill-advised proposal because the hastily put together campaign left no time to adequately plan how to use the extended time in the most effective manner possible.
"There has been no meaningful discussion with educators, parents or the community on how to implement the longer school day," explained Lewis. "Without adequate planning, much of this extra time may turn into simply more test prep. The 'Longer School Day' political slogan cannot substitute for a coherent education plan."
Lewis has said CPS should focus on implementing a "better school day" for Chicago students. "If we want to make an extended school day produce results for elementary school students their curricula and class sizes must mirror those in well-funded school districts and expensive private schools. We need a conversation to plan this time, not sound bites," she said.
The outspoken Union leader and 23-year educator nominated three elementary school teachers, a leader of a parent organization and a well-regarded, community activist to participate on CPS' extended learning time advisory panel. None have been seated. She also sympathized with the teachers and school employees at the six schools that are now trying to cope with the school board's rushed initiative.
"During my years as a classroom teacher I learned to adapt to dozens of ill-conceived and inadequately supported CPS initiatives from the school board bureaucrats," said Lewis. "Regardless, I know these teachers will try to do the best they can for their students."
After denying teachers and paraprofessionals their contractual 4 percent cost of living increase, citing a budget crisis, CPS then coughed up millions of dollars to campaign for its latest time allocation proposal. The Board offered elementary school teachers a mere 2 percent stipend to work 29 percent longer and promised a one-time $150,000 bonus and other incentives to any principal able to encourage staff to vote in favor of a longer school day this year.
