Tacoma teachers' strike ends in victory... Classes resume Friday, September 23, 2011
George N. Schmidt - September 23, 2011
The strike of teachers in Tacoma, Washington, ended in victory for the teachers and their union when the teachers voted overwhelmingly to end their ten-day strike on Thursday, September 22, 2011. According to the Tacoma Education Association website, the referendum to end the strike saw 99 percent of the union's members voting "Yes" on the proposed agreement. The contract will last three years.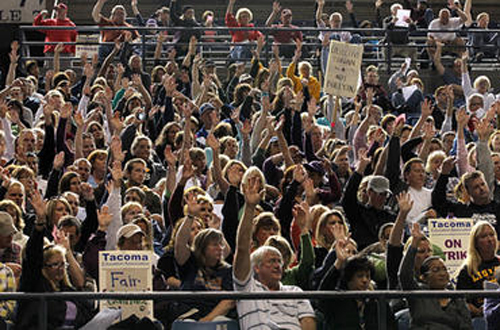 A strike rally of teachers in Tacoma Washington on September 15, 2011, one week before the teachers won their strike. The strike drew national media attention, as it pitted a well-organized teachers' union that had not been on strike in 33 years against a reactionary school district administration following a playbook straight out of the bipartisan union busting script attacking public worker unions across the USA. (The same script being followed by Chicago Democrats led by Mayor Rahm Emanuel, Barack Obama's former White House Chief of Staff).
One aspect of the problem was the manipulation of reports on the district's finances by the school board. The Tacoma school board kept increasing the amount of money it said was necessary in its "reserves" so that a financial "crisis" was guaranteed. (This is similar to the way the Emanuel administration has been playing with budget figures in Chicago since the school board, without verification, claimed a fraudulent deficit in order to deny teachers and other unionized workers the fifth year of a five-year legal contract.)
Because of its importance, the strike was covered by national media (as the clips below show.
The following is a medley of reports on the end of the strike, beginning with the report from the Tacoma union. Sources of the stories below are indicated in ALL CAPS before each entry. All entries will be complete by midnight September 23, 2011 so Substance readers have the most information that can be gathered.
TACOMA UNION REPORT BELOW HERE:
By an incredible 99 percent YES vote, Tacoma teachers have ratified a new three-year collective bargaining agreement with the Tacoma School Board. The ratification vote ends Tacoma teachers' 10-day strike, which began Sept. 13.
The final vote was 1,683 YES, 15 NO and three invalid ballots. Classes will resume Friday throughout the Tacoma School District.
Tacoma teachers said the contract is a huge victory for them and their students. School district administrators and the Tacoma School Board proposed increasing class sizes, cutting teacher pay and imposing subjective and potentially discriminatory policies regarding teacher staffing decisions. Unwilling to continue working under an expired contract, and refusing to concede on those issues, 87 percent of Tacoma teachers voted to strike Sept. 12.
"We stood strong, we stood united and we stood for what was right," said Andy Coons, Tacoma Education Association president. "It hasn't been easy. It has been a long process. We've been on strike for 10 days. We stood up to a Tacoma School Board and central office administration that had lost respect for their teachers."
Here are the highlights of the new contract:
Protects existing class-size/caseload limits for all TEA certificated members
Protects existing salary scheduling; one less building optional day
Protects current displacement language for this year; committee with equal representation from TEA and administration will study and implement new policy using objective and appropriate criteria in the 2012-13 school year. Any new policy must be approved by two-thirds of the committee members.
"We need to continue to stand up and make sure the Tacoma School Board and our new district administration respect Tacoma teachers and make decisions that are in the best interest of our students," Coons said.
Students and teachers will make up the strike days via two scheduled snow days, a shortened winter break and adding days to the end of the school year, which will end June 19.
Tacoma teachers and the school board reached a tentative contract agreement after Gov. Chris Gregoire called both sides to her office and personally facilitated negotiations. Last week, Tacoma teachers voted overwhelmingly to continue striking despite a superior court order.
Here is the TEA summary of the new collective bargaining agreement with the Tacoma School Board.
REUTERS REPORT BELOW HERE:
Teachers ratify deal ending strike in Tacoma, Washington
inShare
1
Share this
Email
Print
Related News
Contract deal ends teachers strike in Tacoma, Washington
Thu, Sep 22 2011
Washington governor intervenes in teachers strike
Wed, Sep 21 2011
Defiant teachers in Tacoma, Washington, strike for sixth day
Tue, Sep 20 2011
UPDATE 6-Air Canada union optimistic members will back deal
Tue, Sep 20 2011
Tacoma, Washington teachers defy no-strike order
Thu, Sep 15 2011
Analysis & Opinion
More lessons from paying people to be less poor
Rich kids pushed to pay bigger share for college
Related Topics
U.S. »
By Nicole Neroulias
TACOMA, Wash | Fri Sep 23, 2011 1:07am EDT
(Reuters) - Jubilant teachers in Washington state's third-largest school district voted overwhelmingly on Thursday to ratify a contract deal that ended their weeklong strike and staved off proposed pay cuts.
The settlement was reached on Wednesday night after seven hours of intense negotiations mediated by Governor Christine Gregoire, who had summoned the two sides to her office in the state capital, Olympia, for a last-ditch round of bargaining.
The new three-year labor deal keeps previous class-size limits intact -- teachers had sought to tighten them -- but holds the line against salary cuts and contains a compromise on the thorny issues of evaluations, seniority and staffing decisions.
The accord also includes an amnesty clause guaranteeing that union members' participation in the strike, which kept 28,700 students at home for eight school days, would not be a factor in staff performance appraisals.
The district's 57 schools will reopen their doors on Friday for the first time since some 1,900 teachers walked off the job on September 13, staying on picket lines in defiance of a back-to-work court order issued the following day.
Whether contempt-of-court citations will now be dropped is technically up to the judge, but district officials said they consider the issue closed. Days lost due to the strike will be made up later in the year.
The mood was festive as members of the Tacoma Education Association gathered in a high school gymnasium to vote on the settlement, which was approved by 98.9 percent of the 1,683 votes cast, the union said.
"I'm excited to get back to work, and I'm excited for my daughter because she gets to go back to school," said Steve Jacobson, 35, a high school health and physical education teacher, who stood with his 4-year-old daughter, Bianca, perched on his shoulders.
"I have never been more proud to be a teacher," union president Andy Coons said. "This was not an easy process, but ... we did what had to be done and we did it together."
District officials appeared relieved. Tacoma Superintendent Art Jarvis and school board President Kurt Miller rang the ceremonial bell atop the district's central office for the first time in nearly 10 years.
"We call all the children back to school," Jarvis declared as the bell echoed throughout downtown.
Labor negotiations began May 31 but hit a stalemate about a week and a half after the previous contract expired September 1.
The main stumbling block, the union said, was a district demand to alter staffing policies so that decisions on teacher reassignments between schools were based on criteria other than seniority, such as performance evaluations.
In the end, the two sides agreed to establish a joint panel of teachers and school officials to set new teacher evaluation standards that would be used in conjunction with seniority to make future staffing reassignments.
The teachers dropped demands for lower overall ratios of students to teachers, and the district abandoned its proposal to cut salaries. Elementary school teachers won a hard cap on class size, but teachers lost one paid training day.
During talks, the district said it would have to spend down its reserve funds by $15.4 million this year to avoid deeper cuts in staffing and student programs after being forced to eliminate about 100 jobs and close two elementary schools.
The last time Tacoma teachers went on strike was in 1978, a walkout that lasted 29 days.
(Additional reporting by Laura L. Myers. Writing by Steve Gorman; Editing by Cynthia Johnston)
TACOMA NEWS TRIBUNE STORY (SEPTEMBER 23, 2011) BELOW HERE:
Tacoma teachers, students return to class today
School resumes this morning at its regular times at more than 50 schools citywide. Read more: http://www.thenewstribune.com/2011/09/23/1836031/teachers-students-return-to-class.html#ixzz1YmEFGZDO, DEBBIE CAFAZZO; STAFF WRITER, Published: 09/23/11 4:33 am |
Tacoma teachers, staff, students, parents and school district officials breathed in collective relief Thursday, as nearly 99 percent of teachers who gathered for a vote agreed to return to class and end their strike that began Sept. 13.
School resumes this morning at its regular times at more than 50 schools citywide.
Union members approved a three-year tentative agreement with 1,683 yes votes, 15 no votes and three invalid ballots. That's nearly 90 percent of those eligible to vote.
And with that, Tacoma Education Association President Andy Coons declared, "This strike is over. We will be back in our classrooms tomorrow and with our students."
Tacoma Public Schools Superintendent Art Jarvis said later that "we have a fair and equitable contract." He said the community should celebrate teachers' return to the classroom, where they "find their joy" and where they "earn our respect."
Jarvis, along with school board President Kurt Miller and others, resumed an old Tacoma tradition to call students back to school. They joined in ringing a bell atop the Central Administration Building in downtown Tacoma.
Teachers who met in the gym at Mount Tahoma High School at noon smiled after the vote, but some still had questions about how the agreement would play out.
Mount Tahoma special education teacher Anthony Davis said he felt like he was voting on something tentative without a lot of time for discussion.
"It still put questions in your head on trust," he said.
But Lister Elementary School music teacher Theresa Tommaney said after casting her ballot that she had faith in the union bargaining team's 11 members, who were given flowers before Thursday's vote.
"We expected them to come through, and they did," she said.
Travis Davio, a Lincoln High School social studies teacher, said he was happy with the agreement.
"I have faith that the district and the teachers will reconcile their differences and come together in the best interest of students," he said.
Reconciliation will be important as the union and district seek to address what had grown into the biggest issue in the strike: how to create rules governing teacher transfers and reassignments.
The district pushed for flexibility to match teachers with programs and individual schools. The union argued that job assignments would be left to the whims of school principals.
Now, the old seniority- and credential-based system will stick around for another year while a committee determines what to do next.
Brent Gaspaire, a Lincoln High School teacher, was glad to see that the thorniest contract issue was resolved to the union's satisfaction.
"I feel like our biggest win was in holding back the subjective language the district was trying to push forward dealing with displacements," Gaspaire said.
"I just want to get back in class."
The other two major issues in the strike — teacher pay and class size — were also resolved.
The deal was reached late Wednesday in Olympia, after more than six hours of talks brokered by Gov. Chris Gregoire. The Tacoma School Board will vote on the contract at a meeting yet to be scheduled. The school board's next regular meeting is set for Oct. 6.
In the interim, said school district attorney Shannon McMinimee, both sides intend to honor the tentative agreement.
McMinimee also said Thursday that she would ask Pierce County Superior Court Judge Bryan Chushcoff to cancel the district's previous request for a preliminary injunction hearing, which had been scheduled for Tuesday. The hearing was part of a legal process the district had used to try to force teachers to return to work.
The judge had issued a temporary order telling teachers to return to the classroom, and Chushcoff had threatened to impose court sanctions against those who did not.
Jarvis said Thursday that the district's position is that sanctions are no longer needed.
Tacoma parent Teresa Hatton cheered the news that school would resume after eight days without classes.
"I'm a single mom doing it all by myself," she said Thursday morning, adding that child care during the strike was a struggle. She ended up shuttling her son, Matthew North, a seventh-grader at Jason Lee Middle School, to a Boys & Girls Club on her lunch break from work.
He's been eager to get back to class, she said.
Peter Marken works as a general contractor and was able to take his son, Gabriel, a fifth-grader at Sheridan Elementary School, to work with him during the strike.
Marken said he didn't closely follow the back-and-forth between the union and district, but was glad to hear both sides reached a contract agreement.
"Nobody likes the inconvenience of being saddled (unexpectedly) with day care," he said.
Gabriel, 10, said with a smile that he didn't mind missing class. When asked if he was excited to return to school, he offered a noncommittal "kind of."
Cindi Hardwick, picked up her 5-year-old grandson, Nickie Frederick, from the YMCA, which offered child care during the strike.
Hardwick said she was glad he'd soon be back in class at Lowell Elementary School. But she was also frustrated.
"(The district and union) had all summer," she said. "It was uncalled for."
At Mount Tahoma, cheerleaders were working on a banner to boost school spirit in time for tonight's football game against Bellarmine Preparatory School.
Senior Gabby Ramsey voiced the concerns of her classmates worried about whether they will graduate on time, and whether they may be forced to return to class after commencement to make up for days lost to the strike. No decision on that issue was announced Thursday.
"Our senior year started off good, then it got cut off," she said. "I understand where teachers are coming from. But I do want to start school."