Can you smell a RA T? Crazy evaluation requirements spurting out from new 'Network' offices... Evaluation Checklist — 'Lake Calumet/Far South Side Networks/Opening Schools Expectations/2011'
Susan Zupan - September 20, 2011
Straight out of the old Chicago Public Schools (CPS) non-negotiable playbook from the previously-named "Areas" preceded by CPS's previous-to-that-named "Regions," a new accountability checklist has been generated by Harrison A. Peters, the new Chief Area Officer of the new Lake Calumet/Far South Side Network. Sorry, Peters is not the CAO, he's the COS (they call them "Chiefs of Schools" now).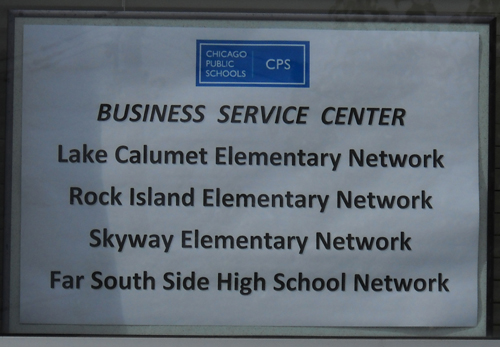 Jean-Claude Brizard 'rebranded' the city's sub districts so quickly that the signage has fallen behind. Since mayoral control began, the sub districts have gone from being Regions to being Areas to being (now) "Networks" with no explanation as to the reasoning behind the changes, other than the need for constant corporate-style "rebranding." Substance photo by Susan Zupan.The Lake Calumet/Far South Side "Network" is the sub-district on Chicago's far south side (that used to be the "Area" for the far south side, which before that was the "Region," which before that was the "District" — which we haven't had since mayoral control began in 1995).
The offices are located at 11424 S. Western Avenue. Principals in schools on the CPS Regular Attendance Track in the Lake Calumet/Far South Side Networks were given the checklists from the area/regional/network office. According to one website available (http://area24 chicago.org/), the new Network "serves" approximately 30 elementary schools (17 on the Regular Track and 13 on Track E) along with 10 high schools.
As a teacher working in one of the schools within this network, I had to sign that I received the checklist on the first day back (Wednesday, August 31). The sheet I was given had the word "RA T" spelled across it in large letters; the sheet was supposed to have the word DRAFT written across the body, but somehow the D and F were apparently lost in the copying process. (An attachment to this report is on file at Substance.)
The checklist is divided into two parts: one is labeled "School" (with an 18-item checklist), and the other is labeled "Teacher" (with a 24-item checklist).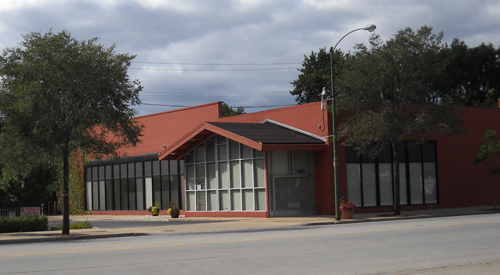 The offices of the "Networks" of the Far South Side of Chicago at 114th and Western. CPS also doesn't return reporters' phone calls nor explain why corporate offices are necessary for "Networks" during supposedly hard times. Substance photo by Susan Zupan.Schools and teachers are scored then evaluated for their opening day readiness with Yes or No checkmarks. Totals are tallied to determine where the school or teacher falls on a three-part, stoplight color scheme of Green, Yellow, and Red zones. Samples of the evaluation items include: for School #15 - "Norms of decency and modesty are posted"; and for Teacher #18 - "Border covers the full perimeter of the board" (referring to classroom bulletin boards). My school and the teachers in it (including me) were rated by a team of observers sent out to the school on the CPS Regular Track students' opening day.
When this reporter called the area/region/network/collaborative office after school on the opening day for students in the Regular Track schools, September 6, 2011, no one could or would answer any questions or comment on the checklist. The person who answered the phone, with words identifying the new "Collaborative," did not know to what I was referring. She connected me to Gail Gibson, who identified herself as the Executive Assistant, and who also appeared to not know to what I was referring. Ms. Gibson put me on hold to find someone who might possibly answer my questions.
Finally, Matthew Cheeseman, who identified himself as the Director of Curriculum and Instruction, told me that if I was a teacher with any questions, he would refer me to the school's principal.
I had identified and named myself as a reporter for Substance, but while speaking I mentioned that I was a teacher as well. But since I identified myself as a reporter, Mr. Cheeseman said he was "restricted" from talking to me. The only response he gave to any of my attempted questions about the checklist was "No comment," but he told me he would pass my name and the number I gave to Harrison Peters.
I was uncomfortable in the course of the brief, non-conversation with Mr. Cheeseman when he asked me how I liked my first day back at X School, naming my exact school. I told him that I had not given anyone the name of my school in the course of the phone call. That was the end of the phone call.
Below are some of the issues/questions that hopefully will be addressed by Mr. Peters, for a follow-up report here at Substance. (As of the date of this report, Mr. Peters has not been in touch with Substance.)
Issue 1: The time allotted for teachers to attend to the checklist depends entirely on principals.
Schools on the CPS Regular Track began the new school year with three employees-only attendance days (August 31, September 1, and September 2). The three days are regarded as "Teacher Institute Days." The students on the Regular Track traditionally return on the day after Labor Day, this year being September 6, 2011. Teacher Institute Days are defined on the CPS calendar sheet as follows: "Teacher Institute Days are fully principal-directed." What this means is that no official, specific time is allotted during the entire three days for "teacher-directed" activities, unless the principal directs it to be so. In other words, per CPS policy, teachers need not be given any time to actually work in their classrooms, for example, putting up bulletin boards. For these three days, principals are technically allowed to schedule such things as meetings, in-services, and workshops during that entire time. The Lake Calumet/Far South Side Network "RA T sheet" checklist also does not appear to take any of what follows into consideration.
Issue 2: Three days is not enough time, regardless. At the close of any school year, teachers are instructed to take down everything they had previously set-up in their classrooms and pack it all away. At the start of the new school year it takes more than three days to put a classroom back together, regardless of whether or not any given principal schedules time for such teacher-directed activity.
Issue 3: Different circumstances require more time for total classroom readiness.
More time is needed for a teacher to set-up his/her room if, for example, a teacher wishes to experiment with rearranging the room for the new school year. Other teachers have their rooms or positions changed within schools or move from one school to another for a myriad of reasons. To change positions means that teachers need to spend time reviewing the new curriculum and materials available as well as set up the room before the students arrive; the teacher might choose to prepare and be ready to teach versus prepare for a physical room inspection via a checklist. And new teachers have to start everything from scratch.
Issue 4: There are physical limitations.
To move physically within schools, teachers often have to understandably wait for their things to be moved to a new location by extremely busy janitors who at this time in the school year are moving desks, chairs, newly-arrived boxes of ordered books, workbooks, etc., in addition to their regular custodial duties, and with 200 less in their ranks at the present time due to CPS layoffs. If the room a teacher is entering was not prepared properly for closure at the end of the last school year, the teacher moving in first needs to take that stuff down and clean it all up before being able to set up his/her own classroom.
Issue 5: Does this evaluation have validity or reliability?
By using the new opening day "Expectations" checklist, the results from the new Lake Calumet/Far South Side Network might rank the most highly-rated teachers ready for opening day as being those who, as fate might have it, remained in the same rooms at the same grade level(s) who also left everything exactly as it was in their classrooms back in June. How can or should the rest of the teachers strive or plan for that in the next school year? Also, a quick glance at the checklist might induce severe…questioning as to whether or not the items have legitimate validity. Teacher item # 9: "All textbooks are neatly organized on shelves"? Shouldn't the textbooks be in or on the students' desks? And, what if a teacher prefers to put those bulletin board borders only on the top and bottom of his/her bulletin boards? That would in part judge the classroom as being not ready for teaching and learning? Mr. Peters appears to be holding schools and teachers accountable for obtaining his particular ideal of a perfect classroom setup as opposed to respecting teachers' and schools' professional judgment and discretion on such matters.
Issue 6: Is the CPS trying to institutionalize work for no pay?
Most of the highly-rated teachers according to the new Lake Calumet/Far South Side Network checklist might also be the ones who continue to work the most as volunteers within CPS. Cognizant of the all of the circumstances given above, some teachers enter the schools early, prior to the three Teacher Institute Days, prior to being paid as employees in the CPS system, in order to get a head-start on their classrooms. Once school starts for the students, many teachers and other employees regularly volunteer their time by arriving early or staying late, in what amounts to MANY EXTENDED HOURS WITHOUT PAY throughout the month of September, in order to finish setting things up. Those who "only" work the hours for which they are paid will be judged harshly by this checklist.
Issue 7: Is there a hidden agenda(s) at work?
With a new administration and a new mayor (in charge of the schools via mayoral-control), people out in the schools might be wondering who's being targeted for what, and by and for whom. Due to the rearrangement of the city's schools into different Networks, schools will now be judged differently within new peer groupings, being more or less successful or failing as before. For example, one school that might have been ranked 8th out of 10 schools in an old area boundary might now be ranked last of 15 schools in the new boundary. In other words, people might possibly be asking: Where are the powers-that-be trying to put new charter schools next? Another line of thinking pertains to the possible targeting of teachers to be fired. This kind of thinking demonstrates the level of demoralization in the neighborhood schools in Chicago, into which the children of the city of Chicago enter the new school year. And now there is a new evaluation tool being used against the schools in the new Lake Calumet/Far South Side Network, an area much under the demographic and economic pressures of gentrification…
Full Disclosure
I am a teacher who was thrust into a mess of a room into which I was required to try to move over the course of those three Teacher Institute Days, also having been abruptly and dramatically changed from one grade level position to another. Solely based on the information of these circumstances, dear reader, you can probably guess what rating I received. If you guessed that I got a big, fat RED rating, you are probably correct. (I haven't officially received a rating or any information about it yet.) But if YOU, from afar, could determine my rating, having been given the circumstances alone, and I would have/could have honestly sent them the checklist myself with an honest RED rating, why were teams of people employed (read: paid) for the task? I may be biased, but I think the tax-paying/taxes-being-raised public in Chicago needs to ask if their money is being well spent by the new administration of CPS and the mayor of Chicago. (I must note here that the observer sent to my room appeared sympathetic of my circumstances and appeared to attempt to make some kind of note about them on the side of the checklist.) Finally, let us not forget CPS's traditional 20th day, from that CPS annual Checklist for Chaos, when many of the same schools and classrooms referenced above will likely be forced to be changed around yet again when schools gain and lose positions due to their 20th Day enrollment counts. Are the inspector-observers from the Lake Calumet/Far South Side already scheduled to go back out into these schools on the 21st day? If so, if I find myself in the same room and position, I am realistically hoping to achieve a YELLOW. Yes, classrooms should be ready when students enter; I do not know of any teacher who would not wave a magic wand to accomplish this. But with such wands not readily available for teachers and staff out in the schools, and with all of the above being the reality out in the schools, the question must be asked: is it appropriate, valid, or reliable that teams of clipboard-wielding observers armed with the "RA T sheet" enter schools for purposes of evaluation on day one?