Brizard admits 'mistakes' on waiver fights to establish 'Longer School Day Pioneer Program' ... Then adds some more contract violations
John Kugler - September 20, 2011
In an email regarding the recent waiver votes to extend the school day in elementary schools — sent Friday, September 16, after schools closed and the news cycle was ending (4:31:43 PM September 16, 2001) to Chicago Public Schools staff through and internal email system called First Class — CEO Jean-Claude Brizard admitted that "There have been some honest mistakes in the process to date."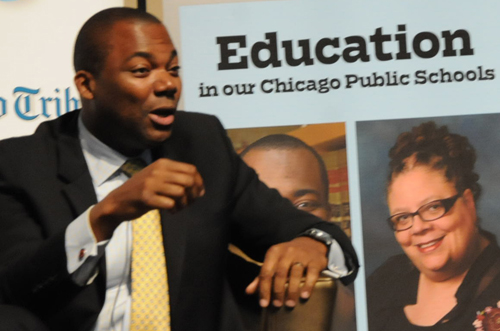 At the time of the Chicago Tribune Forum on September 13 (above), Chicago Schools CEO Jean-Claude Brizard was still working with his staff to continue violations of the Chicago Teachers Union contract. Substance photo by George N. Schmidt.In his email, Brizard confirms that the local school Chicago Teachers Union delegate "controls the process." That is exactly what the Union has been saying now for two weeks since this push to fall lock-step with Chicago Mayor Rahm Emanuel's political push to unilaterally extend the school day outside the Collective Bargaining Agreement with Union Busting tactics of coercion, bribery and scare tactics.
Brizard's campaign against the union contract began on September 2, the Friday before students returned to regular track schools. That day, a CPS press release that came out around noon announced that three public elementary schools (STEM; Melody; and Skinner North) had voted to "waive" the contract and extend their school days by 90 minutes. CPS officials also admitted that they were going to pay teachers in each of the schools "bonus" (equal to two percent of annual pay) and that each school could get $150,000. Less than three months after claiming that CPS was broke, Brizard had found the money to pay huge amounts to schools that broke with the union leadership. The discrepancy still hasn't been explained.
Early votes where taken in secret without the Union's knowledge, in some cases at schools that didn't have union delegates, with voting by teachers who were not union members. After two weeks, Brizard had a total of nine elementary schools in what CPS was now calling the "Pioneers." Now Brizard is talking as if he somehow believes that he has a right to grant permission for Delegates to contact the Union. With his statement "Your delegate can contact the CTU at any time to verify eligibility."
In fact the Union has always had the right to work together in concerted activity to protect our bargaining rights under Illinois Labor law. That's the topic of the Unfair Labor Practice complaint filed by the CTU a few days after the rush to waive the contract began (and reported both here at www.substancenews.net and in the print edition of Substance for September 2011).
Second it has always been past practice for school delegates to contact the Union for guidance, paperwork, and a voter eligibility list before any votes are taken at the school. Especially at the beginning of school, with a great deal of turnover, it's difficult to know who is a union member (and therefore eligible to vote). In many cases, Union representatives went out to schools to help facilitate the waiver vote process so that Union members' rights were protected and that every Union member had a right to vote understanding fully what contract provision they were waiving including the consequences of such votes. During the second full week of school, top CPS officials and some principals were trying to keep union organizers and reps out of the schools, even under threat of arrest. (This hasn't happened in decades, although it was once common before CTU established its contract and enforcement rights).
What is the most shocking part of the Brizard communication is the admission that the Board is in violation of the waiver process.
The Collective Bargaining Agreement (CBA) is unambiguous in that the waiver process is a local procedure to be worked out between the principal and the School Delegate. Brizard continues the autocratic and unilateral push to force schools to take up the longer day mayoral rhetoric with his admission that "We've lengthened the ballot for two schools already to help allay your concerns and are perfectly happy to spell out as much details as teachers need to be comfortable in their support." The fact that the central office has been providing schools with the "ballot" for voting has been known to the union since the first three schools voted, but is now officially admitted in Brizard's September 16 memo.
Read the full email below.
From: "Jean Claude Brizard". Internet 9/16/2011 4:31:43 PM
Dear Teachers and School Staff:
As you know, providing every Chicago Public School student with a longer school day that includes 90 minutes of additional instructional time is a top priority that I share with Mayor Emanuel. Adding 90 minutes of instructional time to students' days will allow for more reading, math, science and enrichment programs like art, music and physical education, all of which will help boost student achievement at their schools. It will also provide you with more time to plan and collaborate as a group.
Many teachers and principals are fully on board. They have told me of the need for additional time with their students in the classroom and have indicated their willingness to do it this year. So far, nine schools have opted into the Longer School Day Pioneer Program and roughly 2,500 students will benefit from the longer school day this year.
That is great news – and I hear every day from CPS parents who are delighted when their school opts for longer school days. Unfortunately, a great deal of confusion and misinformation surround the program, and it's time to clear the air of rumors. There are two types of falsehoods swirling about the Pioneer Program: who is allowed to vote on waivers and what exactly are teachers waiving when they vote yes.
Regarding who is eligible to vote on a waiver, that's simple: anyone who is part of the CTU bargaining unit. That means teachers, school clerks, school assistants, teachers' assistants, instructor assistants and other teaching assistants with a variety of titles. In each vote, your Union delegate controls the process. Your delegate can contact the CTU at any time to verify eligibility. Your union delegate also certifies the vote upon completion. There have been some honest mistakes in the process to date – but all of them have happened under the watchful eyes of your delegates.
There are rumors on both sides about threats and intimidation. I urge anyone who feels that discussions about the merits of the longer day have crossed the line into hostility — or if you are contacted in an inappropriate time or place — to please report the incident immediately to your principal, the CTU and CPS.
The other major area of misinformation concerns the waiver itself. Teachers have expressed concern about what they are waiving when they vote yes for a longer day. Here are the facts: The waiver adopts a new school day in which teachers (not PSRPs) are scheduled to be on-site for 40 additional minutes, but have 45 minutes of lunch and 70 minutes of preparation time per day. The standard longer school day schedule that most schools are using for teachers is 7:50 a.m. to 3:30 p.m. The standard longer school day schedule for students is 8:00 a.m. to 3:30 p.m. and enables students to have a 45-minute lunch/recess period and 390 minutes of instruction.
The waiver provides teachers with a lump sum payment for that time instead of other additional compensation. That's all it does. The waiver vote does NOT mean that teachers will not be eligible for afterschool pay if they work in afterschool programs that begin after the 3:30 p.m. dismissal time. It does NOT waive compensation (such as NBCT stipends or other stipends) other than for the additional 40 minutes of on-site time. It does NOT affect the pay or work schedules of PSRPs and it does NOT affect your membership in the union, your membership in the CTU collective bargaining unit or your collective bargaining rights. But you don't have to take our word on this.
CPS is willing to spell out, in as much detail as teachers need, exactly which rights will NOT be waived in each vote. We've lengthened the ballot for two schools already to help allay your concerns and are perfectly happy to spell out as much details as teachers need to be comfortable in their support.
Adding 90 minutes of instructional time to students' days is important. But it's also important that we discuss this issue honestly and respectfully.
Sincerely,
Jean-Claude Brizard
Chief Executive Officer