CPS administrators directing 'Longer School Day Pioneer Project' while claiming it's all just a spontaneous movement from the grass roots
George N. Schmidt - September 13, 2011
While Chicago Public Schools officials and CPS spokesman Becky Carroll continue to tell the city's corporate media that there is some kind of grass roots groundswell behind the waiver votes for a longer school day at a handful of Chicago elementary schools, behind the scenes all levels of the central CPS administration are pushing on principals to force a vote on their teachers and expand the number of schools signing on to the "longer school day" thrust. The push for the expansion of the tiny number of schools that have voted in the changes comes from both the "Chief Education Officer", Noemi Donoso, and the "Chiefs of Schools" (this year's version of the sub-district superintendents, whose subdistricts are now called "Networks").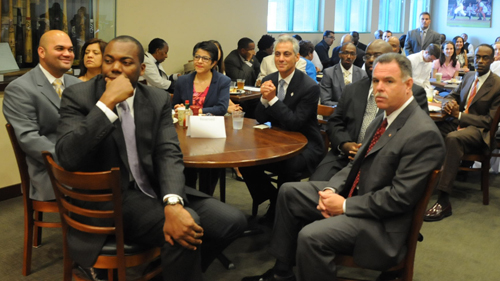 By September 14, 2011, Noemi Donoso was pushing hard for the longer school day. Chicago Public Schools "Chief Education Officer" Noemi Donoso has been in Chicago less than four months, but on August 25, 2011, she was seated at the mayor's table during the preacher breakfast which CPS sponsored to encourage some of Chicago's religious leaders to sign the petition demanding a longer school day this year. Above, behind Jean-Claude Brizard (third from left) is Donoso, along with Mayor Rahm Emanuel and Police Supt. Garry McCarthy. Most of Donoso's public schools experience prior to her arrival in Chicago was in charter schools. Substance photo by George N. Schmidt.One top CPS official provided Substance with a September 13, 2011 email memo from Donoso to principals urging them to doublecheck with their superiors before they went on to have their schools join the so-called "Pioneers." At the same time Donoso (and others, including the Chiefs of Schools) are pressuring principals to get their teachers to become "pioneers," CPS spokesman Becky Carroll continues to tell reporters that the basis for the waivers is a groundswell from the grass roots. Similar grass roots activity has been subsidized since the 2011 - 2012 school year began, including the subsidy to a number of religious leaders who were asked to sign a petition supporting the plan and the launching of at least two "spontaneous" protests (at the Board of Education on August 24 and at the Chicago City Council on September 8) in support of Mayor Rahm Emanuel's demand that Chicago schools go on the longer school day this school year.
CPS officials are also circulating a three-page memo outlining the administration's talking points on behalf of the elementary school waiver. Below are copies of both the email from Donoso and the three-page talking points.
DONOSO'S LATEST EMAIL PUSH ON PRINCIPALS APPEARS BELOW HERE:
From: Noemi Donoso . Sent: Tuesday, September 13, 2011 11:05 AM
Subject: Longer School Day Importance: High
Dear Principals:
We have a great deal of interest from principals in the Longer School Day Pioneer Project. For those who are interested, it is important that you follow the appropriate steps to ensure that you can participate in the process. To ensure that you are following the correct process:
(1) You need to ensure that you develop a proposed schedule that has:
a. A minimum 390 minutes of instruction for students
b. A minimum 25-minute lunch for students
c. A minimum 20-minute recess period for students
d. A minimum of one 60-minute preparation per day (one day per week for principal directed collaboration)
(2) You must submit that schedule for approval by the Chief Education Office through your Chief of Schools to ensure that it meets all minimum requirements and to ensure that all operational issues are addressed before conducting any votes or polls.
Attached a Fact Sheet regarding the Longer School Day Pioneer Project for your information. Please feel free to distribute it to staff, Local School Council members , parents and friends of your school.
Sincerely,
Noemi Donoso
Chief Education Officer
COMPLETE TEXT OF CPS TALKING POINTS BELOW HERE:
Q AND A ON LONGER SCHOOL DAY PIONEER PROJECT
The CPS Chief Executive Officer and Chief Education Officer have authorized the publication of this Fact Sheet in order to ensure that CPS employees understand the Longer School Day Pioneer Project and the waivers that have been proposed thus far. Its purpose is to clarify questions and to correct misinformation that is being put in the public domain.
I. ABOUT THE LONGER SCHOOL DAY PIONEER PROJECT . . .
A. WHAT IS THE LONGER SCHOOL DAY PIONEER PROJECT?
This project was developed in part as a response to principals' interest in bringing a longer day to their schools this year because they felt there was strong support among their staff to do so. CEO Brizard felt strongly that teachers should receive some level of additional compensation and not waive all rights to additional compensation and that schools should receive financial support to help with the transition to a longer day.
Under the program, each teacher at a school that extends its day by 90 minutes of additional instructional time beyond what the state requires will receive a stipend equal to 2% of the average teacher salary. For schools that start the longer day in September, teachers will receive $1,250 and those teachers who start in January will receive $800. Each school that starts in September will receive additional funds of $150,000 and those that start in January will receive $75,000. Schools are expected to invest in re- sources that will help them adjust to a longer day, which may include the hiring of teaching assistants or the purchase of resources such as technology, intervention materials or other locally determined options.
B. HOW CAN THE SYSTEM AFFORD THIS IF IT CANNOT PAY THE 4% CONTRACTUAL RAISE THAT THE CPS BOARD RESCINDED?
While we hope this project will be embraced by every school, we expect that only a small subset of schools will opt for it. The 4% raise would have cost CPS $100 million for all bargaining units, but the costs associated with investing 90 minutes more of instructional time in the school day are expected to be significantly less. CEO Brizard said he is willing to make difficult cuts in other areas to fund this support to schools and teachers because students badly need more time in the classroom.
C. WHAT ARE THE TERMS OF THE WAIVER THAT ELEMENTARY PRINCIPALS ARE PROPOSING?
Elementary schools are being asked to adopt a schedule in which students receive 390 minutes of in- struction and 45 minutes of lunch and recess. Teachers will receive a 60 minute preparation period each day, one of which will be designated as a teacher collaboration period. Those five preps replace the cur- rent three or four 40 minute preps during the day and the four early morning preps. Teachers also will receive a lump sum payment equal to 2% of the average teacher salary in lieu of after-school or hourly pay for the additional 40 minutes that they work on-site. A default schedule is being proposed at most schools in which teachers report at 7:50 a.m. and end on-site time at 3:30 p.m. Students will report at 8:00 a.m. and end their day at 3:30 p.m. as well. In that model teachers have a 45 minute duty-free lunch. Principals can be flexible with the default model.
It is important that employees understand what is not being waived:
1) Are teachers waiving NBCT stipends under these waivers? No. 2) Are PSRP titles and pay being eliminated? No. 3) Are teachers still eligible for afterschool pay after 3:30 p.m.? Yes. 4) Are teachers waiving other stipends? No.
5) Are librarians waiving all preparation periods? No. Librarians will receive the same preparations as all teachers.
6) Are PSRPs days being lengthened? No.
D. WHAT ARE THE TERMS OF THE WAIVER THAT HIGH SCHOOL PRINCIPALS ARE PROPOSING?
To date, none have been proposed. We do not know what a waiver in a high school will look like yet. E. HOW WILL THE ADDITIONAL TIME BE USED?
In elementary schools, 90 minutes of instructional time beyond what is required by the state will be added to the student's day and used to focus more time on core subjects such as math and literacy as well as enrichment programs like art and music. The additional time must also be used to lengthen lunch and recess time for students and to ensure time for teacher collaboration. The CEO and the Chief Education Officer believe that the exact composition of the day should not be a "one size fits all" solution. Rather, they believe that it should be customized at the local level by principals in collaboration with their faculty and parents.
CPS has assembled a longer school day advisory committee to make some recommendations to school communities on how the additional time could be used both this year and next. Additionally, CPS is hold- ing focus groups and webinars in September with teachers and principals to get their input to help schools design the longer day.
F. ARE ALL SCHOOLS REQUIRED TO ADOPT A LONGER SCHOOL DAY THIS YEAR?
No. This is a matter left to the principal's discretion and may depend on whether the school is able im- plement the longer school day this year.
II. ABOUT THE WAIVER PROCESS AND THE SPECIFIC TERMS OF THE WAIVER . . .
A. WHAT IS A WAIVER?
A waiver is the replacement of a provision of a collective bargaining agreement with another provision that is proposed by the school principal and voted upon by staff who are members of the teachers' bar- gaining unit.
B. WHERE DOES THE RIGHT TO WAIVE A PROVISION OF A UNION CONTRACT COME FROM?
The Illinois School Code provides that "the principal with the concurrence of at least . . . 51% of an atten- dance centers' personnel in the teachers' bargaining unit . . . shall have the right to declare waived and superseded a provision of the teacher's collective bargaining agreement as it applies in or at the atten- dance center to the bargaining unit's employees." See, 105 ILCS 5/34-8.1a. Appendix C of the CTU col- lective bargaining agreement attempts to implement this section of the school code. The school code overrides any provision of Appendix C that is inconsistent with school code.
C. HOW DOES THE WAIVER PROCESS WORK?
1. How is a waiver proposed?
Waivers are initiated by school principals. The school principal meets with the school delegate and they work out the procedures for the vote at the local school. The school delegate and the principal can re- solve any differences over the language of the waiver or the ballot.
2. Who gets to vote?
All employees in the teachers' bargaining unit, even those who have not joined the union as full union members or who are fair share fee payers eligible to vote under the Illinois School Code.
3. How is the notice of the waiver vote given to staff?
Neither the Illinois School Code nor Appendix C specifies. However, CPS has recommended that princip- als place a notice of the proposed longer school day waiver and ballots in staff members' mailboxes or hand them directly to staff members.
4. How is the vote conducted?
Each staff member in the bargaining unit must be permitted a secret ballot. CPS recommends that the principal call a staff meeting to present the proposed waiver and answer any questions the staff may have about it before voting begins. The principal and the school delegate should arrange for a ballot box and a sign-in sheet for voters to register. As they sign in, each staff member should receive a ballot and should be directed to a place to vote in private. The staff member should fold the completed ballot and place it in a ballot box.
5. How are the ballots counted? Specific procedures are to be worked out between the principal and the delegate. CPS recommends that
the principal and delegate count the ballots together with another witness from the staff. 6. How are the results certified?
Both the principal and the delegate should sign a Waiver Report Sheet, which certifies the number of bal- lots and the number of votes in favor and against the proposed waiver. The Waiver Report sheet must be mailed to CTU by the School Delegate. The Principal retains the original for the Office of Employee Rela- tions and the School files.
D. IS CPS PERMITTING INELIGIBLE EMPLOYEES TO VOTE ON PROPOSED LONGER SCHOOL DAY WAIVERS?
No. CPS is permitting all CTU bargaining unit employees to vote on the proposed waiver. The school code is clear on this point. CTU apparently has a disagreement with CPS about whether new employees or fair share fee payers can vote. CTU representatives have asked to exclude them from voting. But that would be a violation of School Code. Those employees have a statutory right to participate in the vote and CPS will not permit them to be excluded.
E. IS CPS "BRIBING" EMPLOYEES TO VOTE IN FAVOR OF WAIVERS?
Absolutely not. Some people are claiming that providing a lump sum payment to teachers is bribery. We are simply saying that we don't believe it is right to ask teachers to waive their right to all additional com- pensation. Some people have also claimed that CPS has offered iPADs and other things of value to em- ployees. That is not accurate. CPS has offered local schools additional resources of $150,000 to extend the school day for a year and $75,000 to extend the day for half a year. We did this because we recog- nize that adding 90 minutes of instructional time to the day may require additional resources. How a school chooses to spend those additional funds is up to the school, but the expectation is that the money will be spent to benefit the school community in implementing the longer day by hiring teaching assis- tants, purchasing technology and curriculum materials, etc.
III. HAVE CPS PRINCIPALS ASKED FOR A LONGER SCHOOL DAY BEFORE THROUGH THE WAIVER PROCESS?
Yes. Elementary schools have added time to their school day without additional compensation via the waiver vote. This Longer School Day Pioneer Project Waiver is no different. The school code and the contract permit local schools to propose and adopt these changes.