RAHM'S ROVINGS to begin at Substance September 9 since Rahm has cut Substance off from regular media calendars... Was it something we said, or something we photographed? RAHM's spin team cuts off Substance from Mayor's Daily Calendar
George N. Schmidt - September 08, 2011
Almost immediately after Mayor Rahm Emanuel's inauguration on May 16, 2011, Substance requested and began receiving the daily media availability calendar of the mayor. It is entitled "The Public Schedule for Mayor Rahm Emanuel" and is issued to the press daily. The thing came out around midnight every night. Even on days when the mayor wasn't doing anything public, it came out, as on August 4, 2011: THE PUBLIC SCHEDULE FOR MAYOR RAHM EMANUEL AUGUST 5, 2011. There are no public events scheduled at this time. Following our coverage of the latest union-busting publicity stunts by Emanuel, his huge media team, and those he has been purchasing to back his program for a longer school day, the "PUBLIC SCHEDULE" stopped arriving at the Substance mailbox. Over the more than 100 days since Emanuel became mayor, Substance covered more than 20 of his media events, ranging from his almost daily attacks on the Chicago Teachers Union to some of the more carefully orchestrated events, such as the preacher breakfast at Sox Park (which CPS and City Hall still haven't said who paid for it).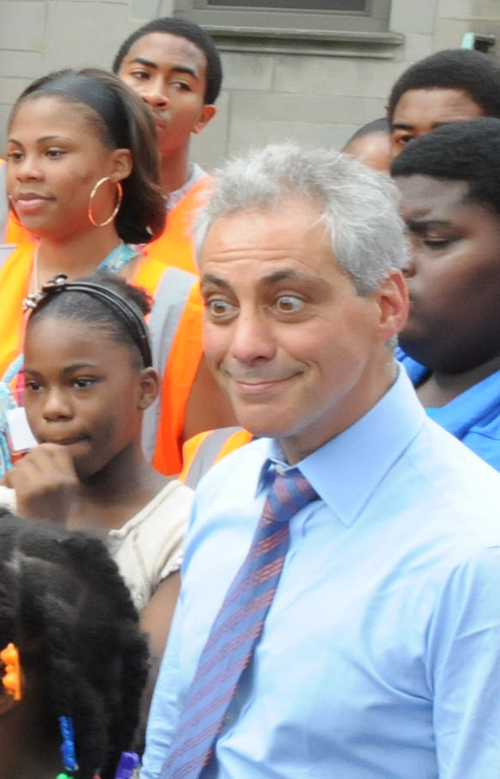 Chicago Mayor Rahm Emanuel at an August publicity stunt at St. Sabina's school. Substance photo by George N. Schmidt.Then, on September 6, 2011, Substance was cut off. Must have been an accident.
So... Every day that we don't receive "THE PUBLIC SCHEDULE FOR MAYOR RAHM EMANUEL..." from Chicago's City Hall press office, we're going to begin providing our readers with an imaginative one, based on our observations and coverage of Rahm's rovings. The suggestions from Substance readers should be sent to Csubstance@aol.com with the (all caps) words RAHM'S ROVINGS in the Subject line. RAHM'S ROVINGS will begin tomorrow (September 9, 2011) and continue until the mayor resumes providing Substance with the "PUBLIC SCHEDULE".
Also, for fans of Rahm's greatest hits, we're going to provide the hotlink and URL for some of our past reviews and coverages. Today, we refer our readers to just one of the many stories that have been reported noting the lack of credibility in Chicago's mayor's educational budget pronouncements. The URL is http://www.substancenews.net/articles.php?page=2505&section=Article