Medley of ten songs about working class and unions compiled by The Nation
George N. Schmidt - September 06, 2011
Thanks to The Nation magazine and the magic of You Tube, there is now a chance to get a complete medley of some of the best songs about working people and unions on line. Over the Labor Day weekend, The Nation put up a group of ten songs, and as they say in the introduction, it's a shame to leave out "Which Side Are You On?" but they did in their choicing. Anyway, if you go to the link, you can hear some classics (like the Pete Seeger version of Solidarity Forever which many in Chicago have been learning and playing for the past year or more) and others that have been harder to get (like the original Tennesse Ernie Ford "Sixteen Tons"). The URL for those who can't get a hotlink is: http://www.thenation.com/blog/163148/top-ten-labor-day-songs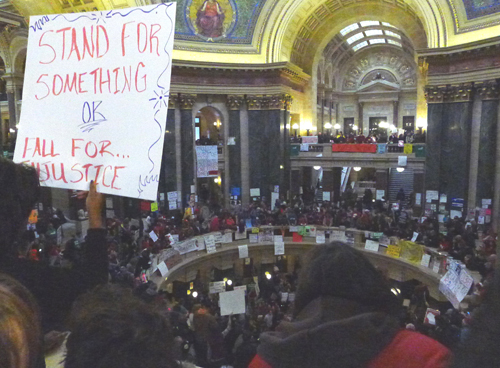 Madison Wisconsin, February 21, 2011. Substance photo by Garth Liebhaber.If someone would go out and get the lyrics to each of the ten songs, may they would eventually appear here. Without that, here is "Solidarity Forever" for Labor Day and beyond.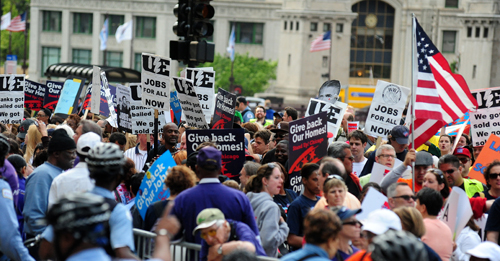 Chicago Illinois June 14, 2011. Substance photo by Graham Hill.In his introduction to the medley, Nation Associate Editor for Projects Peter Rothberg writes:" In honor of Labor Day 2011, here's a stab at the impossible task of naming the best songs ever written about working people. I know it's a travesty to not include 'Which Side Are You On', but I just couldn't bear to knock out any of the eventual finalists. I also feel terrible about not including anything by The Clash or John Mellencamp and thought Johnny Paycheck's classic 'Take This Job and Shove It' deserved mention. Please use the comments field below to let me know your favorite labor songs and enjoy your Monday!"
Every one of the songs selected by Peter Rothberg is worth listening to, so at some point this article has to list each of the ten. But the one that moved me the most, because I had not heard it in more than a quarter century, was sung by Phil Ochs in Sweden a long time ago, "The Ballad of Joe Hill." Before his untimely death, Phil Ochs sang for all of us, and I can still remember him singing, along with Country Joe and the Fish and Peter Paul and Mary, when we marched, ran, shouted, and sang (and got tear gassed and some beaten) in August 1968, when that year crashed in front of the world ("The Whole World is Watching") during the Democratic Convention in Chicago in August 1968.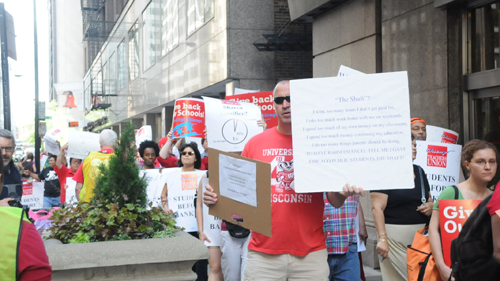 Chicago Teachers Union leads more than 1,000 school workers outside the Chicago Board of Education meeting on June 22, 2011. Substance photo by George N. Schmidt.In the years that followed the watershed event, I ran across thousands of people who said they had been on Chicago's streets during those nasty (CS gas causes pain) and bloody (one friend of mine had his legs broken with billy clubs) days.
But some of those times, as in Lincoln Park the first day of the protests, it was easy to count those of us who were there — because there were so few. And Phil Ochs was one of those few. When he sang his song "I Ain't A Marchin' Anymore" against American imperialism, it seemed like everyone knew the words. Or maybe it was just because those around me did after we were let out of jail for talking to soldiers who had been camped in Chicago to suppress the demonstrations against the Vietnam War.
Here are some of the songs The Nation put up this year:
SOLIDARITY FOREVER
SOLIDARITY FOREVER! By Ralph H. Chaplin (Tune: "John Brown's Body", "Battle Hymn of the Republic") Below are the four 'main' verses of the union song "Solidarity Forever". Two other verses from the "original" have been deleted. These are the ones usually sung. The original was first published in the IWW Little Red Song book.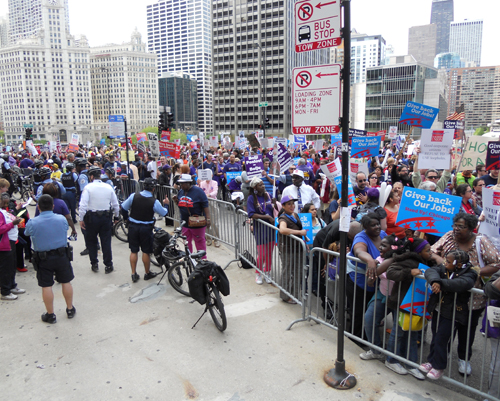 Stand up Chicago, a coalition of unions and community groups, chose the Regency Hyatt Chicago hotel for the site of its June 14, 2011 protest. The Hyatt, owned by the billionaire Pritzker family (one of whose members, Penny Pritzker, was put on the Chicago Board of Education by millionaire Rahm Emanuel) was chosen for the protest because of its unfair labor practices. Substance photo by Graham Hill.When the Union's inspiration through the workers' blood shall run, There can be no power greater anywhere beneath the sun. Yet what force on earth is weaker than the feeble strength of one? But the Union makes us strong.
CHORUS Solidarity forever! Solidarity forever! Solidarity forever! But the Union makes us strong.
It is we who plowed the prairies; built the cities wherethey trade. Dug the mines and built the workshops; endless miles of railroad laid. Now we stand, outcast and starving, 'mid the wonders we have made; But the Union makes us strong. (Chorus)
They have taken untold millions that they never toiled to earn. But without our brain and muscle not a single wheel can turn. We can break their haughty power; gain our freedom when we learn That the Union makes us strong. (Chorus)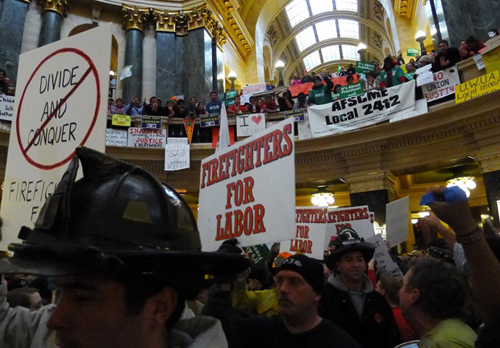 The Rotunda of the state capitol building in Madison Wisconsin on February 23, 2011. Substance photo by Garth Liebhaber.In our hands is placed a power greater than their hoarded gold; Greater than the might of armies, magnified a thousandfold. We can bring to birth the new world from the ashes of the old, For the Union makes us strong. (Chorus)
There is too much to do this morning to finish this contribution with the lyrics to all the songs, but they are available, along with others not in this collection, and it's good people are singing them again, and remembering them.