SUBSCRIPT: Should the rat begin a permanent stay outside Rahm Emanuel's City Hall offices?
George N. Schmidt - September 04, 2011
Shouldn't a union-busting, teacher-bashing, privatizing enemy of working people get a dose of the rat for all his scabby ways? Is it true that in order to work for Rahm Emanule or Barack Obama you have to pass a test on "Atlas Shrugged"? By the opening day of the regular school year on September 6, 2011, it was clear to all but the most obtuse observers that Chicago Mayor Rahm Emanuel was modeling his approach to public employees unions on the work of Wisconsin Governor Scott Walker. The difference seems to be that Rahm wants to union bust through divide-and-conquer and a media blitz that relies on lies, half-truths, and an ongoing barrage of publicity stunts, whereas Walker, more pure in his work, simply attacks the unions. But by Labor Day 2011, both were taking the same track. Rahm was attacking public worker unions, including the Chicago Teachers Union, Service Employees International Union, and the Fraternal Order of Police, to name those who have gotten the worst of Rahm's teacher bashing and union busting agenda so far.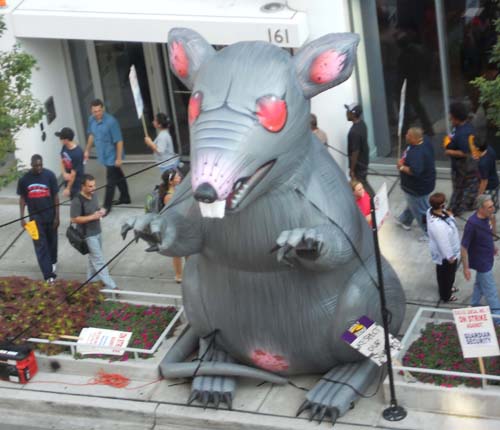 By September1, 2011, the rat was helping pickets outside the building at 161 W. Kinzie, where Guardian Security had fired union security guards. The pickets from SEIU Local 1 were aided by supporters, including members of the Chicago Teachers Union. Substance photo by George N. Schmidt.Which raises the question. Should the Rat be given a permanent place on the LaSalle St. side of the City Hall, County building, five floors down from the window of Rahm's famous fifth floor office. Already some Chicago teachers are taking up a collection to buy a special rat (color to be determined) and possibly hire a crew to keep the rat fed and happy during regular working hours.