IFT praises SB7 even after tumult over union busting bill breaks out in Chicago
Jim Vail - August 30, 2011
Illinois Federation of Teachers (IFT) President Dan Montgomery agrees with the business community and politicians that the union busting Senate Bill 7 which was signed into law by Illinois Governor Pat Quinn in June 2011 ago is a good thing.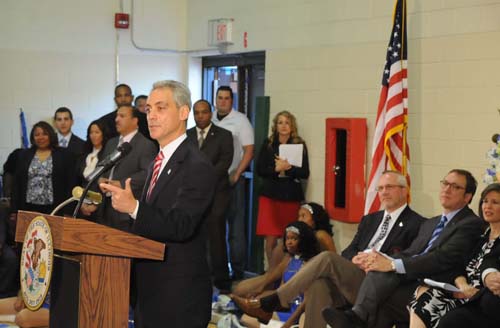 Chicago Mayor Rahm Emanuel praising the signing of Senate Bill 7 (SB&) at the June 13, 2011 signing ceremony at Livingston school in Maywood Illinois (chosen because the school was the alma mater of State Senator Kimberly Lightford). Behind Emanuel are (right to left) millionaire heiress Robin Steans (head of the corporate school reform group called "Advance Illinois") and Illinois Federation of Teachers President Dan Montgomery. Chicago Teachers Union President Karen Lewis was the only major official who did not attend the June 13 event. Substance photo by George N. Schmidt.In fact, Montgomery praised the new law that unfairly signaled out Chicago to prevent a strike by forcing the teachers to acquire an unprecedented 75% strike vote — and pretty much eliminated hard-fought seniority and tenure protections by focusing on evaluations when layoffs are imminent.
Montgomery called the new law a "national model for education reform because all parties worked together and everyone – including classroom practitioners – had a voice in the outcome," according to the July IFT newsletter.
Really?
Chicago Teachers Union President Karen Lewis, who negotiated the deal behind closed doors, learned the hard way that many of her members were opposed to legislation she signed onto that tried to eliminate collective bargaining – something that had provoked the massive protests in Wisconsin.
Lewis faced a revolt within her own ranks when the executive board (of which this reporter is a member, as an elementary vice president) brought forth a resolution to oppose SB7 and called for the union to lobby against it.
Teacher caucuses such as the UPC, PACT and Ted Dallas (who formerly headed CSDU), which all ran in last year's union election, handed out flyers denouncing what they termed a sell-out deal at the delegates meeting last May.
However, true to the power of democracy, the resolution to denounce SB7 passed unanimously.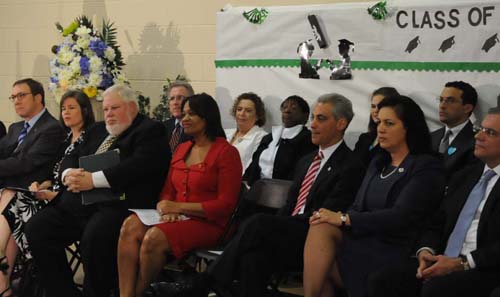 Among those at the signing of SB7 were (left to right, front row) Illinois Federation of Teachers President Dan Montgomery, Robin Steans (Advance Illinois), Ken Swanson (IEA), State Sen. Kimberly Lightford, Chicago Mayor Rahm Emanuel, State Rep. Linda Chapa La Via, and Chicago's Gery Chico. Seated behind Sen. Lightford is State Rep. Monique Davis (D., Chicago), the only person in the Illinois General Assembly who voted against the proposed legislation, because, she said, it was a union busting legislation aimed against the Chicago Teachers Union. Seated behind Linda Chapa La Via is Jonah Edelman of Stand for Children, whose zeal to get his name into the narrative about SB7 led to an embarrassing tape of Edelman bragging at the Aspen Institute about how Stand for Children used millions of corporate dollars to help break the Chicago Teachers Union. Substance photo by George N. Schmidt.The CTU later lobbied legislators to support a trailer bill that quickly passed that was able to fix some parts of the new law by removing the restriction on the Illinois Labor Relations Board to hear grievances, as well as mandate 75 percent of all eligible teachers vote for a strike (whereas the original law would count all the teachers, including those not eligible to vote).
At the signing ceremony were Advance Illinois, the Business Roundtable, Stand for Children, Chicago mayor Rahm Emanuel, Illinois governor Patrick Quinn, representatives of the Illinois Education Association, representatives of the Obama administration's U.S. Department of Education, and IFT president Montgomery. All were praising a deal crafted by the business community to slam the union and teachers' rights, in the name of the children.
Lewis was not present at the signing ceremony.
With Robin Steans of the union-busting corporate reform group Advance Illinois smiling behind him, IFT president Dan Montgomery praised SB7 at the June 13 event. Substance photo by George N. Schmidt.Even billionaire front group Stand for Children's Josh Edelman bragged in a video (in which he had to later backtrack after it became a bit embarrassing), how he was able pull a fast one on the union by lining up the politicians with cash to support the bill.
Still, the IFT proclaims that SB7 contains "the most significant, bold and comprehensive reforms in education in more than 40 years."
However, there is not one word in the legislation about lowering class size, or increasing funding for early childhood programs, or preventing the destruction of art, music, sports and other programs being cut due to onerous standardized testing, pointed out Core activist Dave Vance, who added that a longer school day, which the bill allows for in Chicago, is not the answer to these pressing problems.
Earlier in the year the unions were faced with a precursor draconian bill called "Performance Counts 2010" (drafted by Stand for Children and Advance Illinois) that wanted to eliminate the right to strike outright, as well as collective bargaining rights.
The IFT and CTU encouraged its members to call their representatives to voice their opposition to the bill.
A so-called compromise bill called "Accountability for All" was then promoted by the CTU and IFT. However, certain provisions, such as seniority protections, were also dropped in the union's bill.
Eventually, Senate Bill 7 unanimously passed that included most of what the mayor and business community wanted – a longer school day and a law making it much more difficult to strike.
The IFT, comprised of teachers throughout Illinois, is mostly a conservative teachers union organization that has taken its cues from sell-out queen Randi Weingarten, the president of the American Federation of Teachers (AFT).
But the CTU plays an important role in the IFT. Lewis draws a second salary as the vice president of the IFT, and the CTU funds roughly 40 percent of the IFT budget.
In the IFT July newsletter, Montgomery addressed the critics of SB7 by stating that these "profound changes to the status quo of the last 40 years" are necessary because with all the problems today with the economy and education, "parents seem to have lost faith in public education and those who teach and care for their children."
He then defends public education, noting that corporate funded groups have pushed for ineffective education reforms.
However, he fails to mention that the corporate agenda is to destroy public education and privatize it, and that many people support their public schools despite the negative corporate publicity.
"Through the collaborative process undertaken to draft SB7, the IFT and our allies were able to find solutions to difficult issues while protecting teachers' elemental rights," he wrote.
Montgomery wrote that SB7 will include "comprehensive improvements to teaching and learning," without mentioning specifically what those improvements are.
President Montgomery refused to return a call from Substancenews for comment. It is deals like this, in which the union believes it can be a part of the "process," that is effectively withering away the unions rights to protects its members as the corporate-political onslaught on the working and middle class in this country continues at full speed.
###