SOS March on Washington gives thousands a chance to shout the truth
Sharon Schmidt - August 03, 2011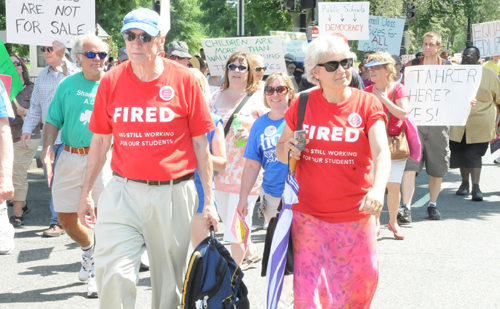 'Fired' tee shirts told a dramatic story of the teacher bashing policies of the Obama administration. George and Annie Mclaughlin taught at Central Falls High School in Central Falls, Rhode Island, until they were fired along with every teacher in the school in February 2010. President Obama praised the firing, although he didn't know any of the teachers or the students, as part of Obama's Secretary of Education's "turnaround" policy. Some of the teachers were eventually brought back after a natioinal outcry (the Mclaughins found positions in another district), but the damage by Obama and Duncan had been done, with Central Falls High School gaining a national reputation as a "failing school" according to officials in the U.S. government. Although there was no national outcry because of the fired teachers of Chicago, there have been continual community protests throughout the city for the thousands of Chicago public school teachers (most of them black) who lost their jobs due to the more than 50 schools closed or consolidated or subjected to turnaround under the leadership of Arne Duncan. Substance photo by Sharon Schmidt.After years of suffering test-based education policies that include school closings, job losses, student pressure and grade retention over test scores and loss of valuable education opportunities — teachers, parents, and students from throughout the nation came to Washington D.C. to protest on July 30, 2011.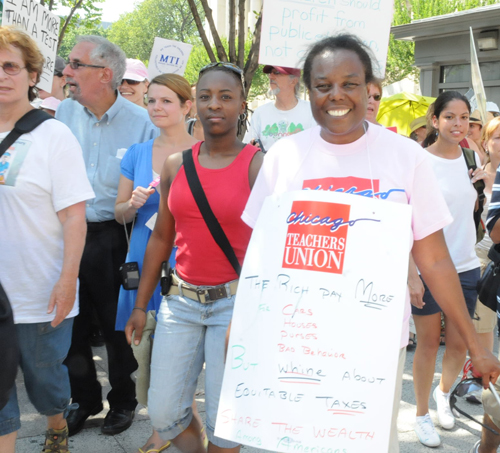 Northside Learning Center teacher Paula Jacko (right) came to the march with other Chicago Teachers Union members. She marched with Deanna Vaughn, a Washington D.C. public school teacher. Although Chicago teachers had many of the signs that have been used in Chicago protests, many told Substance that a large banner, such as was utilized by other teacher unions, would have helped Chicago establish itself at SOS. Substance photo by Sharon Schmidt.We needed to march, to yell, to chant, to share our reality. After two days of the SOS conference workshops and movies — and the hours of inspiring speeches, poetry, music, and baking in the sun at the pre-march rally — it felt great to march.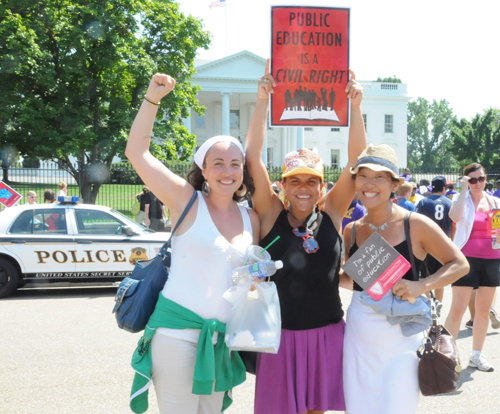 New York public school teachers Sasha Dos-Czarnocka, Genevieve Davis, and Rebekah Adams (as well as thousands of other marchers), take their message to the White House. Substance photo by Sharon Schmidt.We marched with others from all over the country who also get it. We were no longer isolated. We marched in solidarity with thousands, demanding the end of corporate, test-based school reform. And we marched, as one speaker, Matt Damon put it best, on behalf of millions.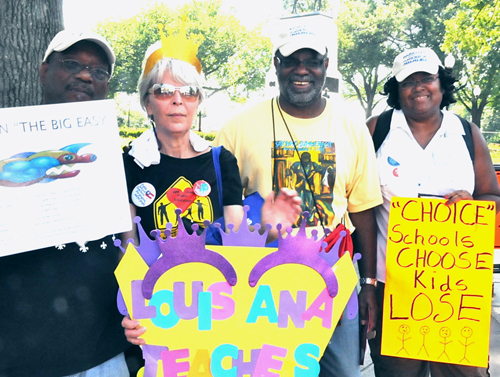 Warning that the politicians' perfect scenario of unlimited charters with little community or union interference is a complete failure. Retired New Orleans principal Raynard Sanders, third from right, along with Walter Goodwin, New Orleans Principal Association, retired teacher Lee Barrios, and Parents Across America's Karran Harper Royal, came to the SOS march on Washington to share his message. "How could I not be here?" According to Sanders and hundreds of teachers and parents who are speaking out against the racist attack on public schools in New Orleans, the Duncan administration destroyed public education in Louisiana's largest city to implement a "Chicago Plan" of unlimited charter schools under the leadership of Chicago's Paul Vallas (who was head of New Orleans schools until recently) and with the advice of Chicago's more anti-union charter operators, like UNO, which consulted for New Orleans as the city was busting the teachers' union and undermining the city's real public schools following Hurricane Katrina. Sanders told Substance about what had been done to public education in New Orlean. See Sanders' piece on New Orleans' charter schools on the August homepage of Substancenews.net: http://www.substancenews.net/articles.php?page=2487&section=Article
Penn State professor and parent (who opts out her child from the Pennsylvania state tests) Terri Vescio, Park Forest school principal Donan Stoicovy, parents Tim and Michelle Slekar, who also opt our their child from excessive standardized tests. Tim Slekar, a former second grade teacher now in higher education, writes for Huffington Post and is beginning a national opt-out movement for parents. Stoicovy informs the parents in her Pennsylvania school of their right to opt out. "I'm just doing my job," she told Substance. As part of the opt-out process, parents sign a confidentiality form and read through the test before submitting their letter to opt-out.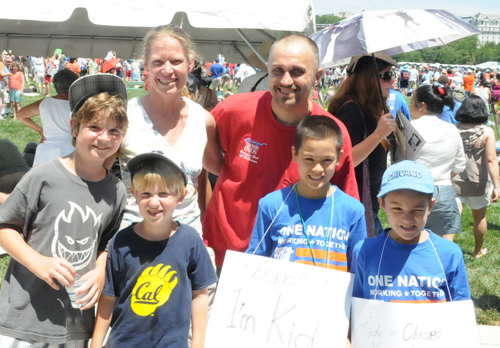 Substance editor and Chicago teacher Sharon Schmidt with sons Sam Schmidt and Josh Schmidt, who attend Chicago public elementary school O.A. Thorp and regularly opt out of Chicago's excessive testing program (see http://www.substancenews.net/articles.php?page=2085). Chicago Teachers Union staffer John Kuglar with James and Alexander, two of his four sons, at the pre-march rally. Substance photo by George N. Schmidt.The march — with its variety of sign, chants, and diversity of people — was an energizing display of love, strength and honesty. As a reporter/participant I am deeply grateful to the people who organized and sponsored the SOS conference, rally and march. Following a partial list of sign slogans observed at the march is a very long list of SOS endorsers. As Diane Ravitch asserted in her pre-march speech: "We are many, they are few."
Some of the creative sign slogan we observed:
I'm a fan of public education
I'm a kid, not a test score
Students before bankers
I'll teach for food
Standardized testing takes imagination out of learning
Shared sacrifice? Tax receipts — Corporations: 7 %, Us 93%
Charter schools — Private profit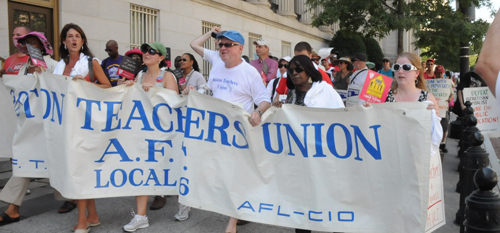 The AFT and NEA were sponsors of the march, both national education labor unions donating $25,000 to the conference and march. Many teacher union locals, including Boston, St. Paul, Los Angeles, Washington D.C., carried banners. Above, members of the famous Boston Teachers Union (AFT) march behind their banner. Substance photo by Sharon Schmidt.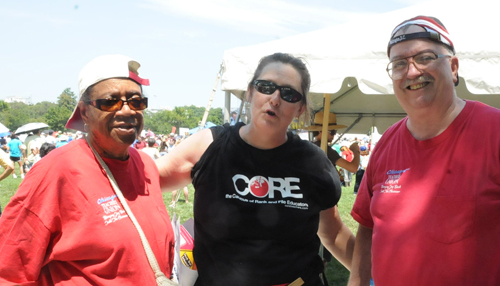 Among the Chicago Teachers Union members and activists at the rally and march were Lee White (retired from Chicago Vocational), veteran teacher Suzanne Dunne (fired from her teaching job at Prescott Elementary by a "New Leaders for New Schools" principal in June 2010 due to the Chicago Board of Education dubious budget cuts), and Substance's George N. Schmimdt (fired from his teaching job in September 2000 for publishing six of 22 CASE tests, Chicago Academic Standards Exams, in Substance). Despite the obstacles, all promised to continue the struggle. Substance photo by Sharon Schmidt.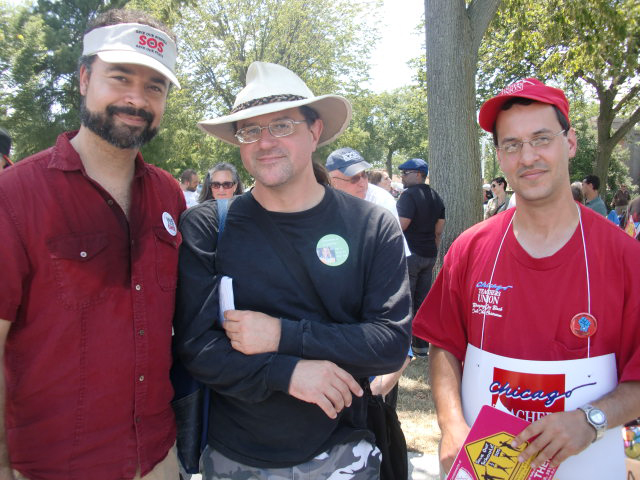 Teacher activists from New York, Baltimore and Chicago — Brian Jones, Alan Rebar, and Ed Hershey — meet at the SOS March on Washington. All of them veteran teachers, some, like Brian Jones, have been working overtime on things that brought everyone to the conference, rally and march. Jones is one of the teachers who brought "The Inconvenient Truth Behind Waiting for Superman" to audiences in all 50 states and across the world since it was debuted in New York City three months ago. The showing of the movie at the SOS conference the night before the rally and march brought a standing ovation from the more than 250 teachers and others who screened it at American University. Substance photo by Sharon Schmidt.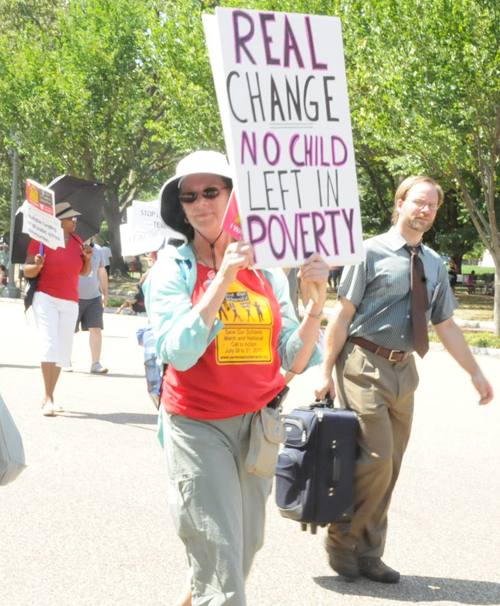 Chicago teacher James Klock marched with his suitcase (just prior to leaving town) after hearing about the SOS March at the National Board Certified Teacher (NCBT) conference he attended in D.C. during the days prior to the rally and march. Many NBCT teachers have participated in the work that led to the SOS conference, rally and march, especially in Chicago. Substance photo by Sharon Schmidt.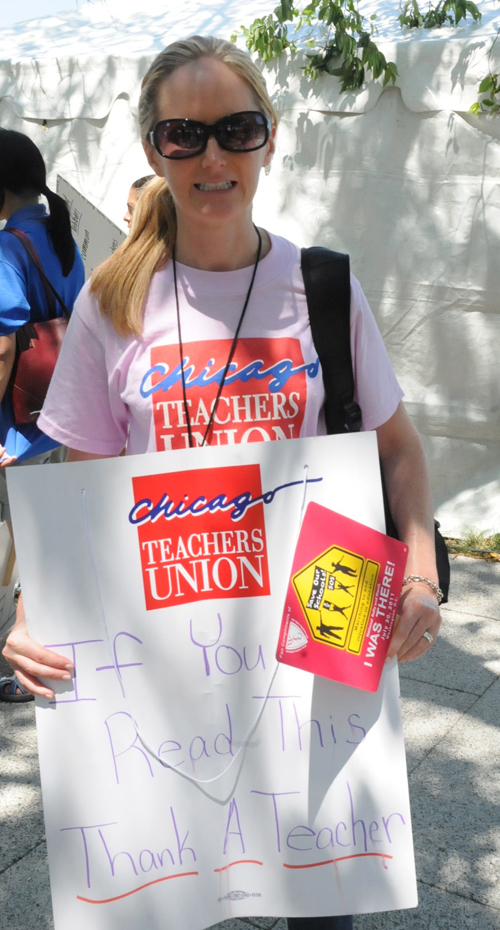 Chicago teacher Kathy Murry joined CTU members on the bus from Chicago. Although she didn't know anyone on the trip when the odyssey began, she joined the group because going to the SOS march "is an important thing to do," she told Substance. Substance photo by Sharon Schmidt.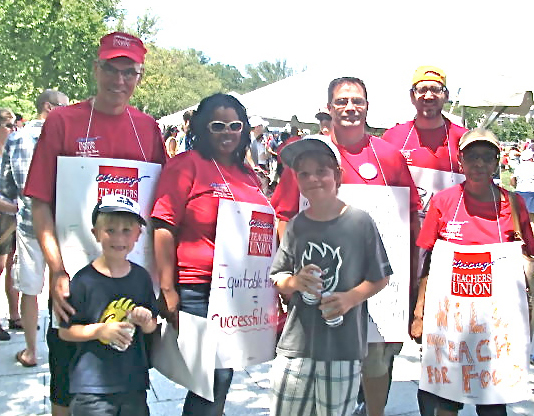 Newly retired Steinmetz high school teacher John Muhr (left) joined fellow Chicagoans (including Sam Schmidt and Josh Schmidt, who attend Chicago's O.A. Thorp public school) at the SOS rally. The rally participants ranged in age from one or two to retired teachers in their sixties, seventies and eighties despite the heat. Substance photo by Sharon Schmidt.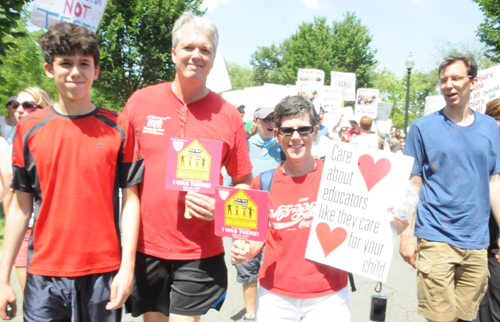 Chicago teachers Robert Pollard and Anne Hopkins with their son Jack Pollard. Substance photo by Sharon Schmidt.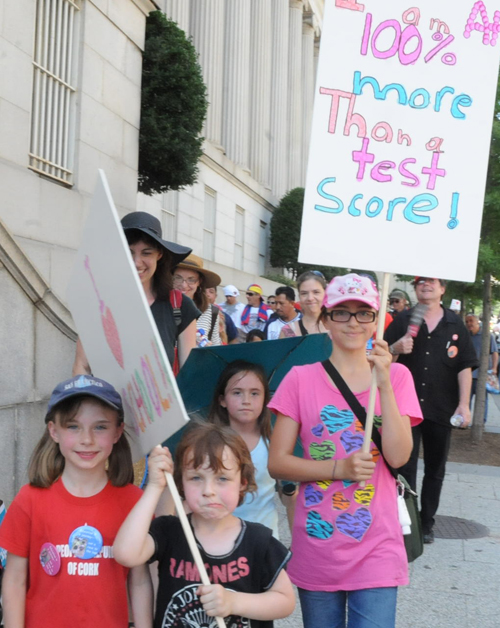 Children from Lansing, Michigan and Brooklyn, NY. Hannah Oslunch and Ivan Henwood are holding the signs. Substance photo by Sharon Schmidt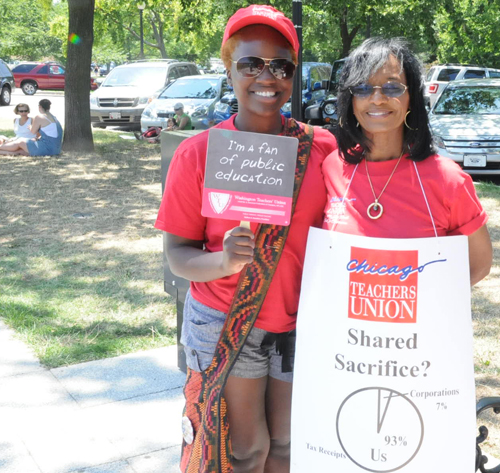 Chicago teachers spend time in the shaded areas outside Washington D.C.'s Elipse where the rally was held. Substance photo by Sharon Schmidt.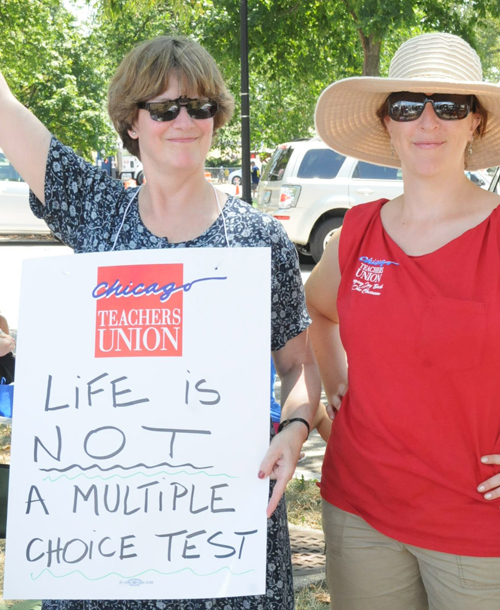 Chicago teachers MaryBeth Brandt and Rachel Mayer. Substance photo by Sharon Schmidt.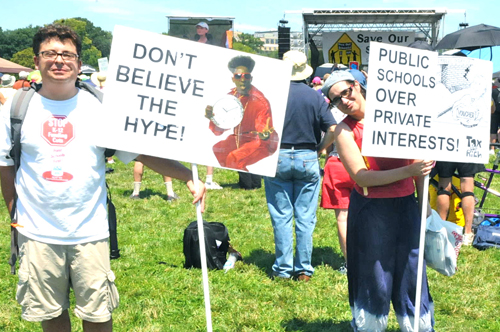 Durham, N.C. teachers Dov Rosenberg and Hanna Kraus-Friedberg. Hanna told Substance she feels "really, really strongly that my students are great, but they're getting the short end of the stick." Substance photo by Sharon Schmidt.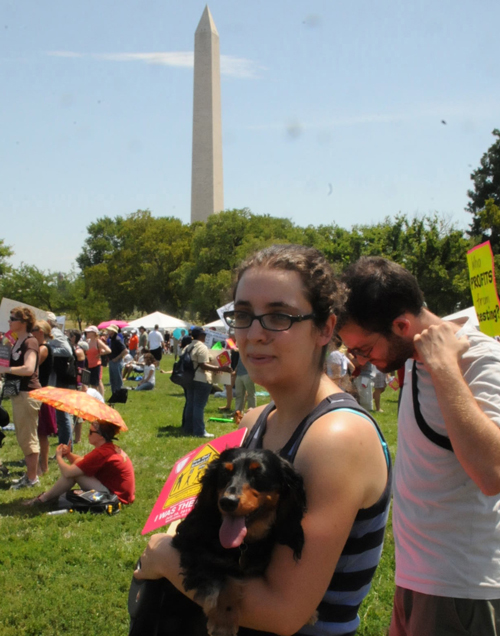 Washington D.C. teacher Laura Fuchs with dog Pan. Substance photo by Sharon Schmidt.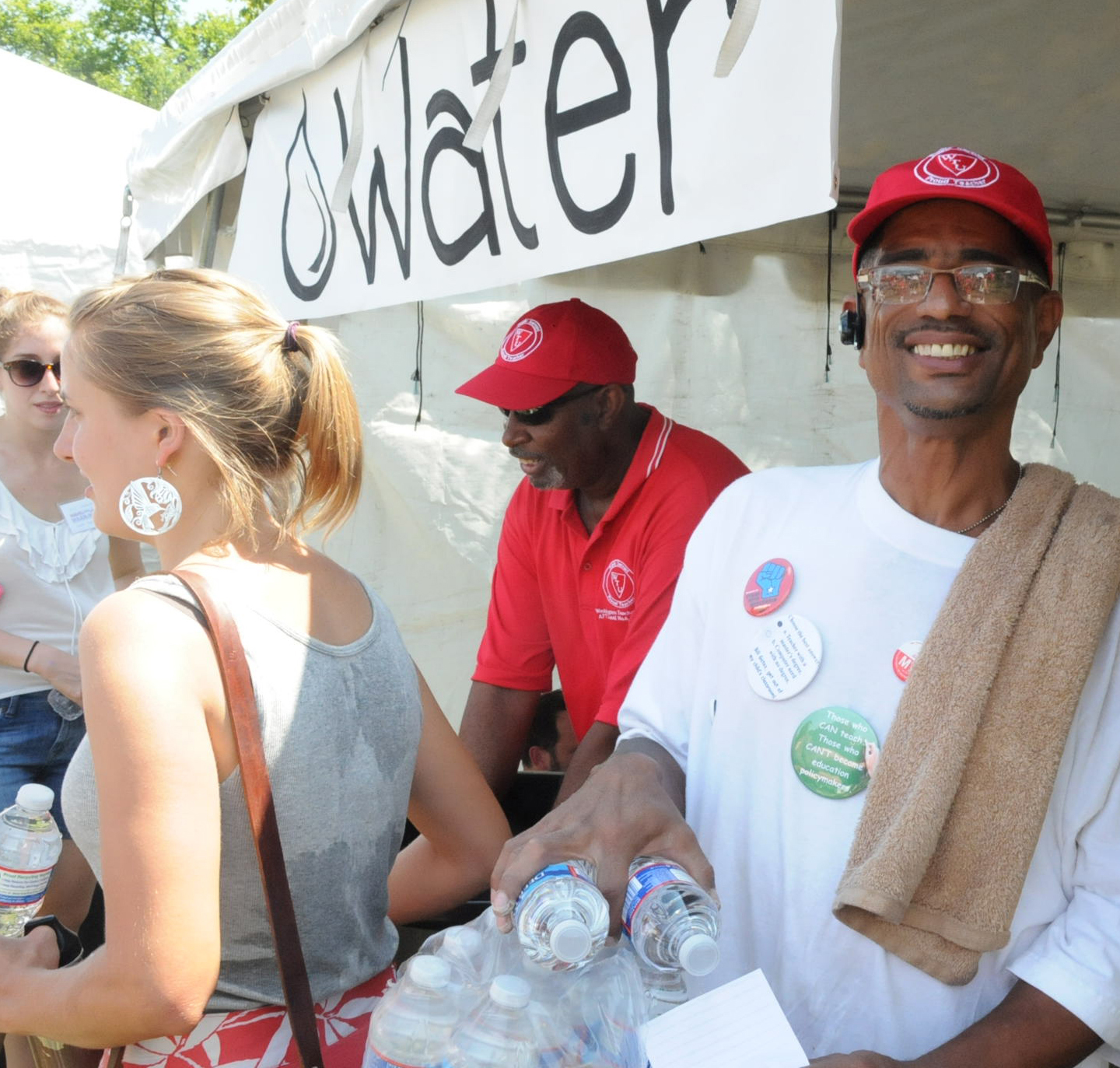 "I'm with the cause," said Roy Williams, who was handing out waters at the rally. "I'm promoting solidarity." Substance photo by Sharon Schmidt.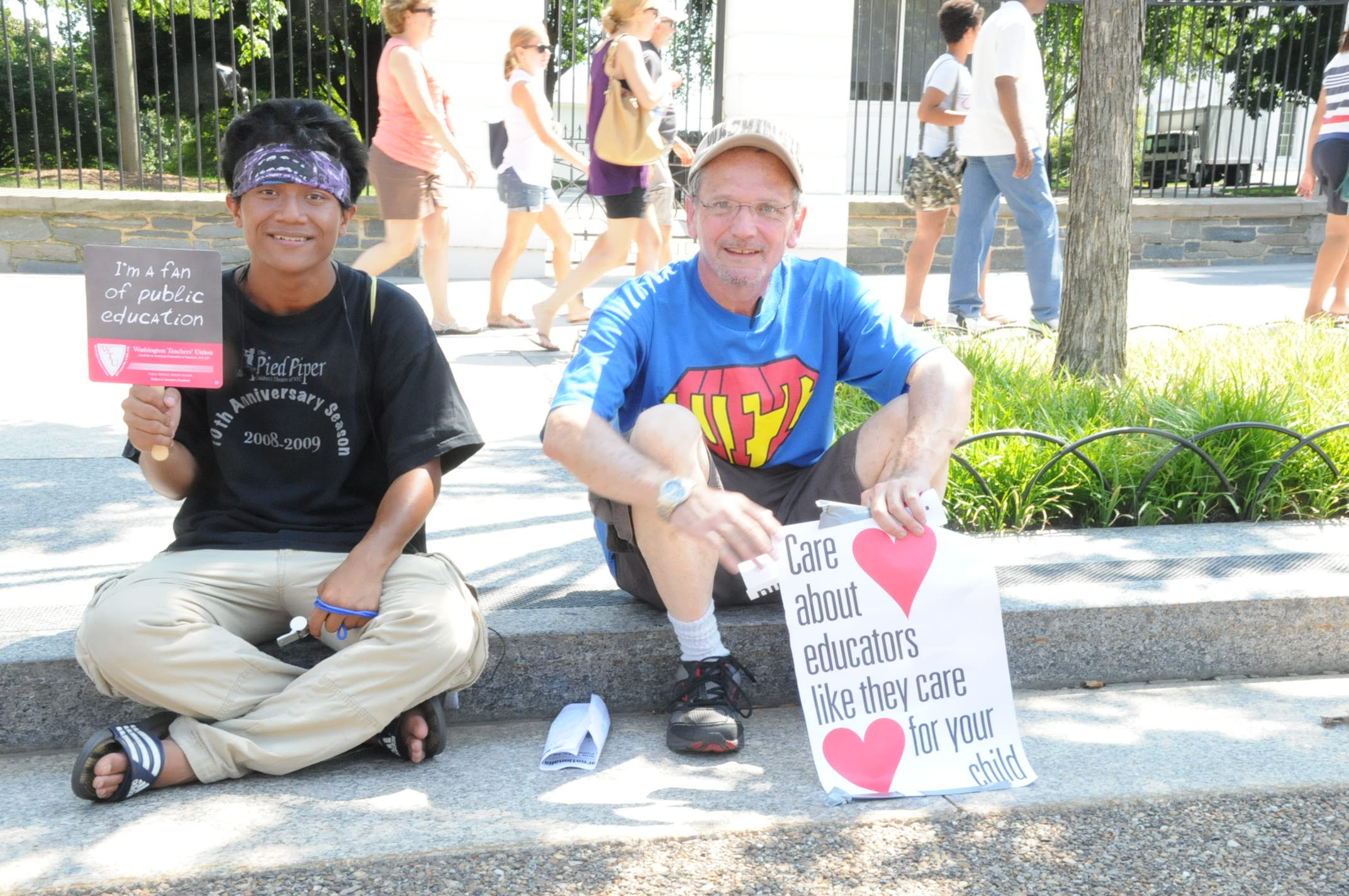 New York City teacher D.J. Hogan with his son Paul Hogan. Substance photo by Sharon Schmidt.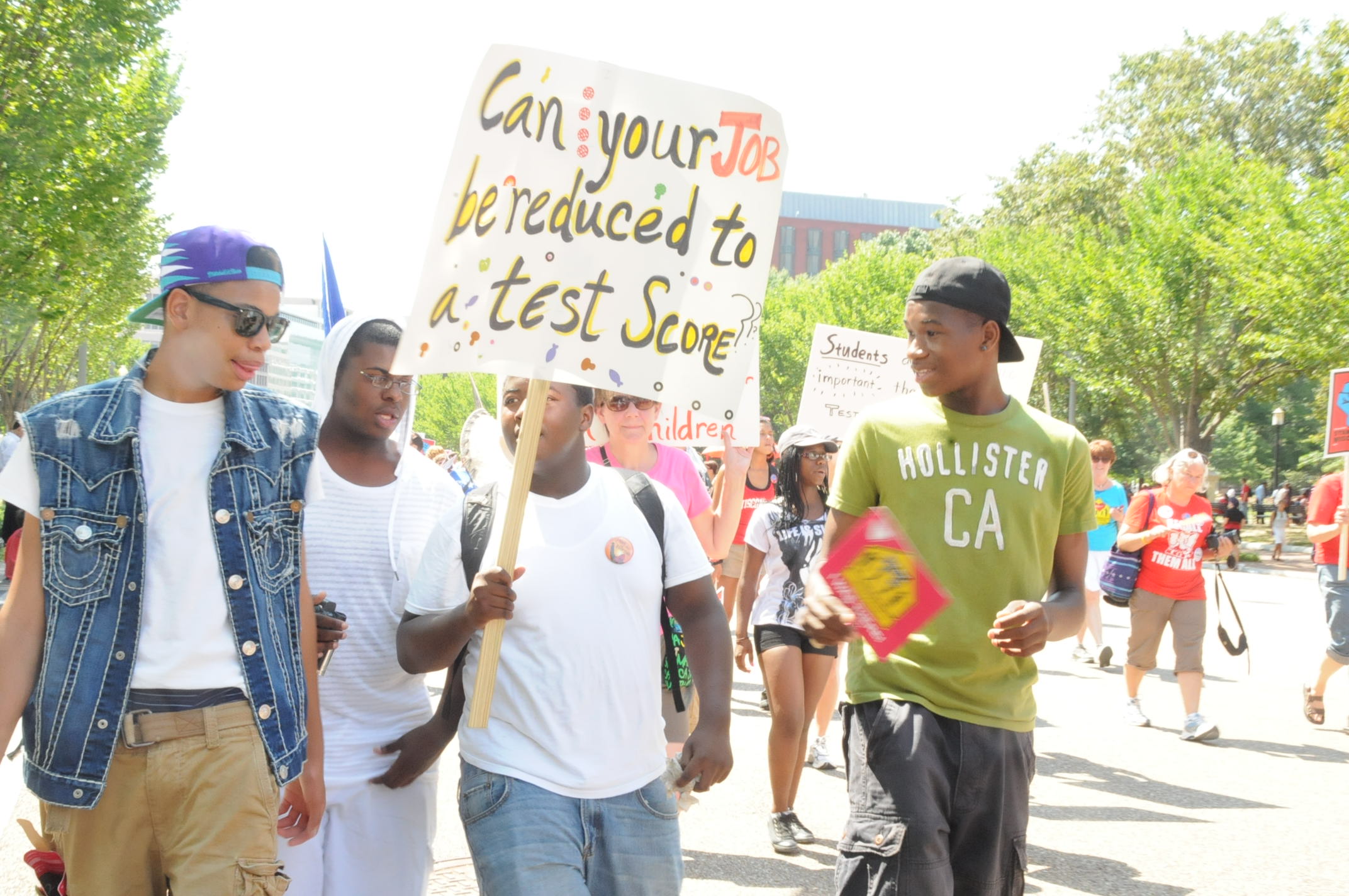 Newark, NJ students at the SOS march, July 30, 2011.
To Hell with Al Qaeda, Protect us from Republicans
Tax the rich, educate our children
Stand with Wisconsin
Improve public education — Finance, support, respect
Life is not a multiple-choice test
Less testing, more learning
If you read this, thank a teacher
Profiteers: Hands off public schools
Public schools = Foundation of democracy
Stop test and punish
NCLB does not work, but we do. Ask us how to make our schools better
Fix Our Public Schools, Don't privatize
No more sticks and carrots. We need a paradigm shift
God is still speaking
Support public school teachers
Share
I AM a teacher
There is no such thing as a standard child
Arne Duncan: In Need of Improvement
Accountable to kids, not shareholders
Parents: Our first and finest teachers. Hear our voices
Public education matters in Arizona
Care about educators like they care for your child
"Educate and inform the whole mass of the people. They are the only sure reliance for the preservation of our liberty." Thomas Jefferson
Those who can, do. Those who can do more, teach.
A charter school is not superman. The real heroes are public school teachers.
David Guggenheim never went to a public school. Neither did his children.
Proud public school teacher.
Public schools teach all students. Charter schools turn the difficult ones away
Don't believe the hype
Public schools over private interests! Tax the rich
Every kid deserves a chance. Fund public schools
Choose the best answer: test, • teach
More money for charter schools means less money for public schools
Proud to be an educator
Philanthro-Pirates: No corporation left behind
First meet their needs, then they achieve (1. Food and shelter, 2. Safety, 3. Belonging, 4. Achievement) #Arne meet Maslow
Down with high-stakes testing
Capitalism is failing, socialism is the alternative
Do not standardize students
All I am saying is teach the whole child
Less test prep, more life prep
Kids are not data
I am more than a test score
Stop using our children's education to fatten corporate profits
Empower teachers, not tests
High-stakes testing = child abuse
Kids need teachers not tests
NCLB: Just say no
It's time to trust teachers to teach
Turn around the testing
Those who can, teach; those who cannot, pass bad laws about teaching
Keep public education public, stop the onslaught on the poor
Teachers have solutions and knowledge
It's easier to build strong children than to fix broken schools
Public school teachers: For progress, not for profit
Stop apartheid education, eat the rich
An injury to one is an injury to all, defend our unions
Get Wall St. greed out of public schools
Schools get closed, banks get paid, Obama gets a failing grade
A child is not a test score
In a race there are many losers. Education is not a race
I love my public school
Absurdity: Asking teachers and nurses to solve budget crisis
Charters = privatization and inequity
Fight back. Say no to budget cuts, health care cuts, class size increases
Big business and our kids = epic fail
Stop bullying educators
"Why is education expensive? It equalizes the conditions of men." Horace Mann
Public school = democracy
Tahrir here? Yes!
Our schools are not for sale. Save our Schools.
Children are more important than test scores
Students are our special interest
Kids are not commodities
I survived NCLB. My students shouldn't have to!
Excellent education for all children everywhere. No matter what
Public education is a civil right
I teach. What's your superpower?
Can your job be reduced to a test score?
Real change: No child left in poverty.
My students are people, not numbers
The rich pay more for cars, houses, purses, bad behavior, but whine about equitable taxes. Share the wealth among Americans
Education cuts never heal
Fire tests, not teachers
Arne Duncan's to do list: Promote bad educational policy, close public schools, privatize public education
Save our schools: Marching to end injustice in education. National rally and march. I was there. July 30, 2011. Washington D.C. (Fan compliments of WTU).
Defeat bipartisan capitalist war on public education
U.S. public schools teach all children
I am 100% more than a test score
I love my school
If you don't help the children, who will
Poverty is the problem
New Orleans = National model of failure
"CHOICE" Schools choose, kids lose
Hey Arne! No teacher supports the status quo
Schools should not be gated communities
Parents against NCLB
SOS Endorsers
See the SOS website for more information on the SOS organization: www.saveourschoolsmarch.org
National and local teachers unions
The American Federation of Teachers
The National Education Association
AFSCME Retired Public Employees Council, Chapter 23 (Port Angeles, WA)
Albuquerque Teachers' Federation (Albuquerque, NM – AFT)
Amalgamated Transit Union, Local 587 (Seattle, WA)
The Asian Pacific American Labor Alliance (APALA)
Baltimore Teachers Union (Baltimore, MD – AFT)
Bedford Teachers' Association (Bedford, NY – AFT)
Broward Teachers Union (Broward County, FL – AFT/NEA)
Boston Teachers Union (Boston, MA – AFT)
California Teachers Association (NEA)
California School Employees Association
Cambridge College Employees Federation (Cambridge, MA – AFT)
Chicago Teachers Union (Chicago, IL – AFT)
Citrus Belt UniServ (Southern CA – NEA)- comprised of NEA Jurupa, Redlands Teachers Association, Redlands Educational Support Professionals Association, Rialto Education Association, and Yucaipa-Calimesa Educators Association
Classroom Teachers Association of Palm Beach (Palm Beach County, FL – NEA)
Cleveland Heights Teachers Union (Cleveland Heights, OH – AFT)
Coalition of University Employees-International Brotherhood of Teamsters Local 2010- UC Berkeley Chapter (Berkeley, CA)
Collie County Education Association (Marco Island, FL – NEA)
Colorado Education Association (NEA)
The DC Metro Labor Council
Education Austin (Austin, TX – AFT/NEA)
Escondido Elementary Educators Association
Florida Educators Association (NEA)
Forest Grove Education Association (Forest Grove, OR – NEA)
Highlands County Education Association (Sebring, FL – AFT/NEA)
Professional and Technical Employees Local 17 (Seattle, WA)
Kansas National Education Association (NEA)
Kansas City Federation of Teachers (Kansas City, MO – AFT)
Louisiana Federation of Teachers (AFT)
Maryland State Education Association (NEA)
Milwaukee Teachers Education Association (Milwaukee, WI – NEA)
Missouri Education Association (NEA)
National Education Association – Retired
Nebraska State Education Association (NEA)
Newark Teachers Union (Newark, NJ – AFT)
New Jersey Education Association (NEA)
North Carolina Association of Educators (NEA)
North Dakota Education Association (NEA)
Oakland Education Association (Oakland, CA – NEA)
Prince George's County Educators' Association (Prince George's County, MD – NEA)
Ramapo Teachers Association (Suffern, NY – AFT/NEA)
Renton Education Association (Renton, WA – NEA)
Retired Public Employees Council, Chapter 3 (Seattle, WA – AFSCME)
Roseville Federation of Teachers (Roseville, Michigan – AFT)
St. Paul Federation of Teachers, Local 28 (St. Paul, MN – AFT)
San Francisco Community College District Federation of Teachers (San Francisco, CA – AFT)
Savannah Federation of Teachers (Savannah, GA – AFT)
Seattle Education Association (Seattle, WA – NEA)
Teachers Association of Anne Arundel County (Anne Arundel County, MD – NEA)
United Teachers of Dade (Dade County, FL – AFT/NEA)
United Teachers Los Angeles (Los Angeles, CA – AFT/NEA)
University Professional and Technical Employees (UPTE-CWA) 9119, Local 1, Berkeley, CA
Virginia Education Association (NEA)
Washington Education Association (NEA)
Wisconsin Education Association Council (NEA)
Noted Educators, Education Authors & Policy Experts
Dr. Richard Allington, professor at the University of Tennessee-Knoxville, Former President of the International Reading Association, and author of books including What Really Matters for Struggling Readers
Dr. Lawrence Baines, Chairman of Instructional Leadership & Academic Curriculum, University of Oklahoma
Lee Barrios, 2004-2005 Louisiana State PTA Educator of Distinction
Vicki Bartolini, Dorothy Reed Williams Faculty Chair in the Social Sciences, Wheaton College
Jonas Basom, founder of The Drama Education Network
Dr. David Berliner, emeritus professor of education at Arizona State University and author/co-author of books including The Manufactured Crisis, Putting Research to Work, and Collateral Damage
Dr. Emmanuel Bernstein, psychologist and author of The Secret Revolution
Gail Boushey and Joan Moser ("The Sisters"), literacy education authors
Marion Brady, longtime educator, administrator, author, and curriculum expert
David Bloomfield, Professor of Education Law and Policy at Brooklyn College, CUNY, and the CUNY Graduate Center as well as former General Counsel to the NYC Board of Education and author of American Public Education Law
Dr. Nancy Carlsson-Paige, longtime educator, professor of education at Lesley University and author of books including Taking Back Childhood
Sam Chaltain, educator, author, organizational change consultant and former Director of the Forum for Education & Democracy
Linda Christensen, Bill Bigelow, Bob Peterson, and Stan Karp of Rethinking Schools
James Crawford, author and leader of the Institute for Language Education Policy (ILEP)
Dr. Antonia Darder, professor of education policy and Latino/a studies at the University of Illinois at Urbana-Champaign
Dr. Linda Darling-Hammond, Charles Ducommon Professor of Education at Stanford University and author of books including The Flat World and Education: How America's Commitment to Equity Will Determine Our Future
Michael Deshotels, retired Louisiana educator and former Executive Director of the Louisiana Association of Educators
Dr. Peter DeWitt, educator and author
Francis M. Duffy, Professor of Change Leadership at Gallaudet University, Washington, D.C. and Co-Director of FutureMinds: Transforming American School Systems
Todd Farley, standardized testing professional and author of Making the Grades: My Misadventures in the Standardized Testing Industry
Dr. Barbara Ferguson, Louisiana school administrator, first female superintendent of New Orleans Public Schools, and holder of titles including Superintendent of the St. John Public Schools, Assistant Superintendent of Research and Development in the Department of Education, Deputy Secretary in the Department of Labor, and Attorney to the Workforce Commission in the Office of the Governor
Kelly Flynn, teacher and author of Kids, Classrooms, and Capitol Hill: A Peek Inside the Walls of America's Public Schools
Drs. Kenneth & Yetta Goodman, professors emeritus at the University of Arizona, College of Education, Department of Language, Reading, & Culture
Dr. Steven Jay Gross, Professor Educational Administration in the Educational Leadership & Policy Studies Department, College of Education, Temple University
Anne Goudvis, teacher educator and author of books for educators including Strategies That Work and Non-Fiction Matters
Dr. Jim Horn, professor of education at Cambridge College and author at Schools Matter
Dr. Sherick Andre Hughes, Professor of Education at the University of Maryland, College Park and author of books including What We Still Don't Know About Teaching Race: How to Talk About It in the Classroom
Dr. Michael Klonsky, longtime educator, civil rights activist, and director of the Small Schools Workshop at the University of Illinois, Chicago
Alfie Kohn, human behavior & education expert and author of books including Punished By Rewards and The Schools Our Children Deserve
Gerald W. Kohn, Ed.D., 2009 National Superintendents Roundtable Superintendent of the Year Award, 2007-08 National President of the Suburban School Superintendents, co-author of The Mission is Possible: Urban School Reform That Works, due out Winter 2012
Jonathan Kozol, educator and author of books including Savage Inequalities and Ordinary Resurrections
Dr. Stephen Krashen, linguist and professor emeritus at the University of Southern California
Dr. Bruce E. Levine, clinical psychologist and author of books including Get Up, Stand Up: Uniting Populists, Energizing the Defeated, and Battling the Corporate Elite.
Ann Lieberman, teacher leadership and development expert, emeritus professor at Teachers College, and Senior Scholar at the School Redesign Network at Stanford University
Deborah Meier, acclaimed educator, MacArthur Fellow, and author of books including The Power of Their Ideas and Playing for Keeps
Dr. Peter McLaren, professor of urban education and critical pedagogy, University of California Los Angeles
Dr. Ernest Morrell, associate professor and Associate Director for Youth Research at the Institute for Democracy, Education, and Access (IDEA) at the University of California at Los Angeles
Dr. Pedro Noguera, urban sociologist and professor of Teaching and Learning at New York University's Steinhardt School of Culture, Education, and Human Development
Susan Ohanian, longtime educator and author of books including Why is Corporate America Bashing our Public Schools and What Happened to Recess and Why Are Our Children Struggling in Kindergarten?
Dr. Don Perl, President of the Coalition for Better Education and professor of Spanish and Hispanic Studies at the University of Northern Colorado
Dr. Diane Ravitch, education historian and author of books including The Death and Life of the Great American School System
Jill W. Saia, NBCT, Faculty Member of the National Board for Professional Teaching Standards, and Professional Development Specialist in East Baton Rouge Parish Public School System
Dr. Eric Schaps, President and Founder of the Developmental Studies Center
Jeannie Schellin, Lecturer in Education, Lake Forest College; Supervisor of Student Teachers, Northwestern University
Dr. Milton Schwebel, Dean and professor emeritus, Graduate School of Education at Rutgers University and author of books including Who Can Be Educated and Remaking America's Three School Systems: Now Separate and Unequal
Dr. Patrick Shannon, professor of language and literacy in the College of Education at Penn State University
Dr. Joan Poliner Shapiro, Professor of Educational Administration in the Educational Leadership and Policy Studies Department, College of Education, Temple Universisity
Dr. Joel Shatzky, English professor and author of works including The Thinking Crisis
Dr. Alan Singer, professor of education at Hofstra University
Dr. Joel Spring, education professor and author of books including Education and the Rise of the Global Economy and The Universal Right to Education: Justification, Definition, and Guidelines
Dr. Yvonne Siu-Runyan, longtime educator and President of the National Council of Teachers of English
Dr. Gary Stager, Executive Director of the Constructivist Consortium and Constructing Modern Knowledge and longtime teacher educator, education journalist, teacher and speaker
Lynn Stoddard & the Educating for Human Greatness Group
Dr. Jesse Turner, Professor of Language Arts at Central Connecticut State University and creator of "Children are More than Test Scores"
Dr. Robert Valiant, longtime educator, administrator, and curriculum, instruction, facility planning, and education management expert
Dr. Cornel West, professor and public intellectual at Princeton University, author of books including Race Matters, and co-host of the weekly public radio show, Smiley & West
Ron Wolk, Chairman of Big Picture Learning and Founding Editor, Education Week and Teacher Magazine
Dr. John Womack, Jr., Robert Woods Bliss Professor of Latin American History and Economics (emeritus), Harvard University
Dr. Joanne Yatvin, longtime K-12 and teacher educator, Former President of the National Council of Teachers of English, member of the National Reading Panel, and author
Dr. Victoria Young, veterinarian, active public school parent and author of Education's Missing Ingredient: What Parents Can Tell Educators
Dr. Yong Zhao, distinguished education professor and author of books including Catching Up or Leading the Way: American Education in the Age of Globalization
Colleges, Universities, & Higher Education Organizations
The Brandeis Education Program, Brandeis University, Waltham, MA
Hofstra University, School of Education, Health & Human Services, Long Island, NY
Lesley University, Cambridge, MA
Teachers College, Department of Curriculum and Teaching, Columbia University, New York, NY
Education Writers & Bloggers
Kenneth Bernstein, National Board certified government teacher, writer, and advocate
Anthony Cody, National Board certified science teacher, founder of Teachers' Letters to Obama, and author of the Teacher Magazine blog "Living in Dialogue"
Our Schools NYC
Rachel Levy, public school parent, teacher, author of All Things Education and contributor to So Educated
Dr. Marilyn Price-Mitchell, parent, developmental psychologist, and author of Roots of Action: How Parents, Schools, and Communities Help Kids Thrive
Sarah Puglisi, parent, elementary school teacher and author of A Day in the Life
Sabrina Stevens Shupe, urban elementary school teacher & creator of the Failing Schools Project
Teachers of the Year
Nancy Flanagan, National Board Certified Music teacher, 1993 Michigan Teacher of the Year, and author of the Teacher Magazine blog "Teacher in a Strange Land"
Danielle Kovach, 2011 New Jersey Teacher of the Year
Renee Moore, National Board Certified English teacher, 2001 Mississippi Teacher of the Year, and author of the Teacher Leaders Network blog, TeachMoore
Ann O'Halloran, 2007 Massachusetts Teacher of the Year (History)
Nancy Schoen, 2005 Massachusetts Teacher of the Year (Music)
Bob Williams, math teacher and 2009 Alaska Teacher of the Year
Maryann Woods-Murphy, 2010 New Jersey Teacher of the Year
Michael Yell, National Board Certified Social Studies teacher and 1998 National Social Studies Teacher of the Year
Education Organizations & Organization Leaders
Alliance for Childhood
Association for Childhood Education International
Dr. Renate Caine, teacher, professor, and Director of Research and Professional Development of the Natural Learning Research Institute.
The Campaign for the Future of Higher Education
The Center for Expansion of Language and Thinking (CELT)
Citizens for Public Schools (MA)
The Coalition of Essential Schools
CEASE—Concerned Educators Allied for a Safe Environment
Communities for Public Education Reform
The Council for Opportunity in Education
Mona David, Founder of the New York Charter Parents Association
the Florida School Board Association
Jenifer Fox, The Strengths Movement
Lisa Goldman and Testing Is Not Teaching
Grassroots Education Movement
The Green Rainbow Party of Massachusetts
Leonie Haimson, Executive Director of Class Size Matters and co-director of the Northeast Region, Parents Across America
Jane Hirschmann, Martha Foote, Don Freeman of Time Out From Testing
Charlotte K. Hummel, Esq., President of the William Penn School District Board of Directors
The Institute for Learning and Teaching
The International Association for Learning Alternatives
The International Reading Association
Kansas Families for Education
Dr. Martin Krovetz, Director of Leading for Equity and Achievement Design (LEAD), a regional center of the Coalition of Essential Schools
Mary Levy, public school activist; civil rights, DC school finance, and labor lawyer
Karen Lewis, President of the Chicago Teachers Union
Horace Lucido, Educators and Parents Against Testing Abuse (EPATA)
Deb Mayer, founder of Great Schools for America
Samuel Meisels, President of the Erikson Institute
Edward Miller, Executive Director, Alliance for Childhood
Minnesota Association of Alternative Programs
Albert Mitchell II, Executive Director of New Jersey Minority Educational Development
The National Association of Secondary School Principals
The National Center for Fair and Open Testing (FairTest)
The National Council of Teachers of English (NCTE)
National ParentNet Association
Dr. Monty Neill, Executive Director of the National Center for Fair and Open Testing
Jenny Nelson, Student Multiethnic Action Research Team (SMART) and D.C. Language Access Coalition
Donna Nevel and Ujju Aggarwal, Center for Immigrant Families
New Jersey County Teachers of the Year (NJCTY)
New Jersey Minority Educational Development (NJMED)
The North Dakota Study Group
Christopher Nye, Director of The Whole Child Initiative
Parents Across America
Promise the Children
Cathy Reilly, Director of SHAPPE (Senior High Alliance of Parents, Principals, and Educators)
Richmond Teachers for Social Justice
The Sakin Foundation
San Francisco Teachers for Social Justice
Rita Solnet, corporate training and organizational consultant, member of Testing is Not Teaching and founding member of Parents Across America
Donna Stern, East Coast/Midwest Coordinator of By Any Means Necessary
Students for a Democratic Society
Laura Thomas, Antioch Center for School Renewal
United Church of Christ Justice and Witness Ministry
The Virginia School Boards Association
Whole Language Umbrella, a conference of the National Council of Teachers of English (NCTE)
Julie Woestehoff, Founder of PURE (Parents United for Responsible Education) and founding member of Parents Across America
Civic and Political Organizations
Bailout the People Movement
By Any Means Necessary
Democracy for America
Freedom Socialist Party
The National Voting Rights Museum & Institute (Selma, AL)
Organized Workers for Labor Solidarity
People's Organization for Progress
The Plessy and Ferguson Foundation
Progressive Democrats of America – Tucson Chapter
Radical Women
Women's International League for Peace and Freedom – Tucson Branch
Authors, Entertainers & Filmmakers
Vicki Abeles, Founder of Reel Link Films & Director of Race to Nowhere
Phil Bildner, best-selling author of children's books including The Hallelujah Flight and the Sluggers series
Tom Chapin, Grammy award-winning musician and arts education advocate
Matt Damon, award-winning actor, screenwriter, and philanthropist
Richard Dreyfuss, Academy Award-winning actor
Dave Eggers, author of books including A Heartbreaking Work of Staggering Genius, screenwriter , and publisher
Yvonne & Robert Flame Lamothe, independent filmmakers and creators of TEACH: Teachers are Talking, is the Nation Listening?
Victor Rivas Rivers, anti-domestic violence advocate, actor, and author of A Private Family Matter
Amy Valens, educator and co-director of August to June
Public Officials & Governmental Organizations
The Baltimore City Council
Doug Christensen, Former Nebraska Commissioner of Public Education
Congresswoman Judy Chu (D-CA)
Scott Folsom, Los Angeles parent leader and elected neighborhood councilmember of the Arroyo Seco Neighborhood Council in Northeast LA
Anne Geiger, former school board member and author of Public Policy Blogger
Congressman Raul Grijalva (D- AZ)
Marko Liias, Washington State House of Representatives (D-District 21)
Congresswoman Gwen Moore (D- WI)
The Oakland, CA Board of Education
Kyrsten Sinema, Arizona State Senate (D-District 15)