Wall Street Journal's puff piece on IBM needs close examination... Warning to Teachers and Students Whom IBM Wants to 'Friend'
Susan Ohanian - August 02, 2011
This commentary is provoked by a puff piece from the Wall Street Journal, Aug. 1, 2011, which reads like a Press Release. I provide a bit of historical context, much of which is included in Why Is Corporate America Bashing Our Public Schools? I posted a shorter version of this on the Wall Street Journal website, making a bunch of readers angry.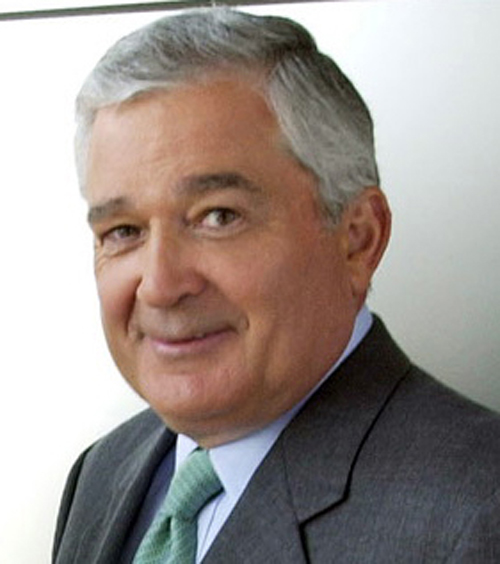 Decades before Microsoft's Bill Gates, Eli Broad (and the Broad Foundation) and the Walton (Wal-Mart) family began creating superfunding for corporate "school reform" projects, then IBM Chief Executive Officer Lou Gerstner (above) teamed up with Bill Clinton and others to craft the original corporate agenda more than 20 years ago.New York City educators would do well to look at University of North Carolina sociology professor Roslyn Mickelson's absorbing and revealing study International Business Machinations: A Case Study of Corporate Involvement in Local Education Reform, which details their involvement in the Charlotte-Mecklenburg schools, which received the very first IBM Reinventing Education grant. Then, as now, IBM said they were delivering advice to schools because of a shortage of "skilled" workers. This was in the 1990s. Mickelson's premise is that we need to look closely at individual school districts to theorize more fully about the corporate role in contemporary school reform.
But does anybody learn from history?
NOTE: When the chosen principal of the new school was a vice principal in a scandal-ridden school, he refused to be interviewed by Michael Winerip, New York Times education reporter. Maybe that's because of this story.
This new school may turn out to be good for a few students, and, if so, I say "Great." But I have a question: What's the price tag on a corporation's being able to "help" select a school principal and deliver the curriculum?
If, say, the National Rifle Association, PETA, NOW, Rosacrucians, Elks, Missouri Trout Fishermen's Association, and any other special interest groups put up the cash, could they select a principal and a curriculum?
Does anyone deny that IBM is a special interest group? Do people understand what the corporate interest are here — and what a long, spotted history IBM has in school deform? Remember, when he was IBM CEO, Lou Gerstner held hands with Arkansas governor Bill Clinton to push the Business Roundtable into the federal agenda called America 2000. This morphed into Goals 2000 then NCLB. and now Race to the Top. AND Gerstner co-founded Achieve, Inc, which has brought us the Common Core Standards and Assessments. The Standards were funded by the Bill and Melinda Gates Foundation.
So before you hum a happy tune about this snazzy new school, take a deep breath and think about IBM's history in school policy.
Question: Is this school IBM's payback for IBM getting the contract for supplying the technology platform for CITIServ, New York City's IT infrastructure modernization program? Or is it just one of those corporate coincidences?
[NEW YORK, N.Y. - 31 Jan 2011: IBM (NYSE: IBM) today announced that it has been selected by the City of New York to build a more efficient, smarter technology platform for CITIServ, the City's IT infrastructure modernization program. The goal of the project is to streamline delivery of City services by consolidating and updating outdated and incompatible IT, thereby reducing energy consumption, strengthening security, and providing City workers with faster access to the latest technologies. ]
My co-authored book "Why Is Corporate America Bashing Our Public Schools" provides distressing detail on the now defunct West Virginia Learning Village. One obvious lesson is IBM's very short staying power with local "innovation." Their real goals are larger. In 2002, IBM's Learning Village educational software partnered with Riverdeep Interactive Learning-- to help help "school districts leverage technology to meet the national education reform guidelines brought forth by the No Child Left Behind Act."
It's ALL about delivering test prep and deprofessionalizing teaching.
The Good News about Committee Encouraging Corporate Philanthropy is that Paul Newman was one of the founding directors. The Bad News is that Edward Rust of Business Roundtable fame is on the board of directors. He's also been associated with the National Alliance of Business, Achieve, Committee for Edonomic Development, McGraw-Hill, American Enterprise Institute. Not to mention being on President-elect Bush the Elder's Transition Advisory Team Committee on Education. Watch your backs, New York teachers, parents, and students.
HERE IS THE AUGUST 1, 2011 WALL STREET JOURNAL ARTICLE
New York Teams Up With IBM to Reboot a High School, Wall Street Journal August 1, 2011, By Stephanie Banchero
This fall, New York City will open P-Tech, a unique six-year high school where students can earn a diploma and an associate's degree in a computer-science-related field and then first crack at a job with IBM. Located in Brooklyn's Crown Heights section at the former Paul Robeson High School, which was phased out after years of failing performance, the new school was in large part created by the IBM International Foundation. The foundation helped develop the curriculum, select the principal and promises graduating students a shot at a job at the International Business Machine Corp. The technology titan's close involvement in the planning and creation of the high-tech high school represents a trend in public-private partnerships in education: As U.S. students fall further behind global counterparts, and as companies seek skilled workers, big businesses like Microsoft Corp., J.P. Morgan Chase & Co. and IBM are taking an active, strategic role in education. For them, the benefit is a better-trained work force. Skills that IBM finds lacking in job applicants include writing, problem solving and working collaboratively. "Companies are starting to see the urgency of the situation and asking, 'What can we give besides cash to really move the needle?' " said Margaret Coady, executive director of the Committee Encouraging Corporate Philanthropy, an international nonprofit association of CEOs. For decades, corporations have ponied up millions for schools. The Foundation Center, which tracks philanthropic spending, reports that nearly 200 of the nation's top corporate foundations donated about $514 million to education in 2009, the largest percentage given to any one funding category. Still, the money is a fraction of the $600 billion in government spending on K-12 education. Historically, the largesse has gone toward such endeavors as scholarships, computers and textbooks, and a phalanx of mentors and tutors. But 30% of American teenagers don't graduate from high school on time, and they lag behind other industrialized countries on math and science exams. Frederick Hess, education-policy director at the American Enterprise Institute, a think tank that pushes for market-oriented solutions, said corporate philanthropy has been focused on "being a good citizen." But "if you're looking to dramatically improve K-12 education, they've had a hugely ineffective strategy," said Mr. Hess, who has studied corporate giving. President Barack Obama has prodded business leaders to develop a more strategic and coordinated approach to education investing. Mary Cullinane, Microsoft's Worldwide Senior Director of Innovation and Strategic Initiatives, said the company has been on an investment "journey" from simply giving schools discounted software to a recent $15 million effort to explore ways to use videogame technology as a tool in the classroom. "It's important that companies like ours bring new thinking and great rigor to education, instead of just dumping some technology in schools and hoping for the best," she said. IBM has adopted a similar strategy. At one time, the company simply wrote checks to schools and donated computers. But Stanley Litow, president of IBM International Foundation, said the company has given up "checkbook philanthropy." "We are looking for scalable strategies that can be game changers," said Mr. Litow, who previously served as Deputy Chancellor of Schools for New York City. "Instead of giving away what is least important—i.e. spare change—we are giving away what is most important: our technology and talent." IBM donated 50,000 computers designed to help young children learn to read, and created a program to help retiring employees earn math and science teaching certificates to work in public schools. But P-Tech—a joint venture with the school district and the City University of New York—is its biggest gamble. The school opens in September with 130 ninth graders, about 80% from low-income homes, and will add a grade each year for five years. It's not the first time a business has partnered with the city to open a school. In the early 1990s, Goldman, Sachs & Co. joined with the city to open Metropolitan Corporate Academy. Initially, the company invested $500,000 for tutors, advisers and a program officer to coordinate internships. But as that support tapered off and test scores sagged, the school board voted earlier this year to close the school. IBM is more involved in the creation and academics of P-Tech, spending $500,000 to help develop the school's website, provide software support at the school, and pay for a project manager to help create the curriculum and coordinate mentoring and internships. Rashid Davis, the newly hired principal, said the school has the "power to change generations," because it will graduate students who "have serious job skills and will be first in line for job opportunities."